The Belvedere Hotel sits on beautiful Bramble Bay giving it great views and sea breezes.  While "The Bel" is a hotel, it offers a large, family friendly restaurant complete with kid's play area.  Its proximity to some of Redcliffe's top parks (and that's a big call because Redcliffe does awesome parks) makes it a perfect destination for kid friendly dining in Brisbane's north.
Belvedere Hotel for Kids
The Belvedere Hotel features a kid's playground and a "mini-arcade" for older kids.  The playground is ideal for children aged up to around 10 years with a nautical themed fenced play area.  The playground is situated in the back of the main restaurant (so your kids can make a little noise without annoying diners) and is surrounded by tables.  Parents can dine of fresh seafood and hearty steaks while kids play safely within view!   What more could a parent want!
Did someone say ice-cream bar?
Why yes, yes there is an ice-cream bar in the main dining area.  While you're standing there waiting for your kids to decide between the various scoops available, grab a coffee or a slushy when it's hot!  Unlike a lot of "local pubs" that add family friendly elements, The Belvedere has created a dining experience that is 100% targeted to family dining.  This makes a big difference to the "feel" of the restaurant and your kids will love it.
Did someone say Date Night?
Date night with kids.  Why even bother?  The Belvedere is all about helping parents have something special while kids run amok in the play areas.  The food is "date night" treat quality (steak and crabs is their specialty).
Belvedere's kid friendly New Year's Eve!
Belvedere Hotel is well known for its New Year's Eve kid friendly fireworks and event.  The fireworks were re-introduced in 2015 after a hiatus and they attract thousands of locals to watch.  Best vantage point is right out front of the hotel.  In addition to the fireworks display, inside there's a kid friendly party with all sorts of activities and entertainment for kids – and an open bar for mum and dad!  Learn more about The Bel's Kid Friendly New Years Eve here.
Belvedere Hotel's kid friendly features
In addition to the play area you'll find:
high chairs
baby change tables
good kid's menu
colouring and activity packs
excellent (although slightly pricey) adult's menu
good access with a ramp for the pram (from the rear entrance)
huge dining area with plenty of room to move about
outdoor/indoor casual dining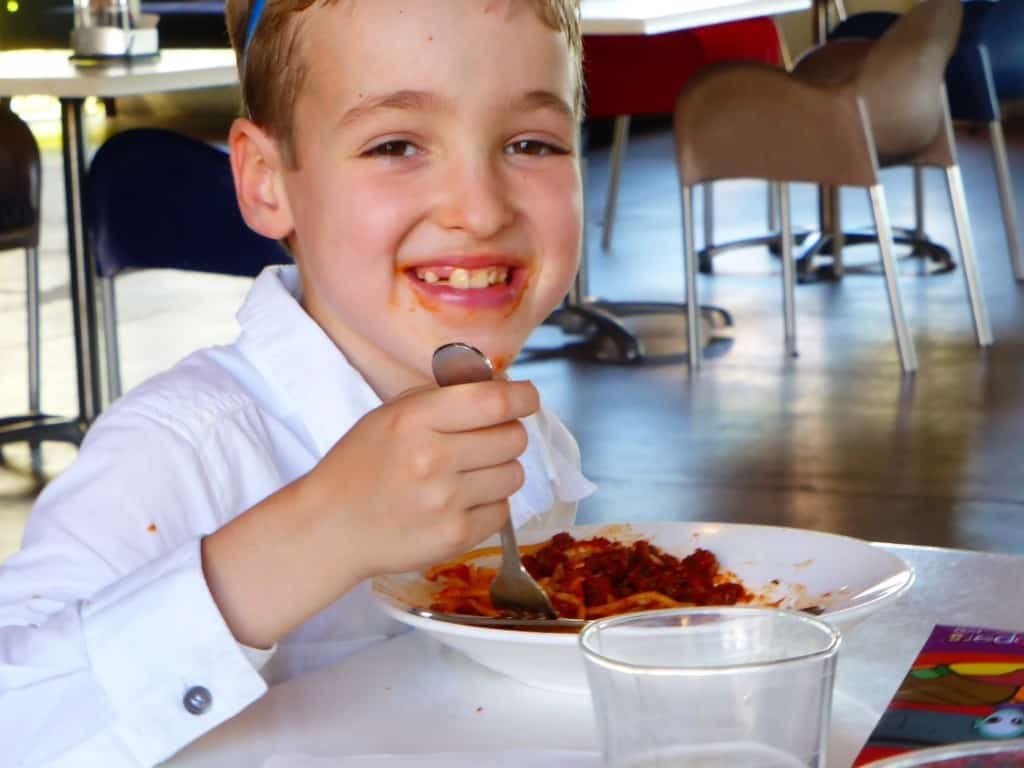 Make a family day of it!
Woody Point is a family favourite with nearby activities incuding:
Crockett Park featuring flying fox, large climbing structures and waterfront views – is RIGHT OUTSIDE
Woody Point and Clontarf beaches – kid friendly swimming
Gayundah Shipwreck walk
Boat hire and water sports
Getting to The Belvedere Hotel
The Belvedere Hotel is located at the point in Woody Point on the Redcliffe Peninsula, about 20 minutes north east of Brisbane.  Take the Gateway Motorway to the Deagon Deviation and head over Ted Smout Bridge.  Follow the waterfront to the hotel.
The Belvedere Hotel offers kid friendly dining in Brisbane's north.  In addition to this, it offers parent friendly dining where kids are entertained, and the seafood is delish!
Tweet