Are you looking for the best things to do in Da Nang with kids?
Offering locals and travellers an enchanting blend of fascinating culture, delicious cuisine, remarkable landscapes, and ancient temples; Da Nang is unlike any other destination of Vietnam. Located along the coast of central Vietnam, the city of Da Nang is widely known for its history as a French colonial port. The city stretches across 1,285 square kilometres and houses a population of approximately 1.215 million.
Due to its location, Da Nang proves to be a popular spot for tourists looking to visit the various nearby inland attractions of Vietnam, including the Ba Na Hills, the Marble Mountains, Golden Bridge, and more. Otherwise, travellers are often drawn to the pristine, sandy beaches of the city.
Looking for some exciting things to do with kids in Da Nang? Ranging from engaging museums to towering natural landscapes, here are some entertaining attractions and activities that are well worth your time.
Ba Na Hills And Golden Bridge
The Golden Bridge of Ba Na Hills is an icon of Vietnam that many families take the time to experience for themselves. The structure is very unique, including 2 large hands 'holding' the bridge while tourists overlook a stretching, green landscape with mountains looming in the distance. On clear days, you can admire views of the coast, the city of Da Nang, and further.
The Golden Bridge is located in the amusement park: Sun World. The bridge is accessible via cable car, with departures occurring as early as 7 am. This means the only way to reach the attraction is to buy a ticket to the theme park. To avoid the inevitable crowds for this vastly popular attraction, it's recommended to organise an early visit.
The Ba Na Hills is a mountain top resort near the Golden Bridge, home to restaurants, rides, museums, and much more. The resort has a medieval exterior, with modern accommodations and attractions for guests to enjoy.
Get your Klook voucher here
Price: VND 700,000
Address: Hòa Vang, Da Nang, Vietnam
Website: Click here
Dragon Bridge
Extending over 600 metres as Vietnam's longest bridge; the Dragon Bridge is unlike any other structure you've seen. The bridge is comprised of vibrant lights, as well as regular fire and water displays, making it an exciting must-see attraction of Da Nang, especially at night. Tourists eager to experience these shows for themselves can head over to the Dragon Bridge on weekends or for annual festivals.
Dragon Bridge initially began construction in 2009 and opened in 2013. This was to ultimately commemorate Da Nang's 38th anniversary of liberation. The dragon serves as a symbol among locals for power and good fortune. Surrounding the bridge is also a generous collection of restaurants and eateries, making it the perfect spot to sit back, enjoy some local cuisine, and admire the majestic riverfront views.
Hours: Open 24 hours
Address: An Hải Trung, Sơn Trà, Da Nang 550000, Vietnam
The Marble Mountains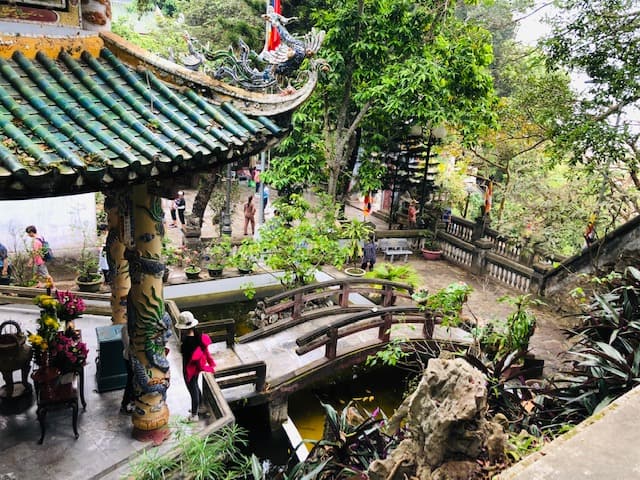 Those in the mood to escape the bustle of Da Nang can consider a trip to the Marble Mountains – a group of 5 towering marble/ limestone hills located 9 km south of Da Nang. The formations are home to a collection of caves, tunnels, and temples for travellers to uncover for themselves. One of the key highlights that draw tourists toward the attraction is the opportunity to climb the Marble Mountains and admire the astonishing views of Non-Nuoc and My Khe Beach from above.
The Marble Mountains are named after the 5 elements: Kim, Thuy, Moc, Hoa, and Tho. According to folk legend, a dragon appeared from the water to lay an egg. After a period of 1000 days and nights, the egg hatched and a girl stepped out. The egg's fragments remained on the beach and grew into the 5 Marble Mountains.
Families eager to explore the formations should leave up to 4 hours to do so. Consider embarking on the journey among the earlier hours of the morning for comfortable hiking weather. Be sure to bring along comfortable shoes, a torch, plenty of water, and anything else you may need.
Price: VND 15,000
Hours: Monday to Sunday (7 am to 5:30 pm)
Address: 52 Huyền Trân Công Chúa, Hoà Hải, Ngũ Hành Sơn, Đà Nẵng 550000, Vietnam
Website: Click here
My Son Sanctuary
Offering travellers the chance to explore ruined Hindu temples dating back to the 4th century; the My Son Sanctuary delivers an in-depth insight into Vietnam culture. The temples are located along the border of the Day Xuyen District within central Vietnam. These structures were built by the Champa Kingdom from the 3rd century. Once the kingdom was overthrown, these temples were abandoned and the lush, surrounding forests began to engulf them.
Following its rediscovery and damage during the Vietnam War, the My Son Sanctuary was declared a National Site in 1979 by the Culture Ministry as well as a Special National Site in 2009 by the national government. Today, many tourists come to marvel the Hindu architecture and to soak in the significance of this area.
Get your Klook voucher here
Price: VND 150,000
Hours: Monday to Sunday (6:30 am to 5:30 pm)
Address: Duy Phú, Duy Xuyên District, Quang Nam Province, Vietnam
Website: Click here
Vincom Shopping Centre
The Vincom Shopping Centre is the perfect spot to entertain the kids and shop across a countless range of brands. Spanning over 40,000 square meters, with four floors of fashion stores, supermarkets, stationery goods, food courts, furniture, books, home appliances and more, there's something for everyone to enjoy. Parents can effortlessly entertain the kids with ice-skating, as the facility houses a 30-millimetre rink. Otherwise, head over to the games arcade, the cinema, or the education-entertainment centre.
Vincom is effortless to reach, with taxis, bikes, and buses all offering passage to the shopping centre. Stop by to enjoy a generous mix of stores, escape the heat, grab a bite to eat, and admire the bustling atmosphere.
Hours: Monday to Sunday (9:30 am to 10 pm)
Address: 72 Lê Thánh Tôn, Bến Nghé, Quận 1, Hồ Chí Minh, Vietnam
Website: Click here
Da Nang Museum Of Cham Sculpture
A destination dedicated to housing and exhibiting various terracotta and stone pieces of Vietnam's indigenous Cham people; the Da Nang Museum Of Cham Sculpture is the perfect place to gain a deeper understanding and appreciation of the country. The museum houses the largest collection of these works in the world, with 300 pieces dating back between the 7th and 15th centuries.
As well as the various Hindu inspired terracotta sculptures in the building, the Da Nang Museum Of Cham Sculpture itself is an ideal example of Cham architecture. The structure was designed by French architects, Delaval and Auclair.
Price: VND 60,000
Hours: Monday to Sunday (7 am to 5 pm)
Address: Số 02 2 Tháng 9, Bình Hiên, Hải Châu, Đà Nẵng 550000, Vietnam
Website: Click here
Con Market
With more than 2,000 stalls comprised of handmade goods and accessories, the Con Markets is a popular shopping hub of Da Nang. The markets were built in the 1940s among the highlands of the city. Today, following a renovation, the Con Markets are now set within a three-story building on Ong Ich Khiem Street.
Visitors of the Con Markets can shop a variety of goods, including produce, coffee beans, and other produce throughout the ground level. Those looking for apparel, handcrafted goods, and tailor services can head to the upper levels. These goods are typically cheaper than average, however, these markets are the perfect spot to test and enhance your bartering skills.
Hours: Monday to Sunday (6 am to 8 pm)
Address: 269 Ông Ích Khiêm, Hải Châu 2, Hải Châu, Đà Nẵng 550000, Vietnam
My Khe Beach
My Khe Beach stretches over 32 kilometres, offering guests the opportunity to lounge upon pristine, white sand while listening to the crashing waves and embracing the serenity this destination exudes. The beach is well known as one of the most picturesque beaches throughout Vietnam, home to perfect surfing conditions, a number of historical sights, nearby resorts, and a plentiful range of restaurants.
My Khe Beach has grown to be a popular destination of Da Nang due to the My Khe Beach US T.V. show that initially featured soldiers enjoying Da Nang. Not to mention, the beach is also conveniently located near a number of World Heritage sites, including the port of Hoi An, the Imperial City of Hue, and the Phing Nga Caves, making it effortless to incorporate into a Vietnam itinerary.
Cua Dai Beach
Another popular seaside destination of Da Nang is Cua Dai Beach, delivering a memorising combination of peaceful sea-side views and a generous range of delicious seafood options. The beach stretches over 3km and offers clean, white sand and crystal water to float upon. Located along the beach are also small huts and bungalows to relax beneath.
It's important to note that those visiting Cua Dai Beach are usually expected to purchase goods from the local hawkers, whether it's in the form of a drink or a small snack. Also, if you intend on swimming, the safest time of the year to do so is between April and August. If you want to avoid the crowds, try to plan a visit on a weekday.
Sun World
Da Nang's Sun World is home to a vast collection of rides and attractions to entertain the entire family for hours on end. Many visitors are immediately drawn to the iconic 115m high Ferris wheel of the park (otherwise known as the Sun Wheel), offering sweeping views to admire. The wheel gains a lot of attention in the evening/ night, as it becomes vibrantly illuminated with dazzling neon lights.
Those seeking more thrill can stop by one of Sun World's 2 rushing rollercoasters. Otherwise, visitors can enjoy some of the smaller shops or grab something to eat at the various restaurants. Sun World also contains areas specifically designed for children, with educational elements also incorporated into various activities.
Get your Klook voucher here
Price: Adult – VND 200,000. Child – VND 150,000
Hours: Monday to Sunday (3 pm to 10 pm)
Address: Hoà Cường Bắc, Hải Châu, Da Nang, Vietnam
Website: Click here
Non-Nuoc Beach
Stretching over 5 kilometres, Non-Nuoc Beach is yet another picture perfect paradise of Da Nang. The beach is located only 20 minutes from the city and offers guests pristine sand, clean water, seafood restaurants, international golf courses, and much more. Not to mention, the beach is only a ten-minute walk from the Marble Mountains, making it the perfect spot to cool off and unwind after a long day of hiking.
Those looking to extend their stay at Non-Nuoc Beach have heaps of accommodation options to choose from, with multiple 5-star resorts scattered along the coastline. Families eager to escape the energetic vibe of Da Nang and embrace a relaxing day at the beach can consider a trip to the vastly beautiful Non-Nuoc Beach.
Han Market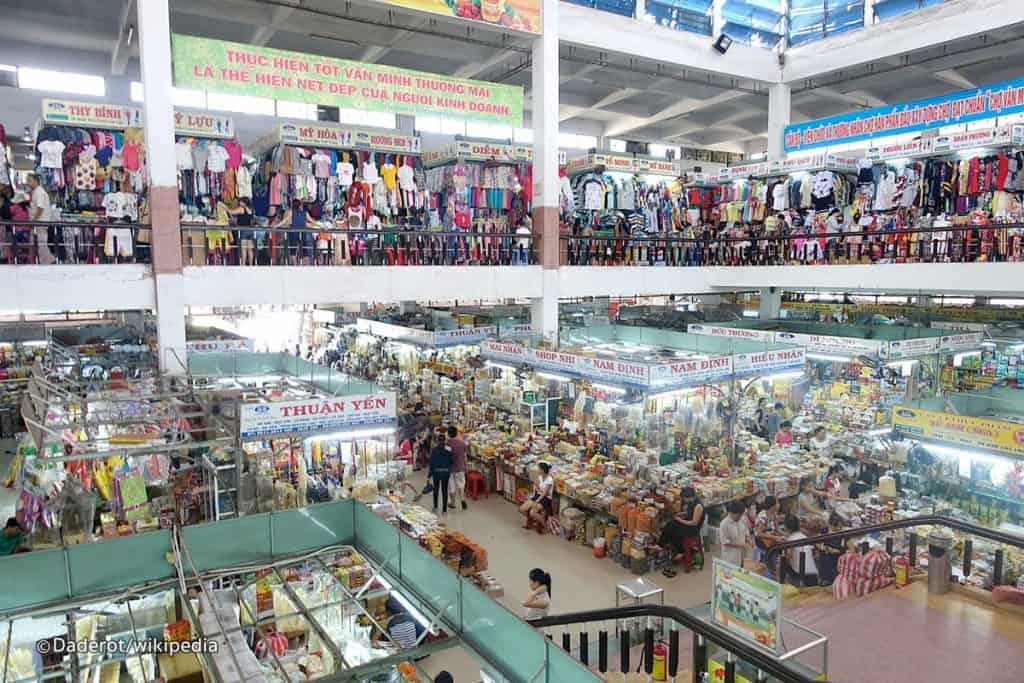 Spanning over 2 floors and offering hundreds upon hundreds of stalls; Han Market is yet another entertaining shopping hub of Da Nang. The markets have been operational since the 1940s, offering various goods in the form of t-shirts, accessories, handcrafted goods, produce, and much more.
The ground floor is made up of stalls selling vegetables, meat, seafood, fruit, and more. The upper levels are home to appliances, cosmetics, souvenirs, and tailor services. Han Market is particularly busy during the earlier morning, up until 11 am, as well as 4 pm onwards. If you're hoping to avoid crowds, plan your visit accordingly.
Hours: Monday to Sunday (6 am to 7 pm)
Address: 119 Đường Trần Phú, Hải Châu 1, Hải Châu, Đà Nẵng 550000, Vietnam
Art In Paradise
Art In Paradise delivers families with an interactive experience alongside unlimited photo ops. Stretching across 4000 square metres and over 2 floors, the museum houses a large collection of 3D artworks that visitors can step into and become apart of.
Art In Paradise came together in 4 months with the help of 20 Korean artists. The museum is split up into 9 individual sections including optical, classic, aqua, safari, fantasy, central hall, world, Egyptian, and imagine. With this wide selection of interactive artwork on offer, there's a memorable experience here for the entire family to enjoy.
Get your Klook voucher here
Price: Adult – VND 200,000. Child – VND 100,000.
Hours: Monday to Sunday (9 am to 8 pm)
Address: 133 Trần Nhân Tông, Thọ Quang, Sơn Trà, Đà Nẵng, Vietnam
Website: Click here
Best things to do in Da Nang with kids
Offering travellers an enchanting blend of fascinating culture, remarkable landscapes, and much more; Da Nang is unlike any other destination of Vietnam. We hope this article has helped you find some wonderful things to do in Da Nang with kids.
Looking for more things to do in Vietnam with kids?