School holiday activities Perth 2023 style are easy to plan when you have our list. This is a great way to find what's on school holidays Perth, WA.
Take advantage of the weather in Perth and get into our list of Perth days out!
No matter kids, teenagers or adults, this article will have something for you.
These are the best school holiday ideas of fun things to do in Perth with kids these Summer 2023 school holidays. We have compiled a comprehensive guide of the best school holiday activities over the December/January 2024 school holidays to help make your life so much easier! If you want to know what's on in Perth for school holidays, just keep reading our long list of ideas.
Perth Summer school holiday dates 2023: 15 December 2023 – 30 January 2024
Brand new – Fun Coding classes for kids this winter
Attention all future space cadets aged 5-12! Are you ready to blast off into the universe? In these brand new classes your kids will learn coding with Minecraft, mini-tendo gaming device, micro-bits, stop motion film-making and/or STEM activities to develop life-long skills!
These hands on 2 day classes are open to all children across Perth at these 3 venues:
Kids activities Perth – free, cheap or GO BIG!
Perth is the capital city of Western Australia and there is NO shortage of things to do here! This article will keep everyone in the family entertained.
We've listed what to do in the school holidays, where to go and what's on with our Perth school holiday activities guide.
Read our list of kids school holiday activities in Perth to find all the things to do in Perth with kids that are going on locally.
Weather gone bad? Check out our list of the best rainy day activities in Perth with kids.
Fun things to do in Perth school holidays could be:
20 free school holiday activities,
10 cheap school holiday activities in Perth,
big days out in Perth or,
kids shows and concerts on during the Perth school holidays.
We've got school holiday ideas Perth style for you in our fun school holidays guide. Add this page to your bookmark bar right now (or share it on Facebook so you can find it later). This article is an 'at-a-glance', go to resource for parents listing the best things to do school holidays Perth style! Make sure you scroll all the way to the bottom to see the most up to date kids shows that are on in Perth these school holidays!
School holiday fun activities Perth
Give spelling, punctuation and grammar a miss for a while with these fun school holiday ideas. From the Perth CBD to the suburbs of Perth, our comprehensive guide has listed a bunch of school holiday ideas. These will ensure the kids are kept happy (which means you are happy, #amiright?!)
19 free things to do in Perth with kids
The best things in life are free! So these school holidays don't have to break the bank. In fact we have listed our favourite things to do in Perth for free with kids! YOU. ARE. WELCOME!
One completely free activity is dog walking! Click here to find the best spots to take your dog.
1.
Kings Park and Botanic Gardens
Kings Park is one of the world's largest and most beautiful inner-city parks. It is rich in Aboriginal and European history, contemporary culture and offers innovative design, displays and services. Kings Park has an international reputation for scientific research, leading horticulture, conservation and public education. Kings Park is home to the spectacular Western Australian Botanic Garden. Visitors can enjoy sweeping views of the Swan and Canning Rivers, the city skyline and the Darling Ranges to the east. This is a great school holiday activities in Perth city.
Bushland walk trails, immaculate gardens and parklands and a variety of children's discovery playgrounds can all be found in Kings Park. We wrote a detailed review about the awesome Kings Park playgrounds and attractions on our recent visit.
RELATED: See the best kid friendly pubs in Perth here.
2.
WA Shipwrecks Museum
Located just next to Fisherman's Wharf in Fremantle and housed in a 19th Century Commissariat Building, the Shipwrecks Museum is a fascinating look at some of the ships and relics that have washed up on the state's hazardous coastline. Along with the permanent exhibits housed at the Shipwreck Museum, young children are invited to take part in several activities just for kids, including A Trek Through Time, Pondering Pirates and Now and Then. Find out more here.
These school holidays you can see:
3.
Hillary's Area
Hillary's Boat Harbour is a prime family destination offering numerous attractions to keep the kids eager and entertained, whilst parents can either join in the fun or relax, watching them play safety. You can find out more at the link here.
4. Cottesloe Beach
Perth's iconic Cottesloe Beach is as pretty as a picture. It's one of the city's most popular spots for swimming, snorkelling, surfing and drinking in ocean sunsets over a glass of wine, a refreshing beer or a relaxed dinner. Crystal clear waters and consistent swell make it a regular hangout for swimmers, body boarders and surfers, while the rocks and reefs invite snorkelers to hit the water too. Find out more at the link here.
5.
Elizabeth Quay
This waterfront precinct has lots of free attractions for you to enjoy as a school holiday activities Perth WA. BHP Water Park is a welcoming free community space for West Australian families and visitors to enjoy. The major attraction at BHP Water Park is an interactive water feature that uses jets and lighting to create fun and exciting water choreography.
The maritime inspired playground includes a sand pit and log steppers, where children can "walk the plank". There are lots of climbing ropes and frames to scramble, a ship's bell to ring and a slide to enjoy. Find out more here.
6.
Art Gallery of Western Australia
Children and families are very welcome to visit AGWA and explore the exhibitions and collections together. The art trails, children's labels, family tours, artist-led workshops and community events support young visitors to engage deeply with works of art and share their unique perspectives. Find out more here.
7. Yagan Square playscape
If you're looking for somewhere for the kids to play, head to the upper level of the Market Hall building. Surrounded by a natural forest canopy with fantastic views over the square, the Yagan Square playscape uses natural forms to create a fun environment for children of all ages and abilities.
You'll find gentler play areas for toddlers and more challenging terrain for older children, as well as water play area. This play space has been designed to celebrate the geological and rock formations found across regional Western Australia. Find out more here.
8. Water Labyrinth
Happy children are the order of the day as they run and play through one of Perth's favourite water sculptures; the Water Labyrinth.
The Water Labyrinth is an interactive water sculpture created exclusively for Forrest Place by internationally renowned artist Jeppe Hein. It runs daily from 10am to 6pm unless an event is being hosted in Forrest Place. Find out more at the link here.
9.
DFES Education and Heritage Centre
The Department of Fire and Emergency Services (DFES) Education and Heritage Centre is located in the original Perth Central Fire Station. Now refurbished, the old station characterises both past and present emergency services' through displays dedicated to the history of Western Australian (WA) fire services and a natural hazards and disasters education gallery.
The centre is open to the public and offers an interactive, interesting and fun experience for schools, tourists, families and community groups. Find out more here.
10.
Mardalup Park
Built on the former East Perth Gas Works site, Mardalup Park is right on the river's edge and has a rich Noongar history. It was used by many Noongar families as a camping ground in the past – Mardalup is a Noongar term; its English translation is 'place of small marsupial'. Mardalup Park also features many artworks constructed from materials from the old Gas Works and is the ideal spot for picnics for families or somewhere to sit back, relax and enjoy the city. Find out more here.
11.
The Story Place at the State Library
The Story Place, on the mezzanine level of the library, is a vibrant and colourful space with plenty for kids to do. At The Story Place you're never too young for a library card! A library card is one the best gifts a parent can give their child. It allows free access to books to feed their imagination and knowledge of the world. Children can discover favourite authors and illustrators and follow up their interests and hobbies. Get your child their own library card today – they can join at any age, even as a baby! Find out more here.
12.
Totterdell Park
Nestled in amongst the office buildings in West Perth is the charming Totterdell Park. The playground has a soft fall play area with a large metal play frame featuring slides, climbing nets, ramps, monkey bars and a climbing wall. There's also ample place for kids to kick a footy on the grassed area and lots of space to throw down a picnic rug and enjoy a catch-up with friends and family. Get more information here.
The Play Space is located in the James Street Mall main pedestrian way in the Perth Cultural Centre, in front of the WA Museum. Instruments such as chimes and beaters, a colourful set of melodic drums and a series of interconnected talking tubes, create a soundscape for children to explore and experiment with.
Movement, balance and energy are also encouraged throughout the play space with walking stilts, low steppers and climbing rocks. The play space was recognised with a design award by the Landscape Industry Association of WA (LIAWA). Get all the details you need here.
13.
Whiteman Park Water Playground
Get the little ones to bring their bathers to Whiteman Park so they can enjoy the 30cm-deep paddling pool! With a wading pool and waterspouts, kids of all ages will enjoy this special area, complete with soft-fall surrounds and shade shelters surrounding the pool.
The water playground is open from 10.00am to 5.00pm every day; typically throughout the warmer months – (weather and permits permitting). Find out more about the playground here.
14.
Perth Airport Viewing Platform
Perth Airport viewing platform is the perfect place to take little aviation enthusiasts to watch the arrivals and departures of aeroplanes on Perth airport's main runway. The Perth Airport viewing platform is located on Dunreath Drive and is open every day between 6.30am and 7.00pm (October to March) and 7.30am and 5.30pm (April to September). There is a large car park and parking is FREE. Get the scoop here.
15.
Butterflies, Birds and Bridges Trail
Only a 20-minute drive from Perth, the Butterflies, Birds and Bridges Trail is one of the most scenic trails in Canning Regional Park. You'll walk through sedge meadows, mature woodlands, creeks and amongst the crowns of a paperbark forest.
This lengthy but easy trail is the perfect weekend day trip, and with water access points and a cafe, it's a trail that you don't have to be too prepared for. Get all the 'need to know' info here.
16.
Ellenbrook Water Playground
Rainbow Waters is one of Perth's biggest outdoor water parks. The playground features arched fountains, water cannons and ample space to splash around. It's open seven days a week in the warmer months from 9am to 7pm. There are also four electric barbecues, various shelters, picnic tables and change room facilities. Best of all, the playground is free to the public! Find out more here.
17.
Play a Game of Disc Golf
Disc golf is a flying disc sport in which players throw a disc at a target; it is played using rules similar to golf. It is often played on a course of 9 or 18 holes. Perth has a permanent Disc Golf Course in Greenwood, the 'Rob Hancock Memorial Golf Course'. Natural Australian bush with grass fairways. Get the details here.
18.
Recycle Right Tours Canning Vale
Have you ever considered what actually happens to your rubbish once it leaves your verge side collection? Would you like to learn a bit more about how you can make a difference to the environment by placing your rubbish in the correct bin? At the Southern Metropolitan Regional Council's Regional Resource Recovery Centre (RRRC) in Canning Vale, you can come and see exactly what happens to your waste.
Free 1.5 hour tours are available to educate visitors about the recycling process and allow safe and exciting views from observation decks into the various facilities. All school, community and family groups are welcome, as well as individuals. Take a tour here.
19.
Belmont Faulkner (Volcano) Park Feature Playground
If you're looking for a playground for the kids to play a whole morning or afternoon away, this is the one! There is so much to do and see, and there is something for the little kids right up to the bigger kids – with the most popular attraction being the big volcano that shoots out "steam" (vaporised water) every 15-20mins.
It has a pathway that winds up to the – it's wide enough that you can push the pram up there if you want to. It has a couple of slides on the side of the volcano or you can use the pathway to get back down.
13 cheap school holiday activities in Perth with kids
The sun is shining and it is time to get out and about, just a little to enjoy time with your kids these school holidays. This list of 10 cheap ideas will help you keep some cash in your pocket for the full two weeks break!
20. Code Camp – for the best school holidays ever!
Let Code Camp inspire your children to get creative with technology these holidays, learn some valuable new skills, have fun and make new friends. With a wide range of in-person camps and online programs available, there really is something for everyone. Choose from beginner to advanced coding camps, robotics, stop-motion animation, DJing, video production and so much more!
What's New? Code Camp is launching brand new camps this summer!
Kids can learn to code with DreamWorks Trolls! At Little Coders: Trolls Edition, 5-7 year olds will take their first steps on their coding journey banding together with their favourite characters. At Spark and Ignite, kids 7-12 years can code and create an adventure game with Poppy, Viva, and Branch.
Plus, AI Camp where kids embark on an exciting journey into the world of Artificial Intelligence (AI), the most important technology of a generation. Young minds discover the wonders of AI and its fun and practical applications in our everyday lives and create their own comic book using AI!
Your favourites are also back this season including Minecraft Engineers (for kids 7-12), Minecraft Minis (for kids 5-7), and Roblox Legends (for kids 7-10). Robotics Camp and Drone Camp are also running this summer, offering the coolest few days of STEM learning and fun.
21.
The Elizabeth Quay Carousel
Experience the wonder and enjoyment of a traditional Venetian Carousel right in the heart of Elizabeth Quay. Similar to handcrafted jewellery, The Elizabeth Quay Carousel is a piece of art that will be loved and enjoyed by generations of Perth families. Click here for more information.
22.
WA Detective Trails
WA Detective Trails are self-guided puzzle walks for Perth city, Perth metro and Western Australia. Download your printable trail booklet to see the sights, follow the clues, cross off the suspects, and solve the puzzle. This is a fun activities Perth. Start your journey here.
23.
HBF Arena
Located in Joondalup, HBF Arena is proud to offer diverse aquatic facilities, great for lap swimming and family friendly leisure swimming. The family friendly facilities include: lap pool, waterslide, beach style leisure pool, toddler splash pool and shaded outdoor grassed area.
PLEASE NOTE: Family pool and waterslide closed until further notice.
24. Glowing Rooms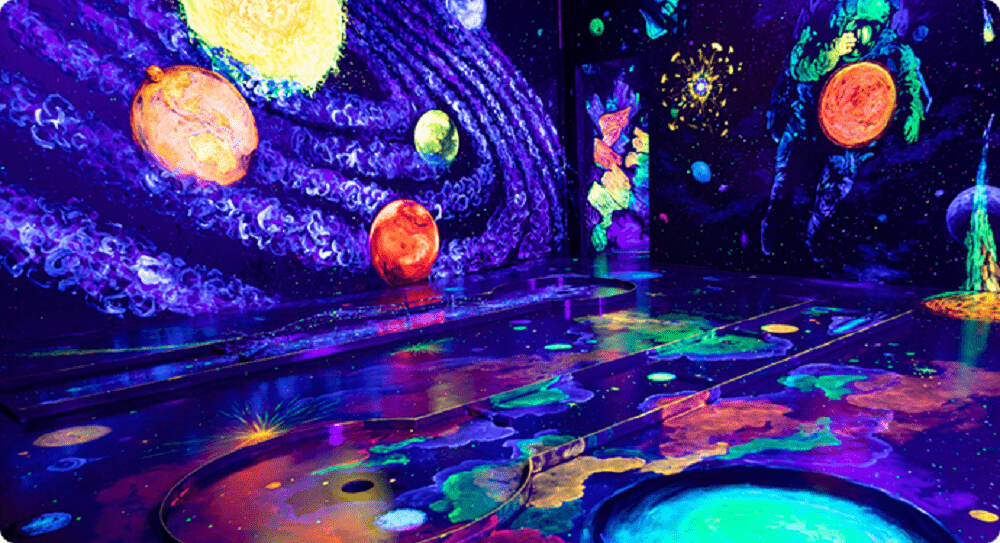 Just five minutes south of Fremantle, with loads of free onsite parking, Glowing Rooms is designed to provide you with an unrivalled school holiday experience. Play through a Mini Golf course like no other, surrounded by intense colours, all in air-conditioned comfort. Whatever the weather, whatever your skill level, glow in the dark 3D Mini Golf is the perfect leisure activity for all ages.
As you travel through the course, explore space and the far-flung corners of the universe. Journey under the waves to a world inhabited by sea creatures. Wander past some of Australia's most iconic landmarks and get up close and personal with some of your favourite superheroes!
They also have VR Escape Rooms – school holiday fun!
25.
WA Maritime Museum
Perched on the Indian Ocean's shore, the WA Maritime Museum is symbolic of Fremantle's past, present and future as a coastal city and port. The Museum houses several unique galleries that explore WA's maritime relationship. From leisure boats and handcrafted sailing boats to commercial pearl luggers, the Museum inspires visitors to discover WA's affinity with the ocean.
At the WA Maritime Museum, children will investigate the impact of immigration, imagine sailing around the world alone, or go on a guided tour to explore high sea adventures! Find out more here.
These school holidays you can see:
Fremantle: Then and Now
HMAS Ovens Tour
26. The West Australian Reptile Park
The West Australian Reptile Park is a family-owned park which has its foundation in Gane Doyle Snr's lifelong passion for reptiles and wildlife. West Australian Reptile Park has interactive presentations designed to entertain and educate visitors of all ages. Click here to go to their website.
27.
John Forrest National Park
John Forrest National Park ticks all the boxes for an awesome family day out. It's close to Perth, has lots of walk trails, plenty of picnic spots, wildlife, and now a brand-new nature play space! The kids will love getting dirty, climbing, splashing and just being in nature. Get more information about their school holiday activities here.
28.
Herdsman Wildlife Centre
Educational interactive fun for only a gold coin donation. Great place to learn about and interact with nature, includes short nature walk. Herdsman Lake Wildlife Centre provides a unique opportunity for schools and the community to reconnect and interact with nature. We have more details here.
29.
Railway Museum Bassendean
If your child love trains, they will love the Rail Heritage Museum. It is not just a look and see museum, it's very interactive with lots of opportunity to climb aboard the amazingly preserved freight and passenger trains to see exactly what they used to look like. Many of the trains also have beds, bathrooms and toilets. Find out more here.
30.
Landsdale Animal Farm
Founded in 1983 as a place for students with disability to gain practical learning experiences, Landsdale Farm has always survived on the strong support of the community who continue to access it. Today the place boasts lush gardens, multiple training spaces and of course a huge range of animals!
They aim to provide meaningful and memorable learning experiences to the general public, students with disability and school groups. They develop programs to bring the farm into the classroom through technology and bring students into the farm no matter what age. Find out about their school holiday programs here.
31.
Galaxy Drive In Kingsley
They show New Release Movies under the stars at Perth's only Drive In Theatre! With an onsite cafe and friendly staff your night can be stress free.
Right now you can see:
Movies always change to new releases – see what is showing now!
32. Event Cinemas
Not a fan of the drive in? Head to your closest Event Cinemas for a great time! Perfect for a rainy day! Click here to find everything showing!
Looking for all the water parks in Perth? Check out our article!
10 BIG days out for the Summer school holidays
One or two BIG days out are sometimes a fun school holiday activity to create special memories with your kids. Here are our favourite 10 Perth attractions that are suitable for families.
RELATED: Check out the best day trips from Perth here!
33.
Scitech Discovery Centre
Scitech is an educational and engaging science centre conveniently located in the heart of Perth. As Western Australia's leading science education institution, this unique centre offers interactive science experiences for people of all ages to enjoy. For more details click here.
These school holidays you can see:
34.
Perth Zoo
Located in South Perth and just five minutes from the CBD, Perth Zoo is home to animals and plants from all corners of the globe. Go for a bushwalk and discover koalas, quokkas, emus, kangaroos and Simmo the enormous crocodile.
Explore the Asian Rainforest and experience Asian Elephants, Sumatran Tigers, Sun Bears or gibbons. Wander through the African Savannah and encounter rhinos, zebras, giraffe, a lion and meerkats. These are just some of the animals you could meet from all corners of the globe at Perth Zoo.
Make a day of it and enjoy free keeper talks. For the more adventurous, get up-close and book an Eye to Eye experience. You might feed a giraffe, meet a quokka or touch the rough skin of a bearded dragon. For more details click here.
35. Perth Mint
As one of Western Australia's premier destinations, The Perth Mint offers a unique combination of attractions, exhibits and demonstrations which enable visitors to experience the magic, allure and wonder of gold. It's world-class Gold Exhibition brings the history of Western Australian gold and The Perth Mint to life.
Multimedia displays, aged artefacts and historic imagery form the backdrop to a wealth of pure gold exhibits. Visitors will learn of the gold mining legends and events that have shaped the state as well as those which continue to contribute to its prosperity. For more details click here.
You can even get a guided tour of the Perth Mint with this link here.
These school holidays you can see
36.
Aquarium of Western Australia
Discover more of WA's spectacular marine life as you go on an underwater journey along our coast, from the icy-cold waters of the Southern Ocean to the tropical wonderland of coral reefs in the Far North. AQWA is a privately-run company dedicated to generating wonder and respect for the marine life of Western Australia. For more details click here.
Grab your tickets for the Aquarium of WA online here.
37.
Fremantle Prison
Fremantle Prison is the largest convict built structure in Western Australia and the most intact convict establishment in the nation. Decommissioned as a maximum-security gaol in 1991, the Prison was continuously used as a place of incarceration for almost 140 years. With death row, solitary cells and gallows, it is a monument to a system of punishment that is uncomfortably recent. There are selection of tours available. For more details click here.
38.
Caversham Wildlife Park
Located in the picturesque Whiteman Park in the Swan Valley, Caversham Wildlife Park offers visitors a chance to get up close and hands on with Australia's native animals. The park features about 200 species and more than 2,000 animals, birds and reptiles. Caversham Wildlife Park is the largest privately-owned collection of native wildlife in Western Australia. For more details click here.
These are the best deals for heading to the wildlife park that we have found – choose from 4 options!
39.
The Bell Tower
We think this is a great school holidays 2023 Perth activity.
The Bell Tower located on Riverside Drive overlooking the picturesque Swan River is one of the most unique places in Perth. Filled with fascinating historic content and boasting a unique and distinctive design – resulting from a major architectural competition – it has become an icon for Perth and Western Australia.
Experience the sound and spectacle of one of the most historic rings in the world and enjoy a behind the scenes look at the bell ringing chamber, where one of the expert bell ringers will give your group a brief history of the Bell Tower and the art of bell ringing. For more details click here.
40.
Perth's Outback Splash
Get ready for Perth's most thrilling waterslide experience; the waterpark and year-round attractions at Perth's Outback Splash guarantee a great day out for the whole family. For more details click here.
41.
Swan Valley Cuddly Animal Farm
A visit to the Swan Valley Cuddly Animal Farm provides children (and 'grown-ups' too) with the opportunity to experience the joy of getting 'close and personal' with lots of friendly farmyard animals in a delightful outdoor country atmosphere which is just 30 minutes from the Perth CBD in the heart of the beautiful Swan Valley. There are so many things to do. For more details click here.
42.
Wanneroo Mini Golf
Get outside and get the kids excited! Enjoy 36 holes of fun for the whole family nestled amongst one of Perth's premier garden settings. The 18-hole Garden course and the 18-hole Billiard Golf course combine to create Australia's largest outdoor Mini Golf complex. Every track is uniquely shaped with its own obstacles, curves, ramps and challenges. For more details click here.
Kids shows Perth
If you are looking for school holiday entertainment Perth style, why not a kids show or kids concert!? Here's where you can find what's on for Perth kids this Summer in terms of kids live shows:
43. His Majesty's Theatre
Conveniently located in the Perth CBD, this historic theatre offers tours and family shows year round. Families tip: Take the free Central Area Transport RED CAT route to get to the theatre.
Take a look at their website for what's on these school holidays.
44. State Theatre Centre of WA
This modern theatre has a number of different spaces for performances, music and drama, with family shows featured during the school holidays.
Click here for the theatre's website.
45. Albany Entertainment Centre
With family shows on during the day and early evening, The Albany Entertainment Centre has you covered these holidays.
46. The RAC Arena
The RAC Arena is home to entertainment and sport in a futuristic looking venue. Whilst it is mainly used for basketball matches, there is some fabulous school holiday entertainment on offer.
Take a look at the website for more info.
Perth kids holiday ideas
Soooo…. what do you think? Plenty of kids holidays Perth days out ideas here to keep you and the kids entertained for the whole school holidays? These Perth holiday ideas are updated every term, so remember to bookmark this page.
Let us know if we missed your favourite or if you would like us to add your venue or event!
If you're looking for more activities in Western Australia, follow this link to get all you need to know.
Looking for more things to do in Perth with kids?
Celebrating with kids in Perth?