Are you scratching your head and wondering what fun school holiday activities Melbourne has to offer your kids? Or what to do these school holidays. Perhaps things to do during school holidays? Whats on school holidays Melbourne, VIC?
Fret none, we've done OUR homework and compiled a huge list of Melbourne school holidays ideas for you. This list will take the hard work out of thinking about the best ideas of things to do in Melbourne with kids these summer 2022 school holidays. Our comprehensive guide of the best school holiday activities over the December/January school holidays will help make your life so much easier!
We've listed what to do in Melbourne, where to go and what's on for Melbourne school holidays this summer!
School holidays 2022 Melbourne summer 2021 school holiday dates: 18 December 2021 (Saturday) – 30 January 2022 (Sunday)

Not the best weather? Check out our list of the best rainy day activities in Melbourne
Kids activities Melbourne – free, cheap or GO BIG!
Whether you are looking for free school holiday activities Melbourne or cheap school holiday activities in Melbourne we've got ALL the school holiday ideas for you in our guide.
Read our list of school holiday activities in Melbourne to find all the things that are going on locally for your kids.
We know that sometimes it is hard to think of fun activities for kids during the school holidays so we have researched and put together this detailed list. We've got school holiday ideas Melbourne style for you in our fun school holidays guide. Add this page to your bookmark bar right now (or share it on Facebook so you can find it later).
This article is an 'at-a-glance', go-to resource for parents listing the best things to do school holidays Melbourne style!
What's on school holiday fun activities Melbourne
Give spelling, punctuation and grammar a miss for a while with these fun school holiday ideas. From the Melbourne CBD to the suburbs, our comprehensive guide has listed a bunch of school holiday ideas. These will ensure the kids are kept happy and you will be stress-free over the school break.
Things to do in the Melbourne kids school holidays
If you are looking for fun things to do in the Melbourne school holidays check out our huge updated list of fun ideas.
Fun things to do in the school holidays Melbourne:
free things to do in Melbourne during the school holidays,
cheap days out in Melbourne,
big days out in Melbourne and
shows and concerts on during the Melbourne school holidays.
20 Free school holiday activities Melbourne
As the old saying goes – the best things in life are free. School holidays don't have to break the bank (or your wallet). These ideas are the best free school holiday activities for the summer school holidays that Melbourne has on offer.
Ride The City Circle Tram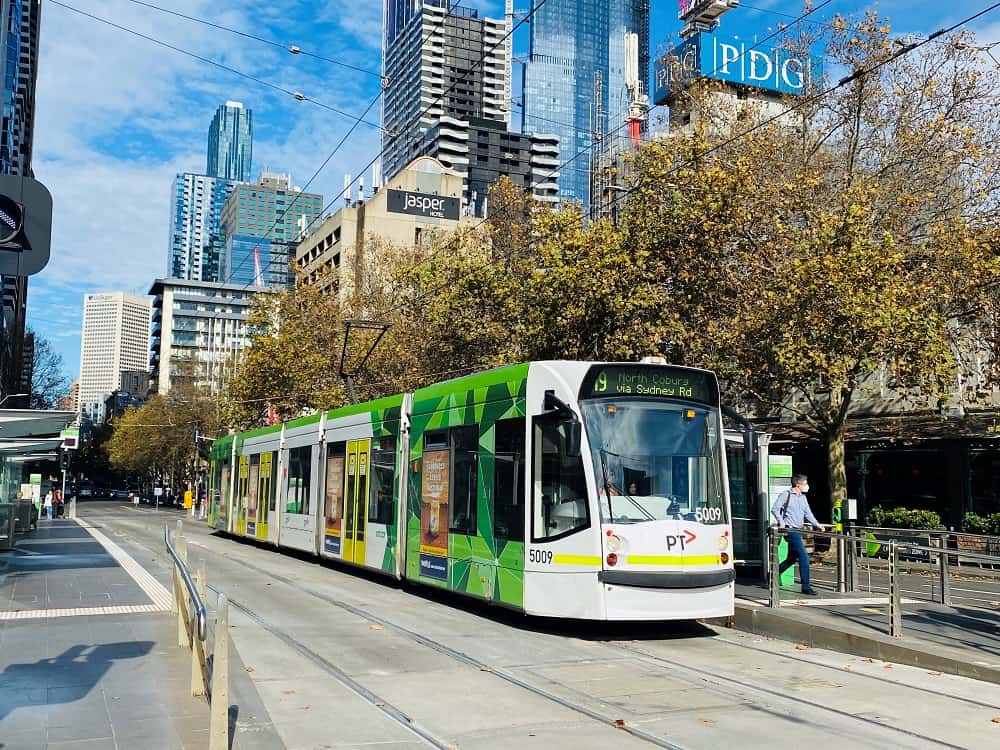 The City Circle Tram service provides a free and convenient way to get around central Melbourne. The City Circle Tram makes its way around the city and links with other tram, train and light rail services in and around Melbourne. There's no limit to use – you are welcome to spend all day on a City Circle Tram. On board each City Circle Tram you'll find Information leaflets, including an 'easy to understand' map of the city to help you get around to all the key destinations. Click here
See St Kilda's Little Penguins
The St. Kilda Breakwater which protects the harbour is home to a colony of around 1200 Little Penguins. Who would have thought?? If you go to St. Kilda Pier just before dusk you'll see the Fairy penguins swimming in at the end of the day and climbing the breakwater rocks into their nests. There are usually between 10 and 20. There are volunteers available to answer your questions. At the breakwater, walk along the gravel and then go down the wooden stairs.
Discover sailing
Discover Sailing Days are offered at over 30 yacht clubs around Victoria. Check your local one to see when they are offering free Discover Sailing Days. There is no need to bring anything (except perhaps a hat!) as they provide everything you need. Find out more here
Storytime at your local library
From sessions for babies and toddlers, to story times for preschoolers, school holiday programs, homework and after school clubs, there's plenty for children of all ages at Melbourne Library Service. See all the details here
RAAF Museum
The RAAF Museum pays tribute to the history of the Air Force, and houses an extensive collection of memorabilia and stories of Australia's military aviation expeditions. The free museum in Point Cook has a wonderful display including air missiles, a mirage jet, helicopter and a boat plane. Get all the information here
Fitzroy Gardens
Fitzroy Gardens is one of Melbourne's most historic and beautiful gardens. The magnificent tree-lined avenues and extensive lawns provide ample opportunity for running. The English-style garden contains a few attractions which are good for kids – a small playground, a model Tudor village, the Fairies tree, Cook's Cottage and conservatory. Get more info here
Queen Victoria Market
Also known affectionately as 'Vic Market' or 'Queen Vic', the Queen Victoria Market has been the heart and soul of Melbourne for more than a century. An historic landmark spread over two city blocks, it's a vibrant and bustling inner-city market where you can shop at over 600 small businesses for everything from Australian fruit and vegetables, local and imported gourmet foods, clothing and souvenirs. More details can be found here
Become a Junior Ranger
The Junior Ranger program encourages kids to explore Victoria's amazing parks with a real park ranger. Junior Rangers can take part in cool activities like rock pool rambles, historic tours and spotlight night walks. They also have the ability to get out and about anytime they like with a range of cool Junior Ranger activities that they can download from the website and complete with their family and friends anytime they like. Check out the school holiday activities here.
NGV Ian Potter Centre
The National Gallery of Victoria is a place for everyone and warmly welcomes children, teenagers and families. NGV Kids exhibitions and programs reflect the Gallery's commitment to providing creative experiences for young people and their families. Find out about their school holiday exhibits here.
Picnic in The Royal Botanic Gardens
Melbourne Gardens is a great place for picnics. With its meandering walkways, diverse plant life and stunning views, plus a unique space designed specifically for kids, add the gardens to your must-see itinerary for families. Find out more here
Serendip Sanctuary
Serendip Sanctuary has been described as a wildlife oasis in the Western Volcanic Plain, with a wide variety of native birds and mammals. The sanctuary is a great venue for families with hands-on activities on offer for kids along with excellent facilities such as smooth tracks for prams, open space for play, free barbecues, picnic tables under shelter and baby changing facilities. We have got more details here.
McClelland Gallery & Sculpture Park
The gallery and grounds at McClelland Sculpture Park and Gallery are a wonderful environment for families to explore at all times of the year. Look for birds and insects and if you are really lucky you might spot turtles and echidnas! Make a day of it and enjoy a picnic in the grounds.Click here
Edendale Farm in Eltham
Edendale demonstrates farm production to the community with animals such as sheep, dairy goats and chickens, as well as vegetable gardens and orchards of heritage fruit trees. You can participate in self-guided walks around the farm, children's clipboard activities, explore the native plant nursery, plus you can bring a picnic. Click here
Donna Buang Rainforest Gallery and Skywalk
This beautiful site features a 40-meter-long observation platform which takes you into the rainforest canopy 15 metres above the ground. A 350-meter-long elevated walkway takes you through the Rainforest Gallery where you will see magnificent 65 metre tall old growth Mountain Ash trees, ancient Myrtle Beech trees ferns, mosses and other plants that make up this damp and diverse rainforest environment. Click here
State Library of Victoria
Play Pod is the Library's program for children aged under eight years, packed with activities to read, create and play. With a new theme every season, Play Pod is always changing, fun and interactive, so children are free to explore and engage with the support of their parents and carers. Click here
Old Treasury Building
Step back in time by visiting the exhibition 'Growing Up in Old Treasury', where the Maynard family lived as caretaker of the building during the 1920's. The Fun Trail is offered as part of the Old Treasury Building experience. Children are encouraged to interact with the history of Melbourne by answering a questionnaire and earning a Gold Licence! Click here
Melbourne Town Hall
Free tours of Melbourne's historic Town Hall give visitors the chance to learn about the architectural, social and political significance of this impressive 19th century building. Experience the grandeur of the wood-panelled Council Chamber, stand on the portico where the Beatles waved, sit in the Lord Mayor's chair and view the richly carved Melbourne Town Hall Grand Organ, the largest grand romantic organ in the southern hemisphere. Click here
St Kilda Adventure Playground
Fantastic space for the entire family with lots of stuff for the little ones with the rope slide, swings mini flying fox and sand pit and plenty of lawn. Bigger kids will also have a ball with huge slides, flying fox and the ability to run from one place to another. There is a big ship and plenty more to do. Pack a picnic and spend the day! Click here
Australian Centre for Contemporary Art (Southbank)
The Australian Centre for Contemporary Art (ACCA) is an Australian flagship contemporary art space, and a leading centre for the artistic and wider communities to participate in a critically engaged contemporary art culture that encourages curiosity and transformation. Click here
Cranbourne Gardens
Cranbourne Gardens contains one of Victoria's most precious areas of native bushland. At its heart is the stunning Australian Garden, which showcases the diversity of Australian flora. Rockpool Waterway provides free water play (when there's enough water) with a rushing stream set against a dramatic steel Escarpment Wall Sculpture. Click here
Cheap school holiday activities in Melbourne school holiday activities
Want to take the kids out, but you are on a budget? That's OK – we've got a list of low cost options for the school holidays. These are cheap school holiday activities in Melbourne and suburbs – all $10 or under per child – that the kids will LOVE!
Collingwood Children's Farm
Bringing the country to the city, the Collingwood Children's Farm gives urban kids a chance to give farming life a go. You can milk the cows, feed the chooks, ride a pony or play with the baby lambs. A farmer's market takes place every second Saturday of the month, where you can pick up fresh produce. The Farm Café serves up hearty meals with a paddock-to-plate policy: everything is made from scratch and ingredients are sourced locally.
Australian National Aviation Museum
The Australian National Aviation Museum is located at Moorabbin Airport. With one of the most important collections of aircraft and engines in Australia this is a fantastic place for those interested in aviation history and technology, and a great place for kids and adults alike to wander around and even look inside a number of aircraft. There are a number of cockpits open for public access to sit in and interact with the aircraft.
Polly Woodside
Climb aboard and roam the decks of the historic Polly Woodside, one of Australia's last surviving 19th century tall ships. Experience the turbulent trials of history at sea and steer your way through blustering tales from the ship's 17 world voyages, above and below deck. Polly Woodside offers a range of activities for visitors including an award-winning interactive gallery on its history, children's Crew Calls and Pirate Days. Located in the heart of Melbourne's South Wharf, discover life on the seas with one of Melbourne most iconic and enchanting attractions.
Railway Museum at Newport
Newport Railway Museum is a must-see for rail enthusiasts of all ages, and a favourite of families looking for an interesting, enjoyable and affordable weekend outing. Newport Railway Museum's display includes the largest collection of steam locomotives of the former Victorian Railways, many of which were built just metres away in the Newport Railway Workshops. Click here
Newport Railway Museum
The Railway Museum has on display the largest collection of Victorian Railways steam locomotives. There are more than 15 different locomotives, ranging from the diminutive F class up to the H class, the largest locomotive to operate in Victoria. Come and see the evolution of steam power on the railways. Click here
Pauline Gandel Children's Gallery
The Children's Gallery is a wondrous place for babies to 5-year-olds to explore, play and learn. During school holidays, budding paleontologists excavate fossils in the dinosaur dig; aspiring botanists traverse the discovery garden, exploring plants and stories; young curators gaze at the specially selected museum objects, and for everyone who loves to dance, there is a 'camouflage disco' where children will turn into spotty and stripy disco dancing animals.
Immigration Museum
This thought-provoking museum on the edge of Melbourne's CBD documents the history of immigration in Australia including the different policies that have been in place at different times, the different groups who have immigrated and how and why they would have immigrated. Click here
Bundoora Park Farm
The Farm offers a variety of activities for both young and old – meet the friendly farm animals, take a ride to see the kangaroos and emus or explore early 20th Century Australian life at the Heritage Village. Enjoy a great day out for the whole family. Take a picnic or stop in at Bundoora Park Café for a snack or some lunch. Click here
Buxton Trout and Salmon Farm
A day to remember – fishing by the Stevensons river with your friends & family. Be excited & rewarded by catching your own fresh fish to eat here for lunch or have cleaned & packed on ice to take home. Fishing is the perfect way to get out in nature & experience the sights, smells & sounds of the Victorian countryside. Click here
Fire Services Museum
The Fire Services Museum of Victoria is an organisation dedicated to the preservation and showcasing of fire-fighting memorabilia from Victoria, Australia and overseas. It bolsters one of the largest collections of fire-fighting memorabilia in Australia, with it being located in one of its prized exhibits; the original headquarters of the Metropolitan Fire Brigade (MFB)
Big Days Out in Melbourne
One or two BIG days out are sometimes a fun school holiday activity to create special memories with your kids. Here are our picks of awesome school holiday activities:
LEGOLAND Discovery Centre
Take LEGO-lovers to Australia's first LEGOLAND Discovery Centre. Billed as the "ultimate indoor LEGO playground", it's a great day of fun with 2 rides, 5 LEGO build and play zones plus a 4D cinema. If your kids love LEGO then this is an absolute must for things to do in Melbourne with kids. Click here
We have discounted tickets to LEGOLAND Discovery Centre – click here for cheaper tickets
Melbourne Zoo
Get up close to Australian wildlife such as koalas, kangaroos, wombats and emus at the Royal Melbourne Zoological Gardens, AKA Melbourne Zoo. The zoo is also home to tigers, monkeys, lemurs, Little Penguins and Australian Fur seals. The zoo often tops lists of kids attractions in Melbourne with its excellent facilities and well cared for animals.
*And remember kids under 16 receive FREE general admission to Melbourne Zoo, Werribee Open Range Zoo and Healesville Sanctuary on weekends, Victorian government public and school holidays. Click here
EDITORS TIP: You can buy a multi-pass to 3 attractions and save money these school holidays – click here.
SEA LIFE Melbourne Aquarium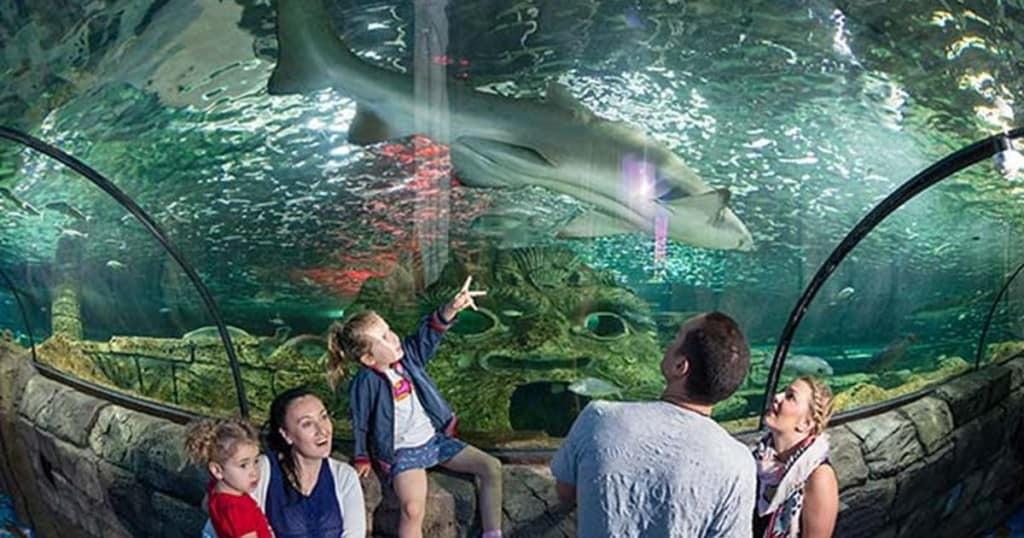 SEA LIFE Melbourne takes you on an interactive ocean adventure filled with amazing discovery around every corner. Discover your inner adventurer as you dive through the depths of the ocean, before waddling your way to the icy cool waters of Antarctica, home to the regal King and cheeky Gentoo penguins. Click here for more information.
EDITORS TIP: If you plan on doing both the Aquarium and SEA LIFE – you can get discounted entry with this combo pass here.
Science Works
Scienceworks is bursting with things to challenge curious minds of all ages. In just one visit, you can stroll among the gigantic machines that kept the city running, enjoy electrifying theatre in the Lightning Room, let your little ones roam safely in enclosed spaces, wander through our immersive exhibitions and drop into deep space in the Melbourne Planetarium. We love this place, so if you haven't been… you should make the effort to get there these school holidays. Click here
Animal Land Children's Farm
Animal Land has been specifically set up to give children a tangible, practical farming experience. Unlike other animal attractions and zoos where visitors simply observe the animals from a distance, our visitors get to hold, pat, feed, ride and immerse themselves in farm life first-hand. Click here
Artplay
Artplay is a civic space where children and families can get creative and express themselves with a vibrant programme of arty workshops. They have more than 300 workshops, events and performances every year. The artists, workshop content and participants reflect Melbourne's diversity. Bookings are required for most workshops, however there are also free drop-in events available. Click here
Eureka Skydeck 88
Eureka is perfectly positioned for a complete 360-degree, floor-to-ceiling views encompassing Melbourne's CBD, sports precinct, Docklands and everything in between. Come by day for brilliant views extending to the Dandenong ranges, and by night to see the breathtaking Melbourne skyline nightscape. Apart from the unforgettable panorama and views, Skydeck 88 entertains the entire family with a host of activities and fascinating facts. Click here
We have discounted tickets to Eureka Skydeck – click here for cheaper tickets
Melbourne Star Observation Wheel
Take a flight of discovery through the Melbourne skies and see the city from a different perspective on the Melbourne Star. Every night from dusk, the Star lights up the Melbourne skyline with a spectacular lighting display. Three and half kilometres of LED lighting engineered into the structure of the wheel generate more than 15 million different light combinations. Click here
O'Brien Icehouse
O'Brien Icehouse is Australia's largest ice arena. Nestled in Melbourne's Docklands, in amongst the city's other greatest sporting and cultural icons, it is a strong symbol of sportsmanship and excellence. O'Brien Icehouse is a world-class facility, attracting some of the greatest sports people from around Australia to train and compete in the Olympic-standard arena. Click here
Werribee Open Range Zoo
Why travel thousands of kilometres when a taste of animal adventure is available just 30 minutes from Melbourne's city centre, at Werribee Open Range Zoo? You will find an amazing array of animals living on 225 hectares of wide, open savannah. On the Pula Reserve Walking Trail, come face-to-face with amazing gorillas, a pride of lions, see monkeys and cheetahs at play and feel the sand between your toes at the new Hippo Beach!
*And remember kids under 16 receive FREE general admission to Melbourne Zoo, Werribee Open Range Zoo and Healesville Sanctuary on weekends, Victorian government public and school holidays.
Read the detailed review we wrote about the Werribee Zoo.
We have discounted tickets to Werribee Open Range Zoo – click here for cheaper tickets
Watch our Werribee Zoo video review:
Kids shows Melbourne
If you are looking for kids entertainment Melbourne style, why not a kids' show or kids concert!? Here's what's on for Melbourne kids this summer in terms of kids love shows:
Maddy and Jimmy and The Brick of Destiny
A family comedy for ages 5-99 starring your favourite couple from LEGO MASTERS AUSTRALIA
Melbourne International Comedy festival
3-18 April @ 11.15am
Melbourne Town Hall
Maddy and Jimmy, everyone's favourite duo from the smash hit TV show LEGO MASTERS AUSTRALIA, burst onto stage in their new kid's comedy extravaganza.
These two grown-up kids complete 10 tricky bricky tasks in 45 minutes to find the Brick of Destiny. With no instructions, they're going to need help from kids, mums, grandmas and dads snoozing up the back to save the world.
Maddy and Jimmy combine their love of brick-building and making kids and adults laugh. Throughout Melbourne's lockdown, Maddy and Jimmy kept the laughs and LEGO coming, in live streamed shows and online competitions with children's charity VARIETY.
Jimmy's screen work includes voices for the Hollywood movie Maya the Bee, while Maddy is recognised from ABC kids show The Elephant Princess and a recurring role on Neighbours.
Find out more about Maddy & Jimmy and The Brick of Destiny.
Improvilicious – The Improvised Guide to Spooky Stories
Improvised comedy for kids (9+) and families
Melbourne International Comedy festival
3-18 April @ 1pm
Melbourne Town Hall
Improvilicious is improvised comedy for kids (9 years+) and families, with every show featuring a unique and original story based on audience suggestions.
The biggest scaredy cats in improvised comedy turn your scary suggestions into a spook-tacular show with guaranteed goosebumps and giggles: ghosts, monsters, abandoned houses with too many staircases… out-of-date yoghurt… Dun-dun-daaaaaaaaa!
Two improvisers play multiple characters in a totally made-up-on-the-spot story of things that go BUMP in the night. Let's go investigate with just a dodgy torch and an awkward sense of humour. I'm not scared – you're scared!
You'll see new and classic TheatreSports-style games, a lot of scary-but-not-scary references, and even some COVID-safe audience participation!
Improvilicious stars Louisa "this coffin" Fitzhardinge (Impromptunes), Cassie "I have nightmares" Daly (every Improvilicious since 2015), Jason "got the vampire-hunting" Geary, and Jimmy "I'm-a-gettin" Eaton (Lego Masters Australia).
Improvilicious has been terrifying audiences with their unique impro comedy at every Melbourne Comedy Festival since 2014.
Red balloon floats ominously past…
Find out more about Improvilicious – The Improvised Guide to Spooky Stories
Previous shows:
The Sleeping Beauty | Arts Centre Melbourne | Wednesday 18 – Saturday 21 December
An enchanting ballet production for all ages to enjoy! Following the successes of Christine Walsh's full length classical ballet productions, we are proud to once again present this traditional ballet production The Sleeping Beauty, performed by 75 dancers and featuring international guest artists.
Circus Wonderland – Circa 1920 | The Wonderland Spiegeltent | Thursday 26 December – Monday 27 January
Roll Up, Roll Up!! Experience all of the thrilling edge of your seat entertainment with the all new and all star CIRCUS WONDERLAND – CIRCA 1920. Step back in time to the golden age of circus with this all new, all star production. Opening with an edge of your seat tightrope performance, be amazed and captivated as you are immersed in a century of wonder. Filled with mind-blowing acrobatics, daring aerial feats, and a cast of world class circus performers with the most unique, jaw-dropping and spectacular antics from all around the world. A hilarious and thrilling Circus Wonderland for the whole family.
The Listies Make You LOL! | The Wonderland Spiegeltent | Friday 3 – Saturday 4 January
The Listies are serious about being silly. Formed in 2008 by professional idiots Rich Higgins and Matt Kelly, they are now the most sought after live comedy act for kidults (Kids and their adults) in Australia.
Movie Event – Dumbo | The Wonderland Spiegeltent | Monday 6 January
A young elephant, whose oversized ears enable him to fly, helps save a struggling circus, but when the circus plans a new venture, Dumbo and his friends discover dark secrets beneath its shiny veneer.
Movie Event – Mary Poppins Returns | The Wonderland Spiegeltent | Monday 13 January
Decades after her original visit, the magical nanny returns to help the Banks siblings and Michael's children through a difficult time in their lives.
Movie Event – Toy Story 4 | The Wonderland Spiegeltent | Monday 20 January
When a new toy called "Forky" joins Woody and the gang, a road trip alongside old and new friends reveals how big the world can be for a toy.
Alice in Wonderland | Athenaeum Theatre | Friday 17 – Saturday 18 January
The SMASH HIT production of Lewis Carroll's timeless classic ALICE IN WONDERLAND comes to life on stage in the most hilarious-filled madcap! Tumble down the rabbit hole and join Alice, one of literature's most beloved heroines, in her adventures through Wonderland in this dazzling, internationally acclaimed production. A star-studded cast of talented actors and puppeteers use their ingenious stagecraft and limitless possibilities of imagination to bring this beloved story to life. Featuring masterful sets, lavish costumes and enchanting puppetry. Don't miss your chance to tumble with the Tweedle twins, chase the White Rabbit, boo the boisterous Queen of Hearts, and have tea with the Hatter at the Maddest Tea Party of all!
Shrek the Musical |Her Majesty's Theatre | Sunday 16 February – Sunday 24 April
This lavish multi-million dollar musical, starring Ben Mingay as Shrek, Lucy Durack as Princess Fiona, Todd McKenney as Lord Farquaad and a special guest appearance by Marcia Hines as The Dragon (for selected performances), will open at Her Majesty's Theatre, Melbourne in February. Featuring a terrific score of 19 songs, big laughs, great dancing and breathtaking scenery, it's no wonder The New York Times called it 'True Happiness' and The Daily Mirror said it's 'the most fun you'll ever have'.
Charlie and the Chocolate Factory | Her Majesty's Theatre | Wed 11 Sep – Sun 1 Dec
Roald Dahl's delicious tale, Charlie and the Chocolate Factory, is now playing at Her Majesty's Theatre in Melbourne. It's a delectable treat featuring songs from the original film, including Pure Imagination, The Candy Man and I've Got a Golden Ticket, alongside a brand new, toe-tapping and ear-tickling new score. Now's your chance to experience the wonders of Willy Wonka and his marvellous and mysterious chocolate factory! Secure your Golden Tickets today!
The Listies Make You LOL! | The Wonderland Spiegeltent | Saturday 21st – Tuesday 26th September
The Listies, Australia's most sought after kids comedians, are returning to the Melbourne Fringe Festival by popular demand. Featuring alien attacks, toilet paper guns, spew, the rudest word in the world and the most disgusting pair of undies in the world, the Listies will keep making you LOL but this is the last time to ever catch this award-winning production. Don't miss out! The Listies are serious about being silly. Formed in 2008 by professional idiots Rich Higgins and Matt Kelly, they are now the most sought after live comedy act for kidults (Kids and their adults) in Australia.
Tetris | Arts Centre Melbourne | Wednesday 25th – Saturday 28th September
This unique dance work uses strength, agility and acrobatic skill to mimic and reimagine moves from not only the cross generational game 'Tetris' but also 'Twister' and the all-time favourite 'Rubik's Cube'. Watch as this highly skilled acrobatic quartet navigate not only the stage but each other, twisting and interlocking to communicate with and create new meanings for their bodies.
Brat Kids Carnival | Arts Centre Melbourne | Saturday 26th September
Put on your party outfit and join the carnival, brought to you by the team behind international sensation, Briefs. Featuring hula hoops at top speed, acrobatics at alarming heights and clowning antics, this cheeky show will get youngsters excited about expressing themselves. Get ready for pumping music, eye-popping party tricks and other ridiculous acts of amazement. From awe-inspiring to downright hilarious, this high-energy mix of circus and cabaret is perfect for kids aged 4 and up.
Fairytale Ball | Arts Centre Melbourne | Saturday 26th September
The Melbourne Symphony Orchestra invites children aged 3-11 to bring their grown-ups to Hamer Hall for the inaugural Fairytale Ball! Children are encouraged to dress up and dance during the 45-minute performance, and join in pre-concert activities in the specially-decorated Hamer Hall foyers, including face painting, a conducting workshop and an instrumental petting zoo, where you can discover your favourite orchestral instruments up close. Charismatic conductor Jessica Gethin will lead the Orchestra and read from an enchanted storybook, with some pieces accompanied by ballet dancers performing on stage.
A Day in the Life Of You | Federation Square | Sunday 27th – Tuesday 29th September
Come and visit the Musical Sprouts in their garden and help them coax Yella through the challenges of breakfast, brushing teeth, going to the toilet without falling in, and cleaning up. Full of themes of independence and belonging, this show has delightful characters, catchy songs, fun-filled audience participation, live instruments and dance. Join the Sprouts for 50 mins of delight that will engage your child from beginning to end.
Circus Wonderland – A Mermaid's Tale | The Wonderland Spiegeltent | Monday 30th September – Saturday 5th October
An all-new, all-star line-up of fun from the Golden Era of Circus, Circus Wonderland – A Mermaid's Tale will keep everyone on the edge of their seats. Be astounded and amazed at the sideshow antics of a mesmerising cast of world-class circus performers presenting a hilarious and thrilling magical Circus Wonderland for the whole family.
Monski Mouse's Baby Disco Dance Hall | The Wonderland Spiegeltent | Thursday 3rd – Friday 4th October
Find out why Monski Mouse and her Dancers are a hit with children and parents alike, selling out shows all over the world. Baby Disco Dance Hall is designed as a super-fun session of dancing and play with your small person as you bop to an eclectic selection of retro classics, thumping nursery rhymes and funky tunes. Grab your rainbow sequenced onesies and get your disco-dancing-booties on (that means you too, Mum and Dad!).
Melbourne kids holiday ideas
Soooo…. what do you think? Plenty of Melbourne days out ideas here to keep you and the kids entertained for the whole school holidays? These Melbourne holiday ideas are updated every term, so remember to bookmark this page.
Let us know if we missed your favourite or if you would like us to add your venue or event!
Looking for more things to do in Melbourne with kids?