Are you looking for the best things to do in Hoi An with kids? We have been there and we LOVED it.
With a captivating blend of history, culture, and modern attractions for travellers to admire, Hoi An was undeniably our highlight of Vietnam. The city holds a collection of iconic sites that continue to draw in all types of travellers, including the Golden Bridge, the UNESCO listed Ancient Town, the Marble Mountains, and so much more.
Hoi An stretches over 60 square kilometres along the central coast of Vietnam. The city houses a population of approximately 152,160, with a collection of attractions that both locals and tourists continue to admire time and time again. Ranging from stretching, pristine beaches and towering mountains to entertaining theme parks and bustling markets, there's a little something for every member of the family to enjoy.
On the hunt for some exciting Hoi An attractions suitable for families? Here are some entertaining activities for kids scattered throughout the city.
Free Walking Tour of the Old Town with 'Hoi An Mates'
Hoi An's Old Town is a treasure of the city, with a collection of gems for families to uncover. This UNESCO World Heritage Site offers visitors delicious cuisines, remarkable architecture, a quiet night-life, cooking classes, and more.
With the sheer amount of history and information behind the Old Town, it may be wise to embark on a walking tour of the area, especially if you're eager to learn as much as possible. Hoi An Mates, a non-profit run by local students, offers free walking tours for travellers eager to experience the food, shops, and overall atmosphere of the Old Town.
Read our detailed review of Hoi An Mates free walking tour
We loved the tour as a wonderful experience to chat with our local guide and find out about this beautiful old town from a local. At the end of our tour we shouted her a drink with us in a local cafe in the old town!
Price: Free
Address: Quang Nam Province, Vietnam
Website: click here
Hoi An Impressions Theme Park
We loved this show – the sheer volume of actors and the colour is so impressive!!
Hoi An's Impressions Theme Park delivers an entertaining experience the entire family can enjoy. Home to an endless stream of vibrant performances and hands-on workshops, there's plenty of activities to entertain the kids for hours on end.
Before the show you can explore the parkland and simply wander the unique atmosphere. Despite the show being in Vietnamese, we found it quite easy to follow along and enjoy the show!
Price: Adult – VND 540,000. Child – from VND 270,000
Hours: Wednesday to Monday (5 pm to 9:30 pm)
Address: 200 Nguyễn Tri Phương, Cẩm Châu, Hội An, Quảng Nam, Vietnam
Website: click here
Hoi An Central Market
An iconic bartering destination, offering a vast collection of goods to browse; the Hoi An Central Market is an unmissable shopping experience of Hoi An. Tourists are often drawn to the riverside markets to shop seafood, spices, fruit, vegetables, silk, clothes, handcrafted goods, souvenirs, and much more.
Those interested in bargaining for fish should consider venturing to the markets in the earlier hours of the morning, with local fisherman dropping their catches off around this time.
With the collection of live animals throughout the markets, the smell can become rather pungent, especially as the day progresses. If you're hoping to avoid these scenes and smells, consider venturing to the eastern side of the market, which is where the tailors and various Asian silks are kept.
It's important to note that stall holders often target tourists to push their goods onto, and in some cases it can seem relentless. If you're truly not interested, the best response is to keep moving forward.
We bought flowers here for the lady who ran our accommodation – they are spectacular here!
Hours: Monday to Sunday (6 am to 6 pm)
Address: Trần Quý Cáp, Cẩm Châu, Hội An, Quảng Nam, Vietnam
Take A Cooking Class
Taking part in a cooking class can be an extremely entertaining means of gaining a completely new perspective of any destination, and Hoi An is no exception. Become familiar with the various flavours and sweet aromas of the country's cuisines. Learn to make iconic dishes such as Hoi An tofu, Xi ma, mango cake, Quang noodle, water fern cake, and more. By learning to cook these dishes, you can take these flavours back home to share with the entire family.
Try one of these cooking classes in Hoi An.
Make A Lantern
Lantern making is an iconic activity of Hoi An, with plenty of classes available for travellers eager to give it a go. Locals often hang lanterns in front of their houses to promote luck, happiness, and wealth, so many tourists jump at the traditional experience to further immerse themselves in the culture. No skill level is typically required, with most classes usually promoting fun. This makes it the perfect activity to do with kids in Vietnam.
Try one of these lantern making classes in Hoi An
Thanh Ha Terracotta Park
The Thanh Ha Terracotta Park is located 3km west of Hoi An's ancient town and offers guests the opportunity to admire unique Vietnamese pottery. The park was initially constructed in 2011 and is split into 5 regions: the Nam Dieu Village, the Trade Promotion, the Pottery Museum, an Outdoor Exhibition Area, and a Creativity Workshop.
A key highlight of the Thanh Ha Terracotta Park is the World Square and the Museum Of Pottery. Guests are often drawn to the realistic sculptures of popular worldly attractions such as the Sydney Opera House, Taj Mahal, Leaning Tower Of Pisa, Pyramid, The White House, the Itsukushima Floating Torii Gate, and more.
Price: Adult – VND 30,000. Child – VND 15,000
Hours: Monday to Sunday (8:30 am to 5:30 pm)
Address: Duy Tân, Thanh Hà, Hội An, Quảng Nam, Vietnam
Website: click here
Triem Tay Village
The Triem Tay Bamboo Village is the perfect spot to escape the bustle of Hoi An and to admire the peaceful, natural surroundings. Located only 4.3 km from the city and stretching over 45 hectares, the agricultural village is home to paddy fields, towering bamboo, and tranquil vibes.
Many visitors of the area stop by the Triem Tay Garden House, the various bamboo houses, and the crafting-making displays. Not to mention, rural markets are also held, offering traditional dishes such as rice crackers, Quand styled noodles, wet rice paper, and more. A trip to Triem Tay can deliver a traditional Vietnamese experience that won't soon be forgotten.
Hours: Monday to Sunday (7 am to 10 pm)
Address: Thôn Triêm Tây, Xã Phương, Thị Xã Điện Điện Bàn Quảng Nam, Điện Bàn, Quảng Nam, Vietnam
The Water Puppets Show
The Water Puppets Show is an entertaining outing that the entire family can appreciate. Held in an outdoor amphitheatre, the show spans over 45 minutes and shares various stories of Vietnamese village life. The tales are told through the help of vibrant puppets. With mythical creatures, boat races, colourful lighting and much more, the entire show is engaging from start to finish. That being said, the English translation is minimal, however, the show is still easy to follow along and enjoy.
For the best seating, it's recommended to arrive around 20 minutes before the show starts. Restaurants are located nearby, delivering the perfect 'dinner and a show' experience. The Water Puppets Show is also on offer in Hanoi.
Price: Adult – VND 80,000. Child – VND 40,000
Hours: Tuesdays, Fridays, and Saturdays (6:30 pm)
Address: 548 Hai BaTrung
Website: click here
Lune Performing Centre Hoi An shows
For those looking to embrace the Vietnamese culture through an entertaining show, the Lune Performing Centre is the perfect destination. The facility is well known for its unique architecture, featuring a dome-like roof with a height of 13m that beautifully illuminates in the evening. The structure can be seen from the Hoi An ancient town.
Lune Performing Arts Centre is the first performance centre owned by the company: Lune Productions. The 4 acclaimed performances that can be seen at the venue are the A O Show, Lang Toi – My Village, Palao, and Teh Dar. For descriptions of each show, schedules, and ticket prices, visit the Lune Productions Website.
Address: Công viên Đồng Hiệp, Phố cổ, Phường Minh An, Hội An, Quảng Nam, Vietnam
Website: click here
An Bang Beach
An Bang Beach is the perfect spot for those looking to escape the energy of Hoi An and trade it for a seaside getaway. With a collection of resorts, restaurants, bars, and activities on offer, there's a little something for everyone to enjoy. Many visitors are drawn to aquatic activities such as paddle boarding, swimming, and surfing.
Aside from the array of activities to entertain and delight, An Bang Beach offers guests plenty of beautiful views that are sure to impress. This includes the nearby Marble Mountains along with Cham Island and Da Nang Bay. Otherwise, visitors can admire the pristine sand and clear water.
An Bang Beach is effortless to reach, located only 7km north of the city. Tourists can reach the destination via bicycle or car, with parking also available.
Tailors in Hoi An – Where to Get Clothes Made in Hoi An
Hoi An is home to an abundance of tailors and leatherworkers, making it the perfect place to have your own, personal clothes made. Whether it's a suit or casual clothes, tourists are gifted with a large number of different styles and materials to choose from. Select a tailor, choose your material, get the measurements, come in for fittings, and be rewarded with clothes specifically made for you. Prices will vary between tailors, so do your research and select a reputable business before going through the process. Preparation is key.
We asked at our accommodation and used two different tailors – the high end tailor 'Bebe' and 'Mrs An' from the markets. Depending on what you want made, and how much money you have you can get just about anything you want. I recommend them both!
I had existing clothes 'copied' and was very happy with the results!
A tour to Marble Mountain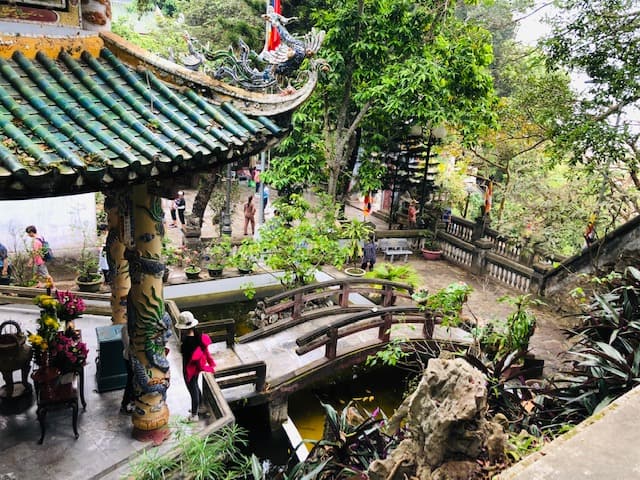 Technically in Da Nang, a trip to Marble Mountain is a popular adventure undergone by many tourists of Hoi An. The 5 mountains are made from marble/ limestone and are home to caves, tunnels, and temples for guests to discover and admire for themselves. Although, many travellers can't help but take the time to climb the towering formations to catch a glimpse of Non-Nuoc, My Khe Beach, and the surrounding landscapes.
The mountains that comprise the attraction are named after the 5 elements: Kim, Thuy, Moc, Hoa, and Tho. According to legend, the mountains were formed after the appearance of a dragon. The dragon emerged from the water to lay an egg. After 1000 days and nights passed, a girl emerged from the egg and the fragments left behind created the Marble Mountains.
For families eager to explore the Marble Mountains, it may be a good idea to allocate approximately 4 hours. Also, starting the journey in the earlier hours of the morning can offer ideal hiking conditions. Before departing, be sure you have comfortable shoes, a torch, water, food, and anything else you may require.
Price: VND 15,000
Hours: Monday to Sunday (7 am to 5:30 pm)
Address: 52 Huyền Trân Công Chúa, Hoà Hải, Ngũ Hành Sơn, Đà Nẵng 550000, Vietnam
We did this cheap tour and it was excellent! Click here.
Thanh Ha Pottery Village
Located about 15 minutes west of Hoi An, the Thanh Ha Pottery Village is a traditional Vietnamese experience not to be missed. With the art of pottery being present within the culture for centuries, the village proves to be the perfect spot for families eager to explore this relationship and try it for themselves. Guests often stroll through the village, watching the locals make various crafts. Villagers often invite tourists in to have a go for themselves.
A terracotta museum (see above) is also located nearby, although an entry fee is required. As the Thanh Ha Pottery Village is located reasonably close to the city, it can be reached by either car or bicycle.
Address: Phạm Phán, Thanh Hà, Hội An, Quảng Nam, Vietnam
Find a tour ticket to Thanh Ha Pottery Village here
If you like cycling, I recommend this tour.
Hoi An Museum Of History And Culture
Located within Vietnam's oldest pagoda; the Museum of History and Culture is the perfect place to gain a deeper understanding and insight into the history of the country. The facility is home to an impressive collection of artefacts, including ceramics from the Champa era, photographs, traditional burial coffins, and more.
The Hoi An Museum Of History And Culture is established within the Quan Am Pagoda, initially built in 1653. Many tourists gravitate toward this impressive structure, with the surrounding greenery making it a very photogenic spot.
Hours: Monday to Sunday (7:30 am to 5 pm)
Address: 12 Nguyễn Huệ, Cẩm Châu, Hội An, Quảng Nam, Vietnam
My Son Sanctuary
Wander through the ancient ruins of various Hindu temples at the My Son Sanctuary. Dating back to the 4th century, these temples were initially built by the Champa Kingdom in the 3rd century and are located along the border of the Day Xuyen District. Once this kingdom was overthrown, the temples were abandoned and engulfed by the surrounding environment.
After being rediscovered and enduring damage during the Vietnam war, the My Son Sanctuary was declared a National Site in 1979 by the Culture Ministry as well as a Special National Site in 2009 by the national government. Today, the temples are a popular destination among travellers looking to admire the Hindu architecture, soak in the natural beauty of the area, and gain a deeper appreciation of Vietnam culture.
Price: VND 15,000
Hours: Monday to Sunday (6:30 am to 5:30 pm)
Address: Duy Phú, Duy Xuyên District, Quang Nam Province, Vietnam
Website: click here.
Ba Na Hills And The Golden Bridge
The Ba Na Hill's Golden Bridge is an icon of Vietnam that travellers from all walks of life come to admire. The bridge has a unique design, featuring 2 large hands 'holding' the bridge from beneath. To top it off, the structure overlooks a sweeping landscape from its mountain-top location. On clear days, tourists can admire sights of the coastline, the city of Da Nang, and the surrounding mountains.
The Golden Bridge is located in the Sun World Amusement Park and can only be accessed by purchasing a ticket to the park. From here, a cable car will take you directly to the bridge, with departures as earlier as 7 am. Crowds can quickly form at the Golden Bridge, so it's recommended to organise an early visit.
Located near the Golden Bridge is the Ba Na Hills – a mountain top resort home to restaurants, rides, museums, and much more. The resort has a very unique design, with a medieval appearing exterior and a modern interior for guests to admire.
We hired a private driver to take us around our personalised itinerary to do exactly what we wanted. It was AWESOME! Check it out here.
Price: VND 700,000
Address: Hòa Vang, Da Nang, Vietnam
Website: click here
Getting Around Hoi An
Due to the compact size of Hoi An along with the abundance of transportation options on offer, getting around the city is simple. For example, cycling proves to be one of the easiest and cost-effective ways of moving throughout the city. A lot of Hoi An accomodation offer bicycles free of charge (we did this!) If you do need to hire a bicycle they can be rented from hotels or bike shops for around VND 30,000 per day.
Taxis are a much costlier form of transport in Hoi An, with a trip from the airport typically costing around VND 300,000. Fairs can increase if traffic is particularly bad. Before booking a taxi, be sure it's from a reputable company. However, we booked an airport transfer to Da Nang airport using Klook on this link for approx $16AUS.
Around Hoi An we used the Grab (like Uber) app and found this to be very reasonable – around $2AUS per trip.
Finally, motorcycles are another popular means of getting around the city and are ideal for exploring villages and coastlines. Vehicles can be rented from VND 100,000. That being said, if you're travelling with a large family, motorcycles may not be an ideal mode of transportation.
You can find all the options for a reputable motorbike or scooter provider in Hoi An here.
Accommodation for families in Hoi An
What are the best places to stay in Hoi An for families? Well!! Where do we start? There are no shortage of places to stay in Hoi An to suit all family sizes from cheap places to stay to luxury expensive places. There are homestays and hotels, villas and apartments. Here's what we recommend in every budget:
Family friendly accommodation in Hoi An
We stayed in two different places in Hoi An.
Pastorale Villas
Nestled within rice paddy fields, Pastorale Villas was our first choice for accommodation. We saw that it was half way between the beach and the old town (about 15 minute bicycle ride) – the best of both worlds!
They have contemporary rooms a short bike ride from Hoi An. We received a welcome drink and were able to use their bicycles free of charge! They also have solid wifi.
Rooms are furnished with a cable flat-screen TV, mini fridge and an electric kettle. Certain rooms feature a private balcony, pool and/or open-air bathroom. Views of the rice paddy fields or river can be enjoyed from selected rooms. For your comfort, you will find free toiletries and a hairdryer.
Pastorale Villas operates 24-hour front desk where staff can assist you with luggage storage, laundry service and car rentals.
Cua Dai Beach is 0.6 miles from Pastorale Villas, while Hoi An Ancient Town and Assembly Hall of the Hainan Chinese are within 1.2 miles away. Da Nang International Airport is 14.9 miles from the resort.
The on-site restaurant serves daily breakfast, as well as Asian and European dishes upon request. Try the banana pancakes for breakfast – trust me on this! 🙂
We booked here for 5 nights, but extended an additional 2 nights as we loved it so much for its quiet location and lovely & helpful staff.
You can see more photos and information and book here.
Hoi An Historic Hotel
We stayed here for 3 nights as we wanted to be right in the middle of the old town with a little bit of luxury for a few nights before we left to travel further in Vietnam. The 'Welcome to Hoi An' photo at the top of this article is from this hotel!
The hotel occupies lush and spacious grounds in the heart of Hoi An city, Hoi An Historic hotel provides air-conditioned resort. We loved the outdoor swimming pool which is a must as the weather is so hot most of the year!
The hotel offers 3 on-site dining options (get the breakfast option and eat outside – divine!), a bar and free WiFi access in the business centre.
It takes 5 minutes to walk to the famous Hoi An Ancient Town, a UNESCO World Heritage Site. Phuoc Lam Pagoda is within a 10-minute drive, while a 45-minute drive takes you to Danang International Airport.
All rooms offer additional space, a personal safe and desk. A cable flat-screen TV, minibar and an electric kettle are included. Private bathroom comes with a bathtub or shower facility, hairdryer and free toiletries.
You can see more photos and information and book here.
Looking for more things to do in Vietnam with kids?