So, backyard camping is a thing! And it is becoming more and more of a thing at the moment and we are super excited for it!!
We recently had to stay at home over our usual camping school holiday break so we thought of a few new ideas to keep the camping magic alive. Together with the kids we brainstormed all the things that we loved about camping away from home and then we made a list of the things we loved as well as the kind of tents we could use if we were going to camp at home. We then created this list of epic tent options for families too.
How did we work out which tent was best for us? Well, I used the activity as a *learning experience* for the kids. (Any excuse to call this #homeschooing, right!?) We Googled and found some awesome indoor and outdoor tents for camping in our backyard, or indeed inside! The kids actually LOVED doing this and now have great ideas for our future outdoor/away from home camping plans too!
However, I digress… indoor and at home camping ideas…. We have listed our favourite 10 below.
This article will also include some hints and tips for people who are new to camping and need some more ideas to ensure they have their backyard camping essentials on hand.
Check it out! The kids are very proud of their research!
10 indoor and outdoor tent options
Here are some for camping at home tents that our kids decided were the best indoor and backyard camping choices for both large and small families.
1. Family friendly 4 person tent
If you already own a tent, we recommend you use the one that you have already. There is nothing stopping you from putting it up in your backyard. That is, if it fits. Grab the kids and go put up that tent! I wish you luck.
2. Throw a sheet over some chairs
Camping doesn't have to be difficult or expensive! This is probably the easiest (and cheapest) of all of our indoor camping ideas. Just drape a sheet over some chairs, prop with a broom and a mop, and add blankets, fairy lights and food. Make sure the broom and mop are secured with some ropes or strong string. We tethered ours to the TV stand and the wall unit!! #easy
3. String up a tarp
I don't know how well this would work inside, but you can try if you want. Grab a tarp and some string, and find those little holes in the corners and string it up. Hey presto! If you tied your knots well, you should be in for a great night, if you didn't… good luck.
4. Get a JUMBO tent
There's nothing better than having HEAPS of space, and when you're on holidays, it's more important than ever! This JUMBO tent is a great tent for the hole family to enjoy while backyard camping!
5. Use a Teepee
If you're thinking of indoor camping instead, one of the best ideas is to get a teepee! This wonderful teepee is perfect for kids and pets! Click here to get it for yourself.
6. Get a pop-up tent
If you don't actually want to put up your tent, (I hear you…), you can get this great pop up tent. And, it's camouflage, so nobody can steal it, (because they can't see it…) Click here to get it for yourself.
7. Get this playhouse
If this isn't indoor camping goals, then I don't know what is! Click here to get this awesome playhouse!
8. Get this PAWsome tent for your cat!
It's not backyard camping without the cat. Why not make the experience special for everyone with this PAWsome cat teepee! Click here to get it for yourself (actually, the cat).
9. Get this yurt tent
If you have a large family, or want something different, get this EPIC yurt tent. It's huge, looks amazing and isn't like anything you've ever seen before!
10: Try this backpacking tent
If you don't have that much space, check out this TINY (but still usable) backpacking tent. It fits two people and is super easy to set up!
More tips for indoor or backyard camping
Choosing and erecting your tent is only the beginning of the fun. We also have these camping ideas for you:
Comfort is your number 2 priority
Making sure the tent doesn't fall down should hopefully be your number 1. But seriously, you don't want to have a rock in your back all night. If you are camping outside, we highly recommend clearing the ground of sticks and stones before pitching your tent.
Camping inside is a different story, I don't know many people who have lots of twigs and rocks on their floors. I do recommend finding a comfortable mattress/blanket to sleep on, and a sheet or blanket to go over you.
If tents aren't really your thing, what's stopping you from dragging out a mattress and sleeping under the stars. If you don't really want to drag out one of your precious mattresses, (and it's because you don't want to ruin them, definitely not because you can't be bothered pulling it outside…). We recommend one of the amazing air mattresses. Easy and portable, here for a single mattress, or here for a queen mattress.
Cook and eat all the food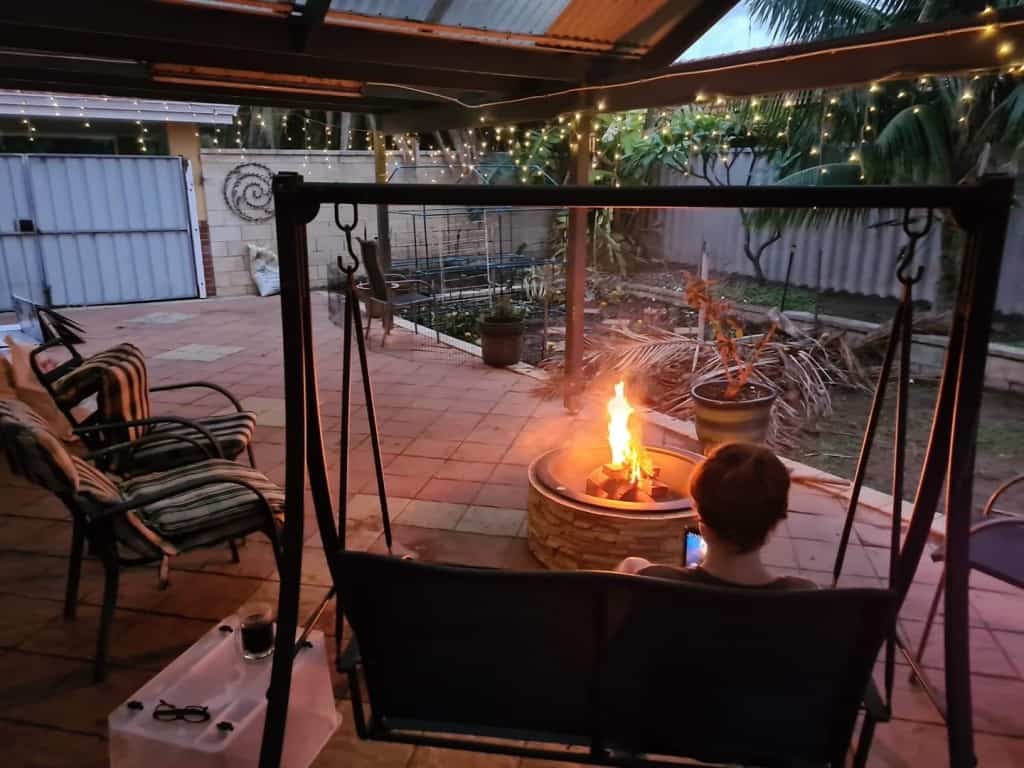 It's not camping without the food. We've listed our 3 favourite recipes to cook before you go camping, and 3 to cook over the campfire.
Great recipes to cook at home and take with you:
spinach and sweet potato samosas, or this
spicy caulifower rice with minty cucumber raitia, or even this crazy good
The first recipe to cook on the campfire after you are set up:
no-oven pizza, or these amazing
hallomi burgers, or even these
Have a home cinema
Now that you've got your tent, or teepee, or sheet and poles, or air mattress, it's time for the entertainment. Once the fun and games have died down for the night, why not watch a movie, but not on your phone or TV. ON YOUR MEGA HOME CINEMA!!! Ok ok, not exactly, but it's close. Find a sheet and some poles and make your "screen". Then, using this EPIC portable projector, project your movie.
Don't worry about making it perfect
Not every detail has to be perfect, sure it would be nice if the tent didn't fall on top of you while you sleep, but hey, nobody's perfect. Maybe let the kids stay up for a while past their bedtime, or don't worry about the dishes until the morning. This is a holiday after all, even if it is in your backyard.
Putting up your tent is half the fun
How are you going to put your tent? Is it even a tent? Maybe your pitching a sheet draped over some chairs, or just dragging out a mattress and sleeping under the stars. Whatever your choice, there is no wrong answer, and don't worry to much about the technical details, as long as nothing falls on you in the middle of the night, you'll be fine.
Don't over think it
By this, I mean don't have too much of anything (except marshmallows). Don't put up too many lights, but make sure you can see. Don't take to many photos, but prove that you did it. Does that make sense? Basically, don't over do anything except the marshmallows. Speaking of those delicious fluffy clouds, click here to get a AMAZING s'mores recipe!
Camping from your backyard (or living room)
You've got your tent, you've got you entertainment, you've got you teepee for the cat. Now you just need to relax and enjoy the moment. But before you do, just take a look at some of these accessories you might find handy when you're camping. Like this high power portable flashlight, or this 5m power extension cord, or this outdoor camping hammer, or even this camping headband.
Well, that's all from us. We hope that one of these ideas will help you have an EPIC camp out. Bye for now, and HAPPY CAMPING!