As the old saying goes – the best things in life are free. So we have rounded up the best free things to do in Cairns in Queensland. All the ideas of free activities in Cairns on our list are 100% free.
Whilst this website is about things to do with kids, and includes lots of ideas about free family things to do in Cairns, most of the ideas for free things to do in Cairns on our list will appeal to the young and the young at heart!
The best free things to do in Cairns
Cairns weather is almost always hot, hot, hot… so we have included lots of places to cool down! YOU. ARE. WELCOME.
Here are our favourite 20 things to do in Cairns for free:
1. Cairns Esplanade Lagoon
This is probably the one of the best free things to do in Cairns city. The Lagoon is a 4800sqm saltwater swimming facility that offers an all-year round, safe, swimming location without stingers and crocodiles. The lagoon is filled with salt water from the Trinity Inlet which is filtered through a state-of-the-art filtration system. There's a beach style entry (including the sand) on one side. It's near lots of shops and eating options as it's very close to the centre of Cairns. Check it out here.
Address: 52/54 Esplanade, Cairns City
2. Barron Falls Lookout Track
Each day the Kuranda train and Skyrail cableway pass through the Barron Gorge National Park. One of the main attractions of the park is the Barron Falls and you can get a little bit closer for a better view by following the Barron Falls Lookout Track. This begins on an elevated walk which takes you through the rainforest canopy and then down the hill to the railway platform. On the way there are explanatory signs, plenty of places to take a rest and some gorgeous places to lookout and take a photograph. We have more details on this link.
Address: Barron Falls, Kuranda
3. Cairns Esplanade
The Cairns Esplanade boardwalk is the gathering place for joggers, cyclists, power walkers, yoga enthusiasts, skateboarders or for those that want to take a stroll along the timber boardwalk in the sunshine and just take in the ocean and mountain views. This area is densely planted with big shady trees, manicured grass, exercise equipment from one end to the next and it even has a skate park for the teenagers and just beyond here are the tennis courts. Find out more here.
Address: Esplanade, Cairns City
4. Nandroya Falls Circuit
The Nandroya Falls Circuit takes you through the Palmerston section of Wooroonooran National Park. The circuit beings at Henrietta Creek camp site and takes you on a 2.3km trek to the Nandroya Falls. Nandroya Falls is the culmination of Douglas Creek where it first tumbles down a 50 metre fall and then takes another fall which is is smaller but wider. At the falls you can choose between two tracks: one takes you up into the valley and past Douglas Creek and the other on a longer circuit back to the beginning and the base of the falls. Get all the details here.
Address: Wooroonooran 
5. Muddy's Playground
Muddy's is a modern, fun, safe, splash playground and parkland. It incorporates active, passive, interactive and educational facilities with a combination of play equipment. Muddy's Playground is themed "Life in Trinity Bay" and the playground includes water play areas plus a flying fox, sound chimes, track ride, rope bridge, slides, mouse wheels, playhouses, storytelling areas, see-saw, trick track and puzzle games. Check out this great playground here.
Address:  Cairns City 
6. Fig Tree Playground
Located at the southern end of the Esplanade (34 – 38 Esplanade) the Fig Tree Playground is legitimately built around a fig tree. There are slides, climbing frames, decks and swings. You can even climb into the actual tree! Less crowded than the more centrally located Muddy's Playground, this park is one the check out!
Address: 34-38 Esplanade, Cairns City
7. Cairns Botanic Gardens
The Cairns Botanic Gardens is a tropical paradise, renowned as one of the best exhibitions of tropical plants in Australia. Come and explore the beauty of tropical plants, relax in stunning surroundings and learn about tropical flora and horticulture. Get more information here.
Address: 78-96 Collins Ave, Edge Hill
8. Crystal Cascades
Crystal Cascades is one of the secrets of Tropical North Queensland. A secluded freshwater swimming hole hidden in a tropical rainforest; it has a series of small waterfalls that flow into large pools. Park facilities include electric BBQs, picnic tables and a toilet block.  Click here for more information.
Address: Redlynch Intake Rd, Lamb Range
9. Sugarworld Parklands
Sugarworld Parklands features an all-abilities playground – with engaging structures and a sensory space designed to be used by children with various levels of ability – as well as barbecue areas, volleyball court and a great shady area for family gatherings, functions and wedding ceremonies in these magnificent surrounds. Click here for more details.
Address: Hambledon Dr, Edmonton
10. Zhanjiang Friendship Garden
Council has created a Zhanjiang Friendship Garden at Freshwater Lakes in the Cairns Botanic Garden precinct, to celebrate the Sister Cities relationship between Cairns and the Chinese city of Zhanjiang. Situated on the banks of Freshwater Lake, within the Centenary Lakes precinct at Edge Hill, the garden incorporates traditional features in a contemporary style. It pays homage to the unique friendship that is maintained between the cities of Zhanjiang and Cairns.  Get more info here.
Address: Greenslopes St, Edge Hill
11. Babinda Boulders
The Babinda Boulders is a popular swimming spot and picnic area amid tropical rain forest in the foothills of the Bellenden Ker Range. It is named for a series of granite outcrops found along Babinda Creek, which provides cascades and swimming holes. Facilities onsite cater for a range of outdoor pursuits including picnics, bush-walking, swimming, commercial tourism, sightseeing and social events. Read our review here.
Find the website here.
12. Cairns Skate Park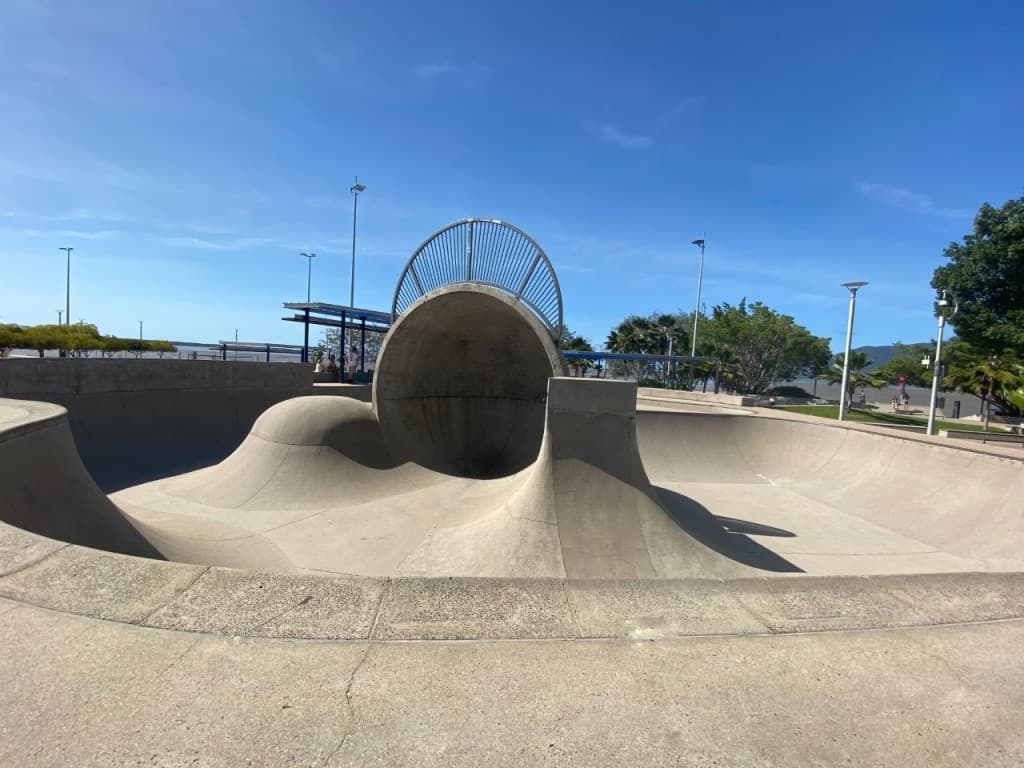 Cairns Skatepark is the biggest skatepark in all of Australia. It stretches 2300m2 and sits in the picturesque setting of the Cairns Esplanade Lagoon overlooking the Coral Sea. The park opens daily at 6:00 AM and is open late as many bright pod lights surround the Cairns Skatepark. A great place to roller skate, long board and let the little ones get around on their scooters whilst mum and dad set up the picnic table for a day of fun. Sk8 with your m8 here.
Address: Esplanade, Cairns North
13. Goomboora Park
Goomboora Park is a local family favourite for many reasons. There is plenty of wide open space, large trees and shelter for shade, as well as picnic tables and even a waterhole to swim in! The great adventure playground features a flying fox and a rope play system. Get more information here.
Address:
14. Centenary Lakes Nature Play
A children's playground with a difference, the Nature Play space encourages children to interact with nature; to explore and learn about their surroundings. It integrates creative play elements with the natural lakeside environment. Features include dinosaur bones to uncover, ropes to climb, play huts to build, a fairy garden, rope climb, tunnels and a digging patch, as well as new pathways, bubblers, irrigation, signage and CCTV. It is probably one of our most favourite free things to do in Cairns. You will get more information on this link.
Address: Greenslopes St, Edge Hill
15. Lake Eacham
A clear, blue lake surrounded by cool rainforest, Lake Eacham offers swimming, birdwatching, canoeing, picnic areas and shady walking tracks. It is a popular recreation area for locals and visitors. Find out more here.
16. Cairns Art Gallery
The Gallery initiates and presents an extensive exhibitions program comprised of up to 30 local, national and international exhibitions each year. These exhibitions provide tourist to the region with a unique insight into Australia and tropical North Queensland's art, history and culture. In addition, the experience is enriched by the opportunity to participate in public programs which offer educational and fun experiences such as artist talks, workshops, guided tours, and social events. Get more info here.
Address: 40 Abbott St, Cairns City
17. Kauri Creek Rainforest Walk
Taking a walk through the Kauri Creek Rainforest Walk will take you along the banks of Kauri Creek past strangler figs, lush rainforest and places of important local history. Before you join up to the old logging track make sure you dip your toes in the cooling and soothing waters of the Kauri Creek. You will find more information on this link.
18. Davies Creek National Park
Although Davies Creek National Park is located half an hour away from Cairns it's a great place to visit. There are amazing granite outcrops as well as some Aboriginal rock art which is well worth the drive. You'll also find Davies Creek Falls which is a magnificent waterfall that doesn't cease to amaze. Find out more here.
Address: Davies Creek Rd, Mareeba
19. Storytime at your local library
From sessions for babies and toddlers, to story times for pre-schoolers, school holiday programs, homework and after school clubs, there's plenty for children of all ages at Cairns Libraries. Check out the details here.
20. Josephine Falls
Josephine Falls is a scenic waterfall fed by the rains falling on Bartle Frere, Queensland's highest peak. The land is traditionally owned by the Noongyanbudda Ngadjon-jji people and is one of the most beautiful waterfalls in the stunning, Tropical North Queensland.
Read our full article here.
Address: LOT 1 Josephine Falls Walk, Bartle Frere
Free things to do in Cairns
These are our tops picks of free things to do in Cairns. Did we include your favourite? If the weather has gone wrong and you are looking for indoor activities, we know that too!
Looking for things to do on a rainy day in Cairns? Click here