Rain, rain go away!! I suspect you have found my article because it's a rainy day and you are looking for the best rainy day activities in Cairns to help you pass the time. Well, here at Get Out with Kids, we love… well… getting out with kids…. so, we won't let the rain stop us.
If you're looking for some "indoor activities near me", or maybe "things to do in Cairns when its raining", this article will help you find the information about rainy day activities in Cairns.
While I absolutely LOVE the sunny lazy days on the beach and the clear nights watching the sunset while watching the kids busy themselves on the sand or in the park waiting for the BBQ to fire up, there are times when equally the odd rainy day forces me to think outside the box and enjoy some rainy day activities.
Having the knowledge and ideas up my sleeve at a moment's notice, no matter where I am, makes the job of transitioning from a sunny day of activities to a rainy day so much easier to contend with and while other members of my family may not be so enthusiastic to start with, I can assure you that being prepared and having a few alternative plans and experiences to draw from, can actually make the day more enjoyable and memorable than you would first believe.
Indoor rainy day activities Cairns for kids
Rainy day activities for children can be super fun but that said, it is also much much easier when someone else has already put the ideas in a handy list so I have the best list of things to do in Cairns on a rainy day broken down by age to help you find the perfect rainy day activities for families.
Rainy day activities for toddlers
I wake up to the sound of water hitting the windows and glare out to find all my best laid plans are no longer useful – swimming in the local pool or lagoon, visit to the beach to make sandcastles or go to a park to let my toddler run around and blow off steam….. internally screaming and panic sets in about what am I actually going to do to get out of the house and entertain my 'full of gusto' toddler/s. Well, don't let that panic set in!! Grab a cuppa and peruse the list below to plan your 'alternative' day of fun with a group of places that are great Rainy Day activities Cairns.
1. Cairns Aquarium | Cairns City
Cairns rainy season can cause issues, those tropical weather events! BUT What better way to celebrate a rainy day than visiting animals who are immersed in water! The Aquarium is home to more than 16,000 specimens and provides information on the Great Barrier Reef. While the kids will certainly enjoy watching the wildlife, the adults and older members of your family will learn a great deal about the local waterways close by. Definitely well worth a visit. General admission tickets start from $44 for an adult and $29 for a child over three years of age, but many varying packages are available.
Get your Cairns Aquarium tickets here, or here
2. Inflatable Kingdom | Manunda
Rainy day activities for kids don't get much better than watching them bounce around an inflatable universe and this is a great way for them to let off steam, with so many bouncy obstacles from slides, steps, climbing apparatus and much much more, they are sure to enjoy this inflatable kingdom.
3. Muddys Café | Cairns City
A combination of large playground and waterpark for all ages together with a café for the older members of the family, this delightful place is a great idea to visit whether its rainy OR sunny. I relish the idea of downing a coffee or two together with some cake and treats while the little folk go about their business and go nuts in the playground area. A great location for rainy day activities with friends or even rainy day activities for babies! This is a wonderful Rainy Day activities Cairns.
Website: Muddys Cafe
Address: Muddys Café, 174 Esplanade, Cairns City
4. Savannahlander | Cairns North
Cairns wet season can be lengthy so why not try a train journey. My kids and I quite often go for a sneaky trip on the train to pastures knew for an adventure, regardless of the weather. This trip would take a little planning however as it stops at various towns on its journey between Cairns and Forsayth on a weekly journey between March and November. If you are looking to sample a longer style journey, this is definitely worth a trip.
Website: Savannahlander
Address: 399 Sheridan St, Cairns North QLD 4870
5. Spirit of Queensland | Cairns
Yet another transport style day out, but this time from Brisbane to Cairns. This is a modern style train (not steam) but the focus is more on relaxation. I thoroughly enjoy travelling my train – no worries about who will be the driver and who will be the navigator – this is all taken care of. It takes you to a number of spectacular locations such as the Whitsundays, Great Barrier Reef and Cairns.
6. Event Cinemas | Cairns Central
Of all the things to do in Cairns on a rainy day, my favourite would be venturing out to the cinema. With school holidays almost upon us, you can guarantee some animation adventure will be showing at the cinemas. Grab the popcorn, drinks and sweets/snacks of your choice and settle in for a family movie day or night!
7. Cairns Museum | Cairns City
The museum offers something for everybody regardless of age, and is a perfect rainy day activity for preschoolers – which I think is pretty fabulous when looking to entertain the family old and new! There is a hands on interactive program for 2-5 year olds and each week is different. The website also provides programs online, so this can be looked at before/after your visit. Other activities are available for the older children in the family, so there is something here for all, making it the perfect Rainy Day activities Cairns.
Website: Cairns Museum
Address: Cnr Lake and Shields Streets, Cairns City
Rainy day activities in Cairns for kids aged 5 – 12
I am really looking forward to that picnic in the park with some newly made friends from my daughter's school, EXCEPT …. rain has set in for the day and no hope of getting to that park for a catch up. Here is my go to list of indoor activities/places for you to visit where you can relax knowing that everyone will be entertained (and satisfyingly tired out!), with some ideas on what to do when its raining.
8. Go Bowling | Manoora
Rainy day activities indoors don't come much better than a bowling session. Bowling is great fun, and there is always plenty of other activities going on such as winning tickets for little keepsakes, food, drink and of course the bowling which is well set up to help the smaller muscles of the family.
Website: Go Bowling Cairns
Address: Go Bowling, 93-95 Pease Street, Manoora (Cairns North)
9. Cairns ZOOM and Wildlife Dome | Cairns CIty
More and more rain in Cairns means there is time to take in this challenge! Deemed as the first Challenge Ropes Course in a wildlife exhibit, this is a great way to spend both rainy and sunny days. My little adventurers would soak this style of obstacle course up (and I would reap the rewards from sleepy quiet children later!) There are approximately 65 elements including climbing walls, ziplines, powerjumps, cargo nets and the list goes on. Well worth a visit. There are also enclosures of birds and reptiles and regular wildlife presentations.
Discount Tickets: Cairns Wildlife Dome and Animal Park | Experience Oz
10. Laserfun | Cairns City
Well, the location appeals to me already – located in a Shopping Centre! Did somebody say this is a great Rainy Day activities Cairns? They would be right. This is a laser tag style adventure and there are many 'adventures' to choose from ranging in length and style. Rainy day activities for children are becoming high tech so If you have a mini adventurer who enjoys this style of activity, this is definitely for you (and then you can hit the shops!!).
Website: Laserfun Cairns
Address: DFO Shopping Centre, Mulgrave Road, Cairns City
11. Cairns DFO | Westcourt
Looking for some shopping fun? Cairns DFO is a wonderful and vibrant shopping centre offering big brands and label name retail stores. Also including fun activities for the kids, and a food court, we recommend checking it out.
Website: Cairns DFO
Address: 274 Mulgrave Rd, Westcourt QLD 4870
12. Cairns City Library | Cairns City
Indoor activities Cairns are numerous and include a number of libraries within the Cairns region. This is a wonderful free thing to do in Cairns in the rain with kids. This is a great activity and with no cost involved. Morning story times are regularly run within the library and currently there are animal themed activities during the month of September but obviously these activities change – definitely worth a visit on a wet morning or afternoon!
13. Timezone | Cairns City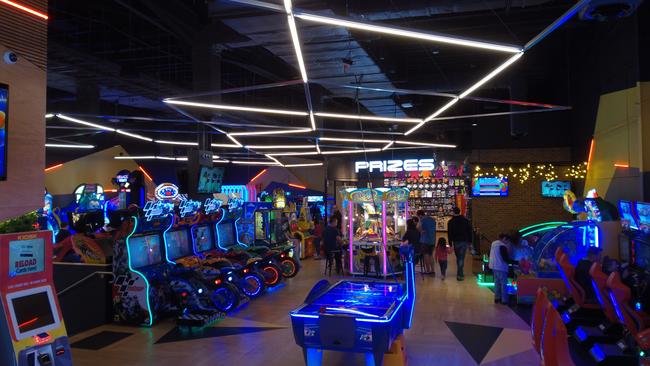 Fun things to do when raining must include arcarde games, bumper cars, and if needed a Chill Out Zone!! Your kids will enjoy the challenges, and if like mine, they enjoy electronic games and devices, this is definitely a great way to spend an afternoon to avoid the rain!
14. Tobruk Memorial Pool | Cairns North
Water babies anyone!! Kids rainy day activities allow you to take the love of the pool indoors! This pool complex has recently been developed and affords a 50 metre Olympic swimming pool, 25 metre lap pool and a warm water therapy pool. There is also a toddler splash area, Flow Rider and a café – bliss!
15. Cairns Performing Arts Centre | Cairns City
I am definitely a fan of the arts so this would appeal to me and my dancing daughter! Check out the programme at the CPAC Theatre and see what you can catch during your stay – be prepared for impromptu dances and mini acting sessions afterwards though!
16. Cairns Kart Hire | Cairns City
Do you have a budding Formula 1 enthusiast? Or just loves to try their hand at a mystery, or even just tag (with lasers of course!). This is a great way to spend a day trying several different activities. Karts, escape rooms, laser tag – all under one roof and varying tickets and prices for the family to enjoy.
Website: Cairns Kart Hire
Address: Cnr Walker Road and Capt. Cook Highway, Cairns
17. Foaming Fury | Cairns City
This place offers a white water rafting experiences for 6-11 year olds (which would be at my level – possibly?). Taking in the Mulgrave River or Barron River, various trips and experiences are available from the easier to the more challenging! A particularly great rainy day activity for tweens!
Things to do in Cairns when it rains with teens
Rainy day activities for teens anyone?! I struggle to sometimes interact with my teenager who would much prefer to spend time on devices, or catching up with friends online. However, I am a fan of connecting outside of this world and I enjoy seeing the look of enjoyment on my kids faces when they try something or visit somewhere a little different – even though it may well have been met with a little resistance to start with. Some of the places that may help when in Cairns include ….
White Water Rafting (again) – this will definitely be a great rainy day activity for teenagers and is definitely an adventure that is not just for the smaller children. (Foaming Fury) Address: 19-21 Barry Street, Cairns.
18. Cairns Riddle Room | Cairns City
Escape rooms are becoming increasingly popular with all members of the family and this one is no different. A great idea to blast that boredom when faced with a day of rainy weather. The idea being to escape a locked room using clues/puzzles in a 90 minute timeframe!! & Escape Games are popular amusements for all ages and are ideal to complete with friends & family or colleagues.
Website: CAIRNS RIDDLE ROOM
Address: Suite 27 @ The Conservatory, 12-14 Lake Street, Cairns, 4870
19. Skyrail Rainforest Cableway | Smithfield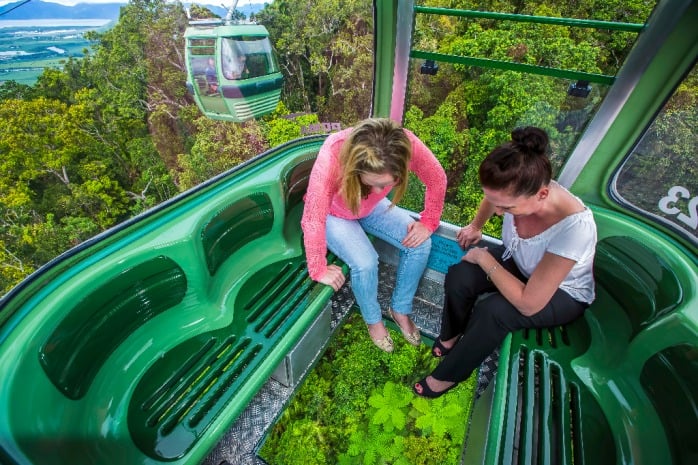 Unfortunately you will need to check if this is running as it has temporarily been on hold. However, flying above a Tropical Rainforest – definitely one to cross off the bucket list!. This runs for 7.5 kms and captures some fantastic views. Cars are capable of taking up to 8 persons so room for the entire family!
Get your discounted tickets here
Website: Skyrail
Address: 6 Skyrail Dr, Smithfield QLD 4878
20. Night markets | Cairns City
As the name suggests, this is a great way to experience the local atmosphere, great food, great stalls offering very different goods including local craft. This is an option during the evening should the weather be against you and is located very centrally in Cairns.
21. Trail bike adventures | Cairns
This is definitely not for the faint-hearted! If your family enjoy motors and a trailbike is more up your street, this is definitely worth a try. There are a number of options available from a one day trip starting from $495 up to several days worth of biking around. If any of your children (or adults for that matter) within your party are trailbike enthusiasts, the weather really doesn't matter!. Some of the trails will take in large pools of water to trail through, rough terrain, dirt (and the list goes on)!
22. Cairns Art Gallery | Cairns City
Opened in 1995, this unique Gallery provides collections and programs relating to its heritage and living culture found within Northern Queensland. A great cultural style rainy day activity when visiting Cairns during the rainy season!.
23. Underart Gallery | Cairns City
Similarly art in a different context found in jewellery and bold artworks together with ceramics and sculptures are available to both view and purchase here.
24. Gallo Dairyland | East Barron
Situated an hour from Cairns at Atherton Tablelands is this delightful Dairy Farm. I have a family of gourmet food samplers, so this is right up my street with a gourmet cheese factory, handmade chocolates and a café/restaurant to try out – bliss!!
25. Australian Armour and Artillery Museum | Smithfield
This museum plays host to the largest display of armoured vehicles in the southern hemisphere. It has over 90 pieces with the focus on post World War II (large tanks to scale models). You can try shooting a rifle at the onsite rifle range and can even hop on an Armoured Personnel Carrier (similar to a tank). If you have military personnel within your family or kids that are interested in the forces, this is a great way to spend the day!
Get your discounted ticket here
Address: 2 Skyrail Dr, Smithfield QLD 4878
26. Doongal Aboriginal Art & Artefacts | Kuranda
Specialising in Aboriginal Rainforest Art, this is a great place to visit and take in Aboriginal Culture. Written language, laws and stories are all depicted in art, social dance and song, and a taste of Aboriginal culture can be seen here in the art and artefacts on display.
27. Samurai Gallery | Cairns City
While you are experiencing rain in Cairns, why not take a visit to this unusual place. This is the only gallery in Australia which is dedicated to the arts and weaponry of the Japanese Samurai Warrior. Many of the items on view are hundreds of years old – a wonderful learning adventure for the older members of your family.
28. Rusty's Market | Cairns City
From Friday through until Sunday, this market is a hive of activity. A great location and considered a local icon in the Cairns region. The atmosphere is lively and colourful and the conversation even more so with plenty of banter! Well worth a visit.
29. St Monica's Cathedral | Cairns City
If you want to see what many have described as the 'best stained glass windows in Cairns', this is the place to see! St Monica's Cathedral is a heritage listed former Roman Catholic cathedral, and is definitely worth a visit!
Rainy day activities Cairns for adults
Whilst my kids are important to keep entertained (and for my ultimate sanity in getting through these unusual rainy days out), my world would definitely be missing something if I didn't get to enjoy something that was solely for my adult world with friends or partner. There are plenty of things to do in Cairns wet season when its raining. Here are some activities that can be enjoyed while in Cairns on those less than perfect sunny days or clear nights!
30. Vie Spa | Cairns City
This award winning international spa offers relaxing massages, facials, beauty and relaxation treatments. A lovely sanctuary area with lot's of attention to detail.
31. Natural Palm Day Spa | Cairns City
Natural Palm Day Spa is one of the most relaxing day spa's in all of Cairns. Their many diverse packages are sure to be the right treat for you on a rainy day.
32. Eleme Day Spa at Riley | Cairns City
There are a number of day spas in the Cairns which are just perfect to organise a rainy Sunday activity! These are just a few to get you started.
33. Grand Hotel Cairns | Cairns City
Head on down to the Grand Hotel Cairns for cold beers, classic pub meals, and super friendly staff! They have an extensive menu, and lot's of places to dine regardless of the weather.
34. Flamingos Tiki Bar | Cairns City
The beloved Flamingos Tiki Bar is a modern imitation of a Polynesian Bar, hidden beneath the bustling street level of Cairns inner CBD. This tropical Oasis is sure to be the best spot to go to when the weather's not so great, with an extensive menu of drinks and food.
35. The Conservatory Bar | Cairns City
Fancy just chilling in the local pub and people watching, eating the local fare or enjoying a pint or two.  These are great places to go when it's raining and watch the world go by!
36. Fish Spa | Cairns City
Located within the Cairns night markets and at a very reasonable $20, why not try something a little different and have your toes nibbled while eating some delicious treats from the marketplace – perhaps a rainy day activity with friends or as a couple!
Website: Fish Spa
Address: Cairns Night Markets (Esplanade entrance beside the Food Court Shop 36, 54/60 Abbott St, Cairns City 
37. Reef Teach | Cairns City
Established in 1992, this location is all things Great Barrier Reef. If you have an interest in this amazing location, this is the place to visit while its raining in Cairns. There is a small fee to enter and you are able to listen to various speakers and learn a huge amount about the reef.
Address: Second Floor, Mainstreet Arcade, 85 Lake Street Cairns
38. Brett's Outback Tasting Adventures | Port Douglas
Rainy season Cairns can be a bit much, but the locals are well used to providing rainy day activities for adults. Leaving Port Douglas daily at 8.30 am and returning around 5 pm, this trip will take you to a number of locations to sample local produce including a winery, cheese samples, chocolates, distillery and much more.
39. The Float Studio Cairns | Manoora
A different experience and why not … this is one of many spa-style locations in the area and a favourite rainy day activity indoors for adults. Floating pods offers a unique rainy day activity for adults and a chance to relax.
Address: 149 Anderson Street, Manoora.
40. Mt Uncle Distillery | Walkamin
Rainy day activities adults-style could incorporate a sample of the local distillery. The staff here will help explain the alcohol available and the story behind each of them as you trial them out. Includes gins and rums and various spirits. Located on a farm, this is a beautiful location to visit regardless of the weather and is open 7 days a week.
Address: 1819 Chewko Rd, Walkamin
41. Stockland Cairns Shopping Centre | Earlville
Things to do when raining – shopping!! We all deserve the odd treat!! Rainy Day activities Cairns has never been so easy.
Rainy day activities Cairns for home
OK, so you have read through all my rainy day ideas in Canberra and you still don't want to venture out. Fret none, I have also got a great list of things to grab now for any future rainy days in Canberra. Just like the Scouts, you will always be prepared!
When you can't get out and about, finding activities at home can be tricky on short notice. Because we know everyone is different, we have compiled a heap of entertaining and interesting activities, including art ideas for rainy day activities in Canberra you can do at home (or in a hotel room!).
42. How to draw cool things drawing guide
Have a budding artist in your midst? Then how about following a step by step instruction book – 'How to draw cool things' which will suit even those just starting out. Includes optical illusions, 3D letters, cartoons are just some of the things they can learn to draw.
43. Be a rubber band engineer
Maybe even a mechanic that loves fiddling and fixing things, this book will help create all sorts of gadgets. You will never believe what they can make with just a rubber band and the ideas between the pages.
44. Get procrastibaking
Baking is always a favourite in my house, so grab a recipe book and get them into the kitchen for a chance to be the next Masterchef!
45. Non boring board games
Why not invest in a different style of board game – definitely helpful in getting them away from those electronic devices! It even includes some team building games for teens.
Get playing with these board games.
46. Learn how to ride a hoverboard for rainy day activities Cairns
Why not try a new skill – hoverboarding! Spend the time learning how to ride one and impress their friends!.
47. An escape room in a book
Escape rooms are definitely a favourite but if getting to one is a problem then why not try one from the comfort of your own home with this unique book. With just 60 minutes to escape from a labyrinth, you must take on the challenges and solve mysteries to finish the book.
48. Put your time to good use
This selection of books assist in areas that we could all improve upon such as increasing level of happiness and even confidence building books like 'What's my super power'.
Check out this selection of books on highly effective teens.
49. Master a remote controlled car
Building and driving remote control cars is an activity that can start indoors and be taken out when the sun makes an appearance. 4WD's, mini coopers and heavy machinery vehicles are just some of the vehicles you can control or why not try with Lego!
50. Fun things to do when stuck at home
Still can't think of anything, then this book is jam-packed with alternative ideas – you are bound to find something here.
Read up on things for kids to do here.
51. Fly a drone
Kids will love learning how to fly a drone – varying models are available from the basic to something more sophisticated so why not give this activity a go.
Things to do in Cairns on a rainy day
What to do in Cairns rainy day activities are plentiful – but its easy when there is a place to start your research. Hopefully this has helped you identify something that you can all enjoy from rainy day activities kids-style to rainy day activities indoors or even rainy day activities couples-style (even outdoors activities if the weather doesn't bother you!).
It doesn't have to be expensive either, there are plenty of things to do when its raining to keep those kids from getting bored (and lets face it the kids rainy day activities really helps us to reconnect as a family). ENJOY!!