Frew Park is a modern playground located in Milton, central to Brisbane CBD. 
There are several reasons that we believe this is one of the best playgrounds in Brisbane, but for parents, let's start with a topic that is close to our heart… coffee.  A playground with a café you ask?  Yes, this why we believe that this is a playground that adults, teenagers and kids will enjoy. 
Keep reading to discover all the reasons why this playground made our top 10 parks in Brisbane. 
The Frew Park Coffee Shop
The Coffee Shop is a 20 metre walk from the playground, located within the park itself.  The toilets are located on the lower floor and the café is upstairs. 
Parents can quickly buy a coffee, then pop down stairs to sit back, relax and supervise their children.  For the kids, they have drinks, ice-blocks and the menu contains more morning and afternoon style snacks, rather than a full lunch or dinner menu (think sausage rolls, slices, muffins etc). 
For parents with older children, parents can dine in with a direct view to the playground and tennis facilities, or simply order a take away coffee. 
The
Big Frew Park
Playground
I attended this park with a friend who has a 14 year-old man child, they'd been to this park before, when the teenager was 11 years old.  The teenager knew what to expect, yet still wanted to come along.   
Whilst sitting down in a shady space drinking our coffee, my friend explained that when he first discovered this playground he was actually taking his kindy aged child for a playdate, "I thought my 11 year old's playground days were over until I discovered this park".  Apparently, at 14, his playground days aren't over yet. 
The reason?  The play facilities are quite challenging and risky.   
Basically, the area consists of a large cement fort like structure and an area for the younger children. 
The large fort like structure introduces challenges and, dare I say it "risky climbing challenges" to children from around 5 or 6 years old. 
To get to the very top, every twist involves a risky and difficult path, along with an easier path. 
The first time I came to this playground was when my twin boys were 7 years old, it was for a birthday party.  My children are on the cautious side of childhood and I'm on the helicopter side of parenting… I spent some time hovering and they spent some time requesting that I hover.   
Today, my children are 9, I sat down drinking coffee whilst they played cops and robbers with some kids they met, it really is the perfect space to play hide and seek type games. 
I actually did venture inside in an attempt to explain the difficultly level of the playground, I spent the time taking the more challenging path at each turn.  At 163.5cm in height, I discovered that the biggest challenge was maneuvering between each platform. 
A playground for all ages
In summary, if your child is older but around my height, they'll still have a small challenge (and like me, proud that they could beat the 9 year old kids to the top). 
You can see the cage like structure in the photo below?  One of my 9 year olds ventured back to our table and asked for his Rubiks cube, water and backpack so he could (in his words) "play with his Rubiks cube whilst enjoying the beautiful view. 
In addition to the challenges and secret pathways to the top, there are nets and slides that challenge children's gross motor skills. 
There's a secret room …. 
… a fireman's pole and tunnels, basically A LOT of different options for children who want to climb, slide, shimmy, crawl and challenge themselves. 
The Smaller Frew Park Playground
Where the large playground involved challenges and secret compartments, not so attractive for parents with younger children that they would prefer not to lose, the smaller playground is situated within 5 metres of the larger playgrounds, the perfect location for parents who have children with  different ability levels. 
The small playground provides younger children with facilities that move, spin and bounce ….. 
… and swing.  There are only mild slopes and nearly all of the equipment is on a soft surface. 
Picnics and BBQs
at Frew Park

There are plenty of shady areas with tables to sit back and supervise the children, as you can see from the image below, they are extremely close to the smaller play area.  
In addition to these areas being shady, I'm absolutely convinced that the roof is insulated.  We visited on a 33 degree day, and found temperature was quite pleasant. 
Situated a little down the track, you'll find that there are several BBQs, making this the perfect place for a BBQ, picnic or kid's party. 
Bike and Scooter Facilities
For children who want large spacious areas to ride their bikes and scooters, this park is perfect.  Situated right next to the play area is a bike track loop providing plenty of room for children to not only ride, but ride without stopping and starting, and even gain some speed! 
Sports Facilities
at Frew Park

In addition to the bike track, the park has several other sporting facilities. 
There are 3 basketball hoops that are exceptionally high, even the lowest is higher than a typical ring.  This feature seemed to be enjoyed by the bigger kids and the bigger kids at heart. 
The Tennis Courts are fore hire, and there's also a school holiday clinic available for school aged children (with a pro shop upstairs near the café).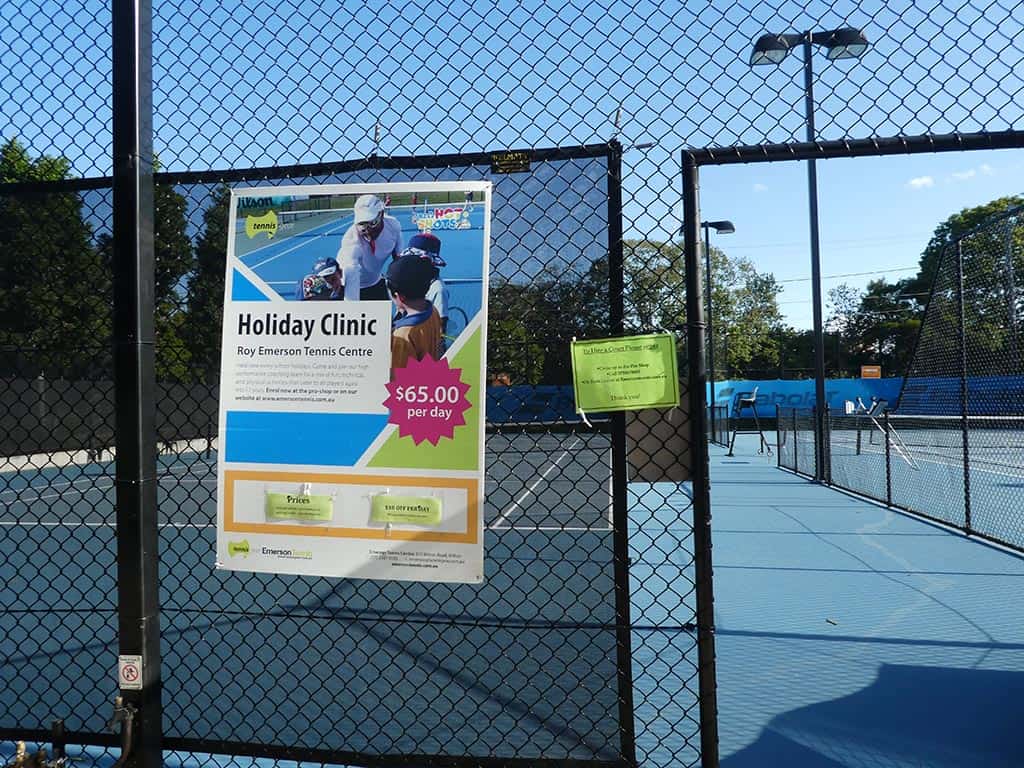 In the middle of the bike rack, there is a range of gym equipment…. 
… and there's a rebound wall which could be used for tennis / squash practice or handball. 
In summary
This is a fantastic new playground that is simultaneously challenging for the older kids, provides safe fun for the littlies, has sporting facilities for all ages, all located close to bathroom, picnic and BBQ facilities, with a café on-site. 
Seriously, show me the downside? 
The nitty gritty
Address:  Frew Street, Milton 
Toilets: Yes 
Café: Yes 
Water Play: No 
Shade: Yes 
BBQs: Yes 
Bike / Scooter Facilities: Yes 
Sports Facilities: Yes