Are you looking for value for money on the beautiful Kingscliff coast? A relaxed and inviting atmosphere? A completely safe, fully-equipped children's play area? Interested? It's Kingscliff Beach Hotel – affectionately known as "The Kingy"!
Kingscliff Beach Hotel – The Kingy!
102 Marine Parade, Kingscliff, is the home of one of the best beach dining experiences you're ever likely to have. With plenty of parking available right outside (or within easy walking distance), this is the kind of eatery that you'll want to come back to again and again.
The facilities
Beautifully designed, this spot offers a large outdoor eating area covered by a great shade sail – combining a relaxed outdoor atmosphere with family-friendly sun protection. (Hot tip, though – the seagulls are CHEEKY! Watch your chips!)
There are a number of bar areas for quick counter service (complete with old-fashioned buzzer that lets you know your food is ready) where you can order foor or a cheeky drink or two. There's a stage set up for live music, special events and even screenings of Game of Thrones when it's playing on Foxtel! Winter definitely ISN'T coming at The Kingy, though, because there are summery vibes all year long.
Bathrooms are easily accesible, parent-friendly facilities are easy to come by and there's a whole stack of high-chairs that means there'll always be room for bub to get involved.
The kids area
The 'creme de la creme' of kids areas in hotels! The childrens' play area at Kingscliff Beach Hotel is second to none. The heavy door means that the kids are safe and they're perfectly visible from the beer garden. If you would like to go into the space with your little ones, though, there are places for you to sit.
Climbing structures, slides, puzzles, a little car to bop around in – everything your little rugrats could possibly want!
The menu
On our visit to Kingscliff Beach Hotel we found the menu to cater to a difficult range of tastes (namely – vegetarian and fussy toddler!). As ex-meat eaters, we could appreciate the extensive variety of cuts of meat and mouth-watering burgers on the menu. It's almost enough to make you put down the tofu…
Service was friendly, professional and quick. We were presently surprised by how quick our meals were cooked despite the large crowds that were already forming – the sign of a well-run kitchen!
The meals were just enough, cooked with fresh ingredients and had that 'more-ish' quality that really makes pub food sing. We settled in for a long, lazy lunch in the sun while our toddler teared around the kids area without a care in the world. Classic Kingy.
The verdict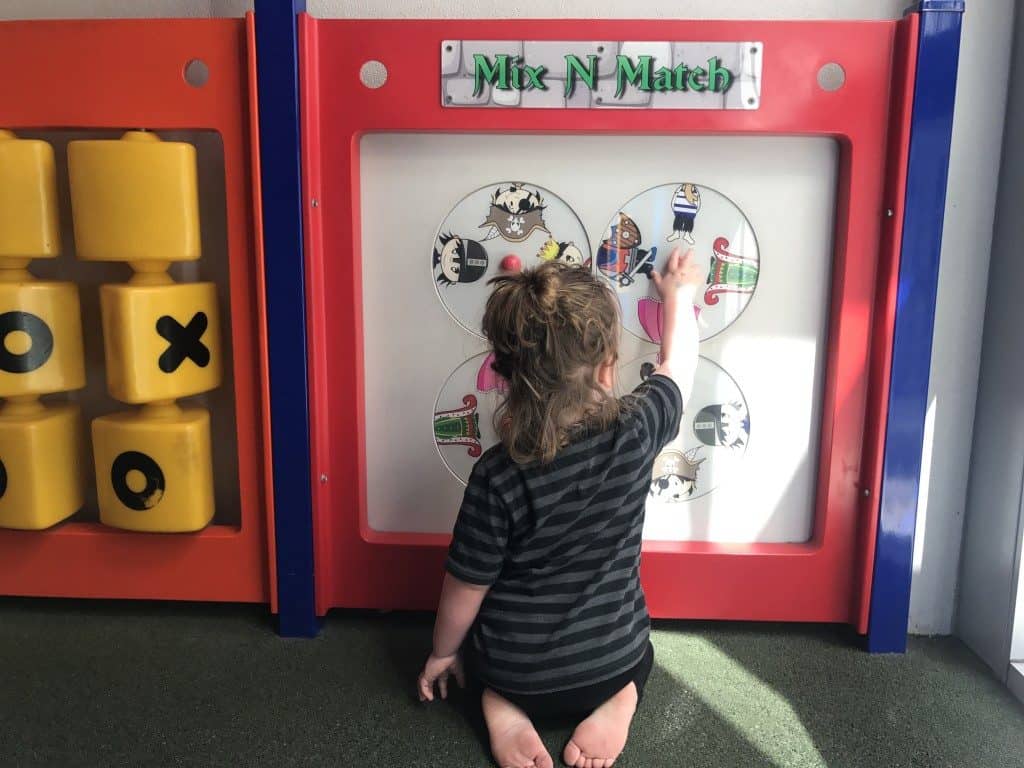 Kingscliff Beach Hotel was the perfect choice for an awesome weekend lunch in a casual, yet classy, setting. The combination of great food, great prices and a peaceful vibe made this feel like the kind of place where you weren't being pushed out the door to make room for new customers. It felt like nothing was too difficult at The Kingy and we felt right at home. We'll be back on our next trip to Kingscliff for sure! Check out where we stayed when we were in town!