With a number of towns and resorts located along the coastline the Sunshine Coast, QLD boasts some fantastic seafood buffets and restaurants to enjoy during your stay.
The Sunshine Coast lies some 100 km north from the centre of Brisbane and is the third most populated region within Queensland. It is an area containing a mixture of countryside and world renowned sandy beaches and the seafood options are vast from cruises, to traditional seafood dishes to sample and with a number of twists on the traditional along the way, you are sure to find something for everybody.
Seafood is beautifully fresh and there are a number of markets within the region. Views of the ocean and sampling the fare is a great way to enjoy in this destination, and the list below will help you choose from seafood buffets, share plates and restaurant style dishes you will be spoilt for choice!!
Fish On Parkyn Mooloolaba
This elegant dining establishment located opposite the Mooloolaba Beach has a host of seafood dishes. Open daily for both lunch and dinner, there are a number of dishes to sample, but if you can't choose why not share a platter for two combining such favourites as oysters, Moreton Bay bugs, Mooloolaba king prawns, Hervey Bay scallops, fried calamari, and fish and chips, all washed down with a cocktail or two.
The platter is $130 but there are a variety of seafood favourites on offer here so if you would prefer your own individual meal, you can eat such delights as tuna, paella, seafood curry and for those who prefer options other than seafood, steak and pasta dishes are also available.
Hours: Lunch from 12; dinner from 5.30 daily.
Address: 25 Parkyn Parade, Mooloolaba
Mooloolaba Catamaran Cruises Mooloolaba Harbour
A bit more of the traditional with this particular option and what could be better than relaxing on a boat enjoying the views and sampling a seafood buffet including a choice of rock oysters, ocean prawns, crabs and salads. A licensed bar is also onboard so you can sit back and enjoy while sipping that glass of wine or beer!! This cruise is available each week. The vessel is a twin hull double storey catamaran with two decks which affords beautiful views as you cruise along the surrounding canals. Buffet is $95 per person, children are welcome and under 5s are free.
Address: Mooloolaba Harbour, Mooloolaba
Terrace of Maleny
Situated in the beautiful hinterland of Maleny, this stunningly attractive venue offers a variety of seafood options. There are also a series of cottages close by which are offering one night stays and includes dinner at this restaurant as an inclusive bundle! The restaurant offers share platters costing $170 and includes a chilled seafood platter followed by two Scotch Fillet Steaks. Alternatively their signature dish of Crispy Wok fried reef fish for $49 is a big favourite.
Hours: Wednesday to Sunday for Lunch and Dinner 11.30 and 5.30 respectively.
Address: Corner of Landsborough-Maleny Road & Mountain View Road, Maleny
Noosa Cruise Bar & Restaurant Noosa
This double storey vessel is available for a number of varying cruises from breakfast to sunset and takes in the beautiful views of the Noosa rivers. The lunch cruise, which takes approximately two hours, includes individual seafood platters that are prepared and cooked fresh on board. Hot and cold seafood is available and includes prawns, oysters, bugs, salmon steaks and meat options are also available, followed by a range of desserts. The lunch cruise is $65 per person (half price for children under 13). This vessel can also be hired for private events.
Hours: Varying and depending on numbers. Lunch from 12.30pm
Address: NOOSA MARINA 2 PARKYN CT, Tewantin Queensland 4565
The Surf Club Mooloolaba
This institution could not be left out of the list. There are number of Surf Clubs in the Sunshine Coast region. This one is situated right on the beach and offers a variety of eateries within; from a quick cuppa throughout the day or a larger menu available from the all day dining menu at The Boathouse Restaurant.
We have incorporated this one, partially due to its envious position on the beach with decks to allow you the chance to watch the sun go down after a busy day exploring, but also because of the variety of food available together with seafood options. The children are well catered for with their own menu and seafood is available at a very reasonable price including a seafood basket at $30 which incorporates prawns, salt and pepper squid, snapper fillet, and herb battered scallops. There is definitely something for everyone at this location.
Hours: All day dining from 11.30am daily til late.
Address: The Esplanade, Mooloolaba.
Red Sea Restaurant Maroochydore
With both indoor and alfresco dining options available, this family friendly venue offers both meat and seafood options including a couple of reasonably priced food platters to share (or indulge with a platter for one also on offer!). Maroochydore is a pretty town located next to the beach so you can be assured that the seafood on offer will be fresh. The Chefs Selection Platter consists of salad, calamari, prawns and bugs, oysters served two ways and all for $80 (to be shared between two). The one person option is available at $36.
Hours: 11.30am til late daily.
Address: 36-38 Duporth Avenue, Maroochydore
Sails Restaurant Noosa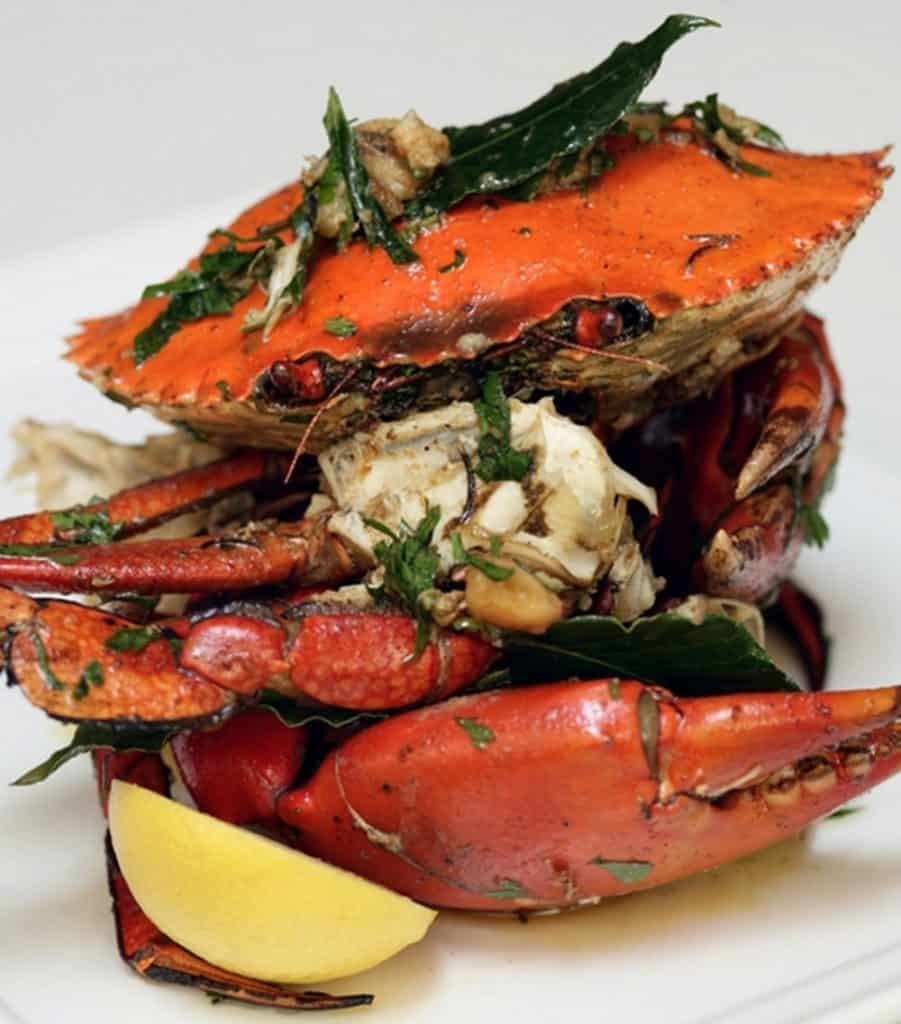 This beautifully elegant restaurant very close to the beach and along the famous Hastings Street location in the centre of Noosa, has been included due to the location, beautifully elegant venue and the choice of seafood on offer. Whilst not a traditional seafood buffet or share plate experience, there are a number of different seafood choices on offer at this location. This venue is also popular with wedding guests! Choices from the menu include Sandcrab lasagne, mud crab, barramundi, prawn linguine to name but a few. T
he venue is open daily from 12 noon daily. There is the option of an exclusive wine bar entry for a larger group of 14 patrons and a coffee cart is available during the mornings. Main dishes at the main restaurant start from $42.
Hours: from 12 noon daily
Address: 75 Hastings Street, Noosa
Noosa Waterfront Restaurant Noosaville
This is as waterfront as you can get! Built on the water off of a platform/ramp/boardwalk style structure, this 3 level bistro has everything you could wish for. As a suburb within the famous Noosa area, the views are spectacular. There are a number of menus available at this location including a 'feast' option which incorporates both seafood and meat options.
This is a four course dining experience and the seafood included is Hervey Bay scallops and the fish catch of the day. The feast experience will cost you $64 per person. There is also a little takeaway window on site, so you can get your food to go and sit at the many little waterside locations nearby.
Hours: Open 7 days a week – hours vary
Address: 194 Gympie Tce, Noosaville
Pier 33 Mooloolaba
This stunningly attractive and conveniently located venue is positioned right next to the Marina at Mooloolaba so the views are guaranteed. There are a number of outdoor setting areas including a lawn area and the menu is both small and larger (for those who wish to share). Produce is varied and includes non-seafood options so there is something for everyone and there is a 'Nippers' menu for the younger members of the family.
Mains start from a very reasonable $26 with oysters available (half dozen from $27). If you wish to share some local seafood whilst watching the sun go down in a beautiful marina-style location, this one is definitely for you. Don't forget to indulge in one of their signature cocktails!!
Hours: 11.30 til late Wednesday to Sunday.
Address: 33-45 Parkyn Parade, Mooloolaba
Café Le Monde Noosa
This venue has been around for some time and is very popular with locals and tourists alike. Situated within the famous Hastings Street, Noosa, it offers a wide variety of food but the reason we have included it on our list, is OYSTERS!!! For something a little different, this place boasts an 'oyster hour' every Thursday where you can grab oysters between 5 and 6 pm for as little as $1. Coupled with live music provided Thursday and Friday evenings and DJs on other nights throughout the week, this place provides a lively backdrop to a fun evening out.
The café is open from 7am for breakfast so other meals are catered. Other seafood options on offer include fish, scallops and baby squid and can all be washed down with a variety of cocktails. Children are catered for as well so make sure to bring the family!!
Hours: from 7am daily.
Address: 52 Hastings Street, Noosa Heads.
Seafood buffets sunshine coast
With a number of towns and resorts located along the coastline the Sunshine Coast boasts some fantastic seafood restaurants to explore.
Check out this list of other seafood buffets in QLD.
Tweet