The Gold Coast, within QLD is an area containing a mixture of hinterland beauty with its national parks to the coast with arguably the best beaches in Australia, but also some of the BEST all you can eat seafood buffets and share options on offer.
Entertainment venues including the many theme parks, the beaches together with all year round great weather provides the basis of this popular tourist destination and with plenty of restaurants and bars to try it is no surprise that seafood ranks highly on the list of delicious food treats to indulge in.
With so many choices it can be difficult to choose where to begin your seafood journey. So, here is a list to help you, with a choice of the traditional seafood buffet together with favourite seafood restaurants and venues that offer a selection of seafood share plates, you are sure to find something for everyone!! If you're eager to learn more about the nutritional benefits of seafood, click here.
Please not that not all of these restaurants are buffets. They are just too good to miss so we just had to include them! For more kid-friendly activities, check out out list of the best things to do on the Gold Coast with kids.
It is also important to know that the prices for these venues are regularly changing so we cannot always be on top of them. Always check with the restaurant before visiting.
1. Bazaar QT | Surfers Paradise
This unique destination is located within the QT hotel, situated on the beach within the middle of the Gold Coast. Bazaar QT prides itself on taking you on a journey around the world and likens itself to savoring street food at its finest while dining in this luxurious holiday destination. There are an abundance of various different food stations and spices so you could fool yourself into thinking you are within the realms of a Far Eastern souk or a marketplace in Latin America.
If you enjoy sampling different foods from all over the world then this destination is the one for you. The buffet style caters for varying tastes and seafood is featured highly. Children are welcome and various dietary needs are catered for.
Address: 7 Staghorn Avenue Surfers Paradise
If this sounds appealing to you, head on over to Bazaar QT's official website to check out more information.
2. Citrique JW Marriott Resort & Spa | Surfers Paradise
Situated within the JW Marriott Hotel within the middle of Surfers Paradise is this luxurious restaurant. The dining room is open throughout the week offering breakfast, lunch and dinner menus but from Thursday to Sunday this turns into a seafood lovers delight! Referred to as a 'marketplace', the restaurant offers a buffet style eatery filled with a variety of fresh seafood. The menu changes depending on the fresh food available but includes a variety of fish, shellfish, soups, and even pizzas! Parking is available on site (charges apply).
Address: 158 Ferny Avenue · Surfers Paradise, Queensland 4217 Australia
If you're eager to find out more, feel free to view their website by clicking here!
3. Waves Seafood Buffet | Surfers Paradise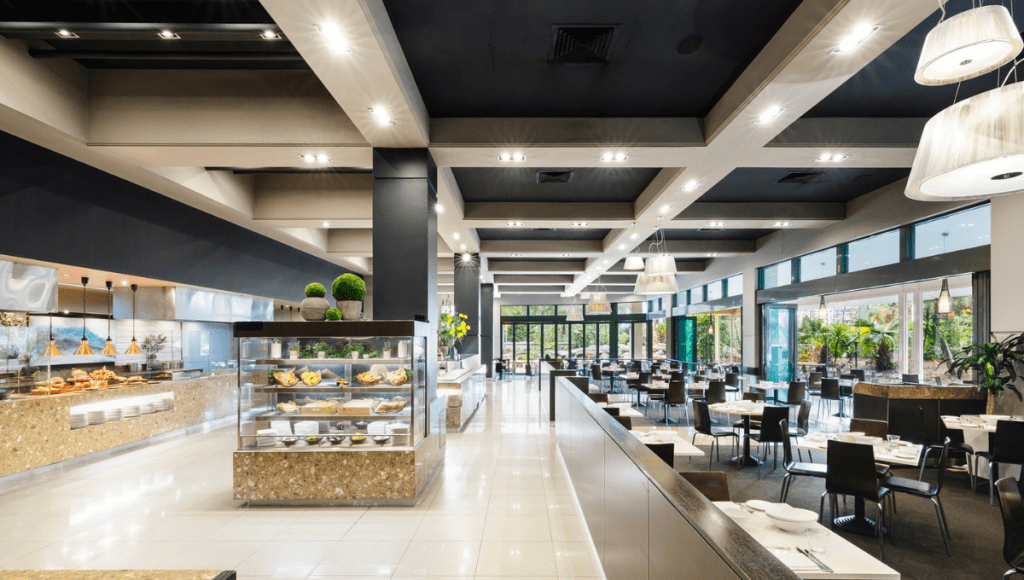 The Waves Seafood Buffet located in Surfers Paradise is highly acclaimed for its delectable seafood offerings. Recently, we had the pleasure of indulging in their seafood buffet dinner and can confidently attest that it is an ideal dining destination for families with children. The experienced chefs prepare a vast assortment of fresh seafood options such as prawns, oysters, mussels, crab, and fish to perfection. Additionally, an extensive selection of sides, salads, and desserts, including a tempting chocolate fountain, are available to satiate diverse palates.
The restaurant boasts an airy and spacious ambience, making it a perfect spot for family gatherings. Kids especially relish adding their favourite sweets to the chocolate fountain. The staff is courteous and attentive, further enhancing the overall enjoyable dining experience.
Address: 3032 Surfers Paradise Blvd
Read our review of Waves here, and view their website here.
4. Il Barocco PIalazzo Versace | Main Beach
Situated within the Main Beach area of the Gold Coast, right in the centre, this upmarket location features accommodation and a fine restaurant luxuriating in European, Italian ornate style as the name suggests. The buffet offers, poached king prawns, lobster, coffin bay oysters, spanner crab, Moreton Bay bugs, smoked salmon, New Zealand mussels, market fish, squid, condiments and sides. It is fine dining at its best. Over the weekends, the restaurant comes alive with live music. If you are a fan of the 'finer' things in life, this destination is perfect for you!
Address: 94 Seaworld Dr, Main Beach
Visit II Barocco's official website to find out more information, such as the full menu, prices, and their opening hours.
5. Omeros Bros | Main Beach
This classic seafood restaurant boasts prime location on the Marina Mirage boardwalk in Main Beach. Omero Bros have fabulous views of the marina which they make full use of with floor to ceiling windows. This establishment is traditionally a family run restaurant and has won numerous awards for its appetizing food throughout the years.
Whilst not a traditional buffet style restaurant, the seafood options on offer are wide and together with its picture-perfect location, we couldn't leave this one out of the list!! Seafood options include oysters served in a variety of ways including oyster soup! Salmon, curried prawns, scallops, mussels, calamari, octopus together with a variety of fish.
Address: Shop 55/74 Seaworld Drive, Marina Village, Main Beach
Follow this link to check out Omero Bros' official website for more information.
6. Sea World Resort | Main Beach
This restaurant is definitely a favourite with the family, particularly the younger members!! Located with Sea World itself, this popular destination includes accommodation within the park and a restaurant. The Sea World resort has a number of appetizing eateries on site but the Shoreline Restaurant offers a mouth-watering collection of seafood platters for those who want to feast on something from the ocean. The seafood platters offer both hot and cold options together with a mixed seafood grill, and favourites such as Australian prawns. The restaurant has a relaxed atmosphere and is definitely marketed towards families.
Address: Sea World Drive Main Beach
Check out Shoreline Restaurant's official website by clicking here!
7. Terraces Restaurant | Main Beach
Located close to one of the most popular theme parks, Sea World, you will find this resort and restaurant situated within, offering breath-taking views across the stunning pool area. This Gold Coast located restaurant is sure to catch your eye!
There are a number of choices from their menu within their a la carte section but also served is the 'ocean to plate' experience. The buffet here is provided to you by the waiter to your table with a set menu with choices such as Crab, oysters, poached bay bugs, prawns, salmon, fish, salt and pepper squid.
Address: Level 1, Sheraton Grand Mirage Resort, 71 Sea World Drive, Gold Coast
If this sounds appealing to you, check out their official website.
Seafood Buffets Gold Coast
We hope this list of the BEST all you can eat seafood buffets on the Gold Coast has helped!
Looking for more family friendly Gold Coast information?
Things to do on the Gold Coast with kids
We write about restaurants on the Gold Coast suitable for kids
Celebrating with kids on the Gold Coast?
You can find all our Queensland content here