Youth Park Penang offers both locals and tourists a wide variety of entertaining attractions in one convenient location. It's no wonder that the Penang Municipal Park falls high upon many 'visit Malaysia' bucket lists.
What's so good about Youth Park Penang?
The parkland features a collection of activities that both parents and children can enjoy, including
a skating rink,
play pools,
colourful jungle trails,
giant chess boards,
unique street art
multiple playgrounds for all ages
and obstacle course and  more.
Read on and our detailed review with give you all the information you need to make your visit to Penang Youth Park visit all the more memorable.
In case you're still not convinced, here's some more information about George Town's very own natural getaway, including the history, location, the best time of year to visit, things to know before visiting, and a list of things to do in Youth Park.
The History Of Penang Municipal Park
In 1972, the Chief Minister of Penang alongside the Municipal Council began drawing up plans for a parkland specifically designed for the youth. Approximately 42 acres of land was developed, with an amphitheatre, multi-purpose field, obstacle course, jungle gym, and archery range built.
The parkland was named the Penang Youth Park. In 1973, the parkland underwent further development to include a skating rink, play pool for kids, the Lion Play Centre, and the Lion Troop House.
With all the facilities on offer, it's no wonder that recreational activities within the park began to take place, mostly in the form of concerts and sporting events. Soon after, the Youth Park became home to a collection of sporting clubs, including an archery club, fitness clubs, hiking clubs, Tai Chi clubs, an aerobics club, and much more.
In 1990, the Penang Youth Park was renamed the Penang Municipal Park, with an aim to cater for everyone, including youth, elders, and families.
The Reflexology Path was built along with a skate park and viewing deck, camping sites, an obstacle course, jungle hikes, a gymnasium, a cafeteria, a family play pool, a chess corner, bridal corner, fixed exercise machines, and the Leapu corner, solely dedicated to relaxation.
As more and more facilities became available, attendance increased to 3000 on weekdays and approximately 8000 on weekends. This led to a further 80 acres of the parkland being developed. In 2004 and 2005, the Penang Municipal Park won first place at the National Landscape Competition. In 2010, an information kiosk was built for visitors looking to attain more information on the park, along with a new parking lot and a women's gym.
Today, the parkland is also used for international events among sporting clubs and associations. This includes the Penang International Mountain Bike Challenge, the Penang Extreme Games, and many more.
Where is Youth Park Penang?
You can find the exact address for the Youth Park at: Persiaran Kuari, Pulau Tikus, 10450 George Town, Pulau Pinang, Malaysia.
Penang Municipal Park sits on the western edge of Penang's capital: George Town. Reaching the extensive parkland directly isn't possible via the public transport system, although it's still relatively simple to access.
The Penang Municipal Park can be reached via the Persian Kuari (a single-way route through the middle of the parkland). Those driving can find parking around the park, although they can fill up quickly on busier days such as weekends. We took a grab that dropped us directly at the front entrance.
Check out the Google map below for exact address.
Things to do in Youth Park Penang
Walking paths in Youth Park
The Penang Municipal Park is a perfect option for those looking for a natural escape within the city of George Town. Grab the family and set off on a lush jungle hike or take off your shoes and embrace a slow, barefoot stroll along the diverse textures of the reflexology path. The walking conditions of the park are ideal for the whole family, including paved tracks and plenty of shade.
Cafes at Youth Park Penang
Those needing a break from all the excitement of Penang Municipal Park can stop by one of the many food outlets on offer. Take a moment to recharge before exploring a new treasure of the park.
Get Out with Kids Tip: Take cash as most operators do not accept credit cards here.
Check out the skating rink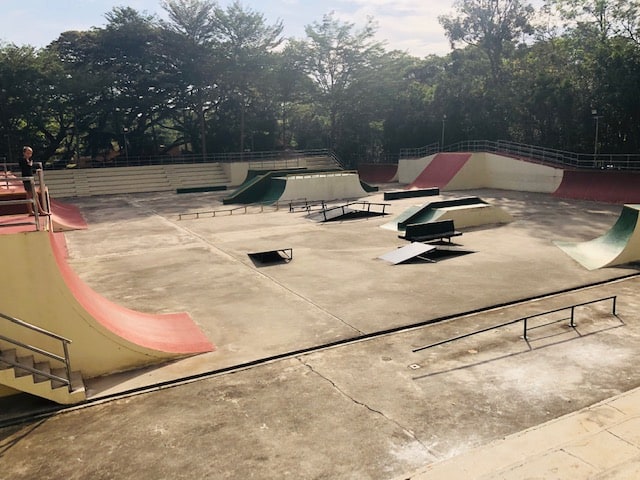 Kids looking for a bit more thrill can make their way to the park's skating rink. The area includes ramps, grind rails, half pipes, and heaps more, offering children plenty of opportunities to showcase their talents. Remember to take safety precautions before skating and don't try anything you're not confident doing.
Face off in a game of giant chess
Show off your skills by facing off in a challenging game of chess, with a twist. Within the Penang Municipal Park is a Giant Chess Corner, containing a variety of giant chess boards and pieces for the entire family to play with. Chess has never been so fun.
Admire the Street Art Park
A section of Penang Municipal Park dedicated to showcasing the talent of locals artist; the street art region of the parkland is unmissable. The display features a number of large canvases, neatly organised, that graffiti artists have painted colourful murals on. Be sure to stop by to admire some of the artwork and to capture a few photos.
Youth Park swimming pool and splash pools
Those looking for a spot to cool down can head over to the Youth Park's swimming pools. With multiple pools, fountains, and small waterfalls on offer, it's the perfect place for the whole family to escape the heat amongst a lush, jungle backdrop.
Get Out with Kids Tip: Go early in the morning to avoid the crowds (especially on weekends!)
Visit the playground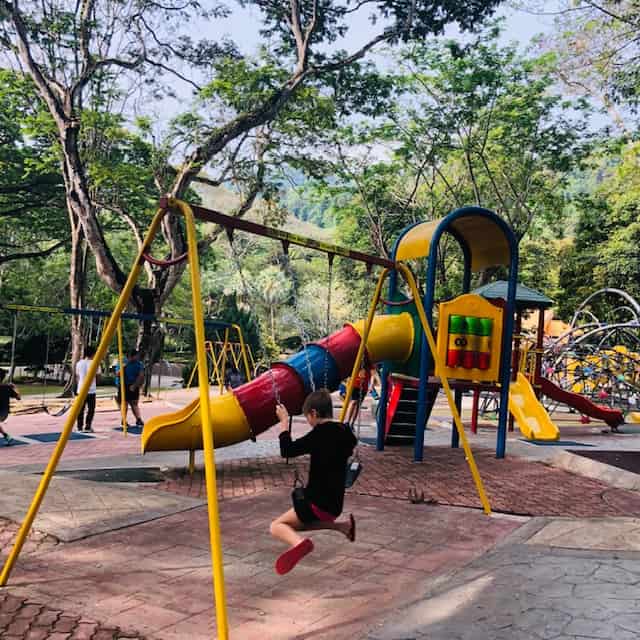 The parkland also features a vibrant playground for children to enjoy, including swings, slides, cubby houses, open grass areas, and heaps more. The kids can explore the vast play area while parents can sit back, relax, and admire the tranquil surroundings.
Enjoy a peaceful picnic
Rather than stopping by one of the park's food outlets, why not pack your own lunch and enjoy a family picnic? With a variety of beautiful locations, offering vibrant views and lush, jungle backdrops, a peaceful picnic in the park proves to be a relaxing experience. Although, as the park can become very busy, especially on weekends, be sure to arrive early to secure a scenic spot.
How long does it take to explore the Penang Municipal Park?
A trip to Penang Municipal Park proves to be an extremely entertaining early morning venture. The circuit surrounding the park only takes from 25 to 30 minutes to complete, not taking up too much of your time and allowing you to explore some other points of interest throughout George Town. However, with the wide array of attractions scattered throughout the parkland, you'll likely be stopping time and time again.
When is the best time of year to visit Youth Park in Penang?
The Penang Municipal Park is a destination that can be enjoyed year round, with a variety of attractions on offer to suit every occasion. That being said the ideal time to visit largely depends on the experience you'd like to gain from the trip.
Tourists and locals hoping to visit the Penang Municipal Park with fewer crowds should consider visiting between February and April. This time of year isn't peak season for tourism in Penang, meaning the park is likely to contain fewer crowds compared to other months.
Daily sunshine is highest among this time of year, with March delivering the hottest temperatures of the year (28°C on average), providing the whole family with the perfect opportunity to cool off in the parkland's play-pools. If you're visiting during this time, be sure to pack plenty of sun protection including a wide brim hat, sunscreen, and plenty of water.
Weather in Penang tends to be very pleasant from November to January, offering the perfect opportunity to incorporate a blend of the park's activities into one visit. Head to the pools, comfortably stroll among the lush plant-life, stop by the skating rink, grab a bite to eat, or sit back and admire the tranquil vibes the park exudes. Crowds are much bigger during this time of year primarily as it's the holiday season.
Penang's wet season occurs between the months of May and October, consequently delivering fewer crowds and cheaper accommodation. Although rainfall can often put a damper on a new experience, visiting at this time of year is ideal if you're looking to save some money. The rainfall also tends to be quite frequent during these months, so while you're exploring be sure to pack an umbrella or raincoat.
The best time of year to visit Penang's Municipal Park is largely determined by the experience you're looking to gain from the venture, whether it's a refreshing dip in the play pools or simply more room for yourself with fewer crowds. Before you book any travel dates, consider the experience you'd like to gain from your visit to Penang.
What Should You Know Before Visiting?
First of all, Penang Municipal Park is home to a vast collection of facilities, making a visit effortless and convenient. Including diverse food outlets, toilets, and picnic areas, this variety offers plenty of options for families with regards to how they'd like to experience the park.
Save some money by bringing your own food with you and enjoying a picnic among a lush, vibrant backdrop. Although remember the park can get very busy, especially on weekends, so be sure to snag your picnic spot early. Otherwise, grab the kids and refuel at one of the many food outlets on offer. With the variety available, there's surely a little something for everyone to enjoy.
If you're exploring the Penang Municipal Park in the hotter months, be sure to pack plenty of water to keep you hydrated all day long. Regardless of the time of year you're visiting, remember your sun protection. This includes a wide brim hat, sunscreen, and anything else you may need. Nothing dampens the spirits more than a mean sunburn.
It's crucial that you remember to respect the parkland while you are visiting. This firstly means that you shouldn't be littering. Either dispose of your rubbish in designated trash cans or if you can't find a trash can, carry it with you until you can find an appropriate place to dispose of it. Doing this simple act can allow others to enjoy the Penang Municipal Park to the same degree that you have.
Finally, it's important that you don't take any plants or animals with you when you leave the park. You may be unaware of the role these species play in the environment. It's best to play it safe and leave everything the way you've found it. Lastly, stick to the path while you're hiking as opposed to venturing off-track. It not only puts you in danger, but you could also end up crushing habitats that various species rely on.
To gain the best possible experience at these parklands, be sure to stick to the track and respect your surrounding environment.
Penang Youth Park
The Penang Municipal Park is home to a diverse collection of experiences that make a visit to George Town truly memorable. The entire family can get involved with plenty of attractions, including jungle treks, artwork displays, play pools, giant chess boards, relaxing gardens, and so much more.
Kids can also stop by the obstacle course, jungle gym, and skating rink. Those needing a moment to rest and recharge from all the fun can head over to one of the eateries on offer, or enjoy a self-prepared picnic at one of the many astonishing picnic areas.
Whether you're seeking a relaxing experience or a journey packed with exciting activities, the Penang Municipal Park can accommodate for everyone, proving that it deserves a spot high upon your George Town bucket list.
Looking for more things to do in Penang with kids – see our giant list of things to do in Penang with kids here.