The Angry Birds Activity Park Johor Bahru is a wonderful place suitable for all ages. It's a great place to visit when you find yourself in Johor Bahru, Malaysia.
This Angry Bird Park Johor review will tell you everything you need to know about Angry Birds Activity Park in JB
Where is Angry Birds Activity Park in JB?
What activities are at Johor Bahru Angry Bird?
Cost of entry at Angry Bird Park
What ages does the park suit?
We really enjoyed our time at Angry Birds Activity Park in Johor Bahru, and I think you will too; this is one of our favourite Johor Bahru activities!
Angry Birds Activity Park Johor Bahru location
The Angry Bird Activity Park is located on the top floor of the KOMTAR shopping centre. We found it fairly difficult to find as the top floor is split into two sections, so make sure you check both, and not just wonder around one of them.
Address: 'KOMTAR, Level 3, Bandar Johor Bahru, 80000 Johor Bahru, Johor, Malaysia'.
What activities are at Angry Birds Activity Park?
When you visit Angry Birds Activity Park, you can expect to enjoy multiple different activities such as, a rope swing into a foam pit, a laser doge game, a soft ball shooting range, an air pillow jump, a café, a toddler area, a go-kart track and much much more! The park has two sections, the main area and a smaller area with climbing and slides.
The Go-Karting Track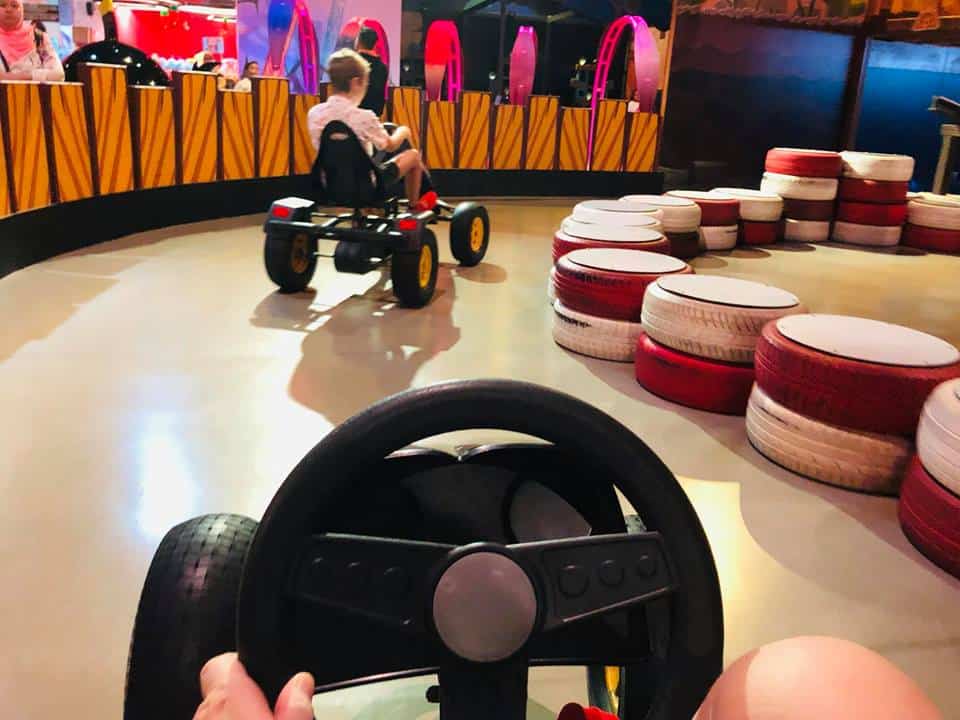 Jump onto a go-kart, they offer big and small ones, and pedal your way around the track, we got stuck on the corners a few times but managed to do a complete lap with no crashes by the end of our session. It was a really fun challenge and we kept coming back when other attractions started getting fairly busy. Take it slow or try to race with your friends and family. We loved this attraction! A great place for go kart JB style!!
The rope swing into a foam pit
Climb up onto one of two stands set at different heights, grab onto a rope and swing out, let go, and land in the foam pit! WE couldn't get of this attraction! It was so much fun. We kept going back, and back, and back… If you're finding the ropes getting at bit busy (they will later into your session), then climb up one more stand to simply, jump into the pit, we liked doing some flips into it.
You can also jump from a trampoline into the pit! We really couldn't get off this activity. Also in this section there are trampolines too. We loved jumping up and down on some super springy trampolines, try doing some flips, or just jumping onto your knees if that's all you can bring yourself to do.
Air bag jump
I love the thrill of just jumping onto a bag of air. I just leap! You can do this as well at Angry Birds Activity Park Johor Bahru. You walk out on a glass bridge about 2m above the bag of air. When you jump, you have to land on your butt and we found this quite difficult. It was another one of the adrenaline rushed activities at Angry Birds Activity Park Johor Bahru.
Laser Dodge
Chose a difficulty and dodge the lasers to get to the prize at the other end of the challenge. I loved being able to push myself and bend in ways I didn't know I could (totally not exaggerating…). Try this one early as it fills up quite quickly as kids figure out what it is.
Pig Shooting Range
Just like in the mobile game, you can load your cannon and try to knock down the pigs. We really enjoyed being able to take down those nasty pigs, but it was reasonably difficult for some, but also really easy for me. (I played the mobile game a lot…)
Toddler Area
For children under the age of five, youngsters can have fun in pits of balls, and on a little play fort. We didn't take a huge look, but what we saw looked very, very promising.
Play Fort
Climb, twist and jump in the play fort, an area where kids can slide down slides, Do mini rock climbing and more. In the smaller part of the park, there's an even bigger play fort with massive slides, wobbly stepping stones, and much more. I found the slides in the bigger area weren't very fast, but it could have been the pants I was wearing.
Eating options
There are two eating areas inside the park, the café and the snack café. As no outdoor food is allowed, if you want something to eat, this is where to go. We didn't get anything but the food looked really nice.
What is the best age for the park?
I think that it's best enjoyed from ages three to thirteen. But we saw lots of parents having a great time with their kids too!!
Why you should go to Angry Birds Activity Park
The Angry Birds Activity Park in Johor Bahru is a spectacular place suitable for all ages. We especially loved the rope swing into the foam pit and all the adrenaline that came with it. Children of all ages can enjoy, but as we said above the park is most suitable for ages three to thirteen.
Have an amazing time as you experience all the things listed above, and more. When we visited, at the end of our session, all the staff came and preformed a dance to us. It was really fun, and shocking too.
Where to book your Angry Bird tickets
We booked our tickets with Klook, but you can also book direct. We found it cheaper to book with Klook and recommend you do too. You can also buy tickets at the gate. When you arrive, you also have to buy some socks, for the trampolines. See the prices below.
Ticket prices at for Angry Birds Theme Park Johor Bahru
Get Out With Kids Discount Tickets: Book with Klook JB, for the cheapest fare.
Klook Angry Bird Park Tickets:
Klook JB is the same price for all ages: 42 MYR – click here for discounted tickets
Get Out With Kids Tip:
Go early as it's fairly quiet when you first arrive, do everything once, then do your favourite things again and again, before it gets too busy!
Looking for MORE things to do in Johor Bahru? Click here for our huge list!