With Queensland being THE place to be at the moment, there is no better way to spend 8-days of your school holidays than by exploring south-east Queensland on a Brisbane to Bundaberg road trip.
If you're planning to do a Brisbane to Bundaberg road trip with kids, you've come to the right place. Below, we've laid out a detailed Brisbane to Bundaberg road trip itinerary. This will help you break-up the drive with some of the most entertaining attractions along the way.
We have also done a Brisbane to Bundaberg train trip on the Tilt Train – it was awesome fun!
Places to stop on a Brisbane to Bundaberg road trip
The drive from Brisbane to Bundaberg is about 4 and a half hours. This could potentially be done in one, grueling day (with a few breaks in-between). However, if you've got a few days up your sleeve, why not take your time to explore the many hidden gems that Queensland has to offer?
Our article will give you the information you need to make a plan for where to stop on the way to Bundaberg. This way you will get the most from your road trip to Bundaberg.
These are the best stops on a Brisbane to Bundaberg road-trip:
Beerwah
Palmview
Noosa Heads
Gympie
Hervey Bay
Bundaberg
In this article, we've detailed the best places to stop on a Brisbane to Bundaberg road trip. We explain why we stopped here, and what activities families with kids can enjoy along the way.
Brisbane to Bundaberg drive with kids
A long drive with the kids can be a challenge – especially if you're going in unprepared. Luckily, there are plenty of tips and tricks you can use to keep the children entertained for the entire drive.
Loading hours of movies onto their devices may seem like the easiest and most effective way to keep them entertained – though this will only get you so far. To hlep us get through long haul car trips, we love playing road trip car games and we always schedule regular stops to split-up the driving times.
Let's get started – here are the best towns and attractions to visit on your Brisbane to Bundaberg road trip.
Brisbane to Beerwah (about 1 hour)
The first stop on your Brisbane to Bundaberg road-trip will be Beerwah – located about 1 hour north of Brisbane city. Along the way, there are plenty of nearby places to enjoy a scenic bite to eat – such as the beautiful town of Redcliffe or Sandgate. Once you've reached Beerwah, you can start enjoying some of the treasures this region holds.
Families are drawn to Beerwah for an action-packed visit to Australia Zoo. Both parents and children love the animals with various up-close encounters on offer. Since Australia Zoo often takes an entire day to explore, it may be worth spending one night in Beerwah to unwind and relax afterward.
Things to do in Beerwah
Here are our favourite things to do in Beerwah:
Australia Zoo
One of the core reasons families visit Beerwah is to explore the beloved Australia Zoo.. The 1,000-acre zoo is home to alligators, snakes, cassowaries, crocodiles, dingoes, giraffes, koalas, lemurs, tigers, and so much more.
To skip the queue and get more from your visit, be sure to buy your discounted tickets online here. These tickets gets you general admission into the zoo, aas well as the Australia Zoo Animal Hospital – where you'll see trained vets nursing injured or sick wildlife before they're released again into the wild. Single tickets are cheaper on that link and if you buy a family pass it is only $171 for two adults and two children (saving $28!)
Beerburrum State Forest
For families eager to get closer to nature and catch a glimpse of some impressive views, a visit to the Beerwah State Forest is a must-do. Set off through the eucalyptus forest on the 800-m Glass House Mountains Look-out Track for an amazing view over the nearby mountains as well as Caloundra, Moreton Island, Brisbane, and more.
Beerwah to Palmview (about 20 minutes)
Next up on our road-trip, we have an easy 20-minute drive to the semi-rural town of Palmview. Here, families can enjoy various attractions, including the nearby hinterlands, sweeping strawberry fields, and the iconic Aussie World. With this assembly of entertaining experiences on offer, choosing family-friendly activities to keep the kids happy couldn't be easier.
Things to do in Palmview
Here are our favourite things to do in Palmview:
Aussie World
A visit to Aussie World is an easy win for both parents and children. After all, it's home to thrilling rides, enticing shops, and delicious eateries – what's not to love? Kids can enjoy some of the family-friendly rides – such as the Ballroom Blitz, Speed Stars, or Bombora Bounce. And when they're finished, you can wander among the many stores available in the Village Shops – with flowers, sweets, and much more on offer.
Find the Aussie World website here.
Strawberry Fields
A visit to the Strawberry Fields is a venture the entire family can enjoy. If you visit in the right season (from June to October), you and the kids can pick strawberries! Make sure you choose the juiciest and most delicious ones for the rest of your road trip. Or if you're in the mood to hang around, enjoy a Devonshire Tea with desserts, bottomless coffee or tea, and a presentation about strawberry production and the farm.
Find out more about Strawberry Fields here.
Palmview to Noosa Heads (about 40 minutes)
Only 40 minutes from Palmview is the beautiful coastal town of Noosa Heads, home to a wide assortment of attractions and activities worth experiencing. Whether you want to lounge on the beach or entertain the kids with some memorable activities, this bustling destination can deliver.
Some of the more popular attractions in the region include Noosa National Park, Main Beach, Hastings Street, and the Noosa Farmers Markets – and that's only scratching the surface. With all the attractions within Noosa, it may be worth staying in this beach-side town for 1 or 2 nights.
Things to do in Noosa Heads
We love Noosa so much we wrote a detailed article about things to do in Noosa with kids.
Here are our favourite things to do in Noosa:
Head to Main Beach
If you're looking for a spot to cool off and soak in the sun, you can't go wrong with a visit to Main beach. Located just off Hastings Street, this pristine beach is a hub where many visitors often enjoy a swim, relax on the sand, gather for picnics, or wander along the nearby boardwalk. The surf tends to be much gentler here so it is the perfect spot to bring the kids.
Explore Hastings Street
If you get tired of Main Beach, be sure to take the time to pop across the road to Hastings Street. From here, you can stop in at the various cafes, grab a bite to eat, or wander and browse through the many boutiques on offer. Though a visit during the day can be satisfying, don't miss out on experiencing the strip at night – as fairy lights illuminate the street and bring this central hub to life.
Go surfing
A trip to Noosa is incomplete without a surfing lesson. After all, the beaches are simply pristine and perfect for surfers of any skill level. These 2-hour surfing lessons on Noosa Beach are a great choice, including all the necessary equipment – such as a soft board, leg rope, and a wet-suit. With professional instruction by your side, you'll be up and riding in no-time.
Dolphin Safari
If you're in the mood to spot some frolicking dolphins, Noosa is one of the best places to do so – and for a closer experience, you can't go wrong with this Dolphin Safari. The 1.5 hours tour guides families up the Noosa River, where you'll see these magnificent creatures play and feed – all accompanied by an entertaining and informative guide.
Noosa Heads to Gympie (about 1 hour)
When you've finished exploring all the goods Noosa Heads has to offer, it's time to make the 1-hour journey to the city of Gympie – located in the Wide Bay-Burnett district. Located along the Mary River, this once famous gold-mining town has a lot to offer its visitors – including fascinating museums, entertaining parks, scenic lakes, and so much more. With the variety on offer, it's worth spending one day in the city, exploring the various activities available.
Things to do in Gympie
Here are our favourite things to do in Gympie:
Lake Alford Recreation Park
The whole family can enjoy a visit to the Lake Alford Recreation Park – with the variety on offer, there's a little something for everyone. For the kids, there's an all-abilities playground to explore – including slides, swings, opened grass areas, and plenty more. Parents looking for a spot to relax and enjoy a picnic will love the abundance of facilities throughout the park – including BBQ areas, public amenities, and heaps of nearby parking.
If you're visiting on the first, third, or fifth Sunday of each month, be sure to keep an eye out for the Gympie Museum Markets.
Wander up Mary Street
Head over to Mary Street if you're eager to do some shopping or grab a bite to eat. This historic strip initially sprung up after gold was found in the city in 1867, taking the form of simple prospector tents. Over the years, this developed into Mary Street we see today – home to gorgeous cafes and small shops all within beautiful heritage buildings. The path is wide and covered with shady trees, making it a very easy outing for the whole family.
Gympie to Hervey Bay (about 1 hour & 20 minutes)
Once you've explored all that Gympie has to offer, jump in the car and drive 1.5 hours north to the coastal city of Hervey Bay. This region is popular among tourists as a whale-watching hub, with plenty of whale-watching boats roaming the waters during the migration season of July to November. Otherwise, visitors also use the city as a base to explore the nearby Fraser Island – the world's largest sand island.
On a Brisbane to Bundaberg road-trip, it's worth spending 2 nights in Hervey Bay. With the range of activities available in this small city, this destination deserves your time and attention.
Things to do in Hervey Bay
Here are our favourite things to do in Hervey Bay:
Explore the Esplanade
One of the best ways to enjoy the coastline of Hervey Bay is to jump on a bike and ride along the esplanade. The stretch extends over 17-kilometers and is the perfect place to enjoy an easy afternoon walk or ride. There are also lots of cafes and eateries along the ride to help you recharge and continue your journey.
If you're looking for a spot to rent a bike in Hervey Bay, check out Hervey Bay Bike Hire. It's located along the Esplanade, with prices starting from only $15 for 4 hours. Find out more about bike hire in Hervey Bay here.
Visit the Botanic Gardens
If you're looking for ways to escape the bustle and unwind, take the time to visit the Hervey Bay Botanic Gardens. The parkland stretches over 26-hectares and is home to orchid houses, Chinese Gardens, a sweeping lake, and a little turtle pond. Either wander through the colourful gardens or find your own patch of grass to sit back and soak in the tranquility.
Whale watching in Hervey Bay
Because Hervey Bay is a whale-watching hub of Queensland, embarking on a whale watching tour from the city is a must-do. We highly recommend this afternoon whale watching tour it is perfect for families. It departs from the Hervey Bay Marina, is 4-hour long and gets you up close and personal with these gentle giants. The tour includes entertainment for the kids, engaging commentary, underwater viewing windows, and more. You will also get afternoon tea included for the ride back.
Fraser Island day trip
Fraser Island is right on the doorstep of Hervey Bay, so taking the time to explore the world's largest sand island is an unmissable experience. To see the many alluring elements of the island is one, action-packed day, this remote full-day tour is the way to go. Throughout the tour, families can look forward to bush-walking, snorkelling, fishing, swimming, kayaking, paddleboarding, and tubing in some of the most beautiful backdrops Fraser Island has to offer. Plus, you might even catch a glimpse of the local wildlife – such as dolphins, dingoes, turtles, eagles, and more.
Hervey Bay to Bundaberg (about 1 hour & 20 minutes)
From Hervey Bay, it's just 1 hour and 20 minutes north-west to the final destination on your road-trip: Bundaberg. Although the road-trip aspect of your holiday may be finished, the action is far from over.
Bundaberg is home to an assembly of iconic attractions and activities that continue to draw in travellers from all walks of life. These include: the staple Bundaberg Rum Distillery, Hinkler Hall Of Aviation, or the nearby Lady Musgrave Island. Regardless of whether you're chasing a natural escape or a fascinating museum, the city can deliver what you're chasing.
Things to do in Bundaberg
We wrote a detailed article about ALL of the things to do in Bundaberg with kids.
Below are listed just a few of our favourite things to do in Bundaberg:
Hinkler Hall of Aviation
The Hinkler Hall of Aviation is all about Bert Hinkler – a local aviation pioneer. In the museum, you will learn about his life and his contributions to modern flight. We love the interactive experiences in the museum. Some of the popular exhibits include the flight simulators, the Globe Theatre, and the Hinkler House virtual tour.
You can find out more about the Hinkler Hall of Aviation here.
Bundaberg Rum Distillery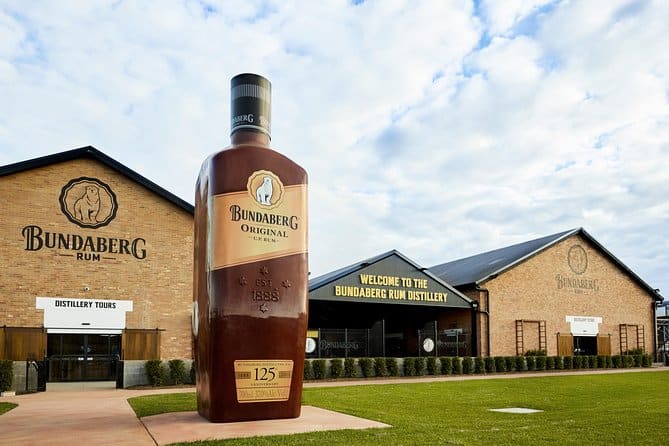 Many tourists are often drawn to Bundaberg to experience the The Bundaberg Rum Distillery. This is one of Australia's most well-known spirit brands and rum distilleries. You will get to do a self-guided tour through the retired Bondstore and the interactive museum.
Throughout the tour, you will learn about the history behind the brand, admire the world's largest collection of Bundaberg Rum and discover how the 'Bundy Bear' grew its popularity.
Click here to book and plan your visit to the Bundaberg Rum Distillery.
Head to Lady Musgrave Island
Bundaberg is also a great base-point to explore some of the beautiful regions of the Great Barrier Reef. We loved our day trip out to Lady Musgrave Island. If you are chasing a convenient, yet entertaining means of visiting the island, this Lady Musgrave Island Day Trip from Bundaberg is the best choice.
The 10-hour tour departs from Bundaberg Port Marina to Lady Musgrave Island for an action-packed day of snorkeling, glass-bottom boat tours, guided walks, fish feeding, and more. The experience also includes a morning tea and gourmet lunch so you can focus on simply enjoying your trip.
Brisbane to Bundaberg road trip
I hope you have enjoyed finding out about what there is to do on a Brisbane to Bundaberg road trip!
There is so much to see and do to fill up your itinerary. Queensland is such a beautiful state to explore, why not read up about one of our other road trips in the Sunshine State!
Brisbane to Airlie Beach road trip
Brisbane to Rockhampton road trip
Heading South?