We don't just like Bundaberg, we LOVE it! In the last 6 months we have visited three times. The first time was on a Brisbane to Airlie Beach road trip. The second time we caught the Tilt Train from Brisbane to Bundaberg and the third time we drove from Brisbane to Bundaberg and stayed in Bargara.
There are just so many things to see and things to do in Bundaberg that we had to keep coming back to experience them all!
It doesn't matter if you are seeking an experience of a great Queensland regional town, a beach holiday or farm and food adventures, Bundaberg and surrounds has it all.
In this article we will show you our adventures to all the best places to visit in and around Bundaberg to Taste Farm Life. We show you where to go, how to get there, how long to stay and what to try. It is a Bundaberg day trip itinerary you are going to love. We have even supplied a map to show you just how close all these Bundaberg attractions are to the town centre and each other.
So, without further ado, if you are a Bundaberg local or planning a trip to Bundaberg soon, this is what you need to know to ensure you get an authentic experience in and around Bundaberg.
Bundaberg day trip map
Below is the map of where to find these Bundaberg tourist attractions.
The best day trips from Bundaberg
These days out ideas are suitable for families with kids, young travellers, and older grey nomads too! I bet local people will also love this list of ideas of things to do in Bundaberg because, in Queensland, we love to support our local businesses!
We think we have nailed one of the best day trips around Bundaberg. Add this to your bucket list now and thank us later!
Bundaberg CBD to Tinaberries – pick your own strawberries – 17 minute drive
First stop on your day trip around Bundaberg should be Tinaberries Farm. Located just 17 minutes from Bundaberg, towards the coral coast it is one of the must do attractions in the area any time of the year.
If you are keen to pick your own strawberries, then you will need to make sure you head to the area at the right time. Strawberry season is June – October. Each year the owners of Tinaberries, Tina, Bruce and their family, invite you to come to pick your own from August – October. If you are in the area, you simply must add Tinaberries to your bucket list.
As well as their gorgeous pick your own activities, Tinaberries have a wonderful range of products for sale including fresh strawberries & passion fruit, passion fruit butters, jams & sauces and they are locally renowned for their real fresh fruit ice cream. They also sell frozen strawberries and frozen passion fruit pulp… perfect for smoothies and daiquiris!
As spring can warm up quite quickly during the day, Tinaberries is a perfect early morning activity on your Bundaberg day trip. They open at 9am each morning, 7 days a week during strawberry picking season and welcome the public to come and experience the delights of their family friendly business. You will need at least 1 ½ hours here…. maybe two!
Cost: Free entry
Opening Hours: 9am, 7 days a week during strawberry picking season. 5 days out of season.
Address: 15 Zinks Rd, Woongarra QLD 4670
Website: click here for Tinaberries website
Facebook: Tinaberries on Facebook
Tinaberries to The Bundaberg Brewed Drinks Barrel – 12 minutes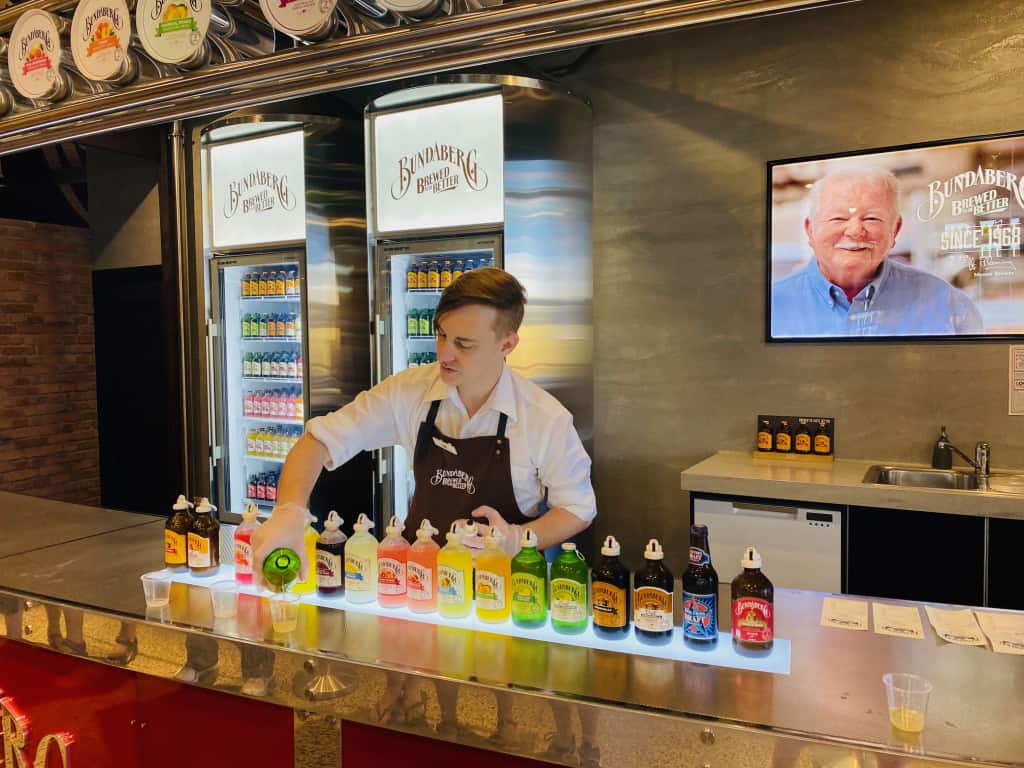 After you have filled your boots with strawberries and ice cream and purchased your favourite farm fresh products, set your sat nav to The Bundaberg Brewed Drinks Barrel (spoiler alert – it is a short 12 minute drive!)
We loved it here so much we visited twice! Affectionately referred to at The Barrel, this iconic Bundaberg attraction is steeped in history, being family owned for generations.
The Bundaberg Brewed Drink story
They tell their story best on their website:
Bundaberg Brewed Drinks is an Australian family-owned company known for its premium drinks, including Ginger Beer and other non-alcoholic beverages. For four generations, we've kept tradition at heart, brewing to traditional recipes, using time-honoured brewing methods, and the best quality ingredients. Guided by the rule, "If it's worth brewing; it's worth brewing well," Bundaberg craft brews their drinks for up to seven days to capture the refreshing taste of real ingredients inside every brew.
Visitors to The Barrel can enjoy a self-guided gallery tour free of charge. If you wanted to taste all their flavours in their hosted tasting experience, I urge you to book in advance. They are extremely popular and get booked up quickly (especially on the weekend!)
You will need at least one hour here, and you need to arrive 10 minutes prior to your taste testing booking.
Cost: Entry to The Barrel and the gallery tour are free. Tickets for the taste testing are $15 per adult (including a 6 pack) and Under 18s are $5 (excl. 6 pack).
Opening Hours:
Monday to Saturday – 9am to 4.30pm
Sunday and most Public Holidays – 10am to 3pm
(Closed Christmas Day, Boxing Day, Good Friday and ANZAC Day)
Address: 147 Bargara Rd, Bundaberg East QLD 4670

Website: Book your taste testing here
Facebook: Bundaberg Brewed Drinks
The Barrel to Splitters Farm – 18 minute drive
After a range of food and drink experiences, we changed it up for an animal experience at Splitters Farm, just a short 18 minute drive from The Barrel.
Splitters Farm began as a safe haven and sanctuary for rescued farm animals who had been neglected, abused or the victims of their owners change of circumstances. Most however, have arrived at Splitters Farm as the result of the drought and the subsequent financial burden for farmers to feed their livestock. The acreage is also now a working farm and, in addition to its rescued barnyard animals (over 300 and counting), is also home to native Australian animals including wallabies, platypus, barramundi, prehistoric lung fish and boasts over 150 documented species of Australian bird life.
We loved feeding and snuggling with the animals at Splitters Farm! It is a nature-lovers playground set amongst lush tropical bushland and bordered by Splitters Creek, a fresh water nature reserve that feeds into Bundaberg's beautiful Burnett River. It is a gorgeous day trip for animal lovers, farm life lovers and those that like to enjoy the simple things!
Farm stay at Splitters Farm
As well as their self-guided farm tours, Splitters Farm also offers a unique rural camping & farm stay experience with powered camping and non-powered camping as well as eight 5-star Glamping tents. Each one sleeping up to 6 people in luxury with all the creature comforts.
Activities at Splitters Farm include animal feeding, cinema under the stars, kayaking, fishing and water sports. There is an epic playground called Fort Blair (pictured above) and campground facilities include world class amenities and a camp kitchen unlike no other that includes a bar, wood-fired pizza oven, commercial kitchen and sunset deck over the dam. There are a number of communal areas for guests including a viewing deck over Splitters Creek and the main fire pit area where we conduct damper making and all sorts of other activities.
Now that we have experienced Splitters Farm on a day trip, I am dead keen to go back for their farm stay experience! It is on my list!
Cost: Entry to the self-guided farm tour is $22 er person regardless of age.
Opening Hours: Day tours 10am – 3pm. 7 days a week
Address: 205 Blairs Rd, Sharon QLD 4670
Website: Splitters Farm website
Facebook: Splitters Farm Facebook page
Splitters Farm to Alloway Farm Market, Deli & Cafe – 25 minute drive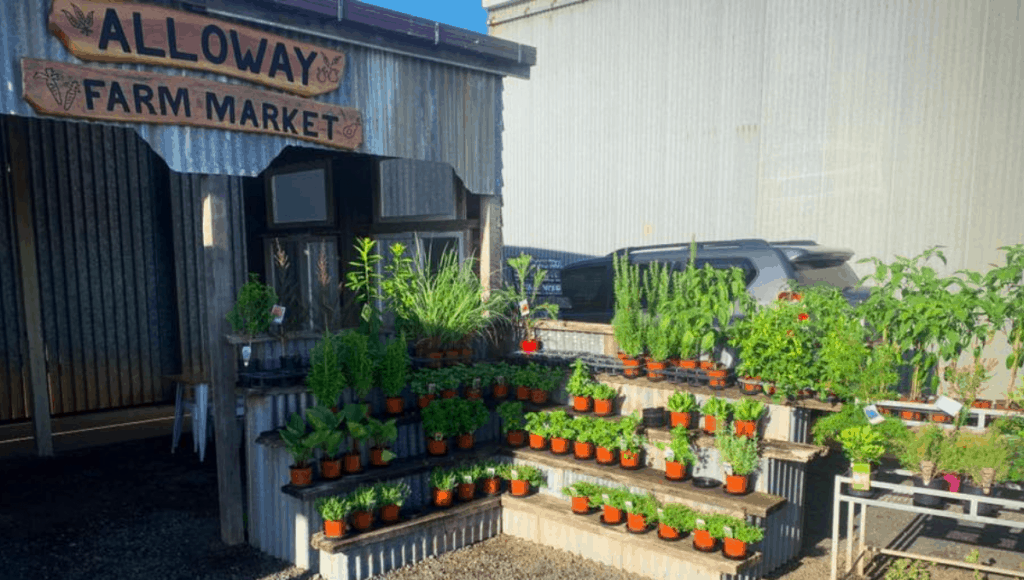 The last stop on our BIG day trip list of things to do in Bundaberg to Taste Farm Life is a visit to Alloway Farm Market.
Located just 25 minutes away from Splitters Farm (or 12 minutes from the town centre) Alloway Farm Market is a local deli and café supplying farm fresh local produce straight to the public.
Together with fresh locally grown fruit and veg they offer a range of other local products such as, lime infused salts, dried fruits, sauces, jams, chutneys and salad dressings. But what they are famous for are their very own Forbidden Figs. They are the tastiest you will ever try! They are also the home of Barking Dog coffee, est.1998 with 6 varieties. Trust me when I tell you that it is very good. You might even see the roaster in action.
Enjoy a coffee and a rest after your huge day out sampling the best the region has to offer. You will need at least 1 hour here to sip coffee, browse the products and rest and recover!
Opening Hours: 7 days a week 8am-6pm.
Address: 1 Alloway Siding Road, Bundaberg, 4670.
Website: Redridge Produce website
Facebook: Alloway Farm Market
The best day trips from Bundaberg
Have we inspired you? We reckon these four attractions in Bundaberg are a great way to have an authentic experience and a great day out in Bundaberg. It doesn't matter if you are a local, a tourist or just passing through, these suggestions are an excellent way to gain a sense of place, support local businesses and are a wonderful experience for adults and kids alike.
For more farm visit ideas visit qld.gov.au/tastefarmlife.
You can taste farm life on these regional QLD day trips from: