Are you looking for a list of the best things to do in Bundaberg with kids? Let us help!
Recently we took a ride on the Tilt Train up the coast of Queensland, Australia and visited Bundaberg. Because we were travelling with kids, we've compiled a list of literally all the best things to do in Bundaberg with your children, and trust us, there are SO many Bundaberg attractions, you will be spoiled for choice. If you don't fancy the Tilt Train ride, we have also done a road trip from Brisbane to Bundaberg! We love it that much!
Bundaberg, located in Central Queensland is the perfect destination for an Australian family holiday. From the beautiful beaches to the parks, playgrounds and museums, family-friendly activities in Bundaberg aren't hard to come by. So if you are wondering what to do in Bundaberg, we have you covered. With so many fantastic family things to do in Bundaberg, there are a variety of activities for everyone, suited to every budget.
We have broken our list into sections, to help you plan the perfect holiday to Bundaberg. You can see from below, there are so many great things to do in Bundaberg with kids.
Best beaches and pools of Bundaberg and Bargara
Going from north to south, you will find HEAPS of beautiful beaches near Bundaberg. They range from quiet inlets to excellent surf beaches. Only some are patrolled, so check before you head out. There is something for every swimmer, body boarder and surfer. We have listed a few of our favourites, but you can see more beaches of Bundaberg/Bargara here.
If you are not up for sand and surf, we have also listed the local pools in Bundaberg below.
Burnett Heads – beaches
If you are keen on some quiet water for little swimmers, then check out the beautiful calm waters around Burnett Heads. We loved the little beach in Jan McDonald Bicentennial Park that you can see in the photo above. Perfect for toddlers looking for a little splash in quiet water.
At Burnett Heads you can head down to the marina to pick up some uber fresh seafood along with some hot chips and have a little picnic with the family. We loved how easy and quiet this area was.
Neilsons Park Beach
Neilsons Beach is home to the Bundaberg Life Saving Club who patrol the beach from September through to April. When the tide is out, the beach is used to play football and beach cricket.
You can find out more about Neilsons Beach here.
Oaks Beach
Only a short drive south of Burnett Heads and north east of Bundaberg you will find Oaks Beach – a small beach good for snorkelling, fishing, rock walking or swimming. There is also a 200 metre stretch of beach perfect for surfing. This is a patrolled beach on weekends.
If you would rather fish than swim, the best places for fishing are off the rocks or groyne at Oaks Beach which are the best places to reach the deep water.
Bargara Beach
Bargara Beach is located 15 kilometres east of Bundaberg and offers a quiet holiday town atmosphere, beautiful beaches and friendly locals. The Beach is easy to find with lots of facilities in the town centre. There is a long road that runs alongside the beach but parking is tricky in peak times.
Bargara Beach is a well laid-out and maintained beach with a fab turtle playground for kids (see below) It is ideally suited to day-trippers and visitors in the caravan park and local accommodation. Kids will love splashing in the water at this beach but note that it is not patrolled!
The Basin
Such a lovely calm place for a swim, the basin is a protected spot and it's just so relaxing. You could even walk around to a little section of rock pools, where the kids can search for crabs. The little ones loved playing in the calm water, chasing fish and watching little crabs pop out of their holes on the sand. Take some breadcrumbs to feed the fish and a mask and snorkel to see them come in for a feed!
Monkeys Creek
We have included a little map on one of our favourite places to swim at Bargara. Just south of The Basin you will find Monkeys Creek. It is another lovely quiet place for kids to swim. It is not quite a *secret* (anymore) but it is definitely worth a look if you want a change from the beach and waves.
Kellys Beach
Past Monkeys Creek you will find Kellys Beach. With its extensive shoreline, tidal pools and low-rolling waves, Kelly's Beach is a great spot for families to visit in Bundaberg.
Elliot Heads Beach
If you are looking for BIG waves, then it is Elliott Heads Beach that you will want to head to. It is a beautiful beach with a huge sand foreshore. The waves can get quite big here, so we would recommend it for stronger swimmers only. Not only is there wonderful water for swimming, but there is a café and playground near the car park too.
Elliott Heads also boasts its own caravan park.
Norville Pool
Norville Pool is a family-friendly pool with Olympic 50 m pool with 8 lanes; 25 m shallow pool under shade & toddler water play area. We didn't go in, but it looked like they offered a wide variety of aqua activities.
Address: 148 Enterprise St, Norville QLD 4670
Website: Click here
ANZAC Park swimming pool
ANZAC Park swimming pool is a great place for families to go swimming in Bundaberg with kids. It is super cheaply priced, and is great for cooling off on a hot day.
Address: 19 Quay St, Bundaberg Central QLD 4670
Website: Click here
Best playgrounds in Bundaberg
There are heaps of playgrounds in and around Bundaberg, and we have compiled a list of what we think are the best playgrounds that your kids will absolutely love.
Lake Ellen Playground
I would easily say that this is possibly the BEST playground in Bundaberg. There are so many different pieces of equipment for the kids to play on, you could easily spend a good 3 hours here.
It does get pretty busy so if you want the playground to yourself, we recommend heading earlier in the day.
Address: 4E Bourbong St, Bundaberg East
Bagara foreshore turtle playground
This playground is fairly small, but it doesn't get that crowded so we think that makes up for it. The kids will love playing in this playground shaped as a turtle, and parents can grab a coffee or a snack from any one of the cafes across the road.
Address: 59 Esplanade, Bargara QLD 4670
South Head Parklands
South Head Parklands is another wonderful playground in Bundaberg. The park consists of an average sized playground, and also a skate park area. We believe kids will love the South Head Parklands playground.
Address: Burnett Heads QLD 4670
Boreham Park
Boreham is probably our second favourite playground in Bundaberg. Located in he *suburbs* of Bundaberg, the kids loved all the different pieces of equipment and their favourite was the clown-faced spinning swing.
Address: Avenell Street, Avenell Heights, Bundaberg
Botanic Gardens playground
The playground at the gardens is relatively new with lots of cool inclusions! The kids loved the slides, climbing frames and swings! The playground is located at the entrance to the gardens and right next to the carpark, so there's no reason you shouldn't visit the Bundaberg Botanic Gardens playground!
Address: 6 Mount Perry Rd, Bundaberg North
Website: Click here
Animal encounters
Bundaberg and its surrounding areas have so many places you can have a wonderful animal encounter. We have made a list of a few of the places you can visit to check out the local wildlife.
Mon Repos Turtles
Mon Repos is special! It supports the largest concentration of nesting marine turtles on the eastern Australian mainland and has the most significant loggerhead turtle nesting population in the South Pacific region. The success of nesting and hatching turtles at Mon Repos is critical for the survival of the endangered loggerhead turtle.
We are going to visit the turtles in January 2021, so we will write more about this then!
Address: 141 Mon Repos Rd, Mon Repos
Website: Click here
Alexandra Park Zoo
Alexandra Park Zoo is a wonderful (and free) zoo in the Bundaberg CBD, that the whole family is guaranteed to enjoy.
Over the years the zoo has been home to numerous animals including a koala, saltwater crocodile, gazelle, a Cassowary, kangaroos, whiptail wallabies and Rhesus monkeys, right through to Angora rabbits and pigeons. Some of the animals were donated to the zoo by residents, and others obtained through Zoos interstate.
Get Out with Kids Tip: Ignore your sat nav when you go to visit the zoo – this is located in the playground at the top end of the park and NOT near the bowls clubs (which is where your sat nav will probably direct you!)
Address: Quay St, Bundaberg West
Website: Click here
Splitters Farm
Splitters Farm is a wonderful hidden gem, lovely people and well run. The kids loved feeding the animals who were super friendly. There is a giant playground that kids love that includes a sandpit and diggers!
We noticed there was plenty of room for a picnic, highly recommended for a visit plus you're supporting a great cause.
Address: 205 Blairs Rd, Sharon QLD 4670
Website: Click here
Parks and gardens
We have compiled a list of the best parks and gardens near and in Bundaberg.
Lake Ellen
Lake Ellen not only has the amazing playground we mentioned above, but also a wonderful lake and walking track around it. Perhaps take the kids for a walk around the lake to check out the wild life fist and then let the kids wear themselves out in the playground.
Address: 4E Bourbong St, Bundaberg East
Bundaberg Botanic Gardens
The Bundaberg Botanic Gardens is a wonderful place for kids to visit.
The Bundaberg Botanic Gardens and playground are one of the best things you can do when you visit Bundaberg. There are so many different things you can do at the gardens, and we've got a whole article about the Bundaberg Botanic Gardens here. (Spoiler alert: your kids will love the playground!)
Address: 6 Mount Perry Rd, Bundaberg North
Website: Click here
Indoor activities
These are all of the indoor activities you can partake in, when you are next in Bundaberg.
Bundaberg library
Bundaberg Regional Libraries is the main public library service provided in Bundaberg. The library collection includes an extensive array of physical and electronic resources along with a significant portion of the region's documentary heritage. There are also many kids activities in the library.
Get Out with Kids Tip: They update their Facebook page more regularly than their website.
Address: 49 Woondooma St, Bundaberg Central QLD 4670
Website: Click here
Mon Crieff Entertainment Centre
We love the Moncrieff Entertainment Centre. It's a proper, honest venue, clean and tidy and ready for movies or a show. We visited when we were in Bundaberg for a movie, and it's excellent value for the family, $8 per ticket. The theatre size is good, seating is old style but comfortable and staff are friendly.
Address: 177 Bourbong St, Bundaberg Central
Website: Click here
Bundy Bowl & Leisure Complex
Bundy Bowl is a great place anytime, but also somewhere you can keep dry when its is raining. This is great for parties and get together. There is also great food and options for play.
Address: 17 Lester St, Bundaberg Central
Website: Click here
Bike/scooter and walking paths
There are many walking and bike/scooter paths in and around Bundaberg, and these are some of our favourites.
Pump Track
The pump track is a wonderful bike or scooter area that the whole family will love. There is also a park next to the track, so the younger kids have something to do too.
Address: 313 Branyan Dr, Avoca
Mon Repos walking track
Mon Repos Conservation Park is a quiet coastal area close to the city of Bundaberg. Here can enjoy explore the coastal environment along the beach, walking tracks and shared trail (for walkers and cyclists) and learn about marine turtle conservation.
Address: 141 Mon Repos Rd, Mon Repos
Burnett River
Take a stroll along the Burnett River, and take in all the sights along the way. There is a paved pathway, so the kids can ride their scooters or bikes while the adults walk. Or maybe you could all ride together?
Address: Burnett River, QLD
Other activities
These are all the other activities that didn't fit into any other categories.
Hummock Lookout
Hummock Lookout gives amazing 360 degree views of all of Bundaberg. The ocean is visible to the east while, to the west, the sugar fields can be seen encircling the city with the smoke stacks of the Bundaberg Distillery and Mill on the horizon. Watch the moon rise over the ocean as the sun sets over the land.
Address: Hummock Road. Qunaba
Museums
There are many different museums in Bundaberg, so we have added all of them to our list!
The Bundaberg Barrel
We loved the Bundaberg Barrel so much, we think it was our favourite thing we did in Bundaberg. We went through the small gallery, and then had the taste testing experience, where we got to try all of the drinks that Bundaberg soft drinks make.
The taste testing cost $15 per adult and is $5 for kids. Each paying adult receives a 6-pack after the taste test with flavours of their choice!
We even bought some, including the Christmas special, because we visited in December. We highly recommend you visit.
Address: 147 Bargara Rd, Bundaberg East QLD 4670
Website: Click here
Bundaberg Rum Distillery Tour
The Bundaberg Rum Distillery is the home of Australia's most iconic rum, which has been made to a time-honoured tradition since 1888. The Visitor Experience offers three tours; the Bundaberg Rum Museum Experience, the Bundaberg Rum Distillery Experience and a Blend Your Own Rum Experience. There is also a Retail Store, where visitors can purchase exclusive and limited edition products, and the Bear Garden Cafe & Bar area. This may not be a perfect fit for your family, but we just had to add it anyway.
Click here for your discounted tour
There is also this tour,
And this one too
Address: Hills St, Bundaberg East QLD 4670
Website: Click here
Railway museum
Operated by a dedicated bunch of volunteers this site contains restored buildings and rolling stock and a huge selection of photos, maps, and memorabilia. Inside the signal station you can operate a signal switching lever, which we found very fun.
Given the site is fairly spread out younger children can explore buildings and stock while adults read about the stories linking the railway to the development of the region and beyond. There is no snack room but bottled water is available and there clean and well maintained toilets on site.
Entry is $6, payment is cash only.
Address: 28 Station St, Bundaberg North
Hinkler Hall of Aviation
The museum is set in the Bundaberg botanical gardens and has a collection of vintage aircraft a vintage car, memorabilia, short films that chronicle the life of Bert from how childhood days to his death at quite a young age. There are also hands on exhibits such as flight simulators to test your skill. We spent nearly 2 hours at the museum and thoroughly enjoyed our time.
Address: Mount Perry Rd & Young Street, Bundaberg North
Hinkler House
The Hinkler House is a historical house that was originally named 'Mon Repos' and was built in 1925 by Bert Hinkler. After a few years the house became the property of the South Hampton City Council. Over May and June 1983, the home was dismantled and transported from England to Bundaberg, Bert's home town, and was rebuilt as a Memorial Museum in Hinkler's honour.
Address: Botanic Gardens, Young St, Bundaberg
Website: Click here
Fairy Mead House Sugar Museum
The Fairymead House Sugar Museum is another spectacular attraction at the Bundaberg Botanic Gardens for families. Built in 1890, this amazing house includes the Sugar History Museum, exploring the development of the local sugar industry from its earliest days.
Address: Thornhill St, Bundaberg North
Bundaberg Historical Museum
Bundaberg Historical Museum is a cultural museum the garden complex, with historical artefacts from past local businesses & schools.
Address: 6 Mount Perry Rd, Bundaberg North
Bundaberg Regional Art Gallery
The Bundaberg Regional Art Gallery is a great family friendly activity for the whole family. The kids will love exploring the gallery and looking at all the stunning art.
Get Out With Kids Tip: Check their Facebook page for the most up-to-date family friendly activities, espeially in school holidays.
Address: 1 Barolin St, Bundaberg Central
Website: Click here
Markets and shopping
There are heaps of places to buy everything u can dream of, when you visit Bundaberg.
Fruit and veg from a farm stall
We saw heaps of farm stalls and stands while we were driving through Bundaberg, so if you want to help support a local farmer, this is defiantly the way to go.
Shalom Markets
This is a great Sunday market, with all sorts of stuff on offer. With the fresh produce, it pays to shop around we found the prices could vary quite a bit.
Address: Bro Hogan Drv, Norville
Website: Click here
Day trips from Bundaberg
There are many different day trips from Bundaberg, and we have made a list of our favourites.
Lady Musgrave Island
Experience one of the Seven Wonders of the World with a day cruise to Lady Musgrave Island in the Southern Great Barrier Reef from the Town of 1770. Join this day cruise and travel on a high speed catamaran for 90 minutes to enjoy 5 hours at the only coral cay island in the Great Barrier Reef that is surrounded by a protected and wildlife rich reef lagoon. T
his is the perfect playground for adventurers with complimentary snorkel hire equipment, guided island walks and glass bottom boat rides over the coral reef gardens and marine life all included.
Book your discounted tickets here.
Lady Elliot Island
The Day Trips/Tours to Lady Elliot Island offer a great opportunity for domestic or international visitors with limited time to explore Australia's Great Barrier Reef. Lady Elliot Island is located on the southern tip of the Great Barrier Reef, 80km north-east of Bundaberg, just to the north of Fraser Island.
Although we do recommend a minimum of 2 nights on Lady Elliot Island to truly experience this unique Island paradise, the Day Trips/Tours will allow visitors to experience one of the Seven Wonders of the Natural World from the air, land and water… all in one day!
Learn more here.
Woodgate Beach
Woodgate Beach is a coastal town in the locality of Woodgate in the Bundaberg Region, Queensland, Australia. We recently visited and enjoyed almost the entirety of this 16km long beach so we could report back to you!
Read our full article a bout our holiday at Woodgate Beach here.
Agnes Waters and 1770
Recently we took a road trip up the coast of Queensland, Australia and visited Agnes Water and the town of 1770. Because we were travelling with kids, we have compiled a list of literally all the best things to do in Agnes Waters and 1770 with kids.
We wrote a huge article about our holiday in Agnes Water & 1770 here.
Kid friendly places to eat Bundaberg
There are heaps of kid friendly places to eat in Bundaberg, and we have made a list of our favourites!
The Waves Sports Club
The waves sports club is a wonderful place for your family to eat in Bundaberg. The kids will love the atmosphere, and the food is reasonably priced. Might be somewhere to go after a day out in the Norville Pool!
Address: 1 Miller St, Norville
Website: Click here
River Cruz Cafe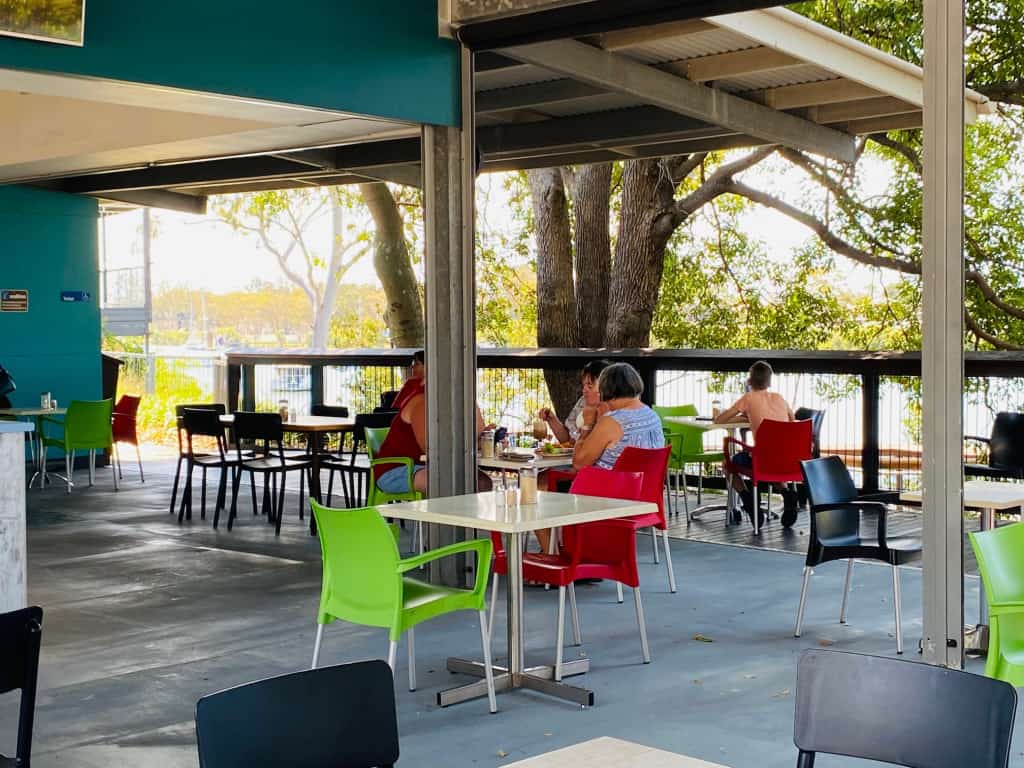 This is such a great place for anyone to eat! We ate here 2 times during our stay and loved every meal. The location along the river is beautiful, and the staff were friendly. We highly recommend this as a place to eat in Bundaberg.
Address: 3 Quay St, Bundaberg Central
Website: Click here
Grunske's by the River Seafood Market and Takeaway
Grunske's By The River is casual relaxed dining café style restaurant with fantastic views of the Burnett River. The kids loved this restaurant and we think yours will too.
Address: 11E Petersen St, Bundaberg Central
Website: Click here
White China Restaurant
If you are in the mood for Chinese food, then this is the place to go. With authentic Chinese food and wonderful staff, this is the place to be.
Address: 130 Takalvan St, Kensington
Website: Click here
Cha-Cha Chocolate
Cha-Cha Chocolate is a shop, not a restaurant, but we thought we should include it anyway, it was just so good.
This store sells anything sweet you could ever imagine. It's a bit like the chocolate factory, just, in Bundaberg. We think this is a must visit, even if you don't buy anything!
Address: 84 Bourbong St, Bundaberg Central
Website: Click here
Bundaberg accommodation for families
Here are our top 3 Bagara/Bundaberg accommodation options for families.
Burnett Riverside Hotel
Overlooking the Burnett River, this hotel features free on-site parking and there is air conditioning in all rooms. The hotel has lots of different accomdation options, such as the Family Studio or the 2 bedroom apartment, offering something for everyone.
We stayed in this hotel because it is located in the centre of Bundaberg, Burnett Riverside Hotel is only a 10-minute drive from the Bundaberg Airport and a 5-minute drive to the Bundaberg Rum Distillery.
Website: Click here
Kacy's Bargara Beach Motel
Kacy's is a great place for family friendly Bagara accomodation.
Each room at Kacy's Bargara Beach Motel features a refrigerator, fans and air conditioning. Free satellite TV and tea/coffee facilities are also included. Underground parking is available. Wi-Fi access is available in some rooms. Barbecue facilities are situated across the road (along the beach).
Website: Click here
Bundaberg Park Village
Located in Bundaberg, only 10 km from the Bundaberg Rum Distillery, Bundaberg Park Village provides accommodation with an outdoor swimming pool, free parking, and a garden. Every room has a kettle and TV. Hosting family rooms, this hotel also provides you with a children's playground. Free WiFi and a shared kitchen are also avaliable.
Website: Click here
Things to do in Bundaberg with kids
There you have it! That's our top things to do in Bundaberg with kids! If you think we missed anything, let us know and we will be sure to add it! We hope this article has helped you find some fun things to do in Bundaberg with kids!