What better way to spend 2 weeks of your holidays than by exploring south-east and central Queensland on a Brisbane to Rockhampton road trip?
If you're planning on doing the trip with children, you've come to the right place. We've put together the perfect itinerary for driving from Brisbane to Rockhampton (or Rockhampton to Brisbane), and have listed the best beaches to stop along your journey. Check it out!
Where to stop on a Brisbane to Rockhampton road trip
The journey from Brisbane to Rockhampton is about 7 hours…yikes! So, if you don't quite feel like doing the journey in one day, it's worth taking your time and making a plan for where you'd like to stop along the way.
On our Brisbane to Rockhampton road trip with kids we stopped at the following places:
In this article, we've detailed the best beaches to visit on a Brisbane to Rockhampton road trip – explaining why they were chosen and what else there is to do on your way up the Queensland coastline. We have also included links to more detailed reviews of each area so make sure you check them out too!
Brisbane to Rockhampton drive with kids
Long road trips with the kids can be a challenge, to say the least. That being said, there are plenty of ways you can keep children entertained on long drives and get the most out of your journey.
Though the easiest option may seem to be plenty screen time (loading up on movies and video games), that will only get you so far. On top of this, try passing the time with car games and scheduling plenty of entertaining stops along the way. The promise of an epic playground and a cool beach will keep them excited about where you are heading.
Let's get into it – here are the best beaches and towns to visit on a Brisbane to Rockhampton road trip.
Brisbane to Noosa (about 2 hours)
Little Cove Beach – Noosa
First up on this Brisbane to Rockhampton road-trip is the coastal town of Noosa, located about 2 hours from Brisbane. Along the way, there are plenty of worthy attractions to split-up the drive – including Australia Zoo, the Big Pineapple aka Willdlife HQ, and Sunshine Castle. That being said, once you finally reach Noosa, you'll be spoilt for choice.
Noosa is home to a wide array of things to see and do – with some popular options being Hastings Street, Noosa National Park, and the main beach. For these reasons, it may be worth taking the time to experience the town properly by staying two or three nights.
Things to do in Noosa
There is no shortage of things to do with kids at Noosa:
Noosa Main Beach
Main Beach – Noosa
A visit to Noosa is simply incomplete without stopping by the beloved main beach. The beach is known for its gentle waves and consistent lifeguard patrol, making it a great coast-side spot for families year-round. Plus, it's only a few steps away from the buzzing Hastings Street.
Hastings Street
Lined with a diverse range of family-friendly restaurants and cafes; it's not hard to find something to eat along Hastings Street. Plus, with plenty of gift stores and boutiques plotted between, it's the perfect place to do some shopping and pick up a souvenir.
Sunshine Beach
To escape the buzz of Noosa, all you need to do is drive 5 minutes to the relaxing Sunshine Beach. The beach seemingly stretches on forever and proves to be the perfect spot for scenic walking, whale-watching, surfing, or simply lounging on the white sand.
If you're looking for some more exciting attractions, click here for a list of the best outdoor activities to do in Noosa with kids.
Tours in Noosa Heads
These are some of our favourite organised tours in Noosa:
Surfing Course For Beginners
During your visit, take the time to try something new and exciting by attending this surfing course for beginners. Available year-round, both adults and kids can learn in waist-deep water how to handle the board, paddle, catch waves, and stand up. Throughout the lesson, you'll be accompanied by experienced life-guards to create a safe and friendly environment.
Click here to learn more about this surfing course for beginners.
Noosa Dolphin Safari
Get the most from your visit to Noosa by embarking on a 1.5-hour safari to spot a few wild dolphins in their natural environment. Families can look forward to an exciting journey to see the dolphins play and feed up-close. The small-group experience also includes a visit to the Hell's Gate Coastal Track, Noosa National Park, and the beautiful Sunshine Beach.
Click here for more information or to book a Noosa Dolphin Safari.
Noosa Heads to Woodgate Beach (about 3 hours)
Woodgate Beach
Next up on the journey is Woodgate, a coastal town located within the Bundaberg region. The small town is about 3 hours from Noosa and is packed with plenty of natural attractions – with some of the most popular being Burrum Coast National Park and Theodolite Creek. With these natural spots come thrilling activities for the family to try, including stand-up paddleboarding, hiking, beach-side drives, and more.
With this selection on offer, Woodgate Beach is easy to enjoy over the course of an afternoon or a full day.
Things to do in Woodgate
Here are some of our favourite things to do in Woodgate Beach:
Burrum Coast National Park
The Burrum Coast National Park is the perfect natural escape for the whole family – with plenty of secluded beaches and an abundance of wildlife. Head on a peaceful walk through the park, or bring along a picnic and set-up at one of the many tables. If you'd like to extend your stay, camping is allowed in the park – with campfires and generators permitted.
Theodolite Creek
Visitors can enjoy an assortment of water-based activities at Theodolite Creek – like swimming, stand-up paddleboarding, kayaking, fishing, and more. Families can bring the pups, pack a picnic, and enjoy a relaxing day by the water.
We wrote a giant article about every single thing you can do at Woodgate Beach with kids too.
Woodgate Beach to Bargara (about 50 minutes)
The Basin – Bargara
The coastal town of Bargara is only 50 minutes from Woodgate Beach and is home to a range of city and coastal attractions to enjoy. Head off on a trip to Lady Elliot Island to spot turtles and manta rays, or venture up to Hummock Lookout for sweeping views of the region.
Only 15 minutes from Bargara is the city of Bundaberg, home to an assortment of attractions worth experiencing while you're in the area – including the iconic Bundaberg Rum Museum and the beautiful Bundaberg Botanic Gardens.
With this diversity on offer, Bargara can be enjoyed for a quick half-day stay or a multi-day visit.
Things to do in Bargara
We loved our stay in Bargara and recommend these family friendly activities:
Lady Elliot Island
During your visit to Bargara, consider making the trip over to Lady Elliot Island – the southernmost coral cay in the Great Barrier Reef. A journey to the island typically entails a short scenic flight, snorkelling, glass-bottom boat rides, and more. For families eager to see the colourful marine life of the reef, and dont mind spending a fair bit to see it, a visit to Lady Elliot Island is a great choice. Find out more here.
Bundaberg Botanic Gardens
Playground – Bundaberg Botanic Gardens
The Bundaberg Botanic Gardens are a must-visit for families in the city. Within the parkland are plenty of attractions to entertain the little ones – including new playground equipment, a steam train, museums, beautiful gardens, and more. Plus, there's even a cafe available for those needing a recharge. We recently visited the Bundaberg Botanic Gardens – click here to read our review.
Bargara Beach
Retreat to the pristine Bargara Beach and Bargara Basin to cool off with a dip in the water and lounge on the sand. During your visit, be sure to check out some of the nearby cafes, playgrounds, and boardwalks – there's a little something for everyone to enjoy. Over the summer months, you might even be lucky enough to spot turtles nesting on-shore.
Mon Repo Turtle Centre
Mon Repos is special! It supports the largest concentration of nesting marine turtles on the eastern Australian mainland and has the most significant loggerhead turtle nesting population in the South Pacific region. The success of nesting and hatching turtles at Mon Repos is critical for the survival of the endangered loggerhead turtle.
At this globally-significant site you can learn all about these extraordinary animals and the conservation and research programs that are protecting them. Turtle season is from November to late March so if you are planning to visit during these times make sure you BOOK AHEAD, as it gets insanely busy!
Tours in Bargara
We recommend considering these family friendly tours while you are here.
Lady Musgrave Island day tour
Visit Lady Musgrave Island in the Southern Great Barrier Reef to snorkel the unique coral cay lagoon surrounding the island. You and your family will take a cruise to Lady Musgrave Island with snorkelling equipment, glass bottom boat tours, fish feeding and guided island walks included in the experience. Travelling on a luxurious catamaran, enjoy a delicious morning tea en route to the reef lagoon. Passengers will have over 4 hours at the coral reef lagoon surrounding the island with plenty of opportunities to encounter manta rays, reef sharks, stingrays, turtles and hundreds of tropical fish swimming at these coral gardens.
Book your tickets to Lady Musgrave Island day tour here.
Bundaberg Rum Museum
Only 20 minutes from Bargara is the iconic Bundaberg Rum Museum. Guests can look forward to the self-guided tour through the retired 'Bondstore', seeing the world's largest Bundaberg Rum collection, and delving into the deep history surrounding this iconic brand.
Click here to book your tickets to the Bundaberg Rum Museum and to plan your visit.
Click here to book your tickets to the Bundaberg Rum Distillery Tour and plan your visit.
Bargara to Agnes Water (about 1.5 hours)
Agnes Water Beach
The next coastal town to visit on your Brisbane to Rockhampton road trip is Agnes Water – located about one and a half hours from Bargara, in the Gladstone Region.
The tropical beaches and picture-perfect scenery make it a great location to escape the car and relax for an afternoon. There's walking trails and an assortment of water-based activities to keep everyone feeling refreshed.
Things to do in Agnes Water
We loved Agnes Water and will be back soon! These are our tips for your stay there:
Red Rock Trail
Red Rock Trail
A journey on the 3-km long Red Rock Trail is a satisfying way to stretch your legs – with spectacular views over a series of spectacular beaches and rock pools to accompany your walk. Plus, if you're visiting in November or December, be sure to keep your eyes peeled for nesting green turtles.
Chinamen's Beach
A trip to Chinamen's Beach is perfect for those too eager to escape the bustle and embrace the quieter side of Agnes Waters. It's a great spot to relax, admire the water, and enjoy some fishing. If you're looking for a spot to swim, make the short journey up to the beautiful Agnes Beach.
Tours In Agnes Waters
We recommend booking these in advance as we missed out on some because they were booked solid when we arrived:
1770 Larc Full-Day Tour
Set off on an adventure to one of Queensland's iconic towns with this 1770 Larc Full Day Tour. The 7-hour tour includes visits to the pristine Bustard's Bay, Middle Island, Jenny Lind Creek, the Bustard's Head Lighthouse, and more. Finish the tour off by heading back to Middle Island for an afternoon of sand-boarding down 35m high dunes.
Click here for more information on the 1770 Larc Tours or to make a booking.
Agnes Water to Tannum Sands (about 1 hour)
About 1-hour north-west of Agnes Water is the coastal town of Tannum Sands, also located within the Gladstone region.
Stop by for a morning or afternoon break to stretch your legs, refresh with a dip in the beautiful Tannum Sands Beach, or browse the many stalls at the local Beach Arts Music Markets. If you're eager to extend your stay by visiting Gladstone (the region's capital) it's only 30 minutes away.
Things to do in Tannum Sands
Tannum Sands Beach
Another beautiful coastal town with lovely beaches here are our ideas for things to do in Tannum Sands:
Tannum Sands Beach
Tannum Sands Beach is the go-to surfing beach of Gladstone – and it's not hard to understand why. With golden sand and clear water stretching 600-m along the coast-line, the whole family can enjoy what this beach has to offer.
It's a great spot for swimming between September and May, which is when the beaches are patrolled. If you're looking for a bite to eat, the surf club is also nearby.
Beach Arts Music Markets
Located along the Millenium Esplanade is the Beach Arts Music Markets – hosted on the first Saturday of each month. Locals and tourists can stop by to shop for fresh produce, hand-crafted goods, live music, delicious food, and more. With up to 100-stalls to browse, a visit to the Beach Arts Music Markets is a must-do when visiting Tannum Sands.
Tannum Sands to Rockhampton (about 1 hour and 40 minutes)
One of the bulls in Rockhampton
From Tannum Sands, it's a quick and scenic 1-hour and 40-minute drive to your final destination: Rockhampton.
The drive may be finished, though the adventure is far from over. Once you've reached the cattle capital of Oz, you're spoiled with an exciting range of things to do. Head to a rodeo, snap a picture with one of the many bull statues plotted throughout the city, or embark on a historic tour of the city.
Otherwise, if you're hoping to get back in touch with nature, use Rockhampton as a basepoint to hop between nearby islands on the Great Barrier Reef. You will need to head to Yeppoon for swimming options from here.
Things to do in Rockhampton with kids

Ohhh…. there are tonnes of things to do in Rockhampton with kids. Here are some of our favourites:
Mount Archer National Park
A visit to Rockhampton is incomplete without journeying up Mount Archer National Park. From the lookout, families are gifted with stunning views over the city and surrounding natural landscapes. Plus, if you're lucky enough, you might spot a few of the local wildlife that resides in the park – including owls, wallabies, and cockatoos.
The Capricorn Caves
Once you've seen the region from above, venture below into the Capricorn Caves – one of the biggest limestone cave systems in Australia. Embark on an hourly tour to experience the cave's astounding acoustics and listen to the fascinating history told by captivating guides. Find out more about the caves and book here.
Tours in Rockhampton
Rockhampton has loads to offer in terms of day trip. We recommend:
Great Keppel Island day trip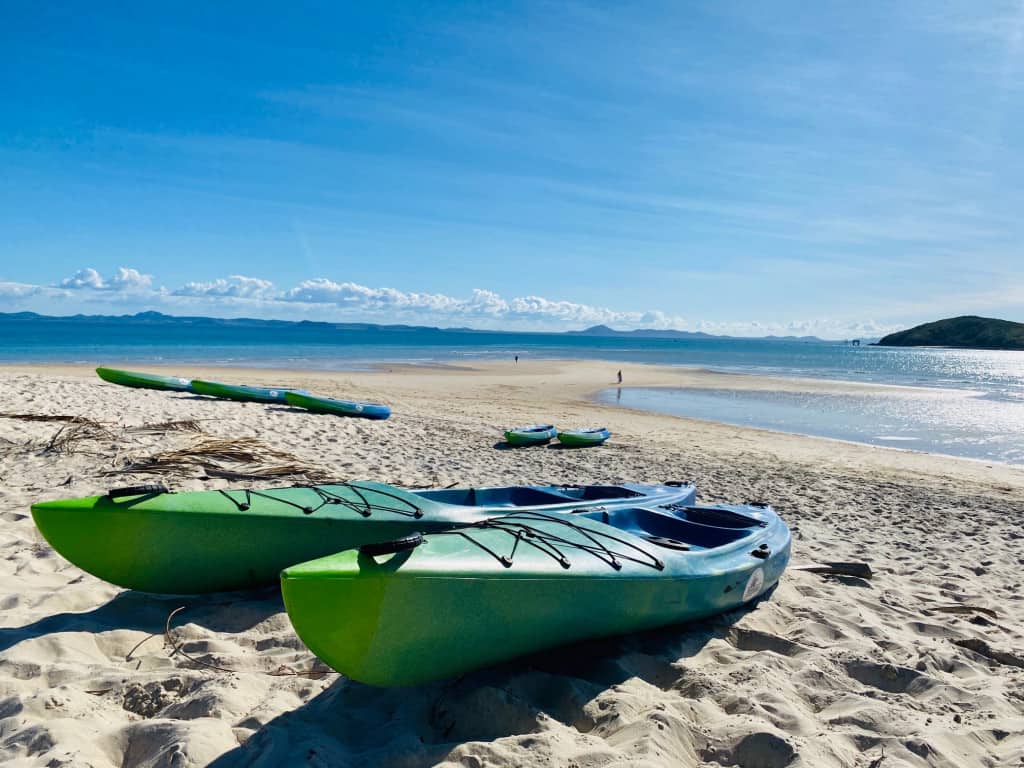 Water sports on Great Keppel Island
While visiting Rockhampton, take the time to explore the southern region of the Great Barrier Reef with the Great Keppel Island day trip – departing from Yeppoon. Spend the morning exploring the region and snorkelling the reef before enjoying an included lunch and venturing back to the mainland. This tour is a great way for families in the region to explore this beautiful part of the reef.
Click here for more information on the Great Keppel Island day trip or to make a booking.
Hurray!! You made it!! We hope you enjoyed our suggestions. Join us on Facebook to tell us about your trip!
Tweet