Are you looking for a list of the best things to do near Cairns with kids? Let us help!
Recently we took a flight up the coast of Queensland, Australia and visited Cairns. Because we were travelling with kids, we've compiled a list of literally all the best things to do in Cairns with your children, and trust us, there are SO many Cairns attractions, you will be spoiled for choice.
Cairns in Far North Queensland is the perfect destination for an Australian family holiday. From the beautiful beaches to the historic rainforests and the World Heritage Listed Great Barrier Reef, family-friendly activities in Cairns aren't hard to come by. With so many fantastic family things to do in Cairns, there are a variety of activities for everyone, suited to every budget.
Cairns climate
Boasting a warm tropical climate all year round, Cairns has two seasons – the wet season and the dry season. The wet season, also known as the green season, brings humidity and high likelihoods of rainfall to Cairns from November to April. Prices are lower across the board during the wet season, with cheaper domestic flights and accommodation. The rainforests are at their most vibrant and rivers and waterfalls are bursting with life. The dry season is the peak season in Cairns (April to November) with idyllic weather and average temperatures ranging between 18 to 26 degrees. During the winter months, the weather is dry with clear skies and calm winds, making it the perfect time for a family escape.
Stinger season runs from October to May so if you're swimming be sure to stay within the stinger nets or hire a stinger suit.
Looking for things to do on a rainy day in Cairns? Click here
A brief history of Cairns:
Traditionally the land of the Yidinji Aboriginal people, Cairns was discovered in 1770 by Captain James Cook who initially named the area Trinity Bay. After being officially founded in 1876 and named after the State Governor of the time Sir William Wellington Cairns, the natural beauty of the region attracted tourists from the 1890s onwards.
What to do in Cairns with kids
To help you figure out the best things to do when visiting the Cairns region, as well as things to do in Cairns with family, we have broken our list into 5 sections:
Adventurous activities and tours
Beaches & swimming holes
Playgrounds, parks and bike/scooter paths
Places to eat with kids
Family friendly accommodation
We love eating and are always on the lookout for the best places for families to stay so we have included our favourite family-friendly places to eat and stay in Cairns, with information about getting to and from Cairns as well as how to get around Cairns at the bottom of this article.
Adventurous activities & tours
Here are all the things to do with kids in Cairns that are adventurous as well as tours you can take in Cairns that are perfect for families with kids.
Snorkel & Dive on the Great Barrier Reef Tours from Cairns
You can't go to Cairns and not see the World Heritage Listed Great Barrier Reef! This is a must-see place to visit in Cairns. Snorkelling is one of the best ways to explore the reef and get up close and personal with marine life. Immerse yourself in the perfect waters and enjoy the experience of a lifetime.
Click here to get your discounted tickets to the Great Barrier Reef.
Check out this article if you would like to teach your kids about the Great Barrier Reef before you visit.
Go on a glass-bottom boat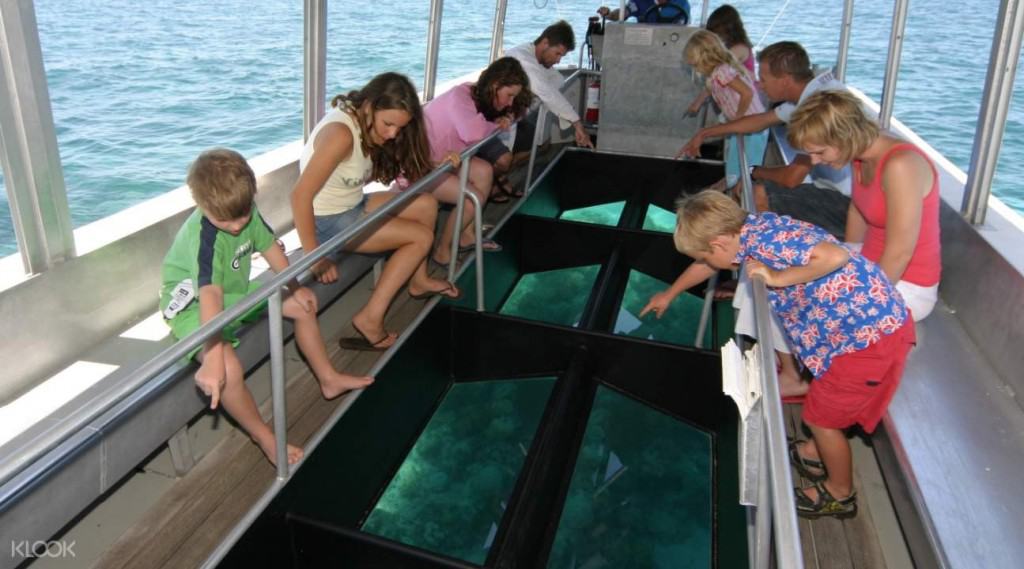 Glide across the Great Barrier Reef without even entering the ocean! Glass-bottom boats are a great option for children or non-swimmers wanting to spot colourful coral and sea creatures. You can find glass bottom boat tours on both Fitzroy Island and Green Island. See below.
Click here to get your discounted tickets!
Visit Fitzroy Island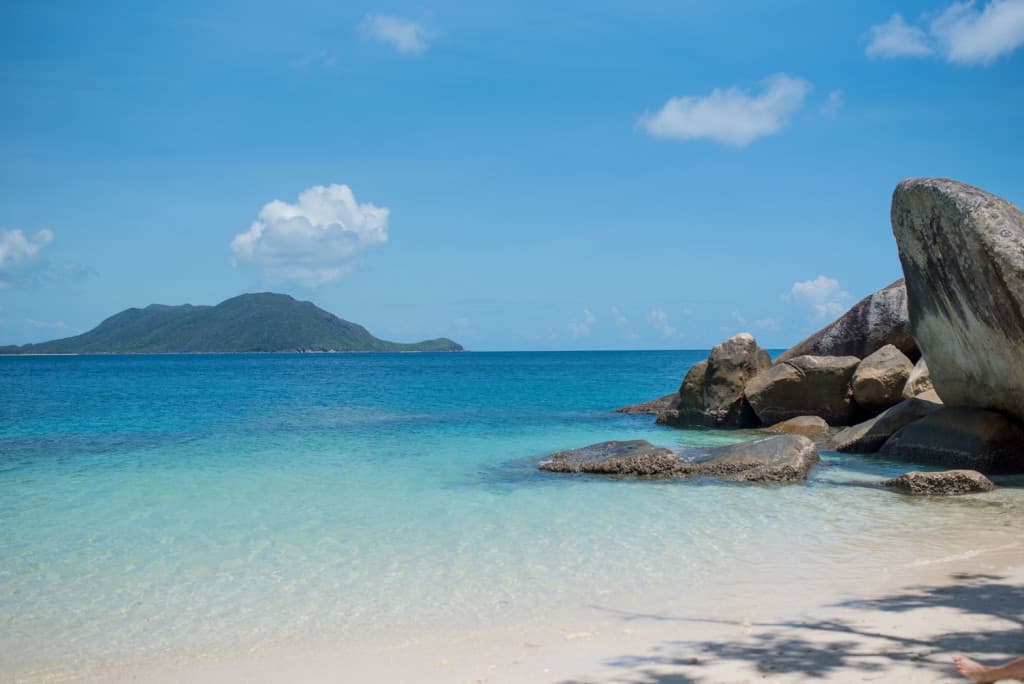 Fitzroy Island is a tropical paradise where the rainforest meets the reef! Only a 45-minute ferry ride from Cairns, the relaxed island has plenty to do. Visit the Turtle Rehabilitation Centre or trek up to the Lighthouse for unbelievable views, snorkel and swim off the award-winning beaches, play on the ocean trampoline or hire out a kayak or stand up paddle board for hours of endless fun!
We loved our day trip to Fitzroy Island and highly recommend booking the family ticket with the picnic on this link here it is cheaper than buying individual tickets and it will save you all the work of arranging what to eat on the day!
Take a trip to Green Island
Green Island is a wonderful place to day trip from Cairns, or you could even spend the night. We recommend checking out this amazing 1 day Green Island and Great Barrier Reef tour.
Helicopter ride over the Great Barrier Reef
Hop aboard a helicopter to experience the reef from a very different perspective! You can admire the beautiful blue water from above as you fly over lush tropical islands, little cays and coral beds.
There are two different types of helicopter rides on offer from Cairns. You can take a cruise out to the reef and a helicopter back – if this floats your boat – click here
Or you can take a 40 minute flight over Cairns and the reef – if this one is of interest check it out here.
Go for a Scuba-Doo Ride
Zoom around the reef on an underwater scooter and descend three meters to the coral reefs below on a fully guided tour with Great Adventures. This memorising experience is a unique opportunity to explore the natural wonders of the Great Barrier Reef and its inhabitants. Learn more at their website here.
Swim in the Cairns Esplanade Lagoon
The Lagoon is an iconic Cairns tourist attraction, with a 4800sqm saltwater pool that offers an all-year-round safe swimming location. The Lagoon is one of our favourite free things to do in Cairns with kids and it is great to know that lifeguards patrol the Lagoon during opening hours. Soak up some sun and take in the views of the Trinity Inlet. Click here to learn more.
Explore Cairns on a Hop-on-Hop-off Bus
The Cairns Hop-on-Hop-off Bus provides you and your family with an easy and care-free way to explore the city. The tour is an hour long and starts and ends at your hotel, taking the fuss out of planning travel. The vehicle is air-conditioned too, perfect for the Cairns summer heat.
Find out more about he Cairns bus here
Take the ride on the Skyrail Rainforest Cableway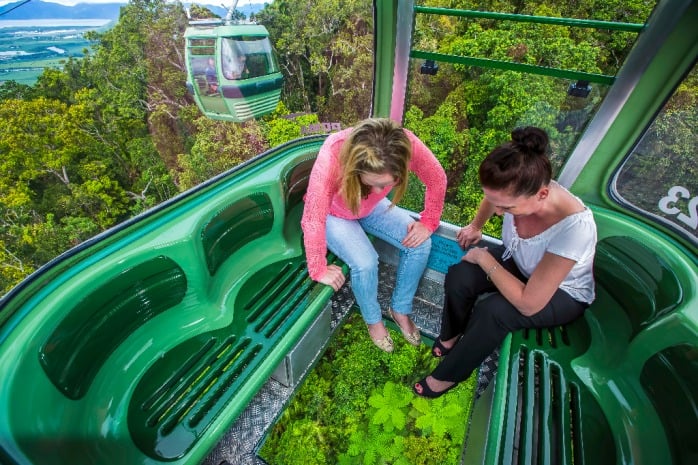 We loved taking the Skyrail down from Kuranda and I can hand on heart say it was one of the best things to do in Cairns for kids. Skyrail is a unique experience that takes you on an unforgettable journey over and through World Heritage-listed rainforest canopies. This unforgettable experience allows you to immerse yourself in the rainforest from the comfort of your gondola.
You can get your discounted tickets here.
Get Out with Kids Tip: Take the train UP to Kuranda and Skyyrail down. The train only runs twice a day, but Skyrail runs all day so you can leave Kuranda whenever you like!
Experience the beauty of the Kuranda Scenic Railway
The Kuranda Scenic Railway is one of the most spectacular rail journeys in Australia! The famous train ride travels between Cairns and Kuranda, a village in the rainforest and passes spectacular waterfalls and rainforests. The total trip takes around two hours with a stop at the amazing Barron Falls Station along the way.
Explore Kuranda Village
We have a detailed review of everything you can do in Kuranda. Click here for more information.
Kuranda Village is a picturesque rainforest village in the mountains just 25km day trip from Cairns. The colourful village is a delightful mix of colourful and quirky surprises. Visit the famous Kuranda Markets and village shopping, enjoy beautiful walking trails or get up close and personal with native wildlife.
Experience Rainforestation Nature Park
Located amidst the Kuranda rainforest, take a tour on an authentic World War 2 Army Duck and splash into the lake, discover the world's oldest surviving culture with the Pamagirri Aboriginal Experience and meet an abundance of iconic Australian animals in the Koala and Wildlife Park.
Visit Mossman Gorge
As far as Cairns kids activities go, swimming is always high on the list of priorities. Right?! To that end, 80km north of Cairns you will find the beautiful Mossman Gorge. Crystal-clear water cascades over large granite boulders in the Mossman River gorge. Lush rainforests cloak steep mountainsides from the riverbanks up to the rugged eastern slopes of the Main Coast Range. Park up at the Visitors Centre and pay your entrance fee to visit the gorge. Part of the historic Daintree National Park, Mossman Gorge is another 'must do' item on your Cairns bucket list.
Check out this Mossman Gorge trip perfect for families
Immerse yourself at the Cairns Aquarium
If you are looking for activities in cairns for families, then the Cairns Aquarium ticks that box! The Cairns Aquarium is one of Australia's newest and most spectacular aquariums! Exclusively showcasing the stunning aquatic wildlife from Far North Queensland's reefs and rainforests, travel through 10 ecosystems and discover 71 exhibits. Visiting the aquarium is one of the best things to do in Cairns!
You can buy entry tickets to the Cairns Aquarium here.
Visit Hartley's Crocodile Adventures
Another one of our favourite Cairns activities for families is Hartley's Crocodile Adventures. Hartley's Crocodile Adventures is the best place to see crocodiles and local wildlife up close! Located just 40 minutes north of Cairns, spend your day exploring the 2100 metres of boardwalks and pathways that lead you on a journey through woodlands and rainforests, enjoy educational wildlife presentations, and take a boat cruise across Hartley's Lagoon to spot the crocodiles. Click here to get your discount tickets to Hartley's Crocodile Adventures.
You can get tickets to Hartley's Crocodile Adventures here
Challenge yourself at Cairns Zoom and Wildlife Dome
That is me up there on the high ropes! When I went looking for what to do with kids in cairns, this came up as a suggestion over and over again, so I had to try it! I loved it and I think your kids will too!
Cairns Zoom and Wildlife Dome is the world's first challenge ropes course within a wildlife park! Located in the heart of the Cairns CBD kids (8+) can experience adventure on the rope's courses, cuddle and koala and even zip line over Goliath the 4-metre saltwater crocodile! Jump from a 13-metre high tower in a free fall venture or walk around the external platform in the Dome-Climb to see Cairns from all angles. This zoo even made it into our 'best zoos in Australia' list! We love that this zoo has some of the best adventurous kids' activities in Cairns!
Get your tickets discounted tickets here.
Get your adrenaline racing at Cairns Kart Hire
Offering go-karting, laser tag and escape rooms, Cairns Kart Hire is an exciting and adventurous day out for kids aged 11 or older. This is one of those aadrenalineinducing kid friendly activities in Cairns. Race your family go-karting as you complete a minefield of hairpin turns, uphill climbs and cambered corners, test your teamwork skills across two maze levels of laser tag and try to solve the puzzle and escape the room in time.
Find out the details an opening hours here
Cooldown at Sugarworld Adventure Park & Mini Golf
Sugarworld is one of the best Cairns attractions for families! Promising endless hours of fun, Sugarworld has swimming pools, a 9-hole mini-golf course, interactive aquatic play area and an unmissable range of super slides! During Queensland state school terms these Cairns activities for kids are only open on weekends though, so make sure you plan your trips accordingly.
Find out more about Sugarworld in Cairns here
Let loose at Aqua Park
Located in the Cairns Wake Park, Aqua Park is a giant jumping castle in the middle of the water. With inflatable climbing frames and slides the kids will be entertained for hours. The park is located next to the Skyrail and kids must be at least 6 years old to participate.
Check out this Cairns attractions for families here
Adventure with Babinda Kayaking
Take on a couple of mini rapids (or ripples) as you kayak done the gently flowing waters of Babinda Creek, a crystal-clear mountain stream teeming with fish turtles and platypus! Babinda Kayaks offers half or full Cairns day tours perfect for the whole family.
Visit their website for more information here
Have some fun at Timezone
If you are looking for one of the best types of kids activities Cairns has to offer, check out Timezone! Timezone is one of the most perfect Cairns family activities! Great for a rainy day, Timezone is a family-friendly arcade with awesome games and heaps of cool prizes to be won.
Learn more here
Get competitive at iPlay Cairns
Located in Cairns Central Shopping Centre, iPlay is a fun thing to do in Cairns for families. With the latest machines and games, there's something for everyone! Challenge your family to a game of air hockey and treat yourself to ice-cream to Baskin Robbins.
Learn more here
Beaches and water holes north of Cairns include:
Escape to the beach with sandy shores lined with palm trees for some of the best free things to do in Cairns. If beaches aren't your thing, we have listed our favourite water holes too!
Palm Cove
Palm Cove is one of Cairns' most iconic beaches. The idyllic seaside village is perfectly located between Cairns and Port Douglas and offers a mixture of fine dining, cafes and ice cream parlours. Drop a line at the jetty, enjoy a relaxing swim or utilise the free barbeque areas.
Get Out With Kids Tip: The best fish and chips are at Pete's Place!
Ellis Beach
Just five minutes north of Palm Cove is Ellis Beach. The picture-perfect scene offers tranquil waters and a string of coconut trees. The quiet beach is also home to the Ellis Beach Bar & Grill with tasty food and great deals!
Trinity Beach
Trinity Beach is a favoured local hangout! Only 20 minutes from the city the pristine beach is nestled between two headlands and provides shady hangouts to lounge on the sand between swims. Enjoy a meal at the Trinity Beach Tavern or L'unico.
Port Douglas
The tropical town of Port Douglas has it all. Roughly a one-hour drive north of Cairns experience the stunning views from the famous Great Barrier Reef Drive. Home to Four Mile Beach you can enjoy a swim in the gentle waves, get fit on the walking trails, shop in the local boutiques and have an alfresco dining experience. Don't miss the iconic Sunday Markets where you can buy handcrafted local products.
Beaches and water holes south of Cairns include:
Bramston Beach
Bramston Beach is a really nice beach near Josephine Falls and the Golden Hole that you don't want to miss. As long as you don't mind the cold, or the chance of a possible crocodile, the water is really nice to swim in.
Heading south? Check out these best things to do in Townsville with kids.
Inland swimming spots near Cairns
Josephine Falls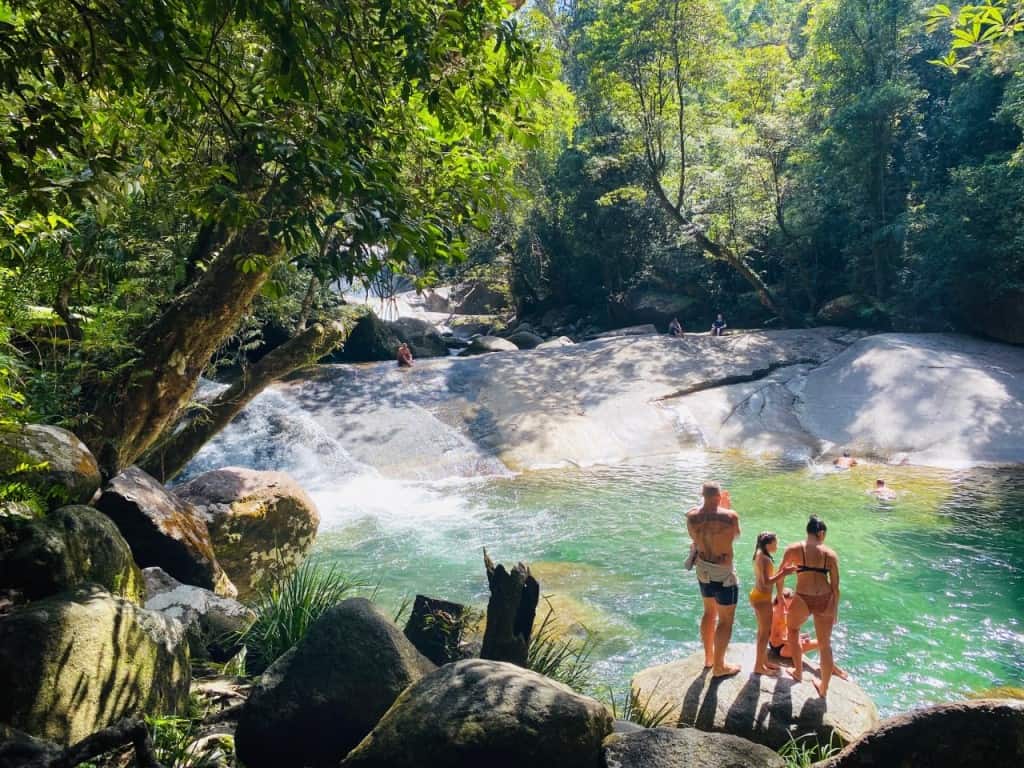 Josephine Falls are a stunning collection of waterfalls near Babinda. We recommend swimming in summer though, as the water was really cold. Also near to the falls is Golden Hole, which is a really nice swimming hole, apart from the fact that there might be some crocodiles. But it is a nice picture spot though.
Find our detailed review of swimming at Josephine Falls with kids here.
Babinda Boulders
The Boulders is a popular swimming and picnic area in the tropical rainforest in the foothills of Bartle Frere (Chooreechillum) and a place of spiritual significance for Aboriginal people. The creek itself is populated with huge, surreal boulders with eggshell-smooth water weaving a calm path between them. Every now and again it pools into tiny lagoons where people can kick back and swim – made even better by the fact the water is usually fairly cool, even in the humid summer months. Read our detailed review about a day trip to the Babinda Boulders here.
Behind the boulders, you can catch a glimpse of Mt Bartle Frere rising in the distance. This is Queensland's highest mountain and the source of the water from Babinda Creek. Though the boulders are nestled in acres of stunning scenery, it is just the section of the creek with the huge granite boulders that is known as Babinda.
Escape to the Atherton Tablelands
In the beautiful rolling hills behind Cairns lies the Atherton Tablelands. With stunning waterfalls, rainforest drives, magnificent lakes and fascinating heritage this is the perfect day trip for families with cars.
The Waterfall Circuit
The Milla Milla Waterfall Circuit is a trio of epic rainforest waterfalls located along a 16 kilometre stretch of road offering scenic views of rolling hills and pockets of dense rainforest. Enjoy a swim under Milla Milla Falls, one of the most photographed waterfalls in Australia and explore the area on one of many walking trails.
Crater Lakes National Park
Home to two volcanic lakes – Eacham and Barrine, Crater Lakes National Park is a must-see for all visitors. Lake Eacham offers swimming in a clear, blue lake with birdwatching, canoeing, picnic areas and shady walking tracks.
Lake Barrine is home to a charming Tea House amongst beautiful terraced gardens and also offers guided boat tours of the lake and walking trails.
Take a dip at Crystal Cascades
Crystal Cascades is one of Cairns' best-kept secrets! Only 20 minutes from the Cairns CBD, the secluded freshwater swimming hole is hidden in the tropical rainforest accessible by car. Small waterfalls flow into larger pools surrounded by impressive granite boulders, making it one of the best things to do in Cairns for free.
Playgrounds, parks, and bike/scooter paths
If you are looking for things to do in cairns with toddlers, then these Cairns playgrounds, parks and bike/scooter paths are set to be a hit!
Discover the Centenary Lakes
Centenary Lakes is located 10 minutes from Cairns City and is home to many bird species, frogs, fish and turtles. The Freshwater Lake is an ideal place for a family outing with sheltered picnic sites, barbeque facilities and a children's playground. It is a short walk from the Cairns Botanical Gardens and cafe!
The Esplanade
Take a relaxing stroll or ride your bike along the stunning boardwalks and take in the view of the Cairns Inlet and Marina. Lined with cafes, playgrounds and green gyms the Esplanade offers it all. Take part in a free Active Living Class, show off your skills at the skate park or enjoy a game of beach volleyball.
The Fun Ship
The Endeavour Fun Ship is an awesome playground located at the northern end of the Cairns Esplanade and is loved by local and visiting families. With barbeque and picnic facilities nearby the playground will entertain the kids for hours.
Muddy's playground
Muddy's Playground is by far the best toddlers playground in Cairns. Home to some epic water fun, two hamster wheels, slides, climbing frames, and even a liberty swing, there is something for everyone at Muddy's Playground. When we visited the kids loved it and did not want to leave!
Click here to learn more.
Get Out With Kids Tip: When you've managed to get the kids off the playground, we highly recommend you visit Muddy's Playground Cafe and order a burger and smoothie. It was such good food, and we would go back in a heartbeat!
Figtree playground
At the southern end of the esplanade, you'll find Fig Tree Playground. This is an excellent play place for kids with lots of climbing and play obstacles. Built-in and around a giant fig tree and located on the waterfront this is a great blend of nature and playground. There is also a café adjacent to the playground for a coffee fix.
The Cairns Skate Park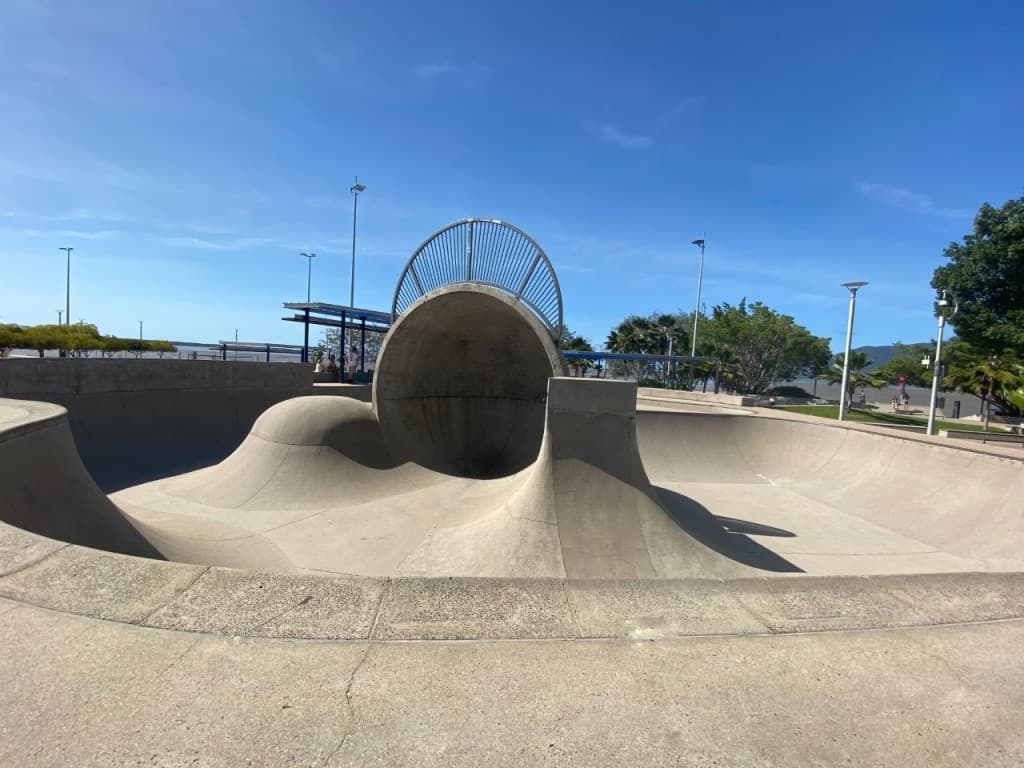 The Cairns Skate Park is a great place for older kids to visit in Cairns. If you have a skateboard, bike or scooter, this skate park is perfect for you. Also, the park is located on the Cairns Esplanade, so there are some great views while riding.
Explore Cairns Flecker Botanic Gardens
Only four kilometres from the Cairns CBD, the Cairns Botanical Gardens are a tropical oasis. Explore the 38 hectares of native Australian gardens, admire the lush vegetation and keep an eye out for exotic butterflies and birds. With waterways meandering throughout the gardens and large grassy areas for the kids to play this is the perfect place for a family day out.
Read up about what to do in Cairns Botanic Gardens here
Experience magic at Paronella Park
Paronella Park is a magical, unforgettable place nestled among heritage gardens of lush Australian rainforest and is situated along the banks of the crystal-clear waters of Mena Creek. 75 minutes south of Cairns the ruins of the Spanish Castillo Castle make for the perfect day trip to explore the enchanting gardens with cascading waterfalls and majestic trees. Unfortunately, you are unable to swim here.
Find out more about Paronella Park here
Places to eat with kids:
Looking for kid friendly places to eat in Cairns? We were too – and now you know!
Cairns Night Markets
The Cairns night markets are a great place to eat with kids, no matter what you're looking for! We got some great Japanese for our mains, and found a wonderful crepe shop for a spectacular desert. The whole family will love the food at the night markets! There are also heaps of small stores full of anything from A to Z, so we recommend you take a look at those too!
Get Out With Kids Tip: Pick up your copy of the Cairns Saving Passport and Pocket Guide here and use it it to get discounts on all sorts of Cairns activities for families.
Muddy's Café
Located in the heart of Cairns' largest playground, Muddy's Café is the ultimate venue for a relaxed meal, fresh juice or great coffee! With daily specials and a wide variety of food, this is a local's favourite!
Paradise Palms Restaurant
Located at Kewarra Beach Paradise Palms menu offers something for the whole family with a kid's menu offering yummy nibbles! The best part is the huge playground featuring an exciting jumping pillow, cubby houses, slides and more. The kids won't get bored here.
Cazalys Sports Club
Cazalys is the perfect place for a meal and a play! The kids will have a ball at the Kids Club House indoor play centre. They can enjoy the $8 kids' menu while you can have a moment of peace and quiet.
Hog's Breath Café
Hog's Breath, located in the Cairns CBD, is a great family restaurant to enjoy a hearty meal. Keep the kids entertained with a range of colouring in pictures to enjoy with their curly fries!
Dunwoody's Tavern
Dunwoody's Tavern is the ideal spot for a family meal. Located in the CBD your kids will never be bored with newly refurbished playgrounds, indoor and outdoor play areas, 3 PlayStation's, puzzles, a TV and a game machine!
Places to stay in Cairns with kids
Here is our list of all the hotels in Cairns that kids will love. From luxury hotels to mid-range to budget accommodation in Cairns, we have you covered!
The Shangri-La Cairns –
*Editors Pick
Prominently situated on the Cairns Marina, Shangri-La is a luxury hotel with spacious rooms and impressive balcony views. This stylish hotel offers a large outdoor pool surrounded by lush gardens, a nice deck and a fitness centre. In an unbeatable location enjoy the excellent on-site dining options or explore more restaurants and attractions within walking distance.
Get your booking here!
Get Out with Kids Tip: Check their Facebook page for the latest deals!
Riley, The Crystalbrook Collection
Centrally located at the northern end of the Cairns Esplanade, Riley is a new five-star resort perfect for a luxury family escape. With contemporary and spacious family rooms with urban, resort and sea views take advantage of video streaming services and complimentary movies and box sets on the 55-inch Smart TV. With three restaurants, a day spa and an expansive lagoon pool with a private beach, Riley is a Cairns favourite.
Get your booking here!
Peppers Beach Club & Spa, Palm Cove
Located in the beautiful Palm Cove, Peppers is an iconic North Queensland resort. It has lush green gardens, a rainforest rock pool and lagoon pool with sandy beaches. Enjoy the coastal village atmosphere and treat yourself to a spa day.
Get your booking here!
Mid-range accommodation options for families
Mantra, Esplanade
With its prime waterfront location, Mantra Esplanade offers stylish accommodation in the heart of the holiday hub of Cairns. Popular with families, the hotel has a large swimming pool, fitness room, sauna and whirlpool spa on-site. It is just steps to lively street cafes, restaurants and shopping.
Get your booking here!
Rydges Esplanade Resort
At Rydges Esplanade Resort you will discover three superb resort swimming pools, two tennis courts and a complete health and fitness centre and spa! Set within the lush tropical surroundings, the hotel is located conveniently on the Esplanade and offers breathtaking views of the Coral Sea or tropical mountains.
Get your booking here!
Budget accommodation options for families
BIG4 Ingenia Holidays Cairns Coconut
Just 7 minutes' drive from the Cairns CBD is Cairns Coconut Resort. This is a great Cairns caravan park. fWith a range of family and budget-friendly accommodation, your kids will love staying here! There's a swimming pool, splash water park and tennis court for keeping active as well as ball courts, a games room, jumping cushion and mini-golf. There's also a restaurant and BBQ facilities, and an outdoor cinema on the school holidays.
Get your booking here!
Cairns NRMA Holiday Park
NRMA Cairns Holiday Park is the perfect family-friendly destination for a relaxing tropical holiday! Only 10 minutes from the city is affordable accommodation options including cabins or caravan and camping sites. Offering free-Wi-Fi, a swimming pool, a TV room and tropical fruit and herb gardens, this is a great budget option for your Cairns holiday.
Get your booking here!
Cairns Colonial Club Resort
Located amidst 11 acres of spectacular rainforest gardens, the family-friendly Cairns Colonial Club houses affordable rooms, three lagoon-style swimming pools with a man-made beach plus a contemporary full-service restaurant. Only a 10 minutes' drive from the Cairns CBD, your family will never want to leave!
Get your booking here!
Getting to Cairns
Cairns is easy to get to with lots of domestic and international flights arriving daily. You can also catch the Spirit of Queensland train from Brisbane to Cairns or catch a bus that runs regularly up and down the coast. Driving is also a great option if you fancy a 24-ish hour drive!
Getting around Cairns
Public Transport
The only public transport service in Cairns is the Sunbus public bus service. You can buy tickets on buses at the Cairns City Bus Station or on board the bus. Buses run through most of Cairns and also head out to Palm Cove. Single, daily and weekly passes are available. Find out more here.
Taxis, Uber and Ola
The sole provider of Taxis in Cairns is Cairns Taxis. Uber and Ola ride share services also operate in Cairns and are a cheaper alternative to Taxis. Check them out on the app store.
Car Hire
The best way to get around Cairns is to drive! Most of the car hire companies in Cairns are located on Lake Street or at the Airport. These include Avis, Budget, East Coast Car Rentals and Hertz.
Things to do in Cairns with kids
There you have it, the best things to do in Cairns with kids. We hope this article has given you an idea of fun things to do in Cairns with kids. Be sure to check out our other articles for activity ideas for Cairns holidays with kids.
If you are heading to Cairns during school holidays, make sure you check out our ideas for school holiday activities in Cairns.
Looking for more things to do in Queensland with kids?
We've been everywhere man! ?
You can find all our Queensland content here.