Rain, rain go away!! I suspect you have found my article because it's a rainy day and you are looking for the best rainy day activities in Brisbane to help you pass the time. Well, here at Get Out with Kids, we love… well… getting out with kids…. So, we won't let the rain stop us, with some awesome rainy day activities for you to get stuck into!
Check out our list of the best things to do with teenagers in Brisbane.
While I absolutely LOVE the sunny lazy days on the beach and the clear nights watching the sunset while watching the kids busy themselves on the sand or in the park waiting for the BBQ to fire up, or even going strawberry picking with kids, there are times when equally the odd rainy day forces me to think outside the box and enjoy some rainy day activities.
Having the knowledge and ideas up my sleeve at a moment's notice, no matter where I am, makes the job of transitioning from a sunny day of activities to a rainy day so much easier to contend with and while other members of my family may not be so enthusiastic to start with, I can assure you that being prepared and having a few alternative plans and experiences to draw from, can actually make the day more enjoyable and memorable than you would first believe.
Rainy day activities for children can be super fun but that said, it is also much much easier when someone else has already put the ideas in a handy list so I have the best list of things to do in Brisbane on a rainy day broken down by age to help you find the perfect rainy day activities for families.
Rainy day activities for toddlers
I wake up to the sound of water hitting the windows and glare out to find all my best laid plans are no longer useful – swimming in the local pool or a day out at South Bank in the city beach area to make sandcastles or go to a park to let my toddler run around and blow off steam….. internally screaming and panic sets in about what am I actually going to do to get out of the house and entertain my 'full of gusto' toddler/s. Well, don't let that panic set in!! Grab a cuppa and peruse the list below to plan your 'alternative' day of fun with a group of places that are great rainy day activities for toddlers.
Workshops Rail Museum, Ipswich
Brisbane rainy season can cause issues, those tropical weather events! BUT just a quick half an hour drive south west of Brisbane you can find the Workshops Rail Museum. This is a very popular location and a great rainy day activity for toddlers as well as older children. Playing pretend trains is great for them in role playing techniques and there is a great collection of vintage trains to take in. Quite often Thomas the Tank Engine stops by, so have a look if he happens to be in town during your visit.
Website: The Workshops Rail Museum
Address: North Street, North Ipswich
Lollipops Playland and Café
Rainy day activities for babies and toddlers are covered at this indoor playland with areas of soft play for the really tiny members of the clan to slides, ropes, climbing apparatus to name but a few and all topped off with a café for the adults of the group. This is a nationwide company and there are two locations covered in Brisbane to check out.
Website: Lollipops Playland
Address: Two locations based at Springwood and Strathpine. Check online for further details.
State Library Queensland
This beautiful library has a lot to love about it, especially if you have kids of varying ages. However looking for rainy day activities for kids of all ages including rainy day activities for 2, 3 and 4 year olds are covered by The Corner – a section within the library designated for the younger age group. With such activities as 'rhyme time', 'play time' and even 'baby time', there is definitely something here for all.
Website: The Corner
Address: Stanley Place, South Brisbane
Queensland Museum, South Bank
Grab your group of friends together and get into rainy day activities with friends at this great location. There is always something going on at the museum, currently showing the Brickman exhibition so if you have children who love LEGO this is a great location. Full of the weird, wonderful and fascinating there is a lot to see and do here.
Website: Queensland Museum
Address: South Brisbane, Brisbane
Inflatable World, Darra, Brisbane
Rainy day activities for kids don't get much better than watching them bounce around an inflatable universe and this is a great way for them to let off steam, with so many bouncy obstacles from slides, steps, climbing apparatus and much much more, they are sure to enjoy this inflatable kingdom.
Website: Inflatable World Oz
Address: 27 Bellwood Street, Darra
Pinwheel Island Kids Café
If you have a budding driving expert in your group, this is a great rainy day activity for toddlers. Yes, it's a playground with the usual slides and climbing apparatus, but they can really get into the driving spirit with a load of mini cars to operate and role play with service stations to pop some fuel in and little roadways to navigate!
Website: Pinwheel Island
Address: 583-585 Kessles Road, MacGregor
Colour My Pot
Brisbane wet season can be difficult to navigate through so trying something new is a great way to get past those wet days. Colour My Pot is a unique adventure and combines creativity with playing with paint. This is a great activity for young and old and you get to keep your creative pot at the end. Various sessions are available and they do cater for the younger members (well versed in providing classes to Early Learning Centres), so why not give this new skill a go!.
Website: Colour My Pot
Address: 39 Middle Street, Clevedon
Jugar Eat Play Drink, West End
A great play area with a fantastic café and even comes with supervision (at a small cost), so you can really enjoy rainy day activities with friends knowing that your young group are well taken care of. With play houses, playgrounds, climbing walls designated to the small in size group, they will not know what to do first!
Looking for more places to eat in Brisbane? Check out our list of the best sushi trains in Brisbane for kids here
Website: Jugar
Address: 71 Jane Street, West End
Petite Princess Parlour
Grab those princess crowns and book in for a slot of pampering – or even gather a group of likeminded princesses and set up a party atmosphere. The kids are sure to delight in having nails and hair done, extra sparkles are of course available!
Website: Petite Princess Parlour
Address: Endeavour Boulevard, North Lakes
Cineplex, South Bank
Of all the things to do in Brisbane on a rainy day, my favourite would be venturing out to the cinema. With school holidays almost upon us, you can guarantee some animation adventure will be showing at the cinemas. Grab the popcorn, drinks and sweets/snacks of your choice and settle in for a family movie day or night! There are a number to choose from around Brisbane, this one happens to have a 25 metre cinemascope!!
Website: Cinema Southbank
Address: South Bank, Brisbane
Rainy day activities in Brisbane for kids aged 5 – 12
Rain has set in for the day and no hope of getting to that park for a catch up. Here is my go to list of indoor activities/places for you to visit where you can relax knowing that everyone will be entertained (and satisfyingly tired out!), with some ideas on what to do when its raining.
Sir Thomas Brisbane Planetarium
Rainy day activities indoors don't come much better than this!. Looking at planets and learning about the stars. Just five kilometres from the centre of Brisbane city, this is easy to get to and a great educational way to spend your rainy day!. General admission is free, however booking is recommended.
Website: Sir Thomas Brisbane Planetarium
Address: Mt Coot-Tha Road, Brisbane
Fox in a Box Brisbane
This is arguably Brisbane's largest Escape Room adventure so regardless of whether you are looking for rainy day activities for boys or rainy day activities for girls, this will keep them intrigued. There are six different adventures to choose from and are age appropriate, so check which one would suit your family!
Website: Escape Room Brisbane
Address: 150 Edward Street, Brisbane.
GOMA
The Gallery of Modern Art is centrally located and is highly recommended. Rainy day activities for children within GOMA include the Children's Art Centre which is fully interactive with ideas for babies to young children and projects for teens, this is a great facility to keep the entire family entertained for hours!
Website: Queensland Art Gallery & Gallery of Modern Art
Address: Stanley Place, South Brisbane
Undersea Putt and Play, Redcliffe
Situated on the north side of Brisbane approximately 40 kilometres away, is this brightly coloured, imaginative world of putt putt. Another favourite for the entire family, there is a café on site to satisfy those grumbly tummies and everything is undercover (even the car!). Family packs start from $40 but there are varying packages available.
Website: Undersea Putt and Play
Address: Corner of Anzac Avenue and Sutton Street, Redcliffe
1UP Arcade Brisbane
Indoor activities Brisbane are numerous but this will bring out everybody's inner child. This is a gaming heaven for those who like a little 'old school'. From pinball machines, to arcade games, this will keep your children (and the adults) entertained for hours.
Website: 1UP Arcade Brisbane
Address: 230 Lytton Road, Morningside
Slideways Brisbane
Fun things to do when raining don't get better than a bit of healthy competitive driving!. Located close to Brisbane Airport, this unusual driving experience will certainly impress the children! Not content with going round a number of corners, this attraction is over a number of levels!! Great fun!
Website: Slideways Brisbane Go Karting
Address: 870 Kingsford Smith Drive, Eagle Farm
Building Block Studio, Sandgate
Kids rainy day activities allow you to learn more about different interests that your kids have and this one is definitely worth a look at. With a number of workshops available during the school holidays, this is a great way to spend a rainy day. From coding, to building to all things LEGO
Website: Building Block Studio
Address: 2/702 Sandgate Road, Clayfield
Urban Extreme, Hendra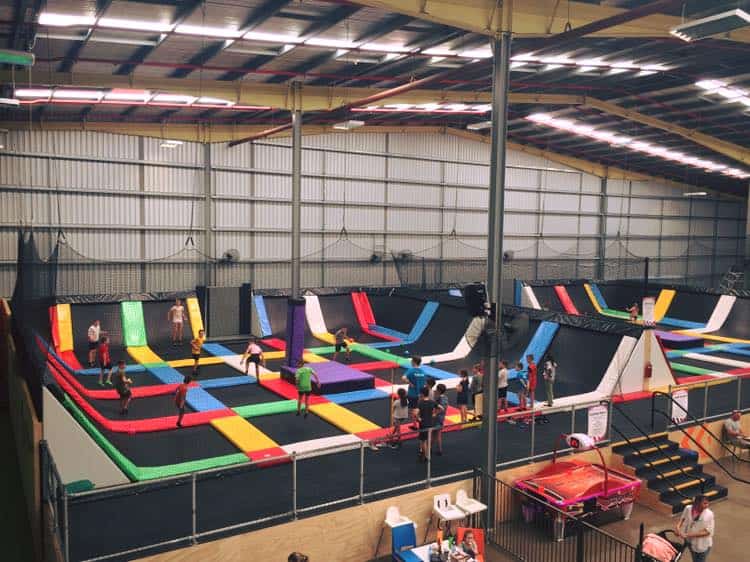 Do you have a budding snowboarder, or climber, or rock climber? Or just loves to try their hand at anything physical! This is a great way to spend a day trying several different activities. A one hour pass of $25 is available to try different activities including parkour – so if you fancy something different and have kids that love anything physical or sporty, this is for you (and a great rainy day activity for tweens)!
Check out our list of the best trampoline parks in Brisbane for kids here
Website: Urban Xtreme
Address: 370 Nudgee Road Se4, Hendra
Bounce, Tingalpa
Sticking with the sporty theme, this is a fabulous venue. A great big warehouse style venue set up with trampolines, and obstacle Ninja-style courses. The gymnasts of the family will certainly enjoy this rainy day activity indoors and there is a café onsite serving hot and cold food!
Website: BOUNCE Tingalpa
Address: 40 Enterprise Place, Tingalpa
Laserzone, Lawnton
No rainy day activity list can be complete without a laser tag phenomenon and this one is great! Complete with arcade games to try while waiting for your laser tag game to commence, there are leaderboards that you can keep watch on, while your laser tag crew get stuck in to the obstacles and light displays in the competition room!!
Website: Laserzone Brisbane
Address: 561 Gympie Road, Lawnton
Things to do in Brisbane when it rains with teens
Rainy day activities for teens anyone?! I struggle to sometimes interact with my teenager who would much prefer to spend time on devices, or catching up with friends online. However, I am a fan of connecting outside of this world and I enjoy seeing the look of enjoyment on my kids faces when they try something or visit somewhere a little different – even though it may well have been met with a little resistance to start with. Some of the places that may help when in Brisbane include ….
Iceworld (Boondall and Acacia Ridge)
Visiting Brisbane during the rainy season, worry not ….. a little ice will just add to the day!! Iceworld contains an Olympic sized ice rink in not just one location in Brisbane, but two. There is a café on site so if you are not so adventurous and would prefer to watch your teens (or younger) enjoying themselves, this is a great place to hide out when the weather is not so favourable!
Website: Olympic Ice Rink
Address: 2304 Sandgate Road, Boondall or 1179 Beaudesert Road, Acacia Ridge
Holey Moley (putt putt)
A great rainy day activity for teenagers and indeed the whole family is a little light-hearted competition of the putt-putt kind. This brightly coloured and atmospheric, crazy putt putt arena will test your skills to the max!. Whole family bookings are available for $40. These challenges are like none other that you have experienced and are beautifully lit up to add to the craziness – worth a visit!
Website: Holey Moley Golf Club
Address: Level 1 Wintergarden, Queen Street Mall or 25 Warner Street, Fortitude Valley
Strike Bowling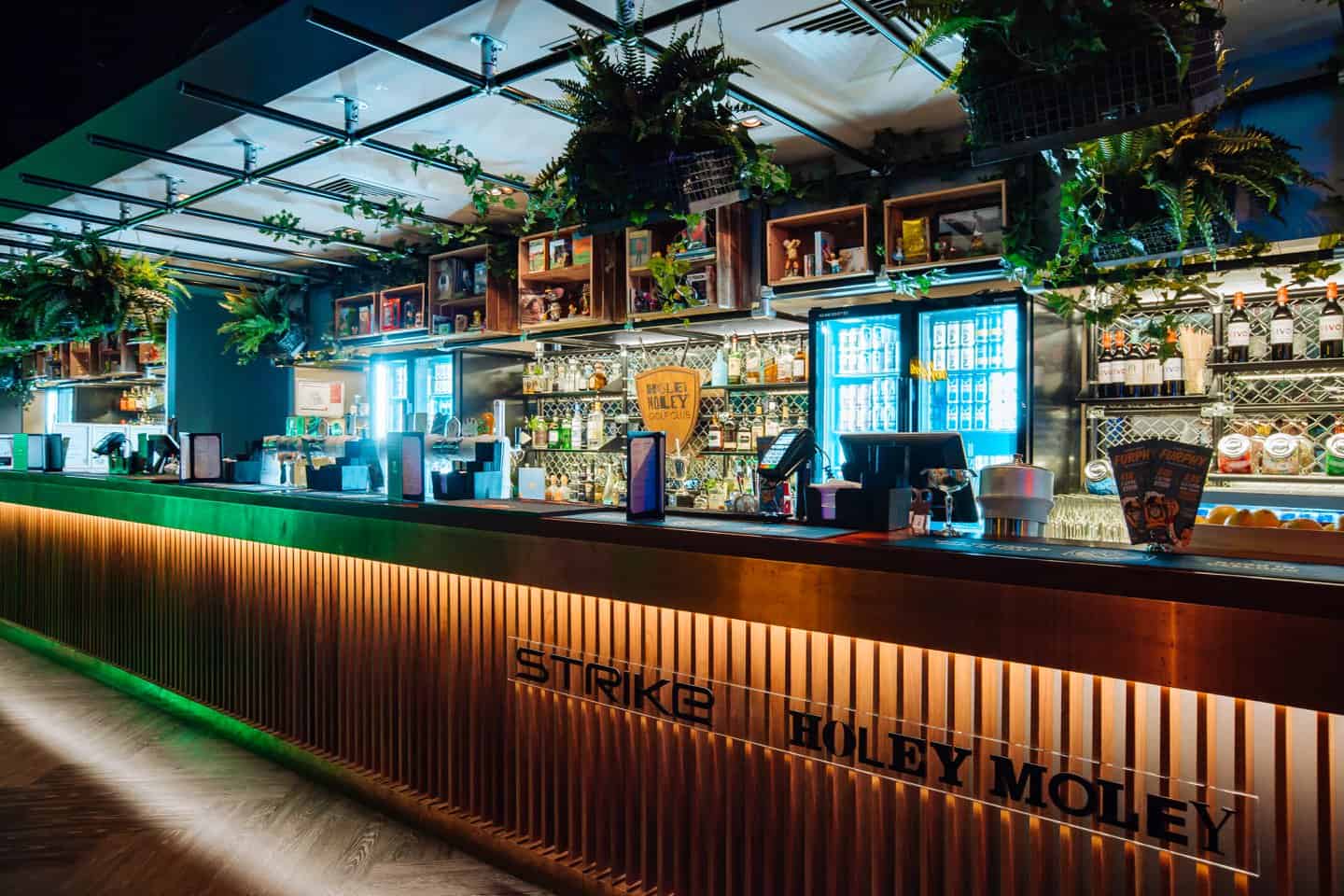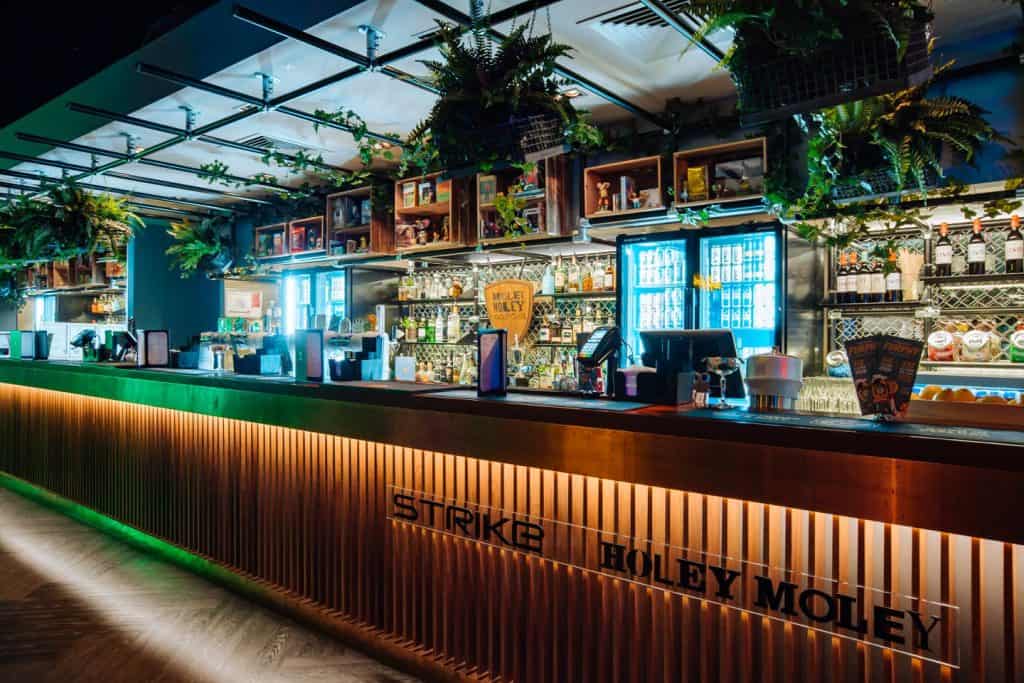 An old favourite for the entire family! Located within the Queen Street mall, there are 12 bowling lanes available BUT also laser tag, pool tables and three escape rooms. Something for everybody!
Website: Wintergarden QLD Bowling
iFLY Brisbane
Yes I can fly…. With a little help! Teens will love this little adventure and you may even want to have a go. There are a number of these venues around Australia, but this one is situated 10km north of Brisbane at Westfield, Chermside. This is a unique way to experience sky diving without the use of a plane!! Great for those thrill-seekers in the group. Prices start from just under $80 and various packages are available – yes younger members of the group can fly (3 up to 103!!).
Website: iFLY Brisbane
Address: Westfield, Chermside
Crank Indoor Rockclimbing
Yet again, another great way to pass a rainy day in Brisbane. The staff here are super friendly and everything is explained really well. Safety and explanations on how to use the ropes and harnesses are given before you set out. There are varying levels of difficulty so younger members can have a go too!
Website: Crank Indoor Rockclimbing
Address: 537 Kessels Road, MacGregor.
Flipside Circus
Who hasn't had the idea of running away with the circus when they were a kid! Well, the circus can now teach you how to perform and what skills you need to become a circus performer. This is great if you are keen to learn acrobatics in a different way to the usual gym activities, with ropes, rings, aerial. Not just acrobatics, you can learn balancing tricks and juggling skills – definitely worth looking into!
Website: Flipside Circus
Address: 33 MacArthur Avenue, Hamilton
QPAC
The Queensland Performing Arts Centre is a little slower paced than some of the activities above, but no less fun. With the Brisbane Festival held each year during parts of September, this is a great place to visit during the school holidays. Check the website to see what is showing and how you can get involved.
Website: Queensland Performing Arts Centre
Address: Grey Street, Brisbane
Ceramic House
A little arts and crafts are always a great go-to activity when you are looking for an activity on a rainy day in Brisbane. This is a great place to try something a little different than paints or colouring. This delightful place lets you try your hand at producing something with clay …. A fabulous pottery studio where you can literally get your hands dirty with the potters wheel!
Website: Mas & Miek Ceramic House
Address: 11 Byres Street, Newstead
Brisbane Aquatic Centre, Chandler
This world class pool is a great place to let off a little steam on a rainy day (or even a sunny day) with both indoor and outdoor pools 50 metres in size, together with diving boards. If your family are swimming enthusiasts, why not give this one a visit.
Website: Brisbane Aquatic Centre
Address: Old Cleveland Road and Old Tilley Road, Chandler
Stafford Skate Centre
A little disco music, dressing up with those fashionable leg warmers and some roller skates will give some a great memory of times gone by but this is a wonderful revisit to an activity that many indulged in during their childhood. Why not introduce this to your children.
Website: Stafford Skate Centre
Address: 280 Stafford Road, Stafford
Rainy day activities for adults in Brisbane
Whilst my kids are important to keep entertained (and for my ultimate sanity in getting through these unusual rainy days out), my world would definitely be missing something if I didn't get to enjoy something that was solely for my adult world with friends or partner. There are plenty of things to do in Brisbane when its raining. Here are some activities that can be enjoyed while in Brisbane on those less than perfect sunny days or clear nights!
Sirromet Winery
Home to a number of high end concerts with such names as Rob Thomas, Bryan Adams, Rod Stewart to name but a few, this is a place that is worth a visit. Why not try a behind the scenes tour and sample some of the wine that they are famous for. Get the adults together and enjoy a rainy Sunday activity (or any day for that matter) sampling some of the best wines and treats on offer.
Website: Sirromet Winery Behind the Scenes Tour with Wine Tasting
Address: 850 Mount Cotton Road, Mount Cotton
XXXX Ale House Brewery Tour
Not a lover of the grapes…. Then why not try a beer!! XXXX factory is a well loved Brisbane icon and a brewery tour is a wonderful rainy day activity with friends. Included is a tasting and a 90 minute tour behind the scenes.
Website: Brisbane XXXX Ale House Brewery Tour
Address: Milton Road, Brisbane
Brisbane River Dinner Cruise
The Kookaburra offers a range of cruises but this one is particularly charming as it meanders up through the Brisbane river at night time taking in all the romantic lights including the famous Story Bridge in all its glory. This paddlesteamer style boat is very comfortable to voyage on and the entertainment very enjoyable. A great rainy day activity for couples.
Website: Brisbane River Dinner Cruise
Address: Brisbane River, Brisbane
Archie Brothers Cirque Electriq
If you are a vintage fan of the old arcade games, this is definitely one to try out on a rainy day in Brisbane. Bumper cars, virtual reality, Dance dance revolution and Mario Cart all feature here, so enjoy a blast from the past!
Website: Archie Brothers Cirque Electriq Toombul
Address: 1015 Sandgate Road, Toombul.
Wine Blending Workshop
There are number of alcohol-based activities from making your own, to sampling the local wineries (and gin distilleries that are recently making an appearance). This is a great way to try something a little different than just a tasting experience. You will not only make your own wine blend, but then you will bottle and label it. A different way to enjoy rainy season Brisbane.
Website: Wine Blending Workshop in Brisbane
Address: 11 Wandoo Street, Fortitude Valley
Stephanies Day Spa
A rainy day activity for adults doesn't come much better than a lot of pampering and relaxation. There are many spas located throughout Brisbane, so why not give one a go. So many packages, so many treatments and products available there is sure to be something that takes your fancy.
Website: Day Spa and Beauty Services, Products & Giftcards
Address: 249 Turbot Street, Brisbane
Queen Street Mall
Rainy day activities adults (or all the family) can be enjoyed within the heart of Brisbane in this mainly pedestrianised location. There are simply hundreds of shops and boutiques, cafes, restaurants, experiences to be had within this shopping location. Plenty of places to stop and people watch and definitely plenty of places to spend your money!! Something for everyone.
Website: Queen Street Mall, Brisbane, Australia
Address: Queen Street, Brisbane
Treasury Casino
This is a 24 hour casino, in a hugely decorative and opulent building within the middle of Brisbane (and a 5 star hotel) with a number of quality inhouse restaurants and bars. If you are looking for something a little different to entertain you, enjoy some great food or even stay within the hotel – you won't even realise that it's a rainy day!.
Website: Treasury Brisbane
Address: 159 William Street, Brisbane
Escape Manor
An escape room – well six to be exact. Choose from a number of different packages and literally try to escape. Interactive fun for the adults of the group. Snacks and alcoholic beverages are available on site.
Website: Escape Manor
Address: 51 Edward Street, Brisbane
Sip N Dip
These classes have sprung up in a number of locations throughout Brisbane, so well worth checking out their website to see if there are any workshops on near you. Great for a rainy day activity, they have such classes as painting (and sipping wine or eating dinner), making jewellery, making soaps or even making perfumes. Prices vary depending on the activity but usually includes the supplies needed and dinner/drink.
Website: Sip 'n' Dip
Address: Various locations around Brisbane
Rainy day activities for home
OK, so you have read through all my rainy day ideas in Canberra and you still don't want to venture out. Fret none, I have also got a great list of things to grab now for any future rainy days in Canberra. Just like the Scouts, you will always be prepared!
10 Fun things to do at home when it is raining
When you can't get out and about, finding activities at home can be tricky on short notice. Because we know everyone is different, we have compiled a heap of entertaining and interesting activities, including art ideas for rainy day activities in Canberra you can do at home (or in a hotel room!).
How to draw cool things drawing guide
Have a budding artist in your midst? Then how about following a step by step instruction book – 'How to draw cool things' which will suit even those just starting out. Includes optical illusions, 3D letters, cartoons are just some of the things they can learn to draw.
Be a rubber band engineer
Maybe even a mechanic that loves fiddling and fixing things, this book will help create all sorts of gadgets. You will never believe what they can make with just a rubber band and the ideas between the pages.
Get procrastibaking
Baking is always a favourite in my house, so grab a recipe book and get them into the kitchen for a chance to be the next Masterchef!
Non boring board games
Why not invest in a different style of board game – definitely helpful in getting them away from those electronic devices! It even includes some team building games for teens.
Get playing with these board games.
Learn how to ride a hoverboard
Why not try a new skill – hoverboarding! Spend the time learning how to ride one and impress their friends!.
An escape room in a book
Escape rooms are definitely a favourite but if getting to one is a problem then why not try one from the comfort of your own home with this unique book. With just 60 minutes to escape from a labyrinth, you must take on the challenges and solve mysteries to finish the book.
Put your time to good use
This selection of books assist in areas that we could all improve upon such as increasing level of happiness and even confidence building books like 'What's my super power'.
Check out this selection of books on highly effective teens.
Master a remote controlled car
Building and driving remote control cars is an activity that can start indoors and be taken out when the sun makes an appearance. 4WD's, mini coopers and heavy machinery vehicles are just some of the vehicles you can control or why not try with Lego!
Fun things to do when stuck at home
Still can't think of anything, then this book is jam-packed with alternative ideas – you are bound to find something here.
Read up on things for kids to do here.
Fly a drone
Kids will love learning how to fly a drone – varying models are available from the basic to something more sophisticated so why not give this activity a go.
Things to do in Brisbane on a rainy day
Brisbane rainy day activities are plentiful – but its easy when there is a place to start your research. Hopefully this has helped you identify something that you can all enjoy from rainy day activities kids-style to rainy day activities indoors or even rainy day activities couples-style (even outdoors activities if the weather doesn't bother you!).
It doesn't have to be expensive either, there are plenty of things to do when its raining to keep those kids from getting bored (and lets face it the kids rainy day activities really helps us to reconnect as a family). ENJOY!!