Well my plans are scuppered – Rain, rain go away!! I suspect you have found my article because it's a rainy day and you are looking for the best rainy day activities in Sydney to help you pass the time. Well, here at Get Out with Kids, we love… well… getting out with kids…. So, we won't let the rain stop us, with some awesome rainy day activities for you to get stuck into!
No matter if it's school holidays, weekends or public holidays, there's a rainy day activity for everyone here.
While I absolutely LOVE the sunny lazy days on the beach and the clear nights watching the sunset while watching the kids busy themselves on the sand or strawberry picking out in the sun, there are times when equally the odd rainy day forces me to think outside the box and enjoy some rainy day activities. Sydney on a rainy day may not be your idea of fun, BUT…..
Weather kids, teens or adults. there is something for everyone in this article.
Having the knowledge and ideas up my sleeve at a moment's notice, no matter where I am, makes the job of transitioning to a rainy day so much easier to contend with and while other members of my family may not be so enthusiastic to start with, I can assure you that being prepared and having a few alternative plans and experiences to draw from, can actually make the day more enjoyable and memorable than you would first believe.
Rainy day activities for children can be super fun but that said, it is also much much easier when someone else has already put the ideas in a handy list so I have the best list of things to do in Sydney on a rainy day broken down by age to help you find the perfect rainy day activities for families.
Rainy day activities for toddlers
What to do, HELP!! I wake up and hear the sound of water hitting the windows and glare out to find all my best laid plans are no longer useful – a visit to the beach to make sandcastles or go to a park to let my toddler run around and blow off steam….. panic sets in about what am I actually going to do to get out of the house and entertain my 'full of gusto' toddler/s. Well – grab a cuppa and peruse the list below to plan your 'alternative' day of fun with a group of places that are great rainy day activities for toddlers.
SEA LIFE Sydney Aquarium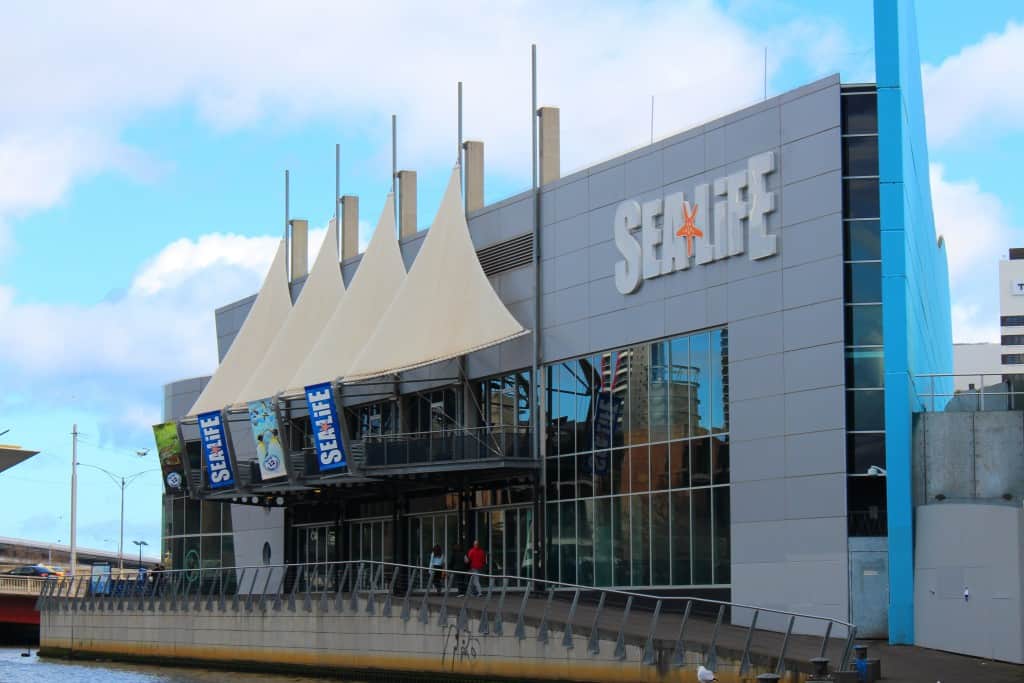 During Sydney rain season, a great rainy day activity for toddlers (and rainy day activities for 2, 3 and 4 year olds and the entire family), is a visit to the Aquarium. Kids will love watching these majestic underwater creatures from the shark tanks, to the aquarium which is divided into 14 different zones. The Discovery Rock Pool will allow them to get a more hands on experience – a great day out for the family.
Get your discounted tickets here
Address: 1-5 Wheat Road, Sydney
Plaster Painting Studios
A great rainy day activity for toddlers (and adults!). A little art and craft goes a long way with kids and this is a little unique experience that can be enjoyed by kids and adults alike (including toddlers). Let their creativeness go wild and enjoy with everything from paint to glitter included for them to use!
Website: Plaster Painting Studios
Address: Lang Road Moore Park, NSW
City of Sydney Library
Rainy day activities for babies and toddlers includes this wonderful place. All libraries are very inclusive of kids of all ages including very young kids, with story times, events and workshops for kids and designated areas, this is a lovely place to spend some quieter time.
Website: City of Sydney Library
Address: 744 George Street Haymarket, Sydney
Chipmunks Playland & Cafe
A rainy day activity for toddlers = indoor playgrounds. A great way to spend a few hours when its raining outside. The kids will love this indoor playground – plenty to engage them with vibrant colours, soft structures to clamber over, slides, obstacles and much much more!
Website: Chipmunks Playland & Café
Address: 1 Rowood Road, Prospect
Monkey Mania
Indoor playgrounds are a great rainy day activity and there are several of this particular type dotted around Sydney and NSW. As with the usual indoor playgrounds there are lots of things to see and do, clamber over, slide down and climb up but this also has electric kiddies go-carts to trial!! The onsite café will give you much needed respite, while the kids are having fun and tiring themselves out!
Website: Monkey Mania
Address: Various locations – please check website for further information.
NUBO
Play areas, arts and crafts designated areas, library, chill out zone – all for the kids – this is a fantastic location with everything your littlies will need on a rainy day. If you are looking for something that satisfies those crazy run around moment, coupled with something a little more quiet and calm, this is a wonderful place to spend a few hours on a rainy day in Sydney.
Website: NUBO
Address: Unit 201, Building 2, 160 Bourke Road, Alexandria
Ultimate Sydney
As the name suggests, this is the ULTIMATE area in Sydney for kids to enjoy themselves. With everything under one roof, you will be hard pushed to experience everything on offer in one visit. From areas for the younger members of the family to enjoy such as slides and climbing apparatus, there is also a giant foam pit, interconnecting trampolines AND café!! Have fun!
Website: Ultimate Sydney
Address: 51B Redbank Road, Northmead
Sydney Olympic Park Aquatic Centre
As the name suggests, built for the Olympics, this fabulous location is great for a rainy day activity. There are four heated pools to choose from, coupled with giant water slides, rapid river ride and interactive cannons!
Website: Sydney Olympic Park Aquatic Centre
Address: Olympic Boulevard, Sydney Olympic Park
Tik Tocs
Situated approximately 40 minutes South West of Sydney, this large indoor play centre has features such as slides, mazes, ball pit and even laser tag. Older kids have interactive games that they can get involved in so this will be great if you have older and younger kids in your family!.
Website: Tik Tocs
Address: 2/9 Enterprise Circuit, Prestons Sydney
Lollipops Playland
This huge play area is great for kids of all ages. There is everything you need and expect in an indoor playground and often there are toddler specific areas within. An onsite café for you to enjoy some downtime while you let your kids run around, this is a wonderful place to enjoy on a rainy day. There are various locations in and around Sydney, so please refer to the website for information on location.
Website: Lollipops Playland
Address: Various, check the website.
Rainy day activities in Sydney for kids aged 5 – 12
Rain has set in for the day and no hope of getting to that park for a catch up. Here is my go to list of indoor activities/places for you to visit where you can relax knowing that everyone will be entertained (and satisfyingly tired out!), with some ideas on what to do when its raining.
Australian National Maritime Museum
This is a unique rainy day activity for kids to enjoy and a great way to learn about the Australian warships. This will be of interest to a lot of members of the family, but there are plenty of interactive activities for the kids to enjoy during your visit.
Book here: Australian National Maritime Museum
Address: 2 Murray Street, Darling Harbour
Putt Planet
A rainy day activity for the entire family! You will love the African inspired putt putt golfing experience for the entire family. A little bit of competition on a rainy day will keep you going and the kids will love this – it's a room by room experience so a little different to the usual putt putt!
Website: Putt Planet
Address: Unit 1/205 Port Hacking Road, Miranda
Flip Out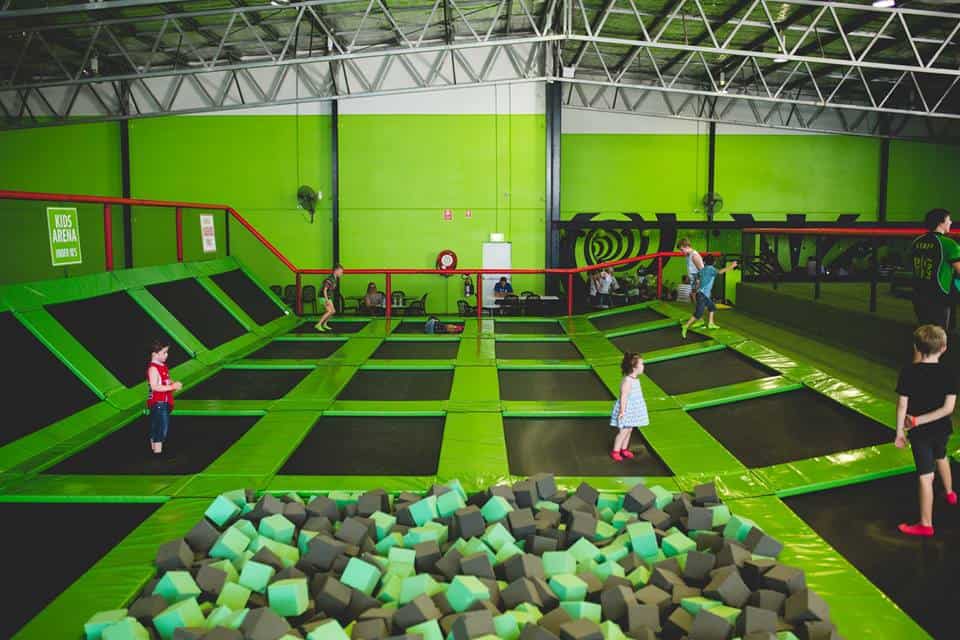 A rainy day in Sydney means …. Bouncing!! From trampolines, to basketball to obstacle courses, this place has everything a bouncy child could need! Why not let them loose and enjoy the bouncy fun that this place has to offer for that rainy day session!.
Website: Flip Out
Address: Many locations available, so please check the website for the location closest to you!
Check out our list of all the trampoline parks in Sydney here
Macquarie Ice Rink
A great rainy day activity for the kids – this location is great if you are wanting maybe to trial a new activity, with the equipment available to hire, and staff on hand to help, this is a good alternative on a rainy day. Once you have tired them out, why not then do a little shopping in the Macquarie Shopping Centre (in which the rink is located!)
Website: Macquarie Ice Rink
Address: Waterloo Road, Sydney
Plaster Master Fun Centre
If your kids are not so interested in running around, this is a wonderful alternative. With everything included for the kids to get creative with figurines, plaster, canvas and paints they are sure to have a fun time!
Website: Plaster Master Fun Centre
Address: 333 Old South Head Road, North Bondi
Sydney Zoo
To avoid the rain during Sydney wet season why not take a trip to the zoo. Situated right on Sydney Harbour, this is a great all weather activity, with many animals to see up close such as the Koala Sanctuary, Red Kangaroos in the Red Centre Habitat and explore the rainforest! So much to see, you are sure to have a great day out here for all the family.
Book here: WILD LIFE Sydney Zoo
Address: Aquarium Wharf, Sydney
Bowling
There are a number of various bowling activities in and around Sydney, we have selected this one as it has a number of other activities to try including an Escape room AND karaoke. So once the competitive bowling is out of the way, you can sing your heart out and escape (a wonderful activity on a rainy day for the kids AND family).
Website: Strike Bowling
Address: 22 The Promenade, King Street Wharf
Build a Bear
These are everywhere and my usual go to when its rainy outside. If you haven't yet experienced this, it is definitely worth a go. They are situated in a number of locations, so please check the website for a place near you. The whole experience is enjoyable from picking out the bear, to then making it come to life with a cute ceremony given by the staff – your kids will love this!
Website: Build a Bear
Address: Various locations.
Cinema
Sydney wet season can be difficult to navigate through however there are any number of cinemas in and around the Sydney area and these are great, particularly in school holidays when there is always a number of film options for children. Grab the popcorn and get the group together a movie extravaganza!
Website: Event Cinemas
Address: Multiple, check website
Things to do in Sydney when it rains with teens
Rainy day activities for teens anyone?! I struggle to sometimes interact with my teenager who would much prefer to spend time on devices, or catching up with friends online. However, I do try connecting outside of this world and I enjoy seeing the look of enjoyment on my kids faces when they try something or visit somewhere a little different – even though it may well have been met with a little resistance to start with. Some of the places that may help when in Sydney include ….
Axe-Throwing
Well a little axe-throwing activities will certain notch up the adrenaline for your teenager! Visiting Sydney during the rainy season? This is a great way to get your teenager out of the online world and into a very different environment! Yes, it sounds dangerous, and a little unusual, but that is the attraction. The staff and venue ensure the activities are safe for all, so why not give this a go! Please note – children must be aged 16+ for this activity.
Book here: Axe Throwing Experience Sydney
Address: 19 McCauley St, Alexandria
Virtual Reality Escape Room
Rainy day activities for teenagers can be tricky but this activity will definitely help. With a number of virtual reality experiences to choose from, you can grab a small group and, by using the state of the art virtual reality gadgets, get them engaged in a very different gaming experience.
Book here: Virtual Reality Escape Room
Address: 5/393 George Street, Sydney
Madame Tussauds
A fabulous rainy day activity with friends why not take off to this venue for a touch of celebrity and royalty! Situated very centrally these lifelike exhibits are amazing. Movie stars, TV stars, members of the Royal family and iconic celebrities are all here to meet and greet in very realistic wax creations. A great photographic experience!!
Website: Madame Tussauds Sydney
Address: Aquarium Wharf, 1-5 Wheat Road, Darling Harbour
B Lucky & Sons Gaming Arcade
A great activity for teenagers or for rainy day activities with tweens why not take them to a gaming arcade – so much going on with plenty of games to try from Dance Revolution, shooting some hoops, Mario Kart and some VR games to try out, such a fun place to enjoy!
Book here: B Lucky & Sons Funlab Game
Address: 200 Crown Street, Woolloongong
Holey Moley Putt Putt
This is putt putt with crazy challenges, shark infested waters and pop culture references such as The Simpsons or Harry Potter (putter).  All are welcome prior to 5pm when it then turns into an adult only facility.  Food and drink are available on site – set yourself a family challenge!
Website: Holey Moley
Address: 387 King Street, Newtown
iFLY
Why not experience the sky-diving experience (but without the need of a plane!). This unique experience will give you the opportunity to sample what it feels like to sky-dive. Great for all ages (apparently from 3-103!), the whole family can give this one a go!
Book here: iFLY Basic Indoor Skydiving
Address: 123 Mulgoa Road, Penrith
Sydney Cricket Ground
If you have a sporting teenager in your group why not take them behind the scenes of the Sydney Cricket Ground and Museum on a 90 minute guided walking tour. You will get to see private areas that members of the public generally don't get the opportunity to visit such as dressing rooms, commentary boxes and even includes a tour of the museum.
Book here: Sydney Cricket Ground
Address: Moore Park Road, Moore Park
The Ledge Climbing Centre
A little climbing, boulders and walls to be precise, with all levels of expertise covered – this is a great rainy indoor activity for all ages but the teenagers will also be included. Staff are on hand to assist and safety is taken very seriously here – but that doesn't detract from the fun!
Website: The Ledge Climbing Centre
Address: Western Avenue, Camperdown
Extreme Indoor Go Karting
Definitely one for the teenagers looking for a little adrenaline fun and speed – this extreme go karting facility has everything they could need – an indoor racing track which allows them to experience three different tracks which includes a sprint track!
Website: EXTREME Indoor Go Karting
Address: Unit 3, 66 Christina Road, Villawood
Zero Latency VR
This is another great location for teenagers who are into the online world of gaming – with more VR games to choose from, particularly if zombies are your thing, this is definitely a place they will enjoy!
Website: Zero Latency VR
Address: 219 O'Riordan Street, Mascot
Rainy day activities for adults in Sydney
Whilst my kids are important to keep entertained (and for my ultimate sanity in getting through these unusual rainy days out), my world would definitely be missing something if I didn't get to enjoy something that was solely for my adult world with friends or partner. There are plenty of things to do in Sydney when its raining. Here are some activities that can be enjoyed while in Sydney on those less than perfect sunny days or clear nights!
Sydney Tower SkyFeast
This is a great rainy Sunday activity! (or any day of the week!). With so many international dishes to choose from and to be able to eat high above Sydney AND while the tower rotates giving you very different views throughout your time here, this is a very different way to enjoy a meal!
Website: Sydney Tower SkyFeast Lunch or Dinner
Address: Sydney Westfield Centre, Between Pitt & Castlereagh Street, Sydney
Sydney Aquarium Shark Dive
Not for the faint hearted, this is definitely something unique for the adults to try out on a rainy day. If you love a little adrenaline and are intrigued by creatures under the sea, then this experience will be one to tick off the bucket list. With a chance to go into the shark tanks and swim with these magnificent creatures. Instructors are on hand to help and even give you a tour of the shark tunnels after the in-water experience.
Book here: Sydney Aquarium Shark Dive
Address: Aquarium Wharf, Darling Harbour
Sydney Harbour Dinner Cruise & Show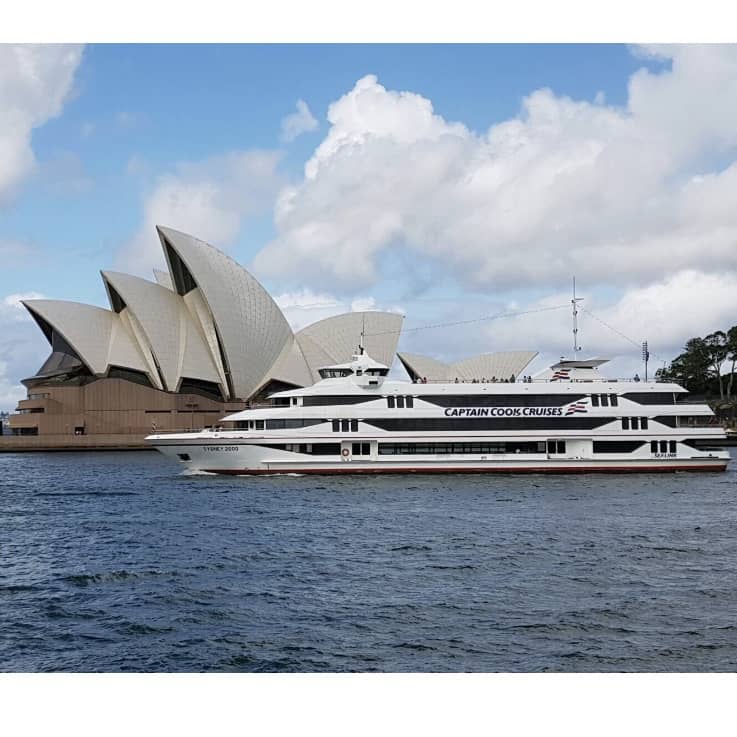 This is a wonderful rainy day activity for adults, (or should I say evening). A cabaret show and dinner whilst travelling around Sydney Harbour on this paddle wheeler boat. You will get to see Sydney's famous landmarks, enjoy a dinner and what a cabaret – a great evening out.
Book here: Sydney Harbour Dinner Cruise & Show
Address: Sydney Harbour
Sydney Quarantine Station Ghost Tours
Well for a night with a difference, this adult only walking ghost tour is sure to intrigue you. With a 2.5 hour walking tour around this station, you will hear very different stories of events, people and lifestyle in this strange environment where people were isolated in a quarantine (and rather apt for the way of the world at the moment). Definitely not for the faint-hearted but one to enjoy if you are intrigued by events of the spooky kind!.
Website: Sydney Quarantine Station Ghost Tours
Address: Scenic Drive, Manly
Sydney Opera House Show
A great rainy day activity for adults, if you are a lover of the arts. The famous Sydney Opera House is a wonderful experience in its own right, but to also enjoy an opera within this fabulous iconic building is a must-do during your stay in Sydney. Dress up, enjoy the show and the performance.
Book here: Sydney Opera House Show
Address: Sydney Opera House, Sydney
Kings Cross Pubs and History Tour
If you want to get to know the history of Sydney and enjoy a pub (specifically rum tasting), this walking tour around The Rocks will get you to some great locations and hear about some of the events taken place over the years in this iconic city.
Book here: Kings Cross Pubs and History Tour
Address: Kings Cross, Sydney
Luke Nguyen Tasting Menu Experience
If you are a foodie, this is something special to enjoy. Situated at the Botanic House, you will get to enjoy a specially created menu by celebrity chef Luke Nguyen. This beautiful location is situated close to the iconic structures such as the Sydney Opera House and Sydney Harbour Bridge so if the weather brightens up you can take a walk in the gardens and enjoy.
Website: Luke Nguyen Tasting Menu Experience
Address: Botanic House, 1 Mrs Macquaries Road, Sydney
Jenolan Caves
If you are looking to get out of the city and do something that a little rain won't stop, this is a great idea. A guided tour of the Blue Mountains and Jenolan Caves – taking you underground into these magical caves to see spectacular natural structures. Various stops are included to the famous Three Sisters rock formation and waterfalls – so have your cameras to the ready!
Book here: Jenolan Caves Tours
Address: Please check website as there are various pick up points in Sydney
Holey Moley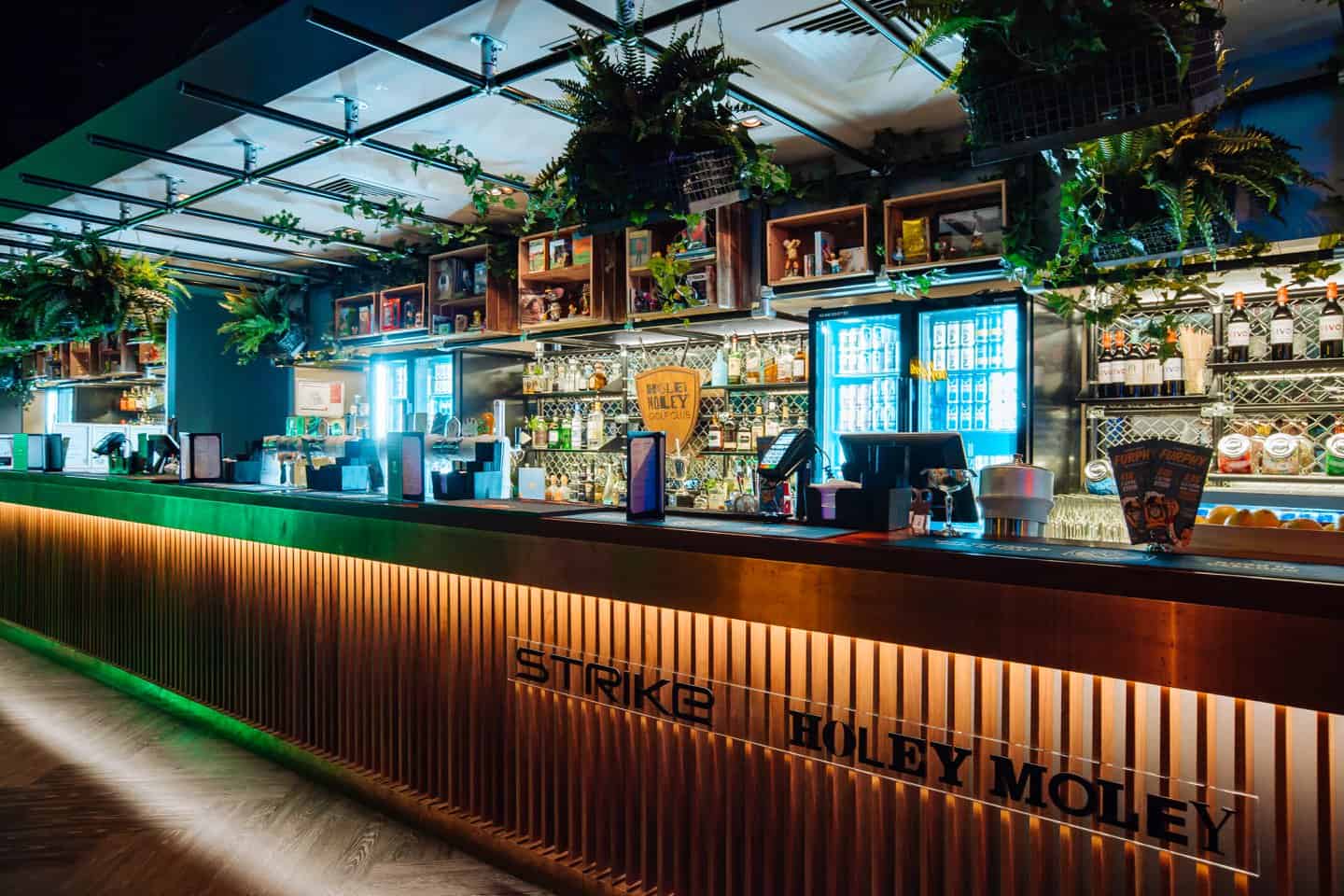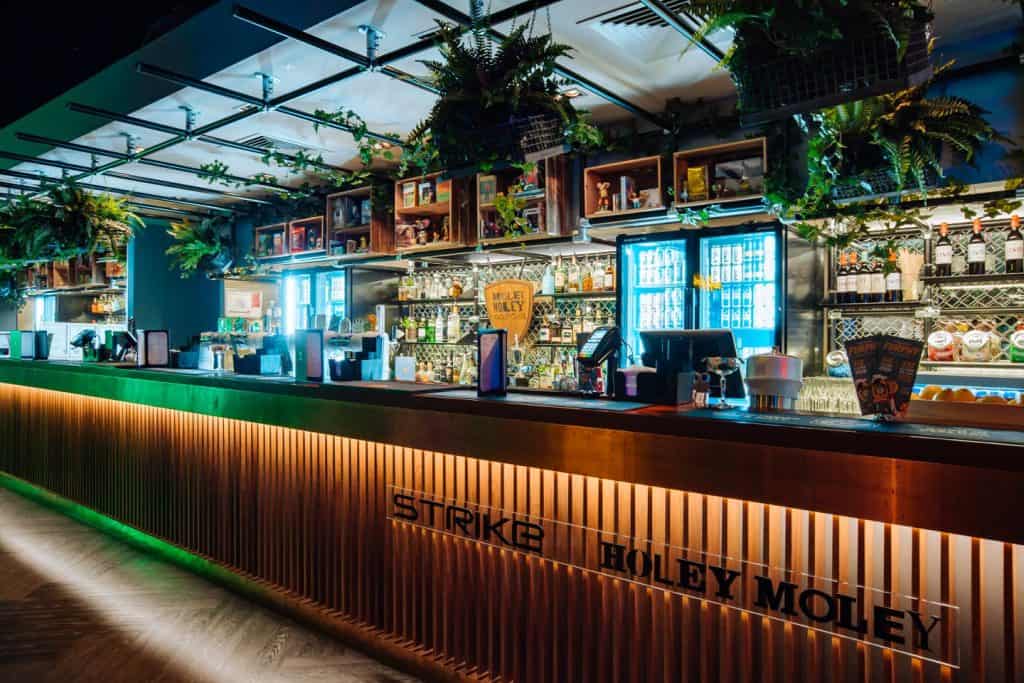 After 5pm, this place is an adult only venue – so if you are looking for some fun this is a great rainy day activity for adults to enjoy. Vibrant, great atmosphere, food and drink available, you are sure to enjoy this after dark activity!
Website: Holey Moley
Address: 387 King Street, Newtown
Shopping
And when in doubt, what better way for adults to spend a rainy day, then …. SHOPPING. With plenty of shops, experiences, cafés, restaurants (and even kids activities if they are coming along), you are sure to manage to enjoy a rainy day at the shops!.
Rainy day activities for home
OK, so you have read through all my rainy day ideas in Sydney and you still don't want to venture out. Fret none, I have also got a great list of things to grab now for any future rainy days in Sydney. Just like the Scouts, you will always be prepared!
10 Fun things to do at home when it is raining
When you can't get out and about, finding activities at home can be tricky on short notice. Because we know everyone is different, we have compiled a heap of entertaining and interesting activities, including art ideas for rainy day activities in Canberra you can do at home (or in a hotel room!).
How to draw cool things drawing guide
Have a budding artist in your midst? Then how about following a step by step instruction book – 'How to draw cool things' which will suit even those just starting out. Includes optical illusions, 3D letters, cartoons are just some of the things they can learn to draw.
Be a rubber band engineer
Maybe even a mechanic that loves fiddling and fixing things, this book will help create all sorts of gadgets. You will never believe what they can make with just a rubber band and the ideas between the pages.
Get procrastibaking
Baking is always a favourite in my house, so grab a recipe book and get them into the kitchen for a chance to be the next Masterchef!
Non boring board games
Why not invest in a different style of board game – definitely helpful in getting them away from those electronic devices! It even includes some team building games for teens.
Get playing with these board games.
Learn how to ride a hoverboard
Why not try a new skill – hoverboarding! Spend the time learning how to ride one and impress their friends!.
An escape room in a book
Escape rooms are definitely a favourite but if getting to one is a problem then why not try one from the comfort of your own home with this unique book. With just 60 minutes to escape from a labyrinth, you must take on the challenges and solve mysteries to finish the book.
Put your time to good use
This selection of books assist in areas that we could all improve upon such as increasing level of happiness and even confidence building books like 'What's my super power'.
Check out this selection of books on highly effective teens.
Master a remote controlled car
Building and driving remote control cars is an activity that can start indoors and be taken out when the sun makes an appearance. 4WD's, mini coopers and heavy machinery vehicles are just some of the vehicles you can control or why not try with Lego!
Fun things to do when stuck at home
Still can't think of anything, then this book is jam-packed with alternative ideas – you are bound to find something here.
Read up on things for kids to do here.
Fly a drone
Kids will love learning how to fly a drone – varying models are available from the basic to something more sophisticated so why not give this activity a go.
Things to do in Sydney on a rainy day
Sydney rainy day activities are plentiful – but its easy when there is a place to start your research. Hopefully this has helped you identify something that you can all enjoy from rainy day activities kids-style to rainy day activities indoors or even rainy day activities couples-style (even outdoors activities if the weather doesn't bother you!).
It doesn't have to be expensive either, there are plenty of things to do when its raining to keep those kids from getting bored (and lets face it the kids rainy day activities really helps us to reconnect as a family). ENJOY!!