Are you scratching your head and wondering what fun school holiday activities Cairns in Queensland has to offer your kids this Summer? Maybe you want to know what's on school holidays? Perhaps school holiday 2023/24 activities. This is the place to be.
Fret none, we've done OUR homework and compiled a huge list of things to do during school holidays in Cairns with kids for you. This list will take the hard work out of thinking about the best ideas of things to do in Cairns with kids these Summer 2023/24 school holidays. Our comprehensive guide of the best school holiday activities over the Summer school holidays will help make your life so much easier!
We've listed what to do these school holidays, and things to do these school holidays where to go and what's on in Cairns over the next few weeks!
Queensland Summer 2024 school holiday dates: 9 December 2023 – 21 January 2024
Kids school holiday activities Cairns – free, cheap or GO BIG!
Whether you are looking for free school holiday activities or cheap school holiday activities in Cairns we've got ALL the school holiday ideas for you in our comprehensive guide.
Read our list of school holiday activities in Cairns to find all the things that are going on locally for kids.
We know that sometimes it is hard to think of fun activities so we have researched and put together this list. We've got school holiday ideas Cairns style for you in our fun school holidays guide. Add this page to your bookmark bar right now (or share it on Facebook so you can find it later).
This article is an 'at-a-glance', go to resource for parents. We have listed the best things to do Summer school holidays Cairns style!
School holiday activities Cairns fun Summer 2024
Give spelling, punctuation and grammar a miss for a while with these fun school holiday ideas. From the Cairns city centre, the esplanade, the reef or the rainforest, our comprehensive guide has listed a bunch of school holiday ideas. These will ensure the kids are kept happy and you will be stress-free over the school break.
20 Free school holiday activities Cairns
As the old saying goes – the best things in life are free. School holidays don't have to break the bank (or your wallet). These ideas are the best free school holiday activities for the Summer school holidays that Cairns has on offer.
Looking for things to do on a rainy day in Cairns? Click here
1.
Cairns Esplanade Lagoon
The Lagoon is a 4800sqm saltwater swimming facility that offers an all-year round, safe, swimming location without stingers and crocodiles. The lagoon is filled with salt water from the Trinity Inlet which is filtered through a state-of-the-art filtration system. There's a beach style entry (including the sand) on one side. It's near lots of shops and eating options as it's very close to the centre of Cairns. Check it out here
2.
Barron Falls Lookout track
Each day the Kuranda train and Skyrail cableway pass through the Barron Gorge National Park. One of the main attractions of the park is the Barron Falls and you can get a little bit closer for a better view by following the Barron Falls Lookout Track. This begins on an elevated walk which takes you through the rainforest canopy and then down the hill to the railway platform. On the way there are explanatory signs, plenty of places to take a rest and some gorgeous places to lookout and take a photograph. We have more details on this link.
3.
Cairns Esplanade
The Cairns Esplanade boardwalk is the gathering place for joggers, cyclists, power walkers, yoga enthusiasts, skateboarders or for those that want to take a stroll along the timber boardwalk in the sunshine and just take in the ocean and mountain views. This area is densely planted with big shady trees, manicured grass, exercise equipment from one end to the next and it even has a skate park for the teenagers and just beyond here are the tennis courts. Find out more here
4.
Nandroya Falls Circuit
The Nandroya Falls Circuit takes you through the Palmerston section of Wooroonooran National Park. The circuit beings at Henrietta Creek camp site and takes you on a 2.3km trek to the Nandroya Falls. Nandroya Falls is the culmination of Douglas Creek where it first tumbles down a 50 metre fall and then takes another fall which is is smaller but wider. At the falls you can choose between two tracks: one takes you up into the valley and past Douglas Creek and the other on a longer circuit back to the beginning and the base of the falls. Get all the details here.
5.
Muddy's Playground
Muddy's is a modern, fun, safe, splash playground and parkland. It incorporates active, passive, interactive and educational facilities with a combination of play equipment. Muddy's Playground is themed "Life in Trinity Bay" and the playground includes water play areas plus a flying fox, sound chimes, track ride, rope bridge, slides, mouse wheels, playhouses, storytelling areas, see-saw, trick track and puzzle games. Check out this great playground here
6.
Fig Tree Park Playground
Located at the southern end of the Esplanade (34 – 38 Esplanade) the Fig Tree Playground is legitimately built around a fig tree. There are slides, climbing frames, decks and swings. You can even climb into the actual tree! Less crowded than the more centrally located Muddy's Playground, this park is one the check out!
7.
Cairns Botanic Gardens
The Cairns Botanic Gardens is a tropical paradise, renowned as one of the best exhibitions of tropical plants in Australia. Come and explore the beauty of tropical plants, relax in stunning surroundings and learn about tropical flora and horticulture. Get more information here
8.
Crystal Cascades
Crystal Cascades is one of the secrets of Tropical North Queensland. A secluded freshwater swimming hole hidden in a tropical rainforest; it has a series of small waterfalls that flow into large pools. Park facilities include electric BBQs, picnic tables and a toilet block. Click here for more information
9.
Sugarworld Parklands
Sugarworld Parklands features an all-abilities playground – with engaging structures and a sensory space designed to be used by children with various levels of ability – as well as barbecue areas, volleyball court and a great shady area for family gatherings, functions and wedding ceremonies in these magnificent surrounds. Click here for more detail
10.
Zhanjiang Friendship Garden
Council has created a Zhanjiang Friendship Garden at Freshwater Lakes in the Cairns Botanic Garden precinct, to celebrate the Sister Cities relationship between Cairns and the Chinese city of Zhanjiang. Situated on the banks of Freshwater Lake, within the Centenary Lakes precinct at Edge Hill, the garden incorporates traditional features in a contemporary style. It pays homage to the unique friendship that is maintained between the cities of Zhanjiang and Cairns. Get more info here
11.
Babinda Boulders
The Babinda Boulders is a popular swimming spot and picnic area amid tropical rain forest in the foothills of the Bellenden Ker Range. It is named for a series of granite outcrops found along Babinda Creek, which provides cascades and swimming holes. Facilities onsite cater for a range of outdoor pursuits including picnics, bush-walking, swimming, commercial tourism, sightseeing and social events. Read our review of the Babinda Boulders here.
Find the website here
12.
Cairns Skate Park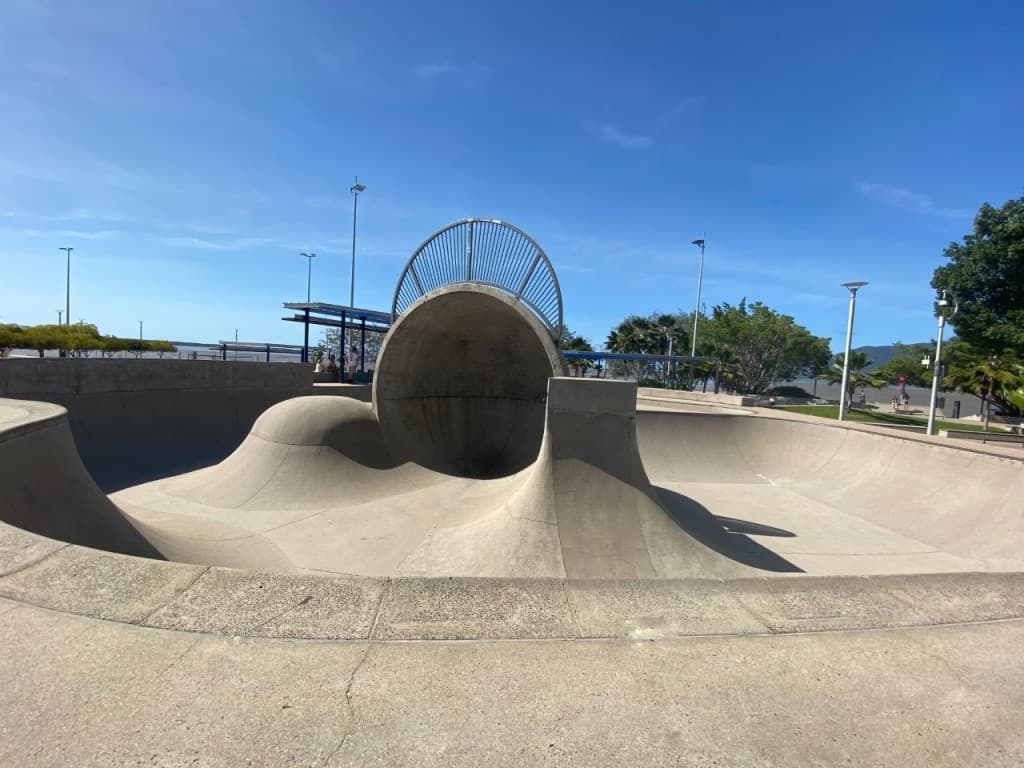 Cairns Skatepark is the biggest skatepark in all of Australia. It stretches 2300m2 and sits in the picturesque setting of the Cairns Esplanade Lagoon overlooking the Coral Sea. The park opens daily at 6:00 AM and is open late as many bright pod lights surround the Cairns Skatepark. A great place to roller skate, long board and let the little ones get around on their scooters whilst mum and dad set up the picnic table for a day of fun. Sk8 with your m8 here
13.
Goomboora Park
Goomboora Park is a local family favourite for many reasons. There is plenty of wide open space, large trees and shelter for shade, as well as picnic tables and even a waterhole to swim in! The great adventure playground features a flying fox and a rope play system. Get more information here
14.
Centenary Lakes Nature Play
A children's playground with a difference, the Nature Play space encourages children to interact with nature; to explore and learn about their surroundings. It integrates creative play elements with the natural lakeside environment. Features include dinosaur bones to uncover, ropes to climb, play huts to build, a fairy garden, rope climb, tunnels and a digging patch, as well as new pathways, bubblers, irrigation, signage and CCTV. You will get more information on this link
15.
Lake Eacham
A clear, blue lake surrounded by cool rainforest, Lake Eacham offers swimming, birdwatching, canoeing, picnic areas and shady walking tracks. It is a popular recreation area for locals and visitors. Find out more here
16.
Cairns Art Gallery
The Gallery initiates and presents an extensive exhibitions program comprised of up to 30 local, national and international exhibitions each year. These exhibitions provide tourist to the region with a unique insight into Australia and tropical North Queensland's art, history and culture. In addition, the experience is enriched by the opportunity to participate in public programs which offer educational and fun experiences such as artist talks, workshops, guided tours, and social events. Get more info here
These school holidays you can see:
Pattern & Print
Bird Encounters
Cairns Art Society
17. Kauri Creek Rainforest Walk
Taking a walk through the Kauri Creek Rainforest Walk will take you along the banks of Kauri Creek past strangler figs, lush rainforest and places of important local history. Before you join up to the old logging track make sure you dip your toes in the cooling and soothing waters of the Kauri Creek. You will find more information on this link
18.
Davies Creek National Park
Although Davies Creek National Park is located half an hour away from Cairns it's a great place to visit. There are amazing granite outcrops as well as some Aboriginal rock art which is well worth the drive. You'll also find Davies Creek Falls which is a magnificent waterfall that doesn't cease to amaze. Find out more here
19.
Storytime at your local library
From sessions for babies and toddlers, to story times for pre-schoolers, school holiday programs, homework and after school clubs, there's plenty for children of all ages at Cairns Libraries. Check out the details here
20. Josephine Falls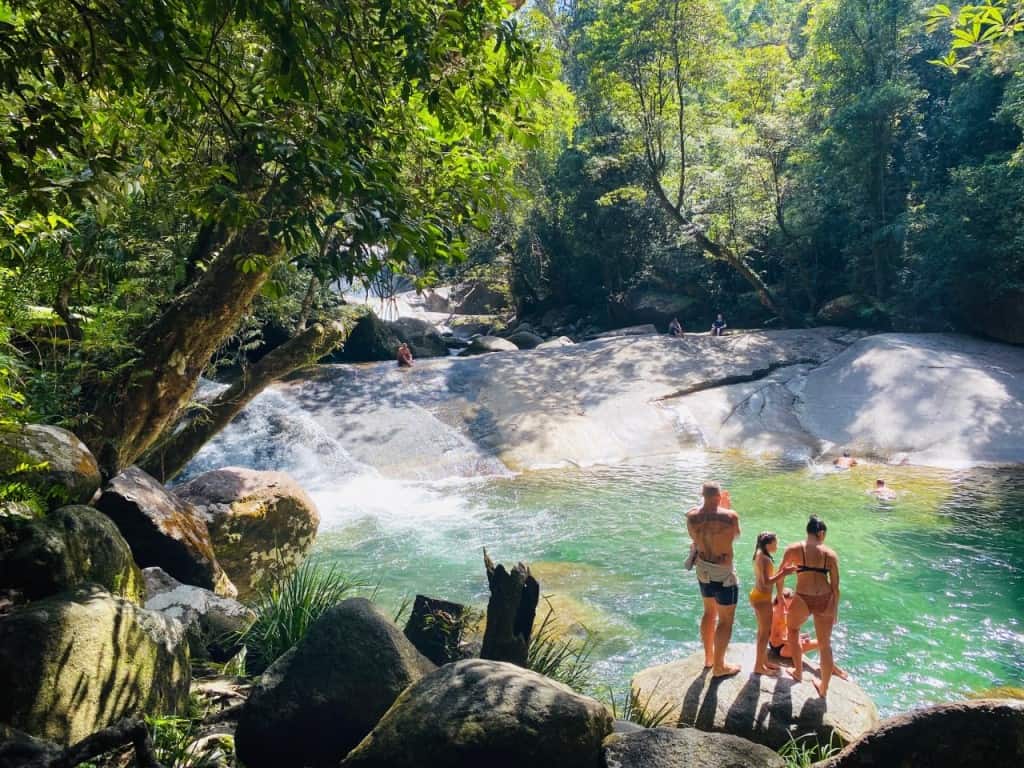 Josephine Falls is a scenic waterfall fed by the rains falling on Bartle Frere, Queensland's highest peak. The land is traditionally owned by the Noongyanbudda Ngadjon-jji people and is one of the most beautiful waterfalls in the stunning, Tropical North Queensland.
Read our full article about Josephine Falls from our visit here.
Cheap school holiday activities in Cairns with kids
School holidays do NOT have to break the bank, so as well as the free things that we listed above, these are some cheap things to do school holidays.
21. Birdworld Kuranda
Join the birds in their beautiful rainforest habitat. Flying around you are species from the vanishing rainforests of the world, including some of Australia's most precious and beautiful birds. There are brilliant Amazonian macaws, the endangered and stately cassowary, cheeky rainbow lorikeets, galahs, cockatoos and many more. Don't be surprised to find a feathered friend taking a ride on your shoulder!
Naturally landscaped with waterfalls, ponds, exotic and native plants, Birdworld replicates the natural habitats of almost 60 species that roam this unique rainforest immersion exhibit.
Buy your discounted Birdworld Kuranda tickets here – cheaper than buying direct! Click here
22.
Kuranda Koala Gardens
Situated in the heart of Kuranda, this attraction gives you the opportunity to see some of Australia's most unique wildlife up close. They have a variety of wildlife for you to see including koalas, crocodiles, kangaroos, wombats, snakes and other reptiles. There are lots of opportunities to check out koalas and you can also hold one. Check their website here.
Buy your discounted Kuranda Koala Gardens tickets here – cheaper than buying direct! Click here
23.
Australian Butterfly Sanctuary
The Australian Butterfly Sanctuary is the largest butterfly flight aviary and exhibit in the Southern Hemisphere. Located in the heart of Kuranda, only a short walk from Skyrail and the Kuranda Scenic Railway station, our sanctuary is home to over 1500 butterflies from a variety of species. See their website here
Buy your discounted Australian Butterfly Sanctuary tickets here – cheaper than buying direct! Click here
24.
Tobruk Memorial Pool
The facility offers members and guests a FINA approved 50m Olympic Pool, a 25m lap pool, a warm water therapy pool, a toddler splash area, a Flow Rider, Café, two function rooms and retail. The Tobruk Memorial Pool is by far the most exciting aquatic facility in North Queensland. Whether you're a future flowboarder, a young Ian Thorpe, an aqua aerobics lover or just looking to enjoy a good coffee; Tobruk Memorial Pool is a place where tourists and locals can come to socialise, train and enjoy state of the state-of-the-art facilities. Find out more here
25.
Cairns Museum
The Cairns Museum has amazing stories to share about living in the tropics. Stories of heat, sweat and hard work. Of cane, railways, rainforests and reefs. Of White Australia, Aboriginal resistance and European isolation. Tales of tourists, hippies and local celebrations, amidst humidity, cyclones, toads, mould and mozzies. Find out more here
You can get in cheaper to the Museum if you purchase a Explore Cairns pass – see the details here.
These school holidays you can see:
26.
Cairns Skating Centre
This is Cairns only skate venue and they do a great job. Sessions are fun and kids have a great time. They have open sessions, learn to skate, parties artistic skating and roller hockey. Find out more here.
27.
Starry Night Cinemas
This is an outdoor cinema that is part of the End Credits Film Club – a not for profit film club dedicated to developing independent screen culture in Cairns since 1999. Starry Night Cinema screens family classics, new family releases, cult classics and old time favourites. All cinema evenings have food trucks, a pop-corn stall and coffee van on-site. BYO meals is permitted to all cinema events. Films are screened throughout the 'dry' months of the year between May and December (all films are cancelled in the case of unfavourable weather).
28.
Bowling
Book a group into bowling and you will be surprised how affordable it can be! The whole family will enjoy a session, start a new family tradition!
BIG days out for the Summer school holidays
One or two BIG days out are sometimes a fun school holiday activity to create special memories with your kids. Here are our picks:
29.
Australian Armoury and Artillery Museum
The museum houses an impressive range of armoured vehicles from around the world, spanning back to the early 1800's with a particular focus on WWII. The vehicles are very well kept and an interesting look back in history. It is also exciting for any young kids with an interest in big cars, but still more suitable for adults. Find out more here.
These school holidays you can see:
30.
Kuranda Scenic Railway
Being one with the rainforest as you undertake an unforgettable journey is what makes Kuranda Scenic Railway such a must-do experience. This famous railway winds its way on a journey from Cairns to Kuranda, the village in the rainforest, with Freshwater situated along the line with views of the surrounding mountains. Rising from sea level to 328m, the journey to Kuranda passes spectacular waterfalls and into the stunning Barron Gorge.
The journey includes an English commentary and all passengers receive a commentary companion which includes information on the history of the railways construction, a trip map and a map of Kuranda. Find out more here.
Find the best train ticket for your family here.
31.
Skyrail Rainforest Cableway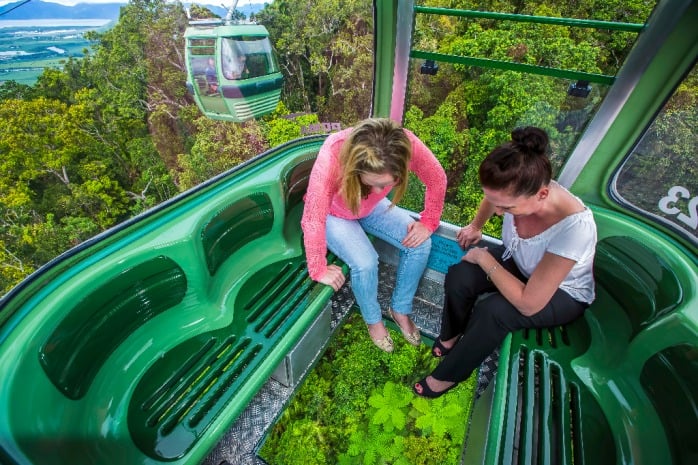 The iconic Skyrail experience is a must do Cairns attraction that provides a truly unique perspective of Australia's World Heritage listed tropical rainforest – immersing guests in the sights, sounds, smells and tranquillity in one of the most botanically fascinating areas on earth. Click here for more info.
We have tickets to Skyrail Rainforest Cableway – click here for tickets
32.
Rainforestation Wildlife Park
If you are looking for a great fun filled family friendly attraction near Cairns, then Kuranda Rainforestation Nature Park ticks all the right boxes. Take a 45-minute amphibious army duck tour through the rainforest and waterways, enjoy an Aboriginal cultural show and learn to use Aboriginal hunting tools, spend time with a wildlife ranger seeing and learning all about native Australian animals… and don't forget you can also get your picture taken holding a koala or a small crocodile. Get more information here.
Find out about the Rainforestation Day Trip here.
33.
Green Island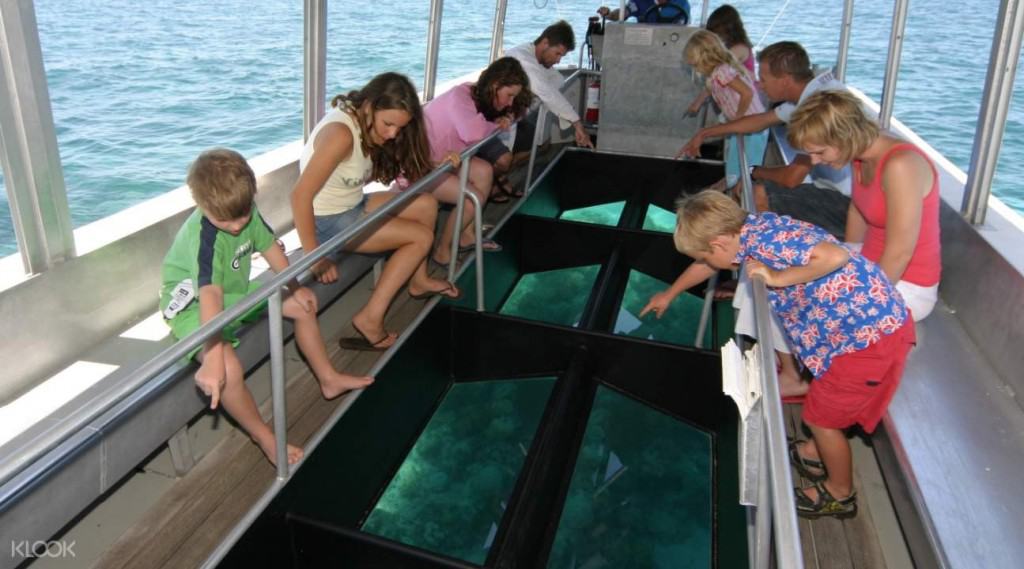 There are rainforest walking trails, sandy beaches, sheltered warm waters that are perfect for a paddle and offshore reefs for snorkelling on the pretty, rainforest covered coral cay. You'll also find helmet diving, scuba, parasailing and Marineland Melanesia, a curious combo of aquarium, museum and croc farm. This is an amazing day out with kids. Find out more about Green Island here
Check out these cheaper prices we found on Experience Oz – these are the cheapest tickets we know of – click here
34.
Glass Bottom Boat Tour
These are exactly what they sound like – a tour in a boat with a glass bottom so you can see the coral and fish below. They are perfect for kids that are too young to snorkel and fun when you are older too. Find out more here.
This is a great glass bottom boat tour too!
Seeing a crocodile in the wild is high on the list for many travellers visiting the Daintree, but they can be hard to spot amongst the mangroves. So the best way to see crocodiles is with a tour guide on a crocodile spotting cruise. Crocodiles and many of the wildlife living in the Daintree River and mangrove-lined inlets are actually very difficult to spot, which is why it is recommend to do a tour with a guide who can not only point out the wildlife but can also provide commentary and interesting facts. Find out more about the Daintree River Cruise here.
36.
Hartley's Crocodile Adventure
The park features a range of wildlife, but the best-known attraction is the salt water crocodile. The park is easy to explore with paths through the rainforest and woodlands immersed in local wildlife. The fauna is an interesting part of the park, and the wildlife presentations were all interesting and entertaining and make the park come alive. In addition to crocs there are snakes, cassowaries, koalas and kangaroos which you can get up close to and feed. This is also the chance to get a photo with a koala. Find out more here.
These tickets to Hartleys Crocodile Adventure is cheaper than buying direct! You can choose to buy tickets individually or choose the family option saving over $16 – click here
37.
Cairns Aquarium
As the only aquarium in the world dedicated exclusively to the habitats and species of tropical North Queensland, the Cairns Aquarium connects visitors with the natural wonders of The Great Barrier Reef, The Wet Tropics, The Gulf Savannah and Cape York regions. With over 16,000 animals and unique opportunities to move up close to some of the world's most fascinating, elusive or deadly creatures, every visit is unforgettable. Click here for more.
We have discounted tickets to the Cairns Aquarium – cheaper than front gate entry – click here for cheaper tickets
38.
Tjapukai Aboriginal Cultural Park –
permanently closed
Tjapukai Aboriginal Cultural Park is located in Smithfield at the base of the Skyrail cableway, showcases the 40,000-year-old Aboriginal culture through dance and song. It is both an entertaining spectacle, and an educational experience for everyone. The park is set on 25 acres and combines the latest in theatre and technology. There are interactive tours and activities with Aboriginal people who teach authentic traditional culture and customs.
Children's shows in Cairns
If you are looking for school holiday entertainment Cairns style, why not a kids show or kids concert!? Here's what's on for Cairns kids this December/January in terms of kids live shows:
39. Cairns Performing Arts Centre
Enjoy the newest releases on the big stage with your family this Summer. This theatre is family friendly, with shows to be enjoyed by the kids and adults! Their events guide is updated regularly so keep an eye on what's coming up.
Find out what's showing these holidays
More school holiday ideas in Cairns, Kuranda and Cape Trib
If you are travelling in far north Queensland and you are looking for other school holiday ideas, we have compiled detailed, up to date lists here:
More things to do in Cairns with kids
Things to do in Kuranda with kids
Things to do in Cape Tribulation with kids
RELATED: If you're thinking about Great Keppel Island, click here to find out EVERYTHING you can do there!