Let's face it, finding things to do with teenagers on the Gold Coast, QLD can be TOUGH! Do you spend your time googling 'activities for teens near me'? Teenagers are at the age when they know everything and do NOT like being told what to do. But don't despair, we have got a whole list of fun activities for teens that we know they will love.
Now you might just want the kids to go and walk the dog, which isn't a bad idea, but trust me – these are way cooler. For more kid-friendly activities, check out out list of the best things to do on the Gold Coast with kids.
The Gold Coast is a playground of activities for teenagers. In addition to beautiful weather, there are perfect beaches, incredible theme parks and a heap of school holiday activities for teens on the Gold Coast. Plus, we know where to get the best and discounted tickets to a truckload of things to do when bored for teens.
Take a look at our list of activities for teens. No matter the weather (or the mood of your kid!) there are fun things for teens to do every day of the week. So parents, sit back and relax as we have teens activities on the Gold Coast sorted!
Fun activities for teens
In this article we have divided up this list of things to do with teenagers into sections to help you find the most suitable teens activities:
Activities for younger teens on the Gold Coast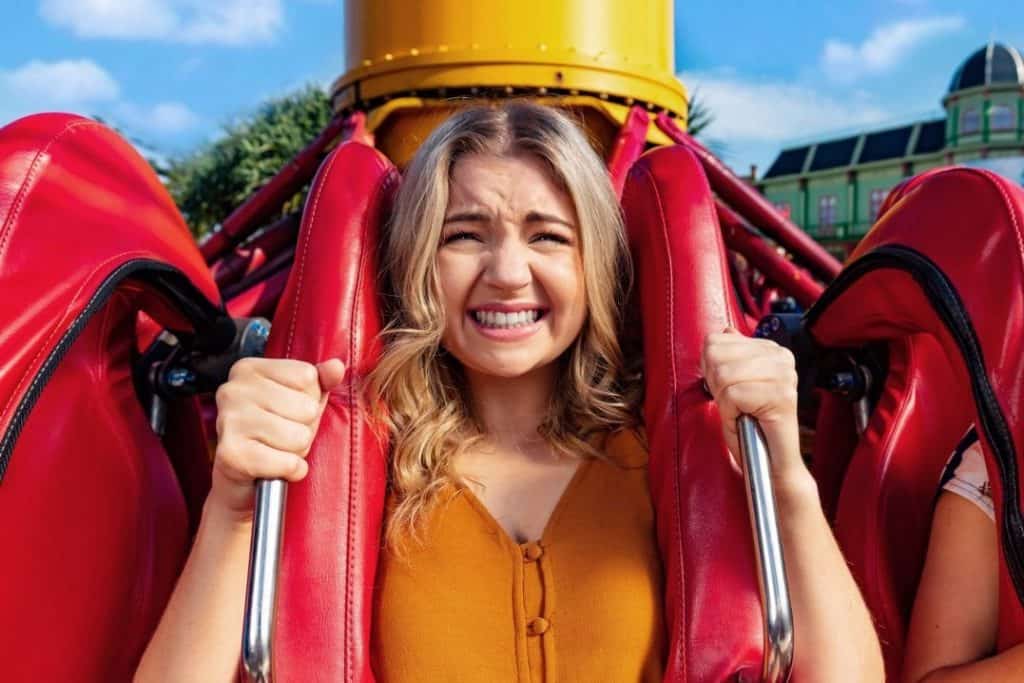 These are what we think are the BEST activities for younger teens on the Gold Coast, from theme parks to indoor skydiving, this section has everything!
1. Gold Coast Aqua Park
Get wet at the Gold Coast's only inflatable water park. Jump, climb and slide your way around 300m of inflatable obstacles. The Gold Coast Aqua Park is full of fun summer activities for teenagers (and let's face it, all year round on the Gold Coast) and a great place for them to meet their friends.
Click here for the Gold Coast Aqua Park website.
2. Dreamworld and WhiteWater World
One of the ultimate water parks you can ever visit is WhiteWater World. Conveniently located within the Dreamworld theme park on the Gold Coast Highway, teens can experience epic slides, splash pools and tipping buckets. This is one of the best fun things to do in the summer for teens.
Read more about WhiteWater World here.
3. Bonogin Valley Horse Retreat
Enjoy a day with some majestic creatures at the Bonogin Valley Horse Retreat. Whether you are an experienced rider or looking to learn, there are lessons for all age and experience levels. Spending time with animals can be one of the many mindfulness activities for teenagers to help them whatever is going on in their life.
Find out more about the horse riding these holidays.
Take a look at other horse riding places on the Gold Coast here.
4. Snorkel Tallebudgera Creek
If your bored teen loves the water, bring them snorkelling at Tallebudgera Creek. See turtles, fish and crabs occasionally dolphins in this beautiful creek or maybe they prefer to go kayaking or paddle boarding. This is one of the great free activities for teenagers and with the perfect Gold Coast weather, you can go almost all year round. Tip: There can be strong currents so only swim at the top of the tide.
Find out more about Tallebudgera Creek.
5. Infinity Attraction
Journey into a futuristic, maze-like world of wonder. Be transported into another dimension filled with unique special effects, atmospheric sound fields, ultra-groovy music and illusions that appear to go all the way to – Infinity.
Read about Infinity Attraction here.
Grab your tickets here for these school holidays.
6. Art Vo
Get inside art at this truly unique experience at this 'trick-art' gallery. Conveniently located in Robina Town Centre, this is one of the fun group activities for teenagers available on the Gold Coast. Bring your camera to pose on the side of a cliff, surfing or next to a wild animal, and walk away with some great Instagrammable shots.
7. iFLY Indoor Skydiving Gold Coast
Get their adrenalin pumping these school holidays by doing some indoor skydiving! iFLY lets you re-enact the experience of a skydive from 14,000 from the 360° glass tunnel. The glass tunnel also means that friends can come along and watch – and get the ultimate photo.
Check out the iFLY website here.
Grab your discount voucher here.
8. Australian Outback Spectacular
This spectacular live show features actions, animals and some amazing lights and immersive technology. Take a journey through the outback and feel like you are part of the action. Conveniently located just 20 minutes north of Surfers Paradise, the venue has been carefully themed to look exactly like it is in the Australian outback. Also part of the night is 3 course meal – yum! Tip: This is a fun thing to do with your teenage daughter or son for a night out.
Grab dinner and show tickets here.
9. Dracula's Cabaret
This is a great activity for young adults. More mature teens (15+) can enjoy a dramatic night out at Dracula's Cabaret. The night features comedy, cabaret, music, dance and much more. Add to the experience by enjoying dinner and then ride the ghost train. Tip: The show includes adult concepts and themes. Make sure this is suitable for your teen.
Purchase tickets before you go.
10. Illusions Magic Show
While the Gold Coast offers great things to do with teenage kids, this show has to be one of the coolest. Grand Las Vegas style illusions are on show at this impressive magic show. Held at Sanctuary Cove, witness the impossible like levitation, sawing people in half and other incredible illusions. Add on dinner and make a night of it.
Activities for older teens on the Gold Coast
These are what we think are the BEST activities for older teens on the Gold Coast, from theme parks to hot air balloon rides, this section has everything!
11. Village Roadshow theme parks
A great school holiday activity for teens is the Village Roadshow theme parks.
The Gold Coast is well known for theme parks and a holiday on the Gold Coast isn't really a holiday without a visit to at least one of them! Learn about our oceans and sea life at Seaworld, experience the Hollywood life at Movie World or just have a splashing good day out at Wet and Wild. All have some amazing rides and experiences. Choose your favourite – or visit all three – these school holidays.
Take a look at the website to find out more.
Grab a discounted ticket to all three parks here.
12. Gold Coast Hinterland Treetop Challenge
If you are looking for some adventure these school holidays, the visit Gold Coast's Tamborine Mountain for a rainforest adventure with high ropes, flying foxes and over 85 individual challenges, a great range of recreational activities for teenagers.
See what you can do at the Treetop Challenge.
13. Jet boat ride
Get their adrenalin pumping with the thrill and excitement of a jetboat ride. Jet boats do 360 ° spins, high speed drifting and heap of other manoeuvres in as little as 10cm of water. Racing along the Broadwater your teen will have no excuse not to love this heart stopping activity.
Visit Paradise Jet Boating online here.
Save time and get your tickets before you go.
14. Skypoint day climb
If your kid is driving you to climb the walls, send them to the Q1 climb. Scaling the Skypoint Tower this climb takes you to 270m above sea level This is a great activity for young adults or even families to do together – maybe it will give your teen a new perspective (literally!) on their day.
Find out about the Skypoint climb.
Get daytime or twilight climb tickets here.
15. V8 Supercar laps
This is a wonderful indoor activity perfect for a rainy day. The ultimate adrenaline seeking boredom busting activity has to be doing hot laps in a V8 Supercar. Teenagers 14 years and above can strap themselves in and experience what Supercars are really made of. Choose between Holden or Ford and get set for an once in a lifetime experience.
Find out about doing hot laps here.
Book your V8 Supercar experience here.
16. Gold Coast hot air balloon ride
Take to the skies on a majestic hot air balloon journey. Experience true 360° views of the Gold Coast and it's hinterland. A perfect opportunity to spend some quality time with your kids – just make sure they are prepared for the early start!
Find out about the discount offer here.
17. Gold Coast Indoor Go Karting and Activity Centre
Visit the Gold Coast's largest indoor family entertainment centre and find something for everyone. Inside you will find go karting, adventure rock climbing, the challenging leap of faith experience, super hi tech lazer tag, indoor zip coaster, GO-VR experiences and more.
18. Zero Latency
Rainy day activities for teenagers don't have to be boring – Zero Latency makes sure of it! Featuring wireless virtual reality gaming teenagers can roam free through virtual universes. Using the latest virtual reality technology this is truly one of the cool things for teens to do on the Gold Coast.
Click here to read up on Zero Latency.
19. Gold Coast Wax Museum
Located in the heart of Surfers Paradise, this unique museum is home to the largest collection of wax figurines in the Southern Hemisphere. Musicians, celebrities, sporting stars and celebrities have been immortalised in wax for all to enjoy. Teens can also walk through the chamber of horrors or take a look at replicas of the crown jewels. Easily accessible via public transport, this is a fun thing to do with friends for teens.
20. Padlock'd Escape Rooms
If you are looking for team building activities for teens, then look no further than Padlock'd Escape Rooms. Take part in a museum heist, escape from an abandoned carnival or much more at these unique and challenging escape rooms. Teams of up to 6 people must work together to solve the problem and ultimately, escape! Choose from 10 rooms over 2 locations to escape from.
Click here for the Padlock'd experience.
There are so many things to do with teenage kids on the Gold Coast that we could go on forever. Instead, make sure you take a look at all the other activities for teens here (and get your tickets in the same place!)
Fun things to do at home for teens
When your kids can't get out and about, finding activities for teens at home can become a full time job. Because we know everyone is different, we have compiled a heap of entertaining and interesting activities, including art ideas for teens. This list of stuff to do for teens to do at home is about to elevate your level of parental coolness!
21. How to draw cool things drawing guide
Looking for art activities for teens? Learn to draw cool stuff with this awesome book 'How to draw cool things'. It contains step-by-step instructions that will suit even a very beginner. Optical illusions, 3D letters, cartoons are just some of the things they can learn to draw.
22. Be a rubber band engineer
Got teens that love to tinker? This book will teach them (step-by-step) to create their very own rubber band launchers and gadgets. You will never believe what they can make with just a rubber band and the ideas between the pages. Plus, it will keep them out of your hair!
23. Get procrastibaking
Tired of looking for outside activities for teenagers? Then send them into the kitchen to have some fun. Not only will they love these recipes, but they will (hopefully!) end up with something delicious to show for it. Filled with 100 non-boring recipes, there is sure to be something they want to make.
24. Non boring board games
Put away the boring board games for teenagers and take a look at these. Challenging, creative, hilarious or even straight up ridiculous, these games will have them putting down their devices and actually enjoying themselves. It even includes some team building games for teens.
Get playing with these board games.
25. Learn how to ride a hoverboard
If they want to impress, encourage your kids to learn how to ride a hoverboard. Imagine showing up to school or sport on one of these. It even has built in speakers, so they don't even have to turn off their music to ride. Ride into the future on one of these hoverboards.
26. An escape room in a book
Get involved in a mystery without even leaving the comfort of home with this unique book. With just 60 minutes to escape from a labyrinth, you must take on the challenges, solve mysteries and clues to finish the book. Perfect to entertain teens that love to read or those that love a good mystery.
27. Put your time to good use
With a lot of time to kill during school holidays, reading any of these books is a great way for teens to learn how to put their time to good use. This selection includes books on becoming more efficient, techniques to increase their level of happiness and even confidence building books like 'What's my super power'. Perfect for those that are looking to learn more about themselves or just read a good book on a rainy day.
Check out this selection of books on highly effective teens.
28. Master a remote controlled car
Take a look at this selection of the latest, greatest and quirkiest of remote control cars and vehicles. Racing cars, 4WD's, mini coopers and heavy machinery vehicles are just some of the vehicles you can control. You can even build your own from Lego! Some can even be used on grass so your teen can take them (and themselves!) outside for a bit.
29. Fun things to do when stuck at home
Finding fun things for teens to do at home doesn't have to be hard. In fact, this book makes it easy and interesting in a quirky way. This book is full of things for teens to do when bored.
Read up on things for teens to do here.
30. Fly a drone
What could be cooler than spending a day flying a drone! Teens will love getting off the couch to spend time in the backyard when they have a drone to play with. From a basic model to something much more sophisticated (some with handheld screens), teens will be sure to find a drone that is cool enough for them.
Fun activities for teens on the Gold Coast
While it can be almost impossible to find things to do for teens that they will 100% love, we think our activities for teenagers to do is pretty impressive, and not at all lame! Try it out with your teenager and let us know what they think. We are quietly confident!
Looking for more family friendly Gold Coast information?
Things to do on the Gold Coast with kids
We write about restaurants on the Gold Coast suitable for kids
Celebrating with kids on the Gold Coast?
You can find all our Queensland content here