Did you just google 'Trampoline Park Near Me?" or maybe "Trampoline Parks in Sydney?". This is the place to be if you're looking for all the places you can go trampolining Sydney, NSW.
Are you looking for the BEST trampoline park Sydney has to offer kids? Or did maybe an indoor trampoline park near me ? Well, you are in luck because you've come to the right place!
Our up to date article will give you the best list of kids trampoline parks in Sydney. We will also give you all the details of each indoor trampoline park and why we think it is a great trampoline place for kids in Sydney!
Once you have read our article you can get your bounce on at your nearest indoor trampoline park Sydney style! We even have added which venues offer a trampoline discount so you never have to pay full price!
Offering children an entertaining means of escaping the house and undergoing enjoyable physical activity, indoor trampoline parks in Sydney prove to be an out of this world trampoline adventure that is exciting and healthy for the entire family. Not only can these indoor trampoline parks in Sydney encourage regular fitness, but they can also be a fresh activity for the kids to experience.
Check out all rainy day activities in Sydney here.
Cheap trampoline parks Sydney
That's a winning combination. To top it off, the entire endeavour is much more affordable than you'd think. With the variety of discount trampoline parks in Sydney, the trip can be quite achievable for families. With these indoor trampoline Sydney discounts that we have found for you, these Sydney trampoline parks can be easy on your wallet too!
Trampoline places in Sydney
If you're thinking about taking the children out to one of your nearby kids trampoline park, here are the best trampoline places Sydney has for your family to consider.
Trampolining Sydney style…. here we go…
1. Ultimate Family Entertainment Centre
The Ultimate Family Entertainment Centre, this trampoline park in Northmead is the perfect spot for an exciting family day out. The venue has over 60 interconnecting trampolines spread across 800 square metres, including two basketball hoops, a foam pit, a climbing wall, and much more.
If you're up to the challenge, grab a few friends and play some trampoline dodgeball. Aside from trampolines, the centre also offers dodgem cars, a slip and slide, and a play centre for children under 5 years.
Address: 5/1B Redbank Rd, Northmead NSW 2152
Website: Ultimate Family Entertainment Centre
2. Flymotion
Bring the trampolining adventure to you with Flymotion. Make your way over to the action zone, offering a variety of inflatables and sensory activities for kids aged 1 to 10 years. Children must be wearing socks to play – they are available for purchase. Flymotion can be found at The Entertainment Quarter in Moore Park on weekends from 10 am, as well as Wednesdays, depending on weather conditions.
Address: 102 Edinburgh Road, NSW 2204, Marrickville NSW 2042
Website: Flymotion
3. Flip Out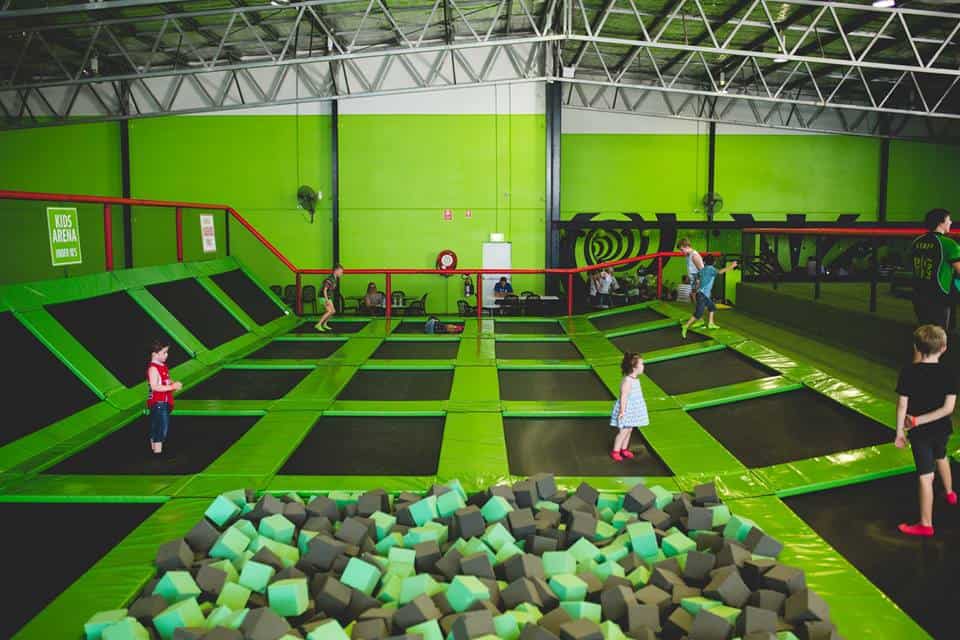 Flip Out offers an extensive trampoline park, all accompanied by thrilling activities, for the entire family to enjoy. Along with the facility's main jumping arena, Flip Out also includes an exclusive jumping area for kids under 8 years of age, a foam pit, and wall running equipment. A children's playgroup is also available to let parents recharge. Not to mention, the venue also has a cafe to enjoy. The best part?
Flip Out is also air-conditioned, making for comfortable bouncing all year round. If you're looking for some lessons to help get the kids active, Flip Out also hosts a Little Ninja program. The program is aimed towards developing agility, coordination, and aerial awareness.
Get your discounted tickets here!
Address: Multiple Locations
Website: Flip Out
4. Gravity X Indoor Trampoline Park
The Gravity X Indoor Trampoline Park offers a vast collection of activities and attractions for the entire family to enjoy. Stop by this Sydney trampoline park with a Free Jump Space, bounce across the trampolines and leap from wall to wall. Their Big Air Bag also offers kids the opportunity to effortlessly and safely soar throughout the air with a soft landing ensured. If children are up to the challenge, they can also grab a few of their friends and head to the Games Space.
They can enjoy a match of dodgeball or show off their slam-dunking skills. The venue is also very accommodating for younger kids, offering a Junior Trampoline Space exclusively for kids aged from 3 to 8 years. Alternatively, children aged 3 to 5 years can explore the Little Astronauts playground.
For parents needing a moment to recharge, head over to the Infinity Cafe for hot and cold food, sweet treats, pastries, ice creams, and cold drinks.
Address: 18 Bradmill Ave, Rutherford NSW 2320
Website: Gravity X Indoor Trampoline Park
5. JUMPd Sydney
JUMPd Sydney is one of the best trampoline parks on offer in Sydney! Home to a number of activities, including jumping, ninja xtreme, parties and school programs, JUMPd is not a trampoline park to miss! Next time you're looking for a trampoline park Sydney to visit with your family, we recommend giving JUMPd a leaping chance!
Address: 10 Short St, Brookvale NSW 2100
Website: JUMPd Sydney
Trampoline Parks in Sydney
Did we list your favourite? Where are your favourite trampoline parks NSW style?
Want to BUY your own trampoline in Sydney for $499? Check out this one! Click here.
Looking for more things to do in Sydney with kids?
Celebrating with kids in Sydney?
More great articles in New South Wales
If you are looking for more things to do with kids in New South Wales click here.