Did you just google, "what to do in Agnes Waters", or maybe "things to do 1770". I know I've done that before.
Recently we took a road trip up the coast of Queensland, Australia and visited Agnes Water and the town of 1770. Because we were travelling with kids, we have compiled a list of literally all the best things to do in Agnes Waters and 1770 with kids.
Before we start, let us say that the town is called Agnes Water (there is no *s* on Agnes Water(s)) and 1770 can also be written as Seventeen Seventy.
Agnes Water weather is idyllic. Pretty much all year round you will enjoy sunny and warm weather. We were there in mid-winter. The days were around mid-20's, the nights never got into single digits. The summer is warmer… much warmer, so you are going to need your suncream and a hat and lots of water to drink.
On our visit we were keen to do ALL THE THINGS so we could report back to you about this gorgeous part of the Queensland Coast. We left no stone un-turned, no beach un-visited, no path un-walked and no sunset un-photographed.
It was hard… jokes, it really wasn't – it was super easy. If you have never been to this beautiful part of the Queensland coast, do yourself a massive favour and get it on your bucket list right now. This place is stunning and NOW is the best time to visit with your family.
Brief history of Agnes Water & 1770
Originally, Agnes Water was the home of the Meerooni tribe, whom form the southern part of the Gurag nation. The town of Agnes Water claims its European name from pastoral holding, first leased by Daniel Clowes, (1883). Daniel named the town after his coastal schooner Agnes, which was lost at sea.
Seventy Seventy, is a coastal town located in the Gladstone Region, Queensland, Australia. 1770 was built on the site of the second landing (after Botany Bay) in Australia by James Cook and the crew of the HM Bark Endeavour in May 1770. This was also their first landing in the state now known as Queensland.
Getting to Agnes Water & 1770
It is about 480kms and 5 and a half hours north from Brisbane to Agnes Water. You can also catch a bus but this takes about 10 hours.
Things to do in 1770 and Agnes Waters
To help families figure out the best things for them to do when visiting these two sleepy, but fun seaside towns, we have broken our list into 4 sections:
Adventurous activities & tours
Nature & beaches
Playgrounds, parks and bike/scooter paths
Places to eat with kids
We have also included our favourite family friendly places to stay in Agnes Waters and 1770 at the bottom of this article to help you make an informed decision.
Adventurous activities & tours
There are so many tours you can participate in the next time you visit Agnes Water. We've compiled a list of some of the best tours you can enjoy.
Experience the LARC
The LARC (Lighter Amphibious Resupply Cargo) is a wonderful way to explore the ocean and surrounding islands of 1770. There are many different tours you can take, but we recommend the 1 hour sunset tour. Experience the delights of the Town of 1770. Take in the magic of Round Hill Creek and Eurimbula coastline with their wildlife and magnificent views.
Address: 535 Captain Cook Dr, Seventeen Seventy QLD 4677
Ph: (07) 4974 9422
Website: 1770 Larc Tours
Lazy Lizard Surf School
Lazy Lizard Surf School specializes in small groups and private surf lessons to give their students a personalized experience, and have them soaring as many waves as possible. Whether you're after a one-on-one lesson, or a fun filled activity for your family or group of friends, Lazy Lizard has got you covered.
Address: 23 Jeffery Ct, Agnes Water QLD 4677
Ph: (07) 0488 177 000
Website: Lazy Lizard Surf School
Kanga e-Bike Tours
If your kids are on the older side, a Kanga e-Bike tour would be perfect! The bikes are large, so if you're short, we don't recommend them. If you are tall enough though, these bikes are so much fun for the whole family. We rode down to the Paperbark Trail, and then around 1770.
Address: 1 Coral Ave Agnes Water and 1770, Agnes Water QLD 4677
Ph: (07) 0418 668 851
Website: Click here
Markets, markets and more markets…
Agnes Water is full of markets for your family to explore. We found 2 different markets that operate at all different times. We have compiled them into a list below.
Reef Caravan Park Markets:
Location: Reef Caravan Park
When: Saturdays 8am-12pm
Discovery Coast Rotary Markets:
Location: Captain Cook Drive, Agnes Water, 1770
When: Every 2nd and 4th Sunday of the month and every Sunday during school holidays & long weekends.
Nature & beaches
You can't say you visited Agnes Water, without seeing one of these amazing natural wonders!
Walk the Paperbark Trail & forest boardwalk
Beautiful, stunning and gorgeous do not even come close to describing the Paperbark Trail. Prepare to have your breath taken away as you walk through this majestic forest.
The trail might be only 400 metres long, but it's an exciting walk with stepping stones, boardwalk sections and water crossings in this much loved wet area where frogs thrive. Get the kids to play park ranger on this fun walk and try to spot the friarbirds, flying foxes and lorikeets in this enchanted paperbark forest.
A picnic table at the start/finish of the walk makes a great spot for a cuppa and the walk is open to the public all year round (safety permitting).
Red Rock walking trail
Directly across the road from the Paperbark Trail is the entrance to the Red Rock walking trail. There is no information at the entrance, so here is what you need to know!
From the entrance you can drive (or walk) down to the car-park nearer the beach. Park up here (remember to lock up your car!) and walk along the boardwalk to the beach. It is a reasonable steep decline long the boardwalk so bear that in mind as you return – you will be walking UP it! When you get to the beach turn right.
Getting to Red Rock will take a good hour of walking or several hours if you wish to stop, view the scenery or take a swim. Keep your eyes open for turtles and a dolphins, migrating whales and nesting turtles!
See the sunset at 1770
If you are looking for an Instagram worthy photo to tease your friends, then you can't miss the sunset at 1770. Any of the beaches along the 1770 stretch of the coast is a perfect spot to watch the sunset. There are no bad views here! Head to the 1770 marina and just pick a beach!
Get Out With Kids Tip: Get to the beach 20-30 mins before sunset to make sure you get a perfect spot.
Agnes Water Main Beach
The Agnes Water Main Beach is a wonderful spot you can visit with your family. If you don't mind waking up early, Agnes Water Main Beach is also a wonderful spot to see the sunrise.
Playgrounds, parks and bike/scooter paths
"Agnes Waters things to do" is probably something you just googled, so here is your answer. Agnes Waters and 1770 are home many different playgrounds you can visit with your family. There are also many different walking/cycling paths around 1770 too.
Agnes Water skate park
The Agnes Water Skate Park is a great park to visit if your kids bought their scooter or bicycle with them to Agnes Water. There is also a playground next to the skate park.
Agnes Water Skate Park Code of Conduct
Use Skate Park at own risk
Skate to your limits
Fair go for all users
Use only in daylight hours
Wear protective gear and helmets
Keep noise down
NO ALCOHOL in Skate Park area
No fires
Look after your safety of others
Captain Cook Drive
Captain Cook Drive has a wonderful bike/scooter path you can explore the next time you visit Agnes Water. The path starts at the shops in Agnes Water, and ends at the marina in 1770. We rode our electric bikes along this path and loved it! It takes around 45 minutes on scooters, and probably about 30 minutes by bicycle.
Tom Jeffery Playground
The Tom Jeffery Playground is a wonderful playground down at the main beach of Agnes Water. You will find it if you drive down Agnes Street – at the very end in Jeffery Court. Kids will love the swings and slides at this playground. It's also right next to the toilets, BBQ areas, picnic tables and cafe. You will be spoiled for choice at this playground.
The best places to eat with kids in Agnes Waters and 1770
1770 and Agnes Water are full of places to eat including cafes, restaurants and pubs. Pretty much all of them are suitable for families.
Agnes Waters Beach Club
The Agnes Water Beach Club is located at the very heart of Agnes Water. The Beach Club is ideally positioned close to shops and cafes, as well as being only 350m away from the patrolled beach.
Address: 3 Agnes Street, Agnes Water QLD 4677
Ph: (07) 4974 7355
Website: Agnes Water Beach Club
Agnes Waters Tavern
The Agnes Water Tavern is a relaxed place for families to eat in Agnes Water. The variety of meals taste so good, and the staff were super friendly. Over all, this was a wonderful experience, and we think you would love it to.
Address: 1 Tavern Road, Agnes Water QLD 4677
Ph: (07) 4974 9469
Website: Agnes Water Tavern
Best pizzas in Agnes Waters
The Caltex at Agnes Water is a delightful surprise, and will sell you some of the best pizza you've ever eaten. We ordered 1 large pizza for 4 people and we could not finish it. The pizza is reasonably priced, and very tasty.
Address: 1 Round Hill Road Cnr, Captain Cook Drive, Agnes Water QLD 4677
Ph: (07) 4974 9166
Website: Visit their Facebook page here.
Getaway Cafe
The Getaway Cafe in Agnes Water is an amazing restaurant to visit with your family when you're next in town. The cafe serves a wide variety of cakes, along with some spectacular meals. We highly recommend you visit this cafe the next time you're in Agnes Water.
Address: 303 Bicentennial Drive, Agnes Water QLD 4677
Ph: (07) 4974 9323
Website: Getaway Cafe
Best fish & chips in 1770
The 1770 Marina Cafe is easily the best place to get fish and chips locally. Grab your meal of choice and take it out to the beach (or sit at one of their tables)…. and admire the view of the water.
Address: 535 Captain Cook Dr, Seventeen Seventy QLD 4677
Ph: (07) 4974 9227
Website: You can visit their Facebook page here.
Family friendly accommodation in Agnes Waters & 1770
If you just googled "1770 caravan park", or "cheap accommodation Agnes Waters", this part of our article is for you. Agnes Waters accommodation varies from cheap and cheerful, to luxurious and lush. Whether you are looking for Agnes Waters holiday parks, hostels, hotels, resorts or something else, we have covered the range suitable for families in our accommodation guide.
Agnes Waters Caravan Park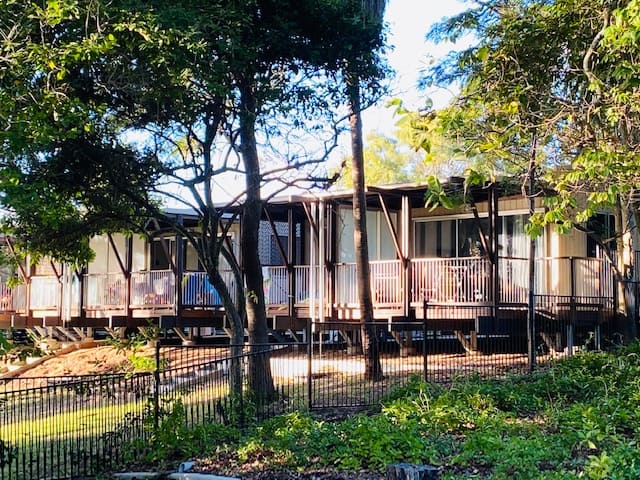 Also known at the Agnes Water Beach Holidays, the Agnes Waters Caravan Park is an amazing place for families to stay in Agnes Water. With absolute beachfront, you can just stroll down to the water in the morning.
Find out more about the Agnes Water Caravan Parks and book here.
Captain Cook Holiday Village
Captain Cook Holiday Village, a caravan park in 1770 QLD, was designed with accommodation to suit everyone. It has self-contained cabins, villas, bungalows, powered sites and campsites scattered over two-and-a-half hectares. Cabins have full-kitchen facilities, ceiling fans, air conditioning and ensuite facilities.
Find out more about Captain Cook Holiday Village and book here.
The Summit 1770
If you're traveling with a dog and need somewhere to stay in 1770, we recommend the Summit. This lush accommodation will give you everything you need for your pup. Yes, you read that right, this is dog friendly accommodation Agnes Waters. Each cottage sleeps 2 people, with a fully equipped kitchen, a lounge area and a private deck.
Find out more about The Summit 1770 camping and book here.
Things to do in Agnes Water and 1770 with kids
There you have it. That is our list of the best things you can do in Agnes Water and 1770 with kids. We hope you found a few things to do with your family. If there is anything else you think I should add, let us know.
Looking for something else to do near Agnes Water and 1770? Click here to find out everything to do in Bundaberg with kids.