Woodgate Beach is a coastal town in the locality of Woodgate in the Bundaberg Region, Queensland, Australia. We recently visited and enjoyed almost the entirety of this 16km long beach so we could report back to you!
We have made a list of everything to do there, so you can have as much fun as we did.
Brief history of Woodgate Beach
The traditional owners of Woodgate are the Kabi Kabi people, and the local tribe was the Dundaburra tribe. These custodians have cared for the land and water in and around Woodgate for the last 50,000 years.
Woodgate Beach is located about 4 hours north of Brisbane, and was first named Ascot, by Charles West. It was later renamed Westgate, but changed to Woodgate, after Thomas Wood, an early resident. Woodgate Beach was a coastal watering place for residents of Childers, the surrounding Isis Shire and Bundaberg.
So, what IS there to do at Woodgate beach with kids? I am so glad you asked!
Woodgate Banksia walking track
Woodgate Banksia Walking Track is a wonderful walking track in Woodgate. The walk is roughly 5km and has some boardwalk paths, although most of the track is on hard pressed dirt or sand. If you are thinking of taking a pram with good tyres or the kids want to ride their bikes, that would be ok. We don't suggest a light weight pram or inexperienced/very young bicycle rider. We also made our kids leave their scooters behind.
The full circuit takes about 1 and a half hours to complete. You might want to rethink this track if it has been raining heavily because 1) mosquitoes and 2) the track gets flooded.
Creek swimming at Theodolite
Theodolite creek is a great place to swim with smaller kids in Woodgate. There is also a nice walk around the sand dunes when the tide is out. We recommend checking the tide times, as the creek is a lot more enjoyable when the tide is out. We watched kids doing stand-up paddle boarding here as well as fishing and swimming.
Bushwalking at Burrum Coast National Park
Burrum Coast National Park is a spectacular walking track near to Woodgate. There are many different paths you can take and most will take 1-2 hours, but there is something for everyone, from Russell's rest track (10 mins) to Melaleuca track (4.5 hours). You can find out everything you need to know here.
Woodgate Beach Path
There is a lovely path along the Woodgate Beachfront that is highly accessible to prams, scooters, skateboards, bikes and everything in between. The path goes all the way along the Esplanade, and even further in both directions. We didn't manage to ride the whole thing, but the kids loved it, and you could stop for a swim on the beach if you wanted to.
Picnic along the beachfront
There are so many places you can visit to have a picnic on the Woodgate beachfront. There are benches scattered along the beach path, and some have shade covers over them too. The kids loved being so close to the beach as we ate, and then ran back into the sea as soon as they finished.
Get Out with Kids Tip: Look for the amenities block across the road from the local convenience store and grab a salted caramel ice-cream cone after your swim.
Fishing at Woodgate Beach
There are many different places you can fish in Woodgate but we recommend you visit Theodolite Creek.
Theodolite Creek
We saw so many people fishing at Theodolite Creek, and we saw heaps of fish in the water too. Kids will enjoy running around in the shallow water while the fishing gear is being set up, and then everyone will enjoy the actual fishing, because, it's fishing.
Fishing along Woodgate Beach
We also saw people fishing along Woodgate Beach, and loads of fish too. The waves were really large along the Esplanade though, so we recommend you try somewhere calmer.
Get Out with Kids Tip: the closer you get to Theodolite Creak, the calmer the water.
Bird watching
We saw so may birds flying around Woodgate, and I'm sure there would be more if you knew what you were doing. We saw heaps of Pelicans and Blue-faced Honeyeaters (we thought they were called Blue-faced custard throwers, so that really shows how much we know about birds). We also saw paired Plovers that were quite cheeky as well as magpies, kookaburras and mickey birds.
Kangaroo spotting
The best time to go Kangaroo spotting at Woodgate Beach, is dawn or dusk, as that is when the roos are most active. There is no location where the Kangaroos are most likely to be spotted, other than around the bushes. On our four night stay we saw 10 roos as we were driving or walking around, so we recommend staying where you saw some, being quiet and hoping there are more.
Whale watching
During late Autumn and late Spring, the locals of Woodgate tell us that you can sometimes see whales from Woodgate Beach. We didn't visit in the right season, but one of the locals showed us pictures, we couldn't believe they saw the beautiful mammals right off the Woodgate Beach.
Build a sandcastle
Woodgate Beach is a pretty cool spot to build a sandcastle. Until the tide starts coming in, then your majestic castle will turn into majestic soup. But hey, all good things must come to end. The sand can be fairly shelly though, so you might hurt your hands a little.
Hunt for sand dollars at low tide
At low-tide, you can find so many sand dollars at Woodgate Beach. (We only found broken pieces, but that was proof they were there). The kids loved walking around on the sand while scanning the ground for sand dollars.
Pose for sunset photos
Like the one above…
Take Insta worthy photos in the sunset
I mean… why not? You're at a beach, there's a gorgeous sunset, and you have a camera. What else do you want? A drink? Actually, me too. But that's besides the point, get out your cameras and start snapping away, that sunset won't be there forever.
Have a Sunday roast at the Woodgate Hotel
What better thing to do on a Sunday evening than have a Sunday roast? I'll tell you, nothing. Nothing is better than having a Sunday roast, and there is no better place to have it than the Woodgate Hotel. The atmosphere is amazing, and kids loved the swing chairs!
Address: 195 Esplanade, Woodgate QLD
Website: You can view the Woodgate Hotel menu here.
Have breakfast at Serenity Cove Cafe
Serenity Cafe is a wonderful place you can visit for breakfast with your family the next time you're in Woodgate. The food they serve is amazing, and the cafe has a wonderful atmosphere.
Address: 88 The Esplanade, Woodgate, Queensland
Facebook: click here
Day trip to Bundaberg & Bargara
A day trip to Bundaberg is perfect when you're staying at Woodgate Beach for a long time. Bundaberg has heaps of family friendly activities you can partake in. You could visit the Bundaberg Botanic Gardens, or the Alexandra Park Zoo. Bundaberg is a wonderful daytrip from Woodgate Beach.
Sunday Markets
Markets are some of the best places you can go to meet new people, support small business and buy cool stuff. The Bundaberg Sunday Markets are no different. We visit the Shalom College Markets which we loved for the variety of things for sale and the great prices. There are so many different stores and genres you can purchase from, you'll find something you love.
Address: Bro Hogan Drv, Norville QLD
Bundaberg Botanic Gardens & playground
The Bundaberg Botanic Gardens and playground are one of the best things you can do when you visit Bundaberg. There are so many different things you can do at the gardens, and we've got a whole article about the Bundaberg Botanic Gardens here. (Spoiler alert: your kids will ove the playground!)
Address: 6 Mount Perry Rd, Bundaberg North QLD
The Basin rock pools for swimming at Bargara
The whole of the Bargara foreshore is a fantastic place to visit with kids.
The Basin rock pools are an epic place to visit with the kids and not that far from Bundaberg. The sand is perfect for sandcastles and digging holes. We saw a giant hole that was 2 meters deep and 3 meters wide! The kids loved playing in it.
Get Out with Kids Tip: A local guy showed us this trick to see the fish up close. Because there are lot of varieties of fish in the water in the basin, if you take some food for them, they will come and swim around you to enjoy a meal.
Go snorkelling with turtles at Lady Musgrave Island
Visit Lady Musgrave Island in the Southern Great Barrier Reef to snorkel the unique coral cay lagoon surrounding the island. Daily cruises will transport guests from Bundaberg Port Marina to Lady Musgrave Island with snorkelling equipment, glass bottom boat tours, fish feeding and guided island walks included in the experience.
Travelling on a luxurious catamaran, enjoy a delicious morning tea en route to the reef lagoon. Passengers will have over 4 hours at the coral reef lagoon surrounding the island with plenty of opportunities to encounter manta rays, reef sharks, stingrays, turtles and hundreds of tropical fish swimming at these coral gardens.
Book your tickets here
Bundaberg Rum Distillery Tour with Rum Tastings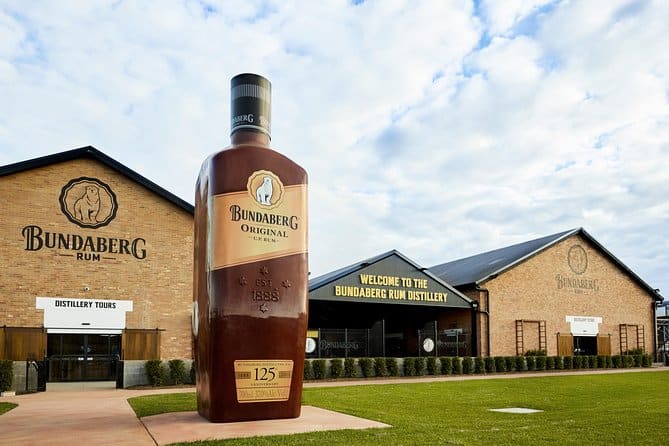 Uncover the history of Australia's favourite rum distillery – Bundaberg Rum with an exclusive behind the scenes distillery experience. Book the experience online here for your chance to tour the operational rum distillery, wander through a retired 'Bondstore' that now houses an interactive museum plus end the tour by sampling top shelf rums from the Bundaberg Rum range.
The distillery experience begins with entry to the interactive and informative museum to wander through the repurposed 70,000 litre maturation vats that were used to mature and age the rum. See the world's largest collection of rum and discover the history of the well loved 'Bundy Bear' here.
Book your trip here
Best Accommodation Woodgate Beach
There are so many places you can stay at Woodgate Beach, but we've narrowed it down to the best 3!
NRMA Caravan Park Woodgate Beach
With absolute beachfront, the NRMA Caravan Park is a great place to stay at Woodgate Beach. We stayed in a Beach House that was across the street from Woodgate Beach. There are many different types of accommodation, ranging from BYO tents or caravans, to giant 2 story modern homes. At NRMA Caravan Park Woodgate Beach, there is something for everyone. Oh, and the caravan/tent part of the park is also dog friendly.
Woodgate Beach Hotel Motel
The Woodgate Beach Hotel Motel is a great place you can stay in Woodgate. It's located on the Esplanade, so you're super close to the beach. Motel rooms and dog friendly caravan lots are available to stay in.
Rent a holiday home at Woodgate Beach
There are so many holiday homes along the Woodgate Beachfront, there is guaranteed to be one for your family! We saw homes ranging from wooden 1 story homes to 3 story modern homes with pools out the front. If you have a little extra in your budget, we recommend this option for you! (The homes do sell out for Easter holidays so book ahead if that's when you're planning on going)
Best things to do in Woodgate Beach with kids
There you go, the best things to do in Woodgate Beach with kids. We hoped we helped you find something to do at Woodgate Beach with Kids. If there's anything you think we missed, let us know.
Looking for something else to do near the Woodgate Beach? Click here to find out everything to do in Bundaberg with kids.