Are you looking at taking a trip to Great Keppel Island with kids? If you are you wondering what to do on Great Keppel Island with toddlers, kids or teenagers, then look no further!
During the Brisbane school holidays, we visited this beautiful island on the Queensland coast. Therefore, we have taken the hard work out of researching and have compiled a list of all the best things to do on Great Keppel Island with kids.
The island is perfect for families with kids of all ages, so stick around, we think you are going to love our ideas!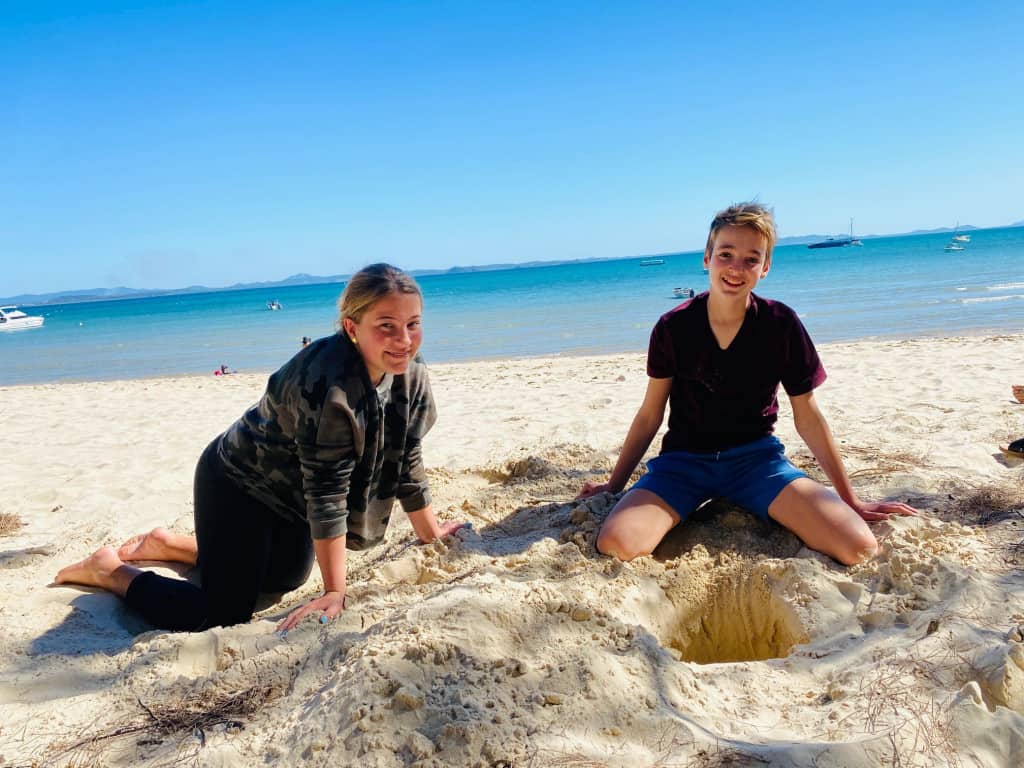 Great Keppel Island is almost 1500 hectares and is a sanctuary to extensive native flora and fauna including more than 100 species of bird life including kookaburras, rainbow lorikeets and a diverse range of seabirds.
There are seventeen white sand beaches to discover. The island's crystal clear tropical waters are brimming with brilliantly coloured fish, turtles, giant clams, soft and hard corals and numerous other marine life.
Between July and September each year humpback whales can be seen cruising the waters on the annual migration along Australia's east coast. And there are more than enough walking tracks and other activities to keep you all occupied for the duration of your stay.
To help you out, we have broken our article in 5 sections:
Water activities
All the walking tracks
Organised tours
3 Best beaches
Accommodation
With our advice, you and your family will create life-long memories of an epic stay at Great Keppel Island.
Where is Great Keppel Island?
Great Keppel Island is 15kms off the coast of Yeppoon, which in turn is a short drive from the nearest city, Rockhampton. It is the largest of the 18 islands in the Keppel Group on the Capricorn Coast in Central Queensland.  
How to get to Great Keppel Island
If you are driving from Brisbane, it is roughly a 8 hour drive to Yeppoon. You can fly directly from Brisbane too – it takes around an hour to fly from Brisbane to Rockhampton and then you will need to catch public transport to Yeppoon.
You cannot drive onto Great Keppel Island, so usually the public get there via the Great Keppel Island ferry. The ferry goes multiple times a day and only takes 30 minutes. You can find out all the information here.
ROAD TRIPPING? You can also read more about our Brisbane to Airlie Beach road trip where we stopped at GKI.
Parking & where to leave your car
There is a carpark near the ferry if you are staying for one day, and if you plan to stay over night, there is a security carpark nearby.
We booked the security carpark as we had heard that leaving your car at the ferry terminal was not completely safe. Contact gkistorageyard@gmail.com to book your secure parking.
Get Out with Kids Tip: Book well in advance in peak season, it does get full!
Things to do on Great Keppel Island with kids
Great Keppel is perfect for families. There are tonnes of things to do. You can do a day trip to the island, but we recommend staying for at least 3 nights to ensure you get to experience all the best Great Keppel Island activities for families!
Here is our detailed list of all the best things to do on Great Keppel Island with kids!
Best water activities on Great Keppel Island
This is our list of all the best water activities on Great Keppel Island.
Go kayaking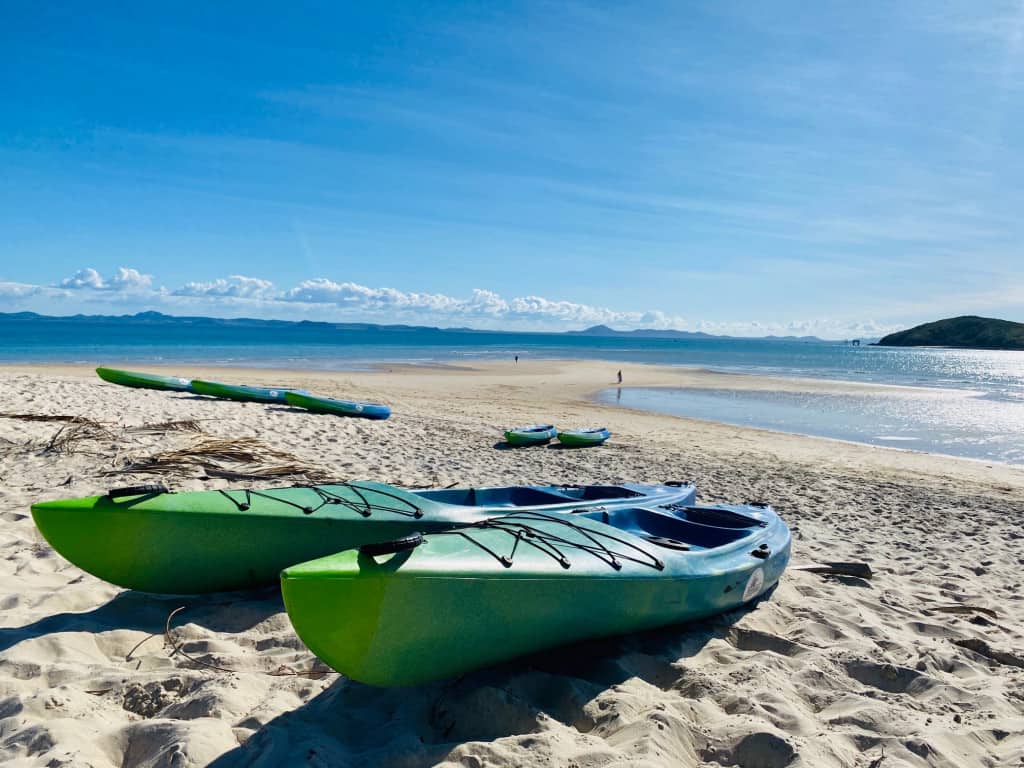 Enjoy all the beauty of Great Keppel by exploring the island from the water and taking it in at your own pace. You could even dock at a beach you spotted on your journey (more about them below) for a picnic or just to explore!
Take a sunset cruise
If watching the dazzling sunset from the beach isn't enough for you, you can take a sunset cruise from the island and witness it from the ocean.
Take a glass bottom boat tour
We recommend a glass bottom boat tour with Freedom Fast Cats. The kids loved looking out of the boat, and learning about the world under the sea! They particularly enjoyed naming every fish they saw, including Spotty, Gulp and the classic, Fish.
Go snorkelling!
Trust me, I've done a lot of snorkelling, and Great Keppel Island really stood out from heaps of other places I have visited. We saw so many different fish, coral and even some turtles! You can snorkel at almost any beach on the island, so make sure you always have your snorkelling gear with you. You can rent your own gear on the island, or book a tour!
Best bushwalking tracks on Great Keppel Island
There are so many bushwalking tracks on Great Keppel Island, with all different difficulties. Strap on your walking shoes, because we're heading off! You can spot all local wildlife, multiple wild goats, and even see some of the beautiful beaches the island has to offer.
You can see them all on this excellent bushwalking map of Great Keppel Island.
Fishermans Beach walk
Difficulty – Grade 1
Duration – 2 mins
Fishermans Beach, is the main beach where you disembarked from the ferry, and is the main hub of Great Keppel Island. With water sports facilities in the middle of the beach, and the tropical vibe, post office, beach gear and souvenir shop halfway along the Yellow Brick Rd, this beach is great for the whole family.
Shelving Beach walk
Difficulty – Grade 5
Duration – 15 minutes
Follow the yellow brick road and then turn left. Walk past the water sports at the end of the path. Walking onto the beach, turn left and head to the south end of fisherman's beach where a track will lead you around the headland. The beaches are simply gorgeous and this is the closest walking access to the coral reef. Snorkelling gear is a must! It will take you a minimum of 1 1/2 hours with a snorkel stop, so it is great to do on a day trip.
Monkey Beach walk
Difficulty – Grade 7
Duration – 35 minutes
Start your walk the same as to shelving beach, continuing past the shelving beach sign up the winding trail to the top of the rise. Keep to the right on the track. Take care as you descend down onto the northern end of monkey beach, this beach is absolutely stunning and it's the second closest access to the coral reef. It is shaped much like a horseshoe with the coral reef forming inside the protection of a rocky headland. Snorkelling gear is a must!
1st Lookout walk
Difficulty – Grade 4
Duration – 30 minutes
Starting from the totem sign, continue along the hideaway boardwalk taking the next right following the blue signs out to the back-service road, where a shortcut will wind through the bush to a bitumen road. Turn left at the first lookout sign and follow the road up to a shelter shed. Considering its proximity, first lookout is an excellent vantage point for a short walk. Having near 360-degree views, it gives you a good idea just how big the island really is.
Looking back you will see panoramic views of fisherman's beach and the sandspit while over your shoulder lays Leekes Creek in the foreground, flanked by a mountain range where you can walk the skyline to the lighthouse, red beach, wreck beach, Butterfish Bay and Secret Cove.
Leekes Beach walk
Difficulty – Grade 6
Duration – 35 minutes
There are three options for this walk
No .1 Follow the road to 1st lookout and when nearing the top of the hill, turn left off the bitumen road following the ridgeline down to the beach.
No .2 Continue past first lookout and at the bottom of the hill, turn left onto a sandy track at a sign indicating Leekes beach. It goes around the back of the mangroves, and is the best option.
No .3 Start at the end of Putney beach where a sign will direct you over the hill and down onto the north western end of the beach. It can be quite steep but short.
Leekes is stunning, relatively easy to get to and well worth the walk, being the only tidle inlet on the island. Leekes Creek at the other end of Leekes beach is worth visiting, but make sure to take some insect repellent.
Long Beach walk
Difficulty – Grade 3
Duration – 30 minutes
Start at the southern end of fisherman's beach, while walking around the headland pass the turnoff to shelving beach, and continue to follow the track up over the hill to monkey beach. Walking to the southern end of the beach, you'll find a timber boardwalk protecting an aboriginal site which will take you over the western end of Long Beach. Approximately halfway is a vehicular access track that will return you back to fisherman's beach.
Humpy & Halfway Island walk
Difficulty – Unknown
Duration – Unknown
Directly South of Long Beach lays Humpy island, with Halfway Island off to the left. Both are marine parks and camping is allowed by booking online. Humpy island has added luxury's like toilets; outdoor showers and picnic tables with great shade, and can handle up to 40 or so campers at one time. It rarely reached capacity unless booked by a group usually on weekends. Halfway Island camping only has one picnic table but you are sure to have it to yourself. Pristine beaches and crystal clear water await you. So, what are you waiting for as, both have coral reefs and are perfect for some great snorkelling.
Homestead walk
Difficulty – Grade 6
Duration – 45 minutes
Follow the track to 1st lookout and continue down the hill to the other side and keeping the Leekes beach sign to your left, stay on the main track to reach the homestead. The homestead is the last remaining dwelling of old lady Leek, an early settler who once ran sheep on the island using the high tides at Leekes Creek.
Clambay walk
Difficulty – Grade 6
Duration – 1 1/2 hours
Starting at the homestead, walk over the cattle grid across the paddock and turn right. You will see an arrow with C.B on it. Follow the tracks through the valley, and take care as the last 100 metres weaves down through a washed-out gully before opening out onto a back dune. From the beach you will see beautiful halfway island with humpy island behind it.
To your left, Coconut Point juts out to the southeast, and natural protection from the southeast easterly winds allowing the coral reef to grow right up to the water's edge. Snorkelling gear is a must for this destination! Known for its reef sharks, go to the right-hand end of the beach.
Lighthouse and Red Beach walk
Difficulty – Grade 9
Duration – 2 1/2 hours
Starting from the homestead continue across the paddock and over the grids. Take the track straight ahead and keep the mangroves to your left, follow the ridgeline up to a T intersection and turn right. Following the path along the ridgeline to the very end you'll come to the lighthouse where both sides of the ridge drop away steeply to the rocky shoreline below.
Red beach is considered accessible only by boat and unique for its red clay cliffs adorned with a thick growth of boobyalla. Flanked by the rocky outcrops of Coconut Point in the lighthouse red beach can produce a reasonable body surf wave at times. If you really want to go, look for a disused trail off to your left on arrival, it may well lead to Red Beach.
Wreck Beach, Butterfish Bay and Secret Cove walk
Difficulty – Grade 9
Duration – 2 1/2 hours
Take a left at the T junction at the top of the Ridge. Follow the path for a while until you come to the next right turn that leads down through a back dune, before opening onto wreck beach. On your approach to wreck, or when returning the same way keep an eye out for the turn off to butter Fisher Bay.
Best organised tours on Great Keppel Island
Want a local to show you around? Great idea! We have listed the best organised tours on Great Keppel Island too!
Great Keppel Island day trip
If you're not a fan of going solo, ExperienceOZ offers this amazing Great Keppel Island day trip for only $85.00. This tour includes the ferry trip, a drink and a burger of choice along with the tour of the island. If you ask me, this sounds like a perfect idea for day trippers! Book your tour here.
Eco Snorkel Tours
GKI Water sports offers their own guided eco snorkel tours, and they are available everyday! All your snorkel gear (including a wetsuit) and a local, in-water guide to show you the best of the World Heritage listed Great Barrier Reef is included. Book it here on their website.
Book a massage
OK – not exactly an organised tour – but if you have done one of the walks we mentioned above and you are regretting it (might have been me), you can book in for a massage at the reception of the Hideaway Resort. Again, they do get booked up, so might be best to book this in advance… #justsayin
The best beaches on Great Keppel Island for kids
Great Keppel Island is home to no less than 17 stunning beaches. It is actually quite tricky to decide which are the BEST for kids… so we have decided to tell you about our 3 favourite and why they make our top 3 beaches on Great Keppel Island.
Fishermans Beach
This beach is great for kids because it's super close to the ferry dock, so you won't have to walk far, and the sand is soft, and crystal clear waters make the beach perfect for swimming and relaxing.
Monkey Beach
Monkey Beach is a little walk from the ferry, but if you have some patience, it's well worth the journey. There was nobody else on the beach when we visited, so the kids had all the room to run around.
Get Out With Kids Tip: There are 3 ways to get to Monkey Beach.
1 – As described above.
2 – A flatter inland trail that takes longer, but is easier
3 – A boat ride around from Fishermans' Beach – but you'll have to pay
Shelving Beach
Shelving Beach is a wonderful beach for families to relax on Great Keppel Island. The sand is soft, and the water is aqua blue, which makes this beach even better for kids.
Get Out With Kids Tip: When walking back from Shelving Beach, try to be at the top of the rise on sunset, to get the photo above.
With this many beaches, it only seems fitting to go visit as many as you can, and decide which one is YOUR favourite!
Best Great Keppel Island accommodation
There are two main options for family friendly accommodation on Great Keppel Island. Either Great Keppel Island Holiday Village or Great Keppel Island Hideaway. We stayed at the Hideaway, but we checked out all the options for you!
This is our list of the family friendly places to stay on Great Keppel Island with kids!
Great Keppel Island Holiday Village
As we explained above, the ferry comes into the island on Fishermans Beach. The two main accommodation places on Great Keppel Island can be found here.
Just a 2-minute walk to Fishermans Beach, Great Keppel Island Holiday Village offers free snorkelling equipment, paddle boards and BBQ facilities. It offers a range of accommodation options surrounded by nature.
Holiday Village Great Keppel Island is located in the Keppel Bay Islands National Park on the Capricorn Coast.
Find out more about the Holiday Village here.
Great Keppel Island Resort / Hideaway
The other main place to stay is Hideaway. Offering a fully licensed restaurant on site and beachfront cabins with ocean views, Great Keppel Island Hideaway is . Free Wi-Fi access is available at the reception area. We think this is an excellent choice for families.
You can choose from a variety of accommodation options, including
Island Cabins
Garden Rooms
Families Rooms
A Frame House
Hideaway House
Some offer air-conditioning, a patio, garden views and a private bathroom whilst others have access to shared bathroom facilities and a communal kitchen.
Get Out with Kids Tip: We stayed in the Garden Room motel style rooms (which were the cheapest). They are built like a duplex with each room sharing a wall with the room next door. Be warned, the walls are paper thin and you can literally hear every word of the people staying in the room beside you. If you do book these for your family, they work best with adults in one room and kids in the room next to it.
You can find out more about the accommodation at Hideaway here.
Get an airbnb
There are a few airbnb's on Great Keppel Island, and they all have at least 4 star ratings at the time of writing. Some of the accommodation is dog friendly, so ask with the owner if your house is.
We love the look of this family friendly airbnb stay.
Best things to do on Great Keppel Island with kids!
There you have it! That's our list of all the best things to do on Great Keppel Island with kids! If you think we missed anything, let us know and we'll be sure to add it!
HEADING NORTH? We also write about the best things to do in Cairns with kids.