Find all the best places to have Christmas lunch in Perth… with kids!
Though the cooking and cleaning aspects of Christmas Day may seem inevitable, restaurants scattered across Perth are shaking up the way we perceive Christmas lunch. Perth is home to an ever-growing list of restaurants open on Christmas Day.
They offer impressive buffets and a la carte menus comprised of the traditional flavours we look forward to during this festive time. Ranging from classic Christmas Day lunch options such as seafood, roasted meats, and pudding, to unique international flavours, there's something in Perth and surrounding suburbs to suit everyone.
Looking for some fresh Christmas lunch ideas? This article will offer a list of the best places to have Christmas Day lunch in Perth.
Ivy And Jack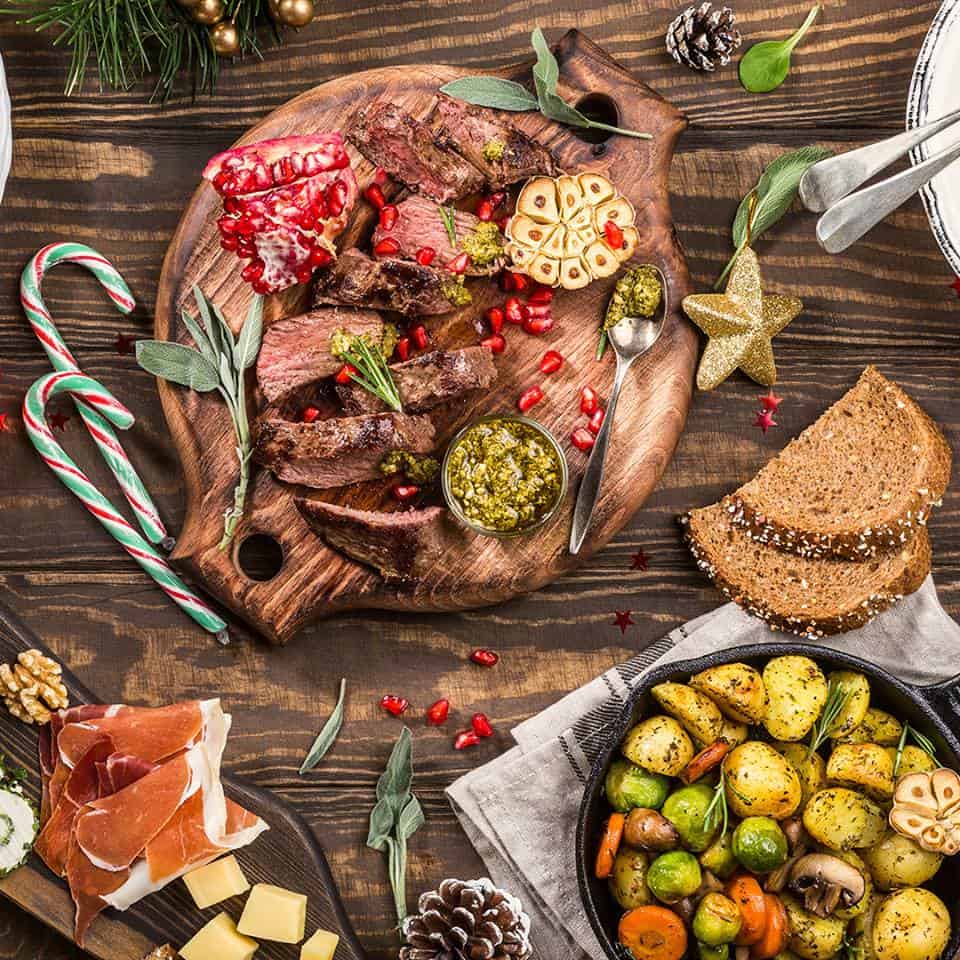 Ivy And Jack are open for Christmas lunch this year, hosting a Christmas Day buffet lunch for families to enjoy. The menu includes plenty of classic options, including glazed ham, chicken, fish, roasted vegetables, salad, seafood, pudding, pavlova, a chocolate foundation, and plenty more. Prices for the dining experience for adults and kids under 12 years are $65 and $80 per person, respectively, while children under 4 years of age eating for free. There'll also be a special guest appearance from the big man himself!
Phone: (08) 9261 7233
Address: 788 Hay St, Perth WA 6000
Website: Ivy And Jack
The Queens
The Queen's Tavern is offering families a 3 course Christmas Day lunch, with plenty of holiday favourites to enjoy. With an array of flavours on offer, there was a little something for every member of the family to enjoy. Dust off those Santa hats and join in for Christmas Day lunch! Adults $120 | Kids $35 mini set menu or $20 for nuggets & dessert.
Phone: (08) 9328 7267
Address: 520 Beaufort St, Highgate WA 6003
Website: The Queens
Pagoda
Read all about it! The Pagoda is open for Christmas lunch and breakfast this year with scrumptious packages available for savvy diners. Follow this link to find out all the information straight from the horse's mouth. Children 10 years and under receive a Christmas gift.
Phone: (08) 9367 0300
Address: 112 Melville Parade, Como WA 6152
Website: Pagoda
Esplanade Hotel
Celebrate Christmas dinner with family and friends at the iconic Esplanade Hotel Fremantle. Enjoy delicious festive food, beverage packages, family activities and a special Santa visit with gifts for your little ones. Last year's Christmas Day in Fremantle, Perth was a sell out so make your booking early to enjoy the festive atmosphere and friendly service.
Phone: (08) 9432 4000
Address: 46-54 Marine Terrace &, Essex St, Fremantle WA 6160
Bistro Guillaume
An incredible day calls for an incredible dining experience. Bistro Guillaume's indulgent French fare will ensure a Christmas Day celebration to treasure, whilst the resort-style setting will shift you into summer holiday mode. $220 per adults and $105 per child (4–12). Price includes a glass of Moët & Chandon, beer or soft drink on arrival.
Phone: 1800 556 688
Address: Crown Metropol, Crown Perth, Great Eastern Hwy, Burswood WA 6100
Website: Bistro Guillaume
Fraser's
Choose from three different dining venues within Fraser's and the Botanical Café, all serving up breakfast or lunch to tame even the biggest appetite. Botanical Café will feature an A La Carte-style breakfast with a choice of hot plates, espresso coffee, tea and juice. Minimum $25 spend per person | Highchair hire in all venues: $20
Bookings are available for seatings from 7.30am via the Fraser's website or give them a call.
Phone: (08) 9482 0100
Address: 60 Fraser Avenue, Kings Park, West Perth
Website: Fraser's
Joonalup Resort
Relax with the family this Christmas Day and enjoy a sumptuous Christmas buffet, all you can eat dessert, beverage package and the best view in town! Celebrate over lunch or dinner in the stunning Lakeview Function Centre. Includes a special appearance by Santa Claus PLUS a dedicated kids zone in Poolside Marquee with children's entertainment!
Phone: (08) 9400 8888
Address: Country Club Blvd, Connolly WA 6027
Website: Joonalup Resort
BWG Steakhouse
Another popular 'lunch with a view' option of Perth is the BWG Steakhouse, with stretching views over the Swan River to accompany the meal. Bookings for Christmas lunch are from 12pm and include a three course meal as well as tea and brewed coffee. Kids from 5-12 are $100- and adults are $225. You can pay $20 to reserve a high chair as well.
Phone: (08) 9315 7700
Address: 58 Duncraig Rd, Applecross WA 6153
Website: BWG Steakhouse
Post
Christmas lunch at Post will be in the form of a 3-course meal, incorporating a variety of delicious Italian flavours. Prices for the experience started from $168, including a beverage package. For possible announcements or updates for Christmas Day lunch at Post, head to the venue's website.
Phone: (08) 6168 7822
Address: 1 Cathedral Ave, Perth WA 6000
Website: Post
Kalamunda Hotel
With a variety of Christmas Day favourites, the Kalamunda Hotel is a favoured Christmas lunch option of Perth. The menu typically consists of ham, turkey, antipasto, seafood, curry, and salad, all accompanied by an anticipated visit from Santa himself.
Phone: (08) 9257 1084
Address: 43 Railway Rd, Kalamunda WA 6076
Website: Kalamunda Hotel
Modo Mio
Another popular option in past years for families looking to veer away from the traditional Christmas turkey is Modo Mio – serving up plenty of Italian flavours to enjoy. On offer is a 4-course lunch, or 3-course dinner, with prices starting from $210 per person. Head over to the restaurant's website for potential updates regarding Christmas lunch.
Phone: 1800 556 688
Address: Great Eastern Hwy, Burswood WA 6100
Website: Modo Mio
The Guildford Hotel
Christmas Day lunch at the Guildford has something for everyone. The 3-course menu features the hotel's signature smoked meats and 2-hours of drinks, though vegetarians and vegans also have their own menu that's sure to delight the tastebuds. There are 2 sittings: 12pm-2pm and 4pm-6pm. 
Phone: (08) 9460 9966
Address: 159 James St, Guilford WA 6055
Website: The Guildford Hotel
Mindarie Restaurant (Ritrovo)
Another popular Christmas Day lunch is the Mindarie Restaurant of the Marine, running from 11:30 am to 2:30 pm on Christmas Day. With seafood, roasted meats, antipasti, and an array of desserts, there was a little something for everyone to enjoy. Plus, families were also offered the 3-hour beverage package, a visit from Santa, and a variety of activities to entertain the kids, with prices starting from $170 for adults, $80 for teenagers, and $45 for children.
Phone: (08) 9305 9305
Address: 33 Ocean Falls Blvd, Mindarie WA 6030
Website: Mindarie Restaurant (Ritrovo)
Market And Co.
Market And Co in the Crown Perth has both a Christmas Day buffet lunch and a la carte menu for families to sink their teeth into. With this abundance of flavour, there was something for everyone to enjoy. There's so many Christmas favourites including seafood, roasts, desserts and more! Lunch will cost $180 for adults, with teens costing $90 and children at $45.
Phone: 1800 556 688
Address: Crown Promenade, Crown Perth, Great Eastern Hwy, Burswood WA 6100
Website: Market And Co.
Looking for more things to do in Perth with kids?
Celebrating with kids in Perth?