Whether it is the school holidays, a weekend or a rainy day, if you are looking for somewhere to take the kids to let off some steam, we've compiled a long list of the BEST trampoline parks in Perth, WA for kids just for you!
Trampoline parks in Perth are an ever-growing trend, and these centres offer parents an entertaining means of getting the kids out of the house and exercising as a family. Trampolining in Perth can be a great way to develop balance, leg strength, aerial awareness, and much more.
With all these benefits on offer, it's no wonder that indoor trampoline park Perth have become an extremely popular attraction among families. Fortunately for Perth kids, there are plenty of trampoline centres to choose from. Whether you're looking for a spot to casually jump around or a regular commitment to enhance a child's trampoline skills, our article will give you a comprehensive list of indoor trampoline Perth so you can find one near you!
Excited to take the family out for a fun, bouncing adventure? Then be sure to check out a few of these places that are our favourite trampoline parks in Perth.
1. BOUNCE Inc Cannington
Cannington's Bounce Inc offers a vast collection of entertaining activities for the entire family to enjoy. The main attraction of the venue is the Free Jump Arena, housing a massive network of approximately 50 interconnecting floor and wall trampolines, tumble tracks, and banked walls. You can also head over to the Slam Dunk to showcase your basketball skills. Practice some of your flips at the Big Bag, with a soft landing ensured, or make your way to the Super Tramp for some serious air.
If you're up to the challenge, grab a few friends for a match of dodgeball. Head over on Fridays for Super Sessions, or on Saturday nights for Night Jams. For kids looking to advance their jumping skills, Bounce Inc also provides classes, such as the Ninja Squad and KinderGym. For prices, visit the website. Bookings can be made online.
Address: 1371 Albany Hwy, Cannington WA 6107
Website: BOUNCE Inc Cannington
2. Calleya Trampoline Park
Located in Banjup, the Calleya Estate Playground is home to a variety of treasures for kids to explore. This includes two inbuilt mini trampolines. The trampoline's sizes are big enough for one child at a time, with a softer area surrounding it.
Aside from the trampolines, the park also includes slides, sensory play equipment, swings, stepping logs, and much more. On top of this, the park also features 3 picnic tables, BBQs, and a drinking fountain. Also included are netball and basketball courts, along with a large grass area.
Hours: Open 24/ 7
Address: Banjup WA 6164
3. Inflatable World Shenton Park
Delivering Australia's largest indoor inflatable playground, there's sure to be something for everyone to enjoy at Shenton Park's Inflatable World. The playground includes towering slides, climbing inclines, velcro-walls, and heaps more games and activities.
If you're thinking of inviting some more friends and family, the facility can also cater for larger groups for special occasions, such as birthday parties, school trips, corporate events, and Christmas parties.
For those who have worked up an appetite, food is also available for purchase, although you're welcome to bring along your own snacks. It's important to remember that socks must be worn to play on the equipment. If you forget to bring socks, they can be purchased at the facility.
Address: Revolution Sports, 37 Lemnos St, Shenton Park WA 6008
Website: Inflatable World Shenton Park
4. Latitude Bounce Trampoline Park
Perth's Latitude Bounce hosts a generous collection of activities to entertain and challenge the entire family. Ranging between trampolines, climbing walls, and obstacle courses, there's sure to be a little something for everyone. The main jumping arena is comprised of over 100 interconnected trampolines, so kids of all skill levels are welcome to jump and do their own thing.
The park also includes a giant airbag for soft landings, dodgeball courts, and basketball lanes to showcase dunking skills. Kids looking for some height can enjoy the Olympic grade trampolines. Those looking for a break from jumping can hop over to The Grid obstacle course or the rock-climbing walls.
Address: 35/57 Joondalup Dr, Edgewater WA 6027
Website: Latitude Bounce Trampoline Park
5. Gravity Etc
Gravity Etc offers a wide range of bouncing activities that the whole family can get involved with. The facility offers an extensive trampoline area, tumbling mat, angled trampolines, and much more. Kids looking to get some height and practice their flips can jump over to the Big Air. Embrace the high jumps, with an airbag below for soft landings. Those looking to show off their basketball skills can head over to the Hot Shots to shoot some hoops and showcase their dunking skills.
Otherwise, grab a few friends and head to the dodgeball arena or the Beaminator (battle friends with a large foam stick). Gravity Etc can also host special events if you're thinking of bringing along a few friends and family members. For a full list of prices and session times, check out the Gravity Etc website.
Address: 43 Norton Promenade, Dalyellup WA 6230
Website: Gravity Etc
6. Peak Trampoline
Peak Trampoline offers children a regular form of engaging exercising through trampolining lessons. There are a variety of recreational and competitive classes to suit all ages and skill levels. These aim to develop aerial skills while also improving coordination and body awareness.
Address: Court 10, 5 Wembley Court, Subiaco WA 6008
Website: Peak Trampoline
7. Flip Out
Flip Out offers an extensive trampoline park, all accompanied by thrilling activities, for the entire family to enjoy. Along with the facility's main jumping arena, Flip Out also includes an exclusive jumping area for kids under 8 years of age, a foam pit, and wall running equipment. A children's playgroup is also available to let parents recharge. Not to mention, the venue also has a cafe to enjoy. The best part?
Flip Out is also air-conditioned, making for comfortable bouncing all year round. If you're looking for some lessons to help get the kids active, Flip Out also hosts a Little Ninja program. The program is aimed towards developing agility, coordination, and aerial awareness.
Get your discounted session booked here.
Address: Multiple Locations
Website: Flip Out
8. High Flyers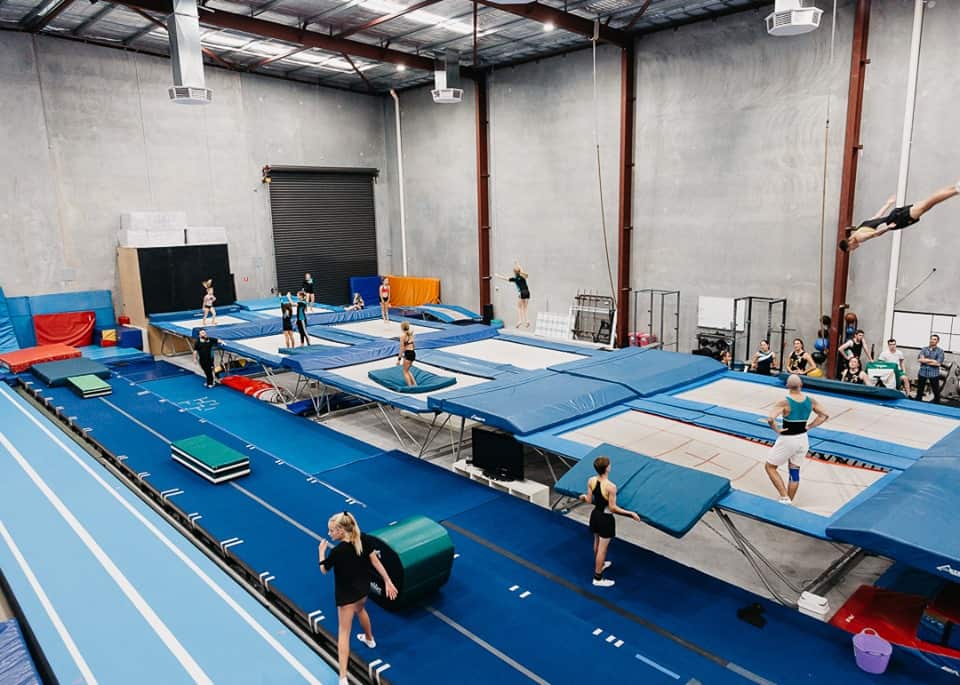 High Flyer's Trampoline And Gymnastics Academy is home to a variety of programs for kids to develop their technique. The recreational trampoline class is ideal for kids from the age of 5 to 12 years looking to learn some basic skills. On the other hand, the competitive trampolining lessons are perfect for those wanting to include some twists in their jump.
The class aims to develop confidence through body movement, build strength, improve posture and agility, and develop spatial awareness. Competitors can practice synchronised trampolining, double mini trampolining, or single trampolining. Prices vary – consider getting in touch with the venue for a full list of classes and costs.
Address: 29 Dellamarta Rd, Wangara WA 6065
Website: High Flyers
9. Aerial Fun Trampoline World – Temporarily Closed
Located in Malaga, Aerial Fun Trampoline World offers families a collection of fun activities to enjoy. The venue offers over 500 square metres of interconnected trampolines to bounce across, along with basketball arenas for kids to showcase their skills. Junior areas are also available for kids under 7 years of age, also featuring a foam jumping bag. Those needing a break to refuel can head over to Aerial Fun's cafe, offering hot food, drinks, cakes, and ice cream.
For those thinking of inviting along some family and friends for a special occasion, Aerial Fun is also able to host private functions. Bookings are recommended to avoid disappointment. Grip socks are also required.
Address: 1/1968 Beach Rd, Malaga WA 6090
Website: Click here
Want to buy your own trampoline?
Check out the discounted one we LOVE! Click here!
Best trampoline parks in Perth
Trampolining can be an entertaining way to get kids exercising with the whole family. Not only is the practice great for improving coordination and aerial awareness, but trampolining can also improve leg strength and balance. Not to mention, it's fun! Plus, parents often don't have to wait on the side-line. Fulfil your childhood dreams and get involved.
Whether the kids want a casual jump or regular lessons to improve their technique, Perth can deliver. The city is home to an extensive range of trampoline parks for everyone to enjoy. Bounce across hundreds of interconnected trampolines, flip into foam pits, practice your dunking, challenge each other to bouncing games, or sign the kids up to various classes to improve their skill and get them socialising with new people.
So, if you're eager to take the family out to one of Perth's many trampoline parks, consider a few of these venues.
Looking for more things to do in Perth with kids?
Celebrating with kids in Perth?