If you are searching for dog friendly beaches and swimming holes in Perth, WA look no further! Dogs on beaches are allowed and the list below will help you locate something that fits both you and your best furry friend!
Perth – a popular destination with so many green areas and parks to explore. With an abundance of space and beaches you are spoiled for choice!  BUT where can I go swimming with my dog? Are the beaches dog friendly in the area?  Which dog friendly beaches are near me?  If you are reluctant to leave your best four-legged friend at home then this list will help! 
Pack up the car, grab some doggy treats and a picnic and lay that pet blanket down on the back seat. Check out our dog-friendly places and dog friendly beaches and swimming holes in Perth to visit below.  
'Are there any swimming holes near me that allow dogs? – ABSOLUTELY! 'What off leash beaches are near me? PLENTY! 'pet friendly beach? and the closest dog beach to me?' – SEE BELOW! Hopefully you will find your closest dog beach below!
Dog walking is a great school holiday idea you can get your teenagers in on, although it may not be the best idea for a rainy day.
Dog beach in Perth etiquette
Before venturing to an off leash dog beach, we have put together some simple rules of thumb.
Not everywhere allows you to let your dog off the leash, whether that be dog swimming places or just walking trails! Always check for signs, even if you have visited before, in case the rules have changed. The signs are there to help keep the area and local wildlife safe.
Remember that not all dogs are friendly to each other or humans. If venturing out with young children, remind them not to approach dogs without checking with owners first. This will ensure they are children friendly and enjoy being made a fuss of by strangers.
Not all dogs are friendly to each other either. Approach others with caution to eliminate any potential aggressive behaviour. If your dog shows signs of being uncomfortable, maybe take them to another area until the other dog has moved on.
Always dispose of your rubbish in the bins provided (including any rubbish that your dog has left behind). Always double check the area before leaving to ensure you have left the area safely and litter-free!
Ensure your pooch has taken all of the necessary tick/flea medication. A lot of outdoor venues will be home to a number of parasites. Checking they are up to date with preventative treatments will save a lot of heartache in the long run. Always check your pet for ticks once you return home.
Maybe start with small walks and adventures and build up – new sights, smells, etc maybe a bit too much for some!
Best dog friendly beaches in Perth
Perth Beaches…. Dogs? So what beach can I take my dog to? Where is the nearest dog beach to me? Perth is a beautiful location and blessed with beautiful beaches to explore, including beaches that allow dogs.  There are a number of beaches that are dog friendly.  With some of the best beaches for dogs to explore here you are sure to find something suitable. 
Many have specific areas in place that are dog off leash areas.  Note, these rules are subject to change, so remember to check before heading out.  The area is home to a number of pet friendly beaches; some offer wide expanses of sand, others a lot smaller. Some are close to recreation parks so both the kids and dogs get to let off steam!.  They are dotted around the area, so there should be a 'dog beach near me' – happy exploring!.
Whitfords, Hillarys
This north bound beach area, some 20km from Perth, is arguably one of the best dog beaches. A beautiful long stretch of white sandy beach. Plenty of room to run around here. The dog facilities are all there including a shower, water bowls and toilets.
Where to park: 6025 Whitfords Ave
Peasholm Beach, Scarborough
Just a short trip from Perth is another beautiful white sandy beach. Dogs again are very welcome here. With 2km of beach to run on, they will be spoilt for choice!
Where to park: Opposite 360 State Route 71
Quinns Rocks Beach, Quinns Rocks
Just 38km from Perth is the lovely suburb of Quinns Rocks. This dog off leach beach has plenty going on. There are facilities closeby and the spot is sheltered. The water conditions are usually calm which is great for smaller breeds or nervous dogs.
Where to park: Ocean Dr
North Beach Dog Beach
Flora Terrace Café Strip is literally on the doorstep of this location making this perfect for a coffee/walk combo! This is a very small beach (around 500 metres) but it packs a punch. There are rocks encircling the beach and the cafes are a short walk away.
Where to park: 133 Tourist Drive 204
South Beach
Well we've gone to the North Beach, now it's the South's turn! This lovely sandy beach on the southern side of Perth also welcomes dogs. It is a busy destination but a long beach so room for many! You can grab fish and chips close by and other cafes/restaurants to enjoy. A favourite with families due to the shallowness and calmness of the water.
Where to park: 199 Marine Terrace
Mosman-Leighton Park, Mosman Park
Just 15km outside of Perth city you will find this delight! 2km of dog fun on this stretch of sandy beach. Surrounded by dunes, this will provide some help towards any escaping pooches!
Where to park: Carpark on Curtain Ave
South Fremantle Dog Beach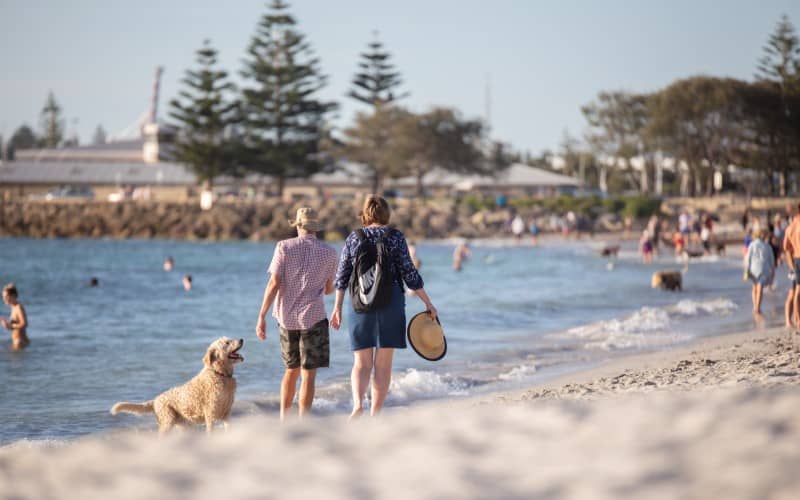 South of Perth, 22km (so not too far out), is this lovely beach. It is a popular destination with the locals. There are grassy areas where you can sit and watch. The dogs can enjoy jumping in and out of the water. Cafes are on hand nearby if you need a little sustenance!
Where to park: Marine Terrace
Secret Harbour Dog Beach
Located in the older suburb of Secret Harbour in Perth's far south is this gem. There are signs showing you the designated off leash dog area. Showers, water fountains and water bowls are there for your dog to use.
Where to park: Siracusa Ct
Rockingham Dog Beach
A little calm and quiet for this next location within the city of Rockingham. This is approximately an hour or so away from Perth. A beach, dog friendly, with picnic areas around the area and a playground.
Where to park: 201 Tourist Drive 202
CY O'Connor Beach, North Cooggee
Grassy areas, walking trails and a lovely sandy beach to explore. This is a great location to hang out. There is a café not too far away. There is a shipwreck just off the coast here and plenty of picnic and BBQ areas.
Where to park: McTaggart Cove
Best dog friendly swimming holes & creeks in Perth
Are any swimming holes near me dog friendly? So many beaches are dog friendly in Perth but what else is on offer? Dog friendly lakes to creeks. Great views and a great place to go for a stroll.
Logue Brook Dam
Bit of a drive but located approximately 125km south of Perth is this stunningly attractive location. As the name suggests there is a huge stretch of water which is popular with many. Activities include skiing, fishing, canoeing, windsurfing and camping. Dogs are welcome but must be on a leash. Please check on areas in which dogs are welcome as rules regularly change.
Where to park: Scarp Rd
Other dog swimming spots in Perth
Who knew that Perth had so many dog friendly locations to explore?!. These locations have water in common. Perth is blessed with so many beautiful coastal locations and beaches to take your dog. However, this is a little different with lots of different terrain to explore.
Riverside Gardens, Bayswater
Right next to the Swan River is this doggy heaven! Large off leash area with access to the river is the appealing factor. The area in itself is a great visit. Children's play area, BBQ facilities, picnic spots, and less than 10km from Perth.
Where to park: 124 Milne St
Noble Falls, Gidgegannup
Just over 40km away from the centre of Perth is this absolutely delightful location. With bush walks, brooks, waterfalls there is plenty to explore. Dogs are welcome off leash (please check) as long as they are obedient and kept in sight. A wonderful location to cool off.
Where to park: Cnr of Gidgegannup and State Route 50
Dog friendly beaches and swimming holes in Perth
With so many beaches allowing dogs and places to swim with your dog,  you should be able to identify your nearest dog friendly beach.  Hopefully we have answered all your doggy questions 'where to go swimming with my dog', 'where the off leash beaches near me'  and are there any dog friendly beaches near me? (and plenty more)!.  
We have aimed to give you a variety that your doggy friends will love!  Remember, rules on both on-leash and off-leash are ever changing, so please check the signs on arrival!  There are plenty of dog friendly pools and dog friendly pools to try out. If you know of more from your travels, and are happy to share your answer to 'where are the best dog beaches near me?' please get in touch! Happy adventuring!
Looking for more things to do in Perth with kids?
Celebrating with kids in Perth?