If you are looking for things to do in Perth with teenagers, you can stop searching, because you have found the best list of ideas!
Perth is a beautiful city that is lucky enough to be situated on stunning beaches, however your teen may not want to spend every moment at the beach… or with you! Don't worry, I have found a heap of fun activities for teenagers that suitable for younger teens and older teens in Perth and surrounds. There are so many fun activities for teens that they will never really have an excuse to tell you they are bored.
Whether you're looking for a school holiday, rainy day or party activity, this article is the place to be.
Take a look at my list of the best teens activities and fun things for teens to do in Perth so that you can get back to the million other things I know you have to do as a parent. I think you will find it filled with things to do when bored for teens. Use it to make your life easier and make your teens so much happier.
In this article I have divided up this list of things to do with teenagers into sections to help you find the most suitable teens activities:
Activities in Perth for younger teens
If you are wanting ideas for younger teens to do in Perth, then look no further than the list of activities for teens I have compiled. Perth is spoiled for fun activities for teens. From activities to wear them out to relaxing days exploring what the city has to offer, I have listed my ideas and you are sure to find something that will make your fussy teen happy, including free teen activities in Perth!
1. Strike Bowling
Located on the rooftop of Westfield Carousel, Strike Bowling is not a normal bowling alley and has raised the bar when it comes to entertainment. Home to 10 bowling lanes, 4 karaoke rooms, 2 escape rooms and an amazing laser tag arena, Strike is full of activities for young adults!
Book a session at Strike Bowling here.
2. Climb Zone
High ropes, low ropes and a climbing tower are all on offer at Climb Zone. If your teen is brave enough, they can experience the thrill and freedom of defying gravity on the high ropes course, which includes a 50m flying fox. This is an excellent group activity for teens as they work together and help each other complete the course.
Take a look at which Climb Zone adventure is right for you.
3. Perth Zoo
Need to occupy a full day? Perth Zoo is the place to go. With over 40 acres of animals and plants, you will need the day to enjoy it! If your teen loves animals, there are a range of programs run over the holidays letting them help care for the animals and get up close to learn about them.
Read up on the Perth Zoo here.
4. Bounce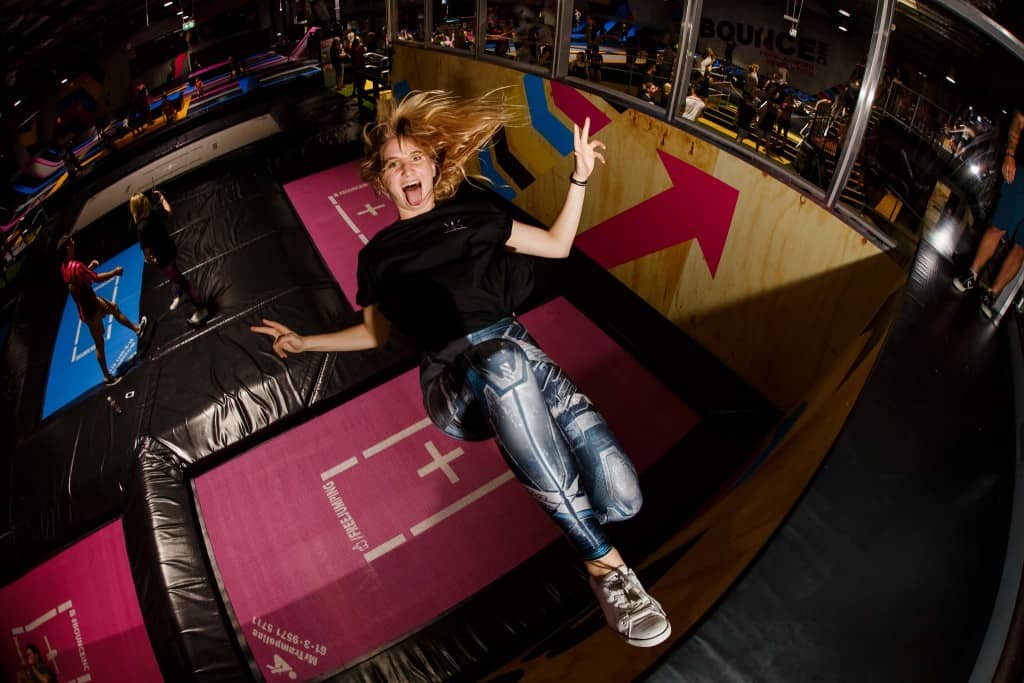 Imagine 50 trampolines all interconnected and you have Bounce. Have fun bouncing around in the free jump area, jump off a balcony onto a giant air bag or do a massive slam dunk from your trampoline! It's also home to the Bounce X-Park obstacle course. There really is something for all teens at Bounce.
A completely free activity is dog walking! Click here to find the best spots to take your dog.
5. Perth's Outback Splash
Perth's Outback Splash is more than just a waterpark. It has year round activities including mazes, minigolf, a playground and animals! If you want to cool off, head to Splash Island where you will find 6 super cool water slides, tipping buckets, spray cannons and much more. This is a fun summer activity for teenagers.
6. Surf lessons
Surfing is a sure fire way to elevate your teen's level of coolness and is one of the fun things to do in the summer for teens. Plus, it is great way to improve their fitness, strength and confidence. Go Surf Perth offers two locations so as to make the most of the summer surf breaks and winter surf breaks.
RELATED: Check out the best day trips from Perth here!
Activities in Perth for older teens
Although there are lots of fun things to do with older teenagers, I know the ones they won't think are lame. Take a look at these activities for older teens in Perth I have for you. My list of fun things to do with older teenagers ranges from axe throwing to indoor sky diving and also includes a heap of fun things to do for teenagers at night.
7. Maniax
Try something completely different with your teen and have a go at axe throwing! Challenge yourselves and release your inner warrior at this unique activity. If you have never done it before, don't worry, the axe-perts will show you how it's done and they make sure you have an amazing axe-perience!
8. Glowing Rooms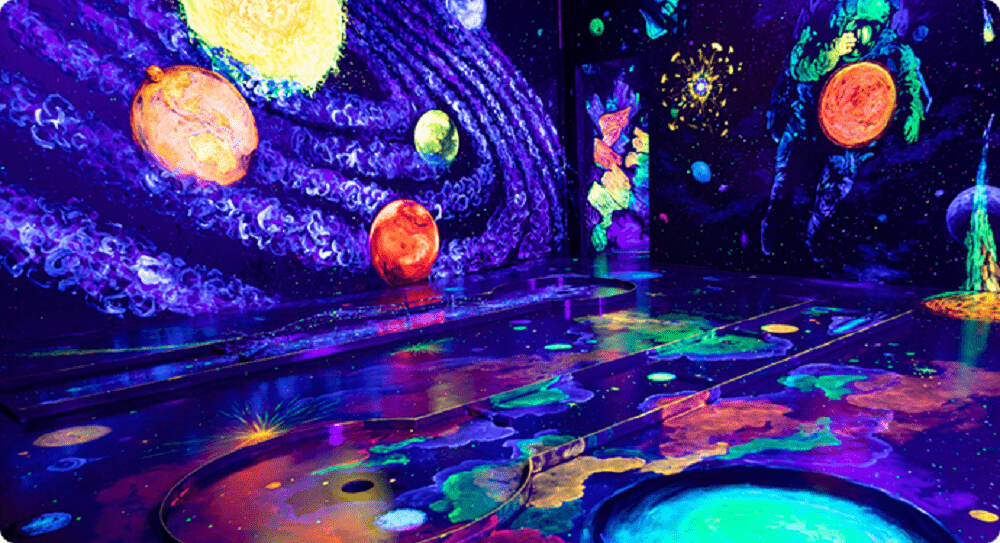 Just five minutes south of Fremantle, with loads of free onsite parking, Glowing Rooms is designed to provide you with an unrivalled school holiday experience. Play through a Mini Golf course like no other, surrounded by intense colours, all in air-conditioned comfort. Whatever the weather, whatever your skill level, glow in the dark 3D Mini Golf is the perfect leisure activity for all ages.
As you travel through the course, explore space and the far-flung corners of the universe. Journey under the waves to a world inhabited by sea creatures. Wander past some of Australia's most iconic landmarks and get up close and personal with some of your favourite superheroes!
They also have VR Escape Rooms – school holiday fun!
9. Adrenaline Vault
Are the teens climbing the walls with boredom? Get them climbing something else at Adrenaline Vault. Climbing and bouldering is available for all ages and skill levels and all climbers are harnessed for safety. A great way to build confidence and get your adrenaline pumping.
Check the Adrenaline website for more info.
10. Rottnest Island
You really can't see Perth without experiencing Rottnest Island. Teens will love spending a day on a bike and riding around the island. They will love even more getting a selfie with a smiley quokka! Located just off the coast and accessible by ferry, this island is a fun day out and great thing to do with teenage kids.
Find out all about Rottnest Island.
11. Perth Wake Park
Bring your teens to the only cable wake board park in Western Australia for the ultimate day out. The Park has a full sized cable, as well as 2 beginner specific cables for those who are new to the sport. Spend an hour or a day here (we know which your teen will pick!) and enjoy a day outdoors. This is a great summer holiday activity for teenagers.
12. Optus Stadium
Are the teenagers bored of everything? Take them through Australia's newest and most advanced sporting stadium for a behind the scenes tour. Home to many sporting legends and massive music concerts, if you have an AFL, rugby or music fan, then this tour is a must.
13. Flight Experience
Take to the skies (almost!) with this ultimate flight experience. This is as close as it gets to operating a full-size passenger airliner. Step inside Australia's state-of-the-art flight simulator experience. This will give your teen the ultimate Boeing 737 or F/A-18 experience as a pilot and is a fun thing to do with your teenage daughter or son.
14. X Golf
If you are looking for different activities to do with your teenager, then try X Golf. X Golf is more than just a golf simulator. It is a golfing experience suitable for golf lovers and teens who are new to the game. Located just 10 minutes from the Perth CBD teens can experience the fun of golf without having to complain about walking an 18 hole golf course! Plus, it is a great way to learn a fun new skill.
15. iFLY
Get their heart pounding by doing some indoor skydiving! iFLY lets you re-enact the experience of a skydive from 12,000 feet from the safety of glass tunnel. A fun thing to do with friends for teens, especially because they can watch and take the ultimate Instagram photo!
16. Zero Latency
Rainy day activities for teenagers don't have to be boring – Zero Latency makes sure of it! Featuring 8 amazingly realistic games and the latest wireless virtual reality technology, teenagers can roam free through virtual universes. There is also a pinball and arcade area for those that are looking for something different. Zero Latency is truly one of the cool things for teens to do in Perth and a fun group activity for teenagers.
Click here to read up on Zero Latency.
17. Escape Hunt Perth
Can you escape? Teens can take on any of the 7 escape rooms on offer and see if they are smart enough to escape in 60 minutes. Escape Hunt also offers 2 immersive citywide outdoor games which combine augmented reality and geo-location technology – so cool! This is a great thing to do with teenage friends and is a wonderful team building activity for teens.
18. Explore Fremantle
Almost run out of ideas of things for bored teens to do? Take them to explore Fremantle. Just outside Perth is the historic city of Fremantle, home to markets, restaurants, beaches and more. The streets of Fremantle buzz with energy and excitement and are definitely worthy of a day trip.
Fun things to do at home for teens
When your kids can't get out and about, finding activities for teens at home can become a full time job. Because we know everyone is different, we have compiled a heap of entertaining and interesting activities, including art ideas for teens. This list of stuff to do for teens to do at home is about to elevate your level of parental coolness!
19. How to draw cool things drawing guide
Looking for art activities for teens? Learn to draw cool stuff with this awesome book 'How to draw cool things'. It contains step-by-step instructions that will suit even a very beginner. Optical illusions, 3D letters, cartoons are just some of the things they can learn to draw.
20. Be a rubber band engineer
Got teens that love to tinker? This book will teach them (step-by-step) to create their very own rubber band launchers and gadgets. You will never believe what they can make with just a rubber band and the ideas between the pages. Plus, it will keep them out of your hair!
21. Get procrastibaking
Tired of looking for outside activities for teenagers? Then send them into the kitchen to have some fun. Not only will they love these recipes, but they will (hopefully!) end up with something delicious to show for it. Filled with 100 non-boring recipes, there is sure to be something they want to make.
22. Non boring board games
Put away the boring board games for teenagers and take a look at these. Challenging, creative, hilarious or even straight up ridiculous, these games will have them putting down their devices and actually enjoying themselves. It even includes some team building games for teens.
Get playing with these board games.
23. Learn how to ride a hoverboard
If they want to impress, encourage your kids to learn how to ride a hoverboard. Imagine showing up to school or sport on one of these. It even has built in speakers, so they don't even have to turn off their music to ride. Ride into the future on one of these hoverboards.
24. An escape room in a book
Get involved in a mystery without even leaving the comfort of home with this unique book. With just 60 minutes to escape from a labyrinth, you must take on the challenges, solve mysteries and clues to finish the book. Perfect to entertain teens that love to read or those that love a good mystery.
25. Put your time to good use
With a lot of time to kill during school holidays, reading any of these books is a great way for teens to learn how to put their time to good use. This selection includes books on becoming more efficient, techniques to increase their level of happiness and even confidence building books like 'What's my super power'. Perfect for those that are looking to learn more about themselves or just read a good book on a rainy day.
Check out this selection of books on highly effective teens.
26. Master a remote controlled car
Take a look at this selection of the latest, greatest and quirkiest of remote control cars and vehicles. Racing cars, 4WD's, mini coopers and heavy machinery vehicles are just some of the vehicles you can control. You can even build your own from Lego! Some can even be used on grass so your teen can take them (and themselves!) outside for a bit.
27. Fun things to do when stuck at home
Finding fun things for teens to do at home doesn't have to be hard. In fact, this book makes it easy and interesting in a quirky way. This book is full of things for teens to do when bored.
Read up on things for teens to do here.
28. Fly a drone
What could be cooler than spending a day flying a drone! Teens will love getting off the couch to spend time in the backyard when they have a drone to play with. From a basic model to something much more sophisticated (some with handheld screens), teens will be sure to find a drone that is cool enough for them.
Adventure World | Temporarily Closed
If you have a thrill seeker in the family, bring them to Adventure World. With rides like the Goliath (a massive pendulum swing), the Abyss (Perth's only rollercoaster) and Rocky Mountain Rapids (a bumpy white water adventure) they will walk away satisfied. Adventure World is definitely a cool thing for teens to do.
Take a look at all the thrilling rides on offer.
Mega Fast Karts | Temporarily Closed
Still looking for things for teens to do? Grab your teen and their friends and head to one of 2 Mega Fast Karts locations in Perth to get racing. Various race types and lengths of sessions can be booked, so there really is something for everyone. This is a fun activity for young adults and trust us, you won't have a bored teen at this venue!
Fun activities for teens in Perth
While it can be almost impossible to find things to do for teens that they will 100% love, we think our activities for teenagers of all ages is pretty impressive! Try it out with your teenager and let us know what they think.
Looking for more things to do in Perth with kids?
Celebrating with kids in Perth?