If you are looking for things to do in Kuranda, then you have found the right article. This is a detailed list of things to do with kids of all ages.
Experience the beauty of Kuranda Village, a mountain village just 25km from Cairns in far north Queensland. Located in the heart of ancient rainforests home to the Indigenous Djabugay (Tjapukai) people, this unique village is home to wonderful markets, shopping experiences, walking trails and fun attractions.
These are some of the best attractions and stores in Kuranda with kids.
Staying in Cairns? Check out our list of the best things to do there here!
Getting to Kuranda:
Skyrail Rainforest Cableway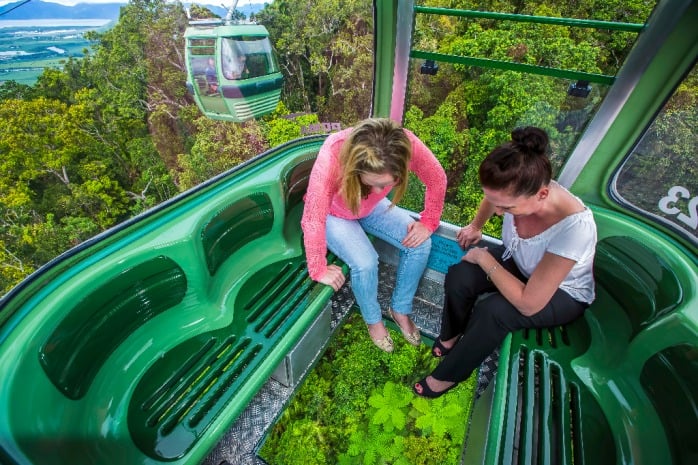 Experience the wonders of World Heritage-listed rainforests from above on Skyrail. Glide over exquisite jungle canopies in a gondola before descending to explore the rainforest close up.
Get your day trip here
Kuranda Scenic Railway
This famous rail journey takes you through the rainforest and past the spectacular waterfalls of Barron Gorge National Park. The two-hour journey, via 15 tunnels, 93 curves and dozens of bridges showcases the natural wonders of Far North Queensland.
Get your discount tickets here
Attractions and Activities:
The Australian Butterfly Sanctuary is the largest butterfly aviary in the southern hemisphere! In the heart of Kuranda, the sanctuary is home to over 1500 magnificent butterflies. Walkthrough the rainforest gardens and experience the elusive wonders of nature.
Get your discount tickets here
Kuranda Koala Gardens
This is a great thing to do in Kuranda with kids. Home to some of Australia's most iconic animals like koalas, wallabies, wombats and crocodiles this boutique wildlife attraction is located within the Kuranda Heritage Markets. Cuddle a koala or hand feed the wallabies and learn about other native Australian animals.
Get your discount tickets here
Bird World
Birdworld Kuranda is one of the largest collections of free-flying birds and cassowaries in Australia! Replicating the natural habitats of the 80 bird species that roam this exhibit, Birdworld offers hand feeding and photo opportunities for all guests.
Get your discounted tickets here
Rainforestation Nature Park
Just five minutes outside of Kuranda is Rainforestation. Here you can learn about Aboriginal culture, take a rainforest tour on a World War Two Army Duck and visit the Koala and Wildlife Park to meet heaps of Australian animals.
Get your discounted tickets here
Kuranda Riverboat Cruises
Take a boat cruise on the calm waters of the beautiful upland Barron River. Spot local wildlife including freshwater crocodiles, turtles, fish and more whilst your local guide shares their knowledge of the unique area.
Learn more here
Kuranda Rainforest Journeys
This locally owned and operated business offers guided rainforest ATV/5-seater buggy tours! Available to kids aged 4 and up, enjoy the relaxed journey through the secluded estate and keep an eye out for the resident cassowary.
Find out more here
The Magical Lane
Kids can uncover the secrets of fairies at the Magical Lane, a real adventure looking for hidden items and keys that unlock games and clues to finding the fairies. Journey through an enchanted forest, past the waterfall and through a stream to find the secret fairy garden but be sure to watch out for pirates and goblins along the way. You can also book a tea party experience alongside the Quest.
Learn more here
Mini Golf
Play a 9-hole mini-golf course in the middle of the rainforest! Located in the Kuranda Original Rainforest Markets, this is perfect for kids of all ages, and a game is only $5 per person.
Get all you need to know here
Shopping and Souvenirs
Kuranda Original Rainforest Markets
The Kuranda Original Rainforest Markets began in 1978 and have retained its unique, rustic atmosphere to this day! The markets are like a miniature village of their own with tons of local stores selling locally designed and produced fashion, jewellery, Indigenous art and more.
Find out more here
Kuranda Heritage Markets
These bustling markets were established over 20 years ago! The markets are home to a diverse array of stalls stocking a selection of local art, craft and produce. You can also grab a refreshment with a range of food and drinks available.
Get all you need to know here
Kuranda Candy Kitchen
Located in the heart of Kuranda, Kuranda Candy Kitchen is a great place in Kuranda with kids. The store takes you through the fascinating tradition of old fashion candy making. Here you can witness the skill and dedication required to produce the delicious rock candies which you can then buy!
Get more info here
Honey House
Established in 1959, Honey House allows visitors to watch bees make honey in glass observation hives, taste local honey and learn about beers from the resident beekeeper.
Get more info here
Walking tracks and trails
Jurum Creek Walk
We love this walk because it is FREE, just all the things on our free things to do with kids in Cairns list.
like Starting at the Visitor Information Centre, this nature walk forms an easy circuit through the rainforest in Kuranda Village. Winding through the rainforest, this one-hour walk follows the riverbank of the Barron River.
Kuranda Art Trail
Immerse yourself in arts, history and culture by simply walking the two main streets of Kuranda Village, Coondoo Street and Therwine Street. With spectacular sculptures, mosaics, murals and colourful street art there really is something to capture every imagination.
Kuranda Galleries & Art
Emu Ridge Gallery
This two-story fossil and gemstone museum is famous for its life-sized dinosaur skeleton! The 9-meter replica of the Allosaurus is a must-see attraction, plus check out the beautiful gemstones and jewellery.
Doongal Aboriginal Art and Artefacts
Doongal Aboriginal Arts hosts one of the largest collections of Aboriginal art is in Australia. With stunning local Aboriginal Rainforest Art as well as artwork from Central Aboriginal artists, enjoy viewing Doongal Galleries large range of artworks and traditional artefacts in the heart of Kuranda.
Restaurants and Cafes
Frogs Restaurant
Frogs Restaurant was established in Kuranda in 1980 and is still locally owned and operated today! With an extensive menu including tasting platters of emu, crocodile and kangaroo, locally caught barramundi, authentic curries, pizzas, burgers and salads as well as gluten-free and vegan options, there's something for everyone. Located at the Heritage Markets, enjoy the view from the outside deck while water dragons play at your feet.
Get Out with Kids Tip: Right behind the Frogs Restaurant is Rob, the Tarot Card reader… if you are in to that sort of thing! 😉
Learn more here
Petit Café
This is one of the best places to eat in Kuranda with kids. Specialising in traditional French crepes and pastries, Petit Café's menu offers a wide range of sweet and savoury crepes, all of which are prepared using local ingredients. Located in the vibrant surroundings of the Kuranda Original Rainforest Market, dine in a unique and welcoming atmosphere.
Website: Click here
Kuranda Rainforest View Restaurant
Only five minutes from Kuranda Station and Skyrail, Kuranda Rainforest View Restaurant offers visitors one of the best views in Kuranda. With indoor-outdoor seating capacity, enjoy the extensive range of food on offer.
Learn more here
If you are heading to Cairns during school holidays, make sure you check out our ideas for school holiday activities in Cairns.