Well my plans are scuppered – Rain, rain go away!! I suspect you have found my article because it's a rainy day and you are looking for the best rainy day activities in Adelaide to help you pass the time. Well, here at Get Out with Kids, we love… well… getting out with kids…. So, we won't let the rain stop us, with some awesome rainy day activities for you to get stuck into!
While I absolutely LOVE the sunny lazy days on the beach and the clear nights watching the sunset while watching the kids busy themselves on the sand or in the park waiting for the BBQ to fire up, there are times when equally the odd rainy day forces me to think outside the box and enjoy some rainy day activities. Adelaide on a rainy day may not be your idea of fun, BUT…..
Having the knowledge and ideas up my sleeve at a moment's notice, no matter where I am, makes the job of transitioning from a sunny day of activities to a rainy day so much easier to contend with and while other members of my family may not be so enthusiastic to start with, I can assure you that being prepared and having a few alternative plans and experiences to draw from, can actually make the day more enjoyable and memorable than you would first believe.
Rainy day activities for children can be super fun but that said, it is also much much easier when someone else has already put the ideas in a handy list so I have the best list of things to do in Adelaide on a rainy day broken down by age to help you find the perfect rainy day activities for families.
Check our list of the BEST school holiday activities Adelaide
Rainy day activities for toddlers
I wake up and hear the sound of water hitting the windows and glare out to find all my best laid plans are no longer useful – a visit to the beach to make sandcastles or go to a park to let my toddler run around and blow off steam….. panic sets in about what am I actually going to do to get out of the house and entertain my 'full of gusto' toddler/s. Well – grab a cuppa and peruse the list below to plan your 'alternative' day of fun with a group of places that are great rainy day activities for toddlers.
This isn't a rainy day activity but here is our list of the best places to go strawberry picking in Adelaide with kids
Wacky Warehouse
Adelaide rainy season can play havoc with best laid plans. However this place with over three levels of fun play activities for your toddler to be immersed in and over 200 square metres, is a wonderful location to bring your toddler and older children too! With wave slides, and a separate soft play zone for under 5s, this will keep your toddler occupied and an onsite café is just the icing on the cake!
Website: Wacky Warehouse
Address: 162 Gorge Road, Newton, South Australia
Latitude Air Indoor Trampoline Park
Another rainy day activities for kids of varying ages is this activity packed location with a soft kids zone for under 5, rock climbing, dodgeball (for the older kids), trampolines and even a ninja-warrior course – this place has lots to choose from.
Website: Indoor Trampoline Park & Rock Climbing Adventures
Address: Greenacres Shopping Strip
The Cirkidz Circus School
Rainy day activities for 2, 3 and 4 year olds and even older can be located here! A great place to learn a number of different activities made famous as 'circus tricks'. From acrobatics for toddlers and older children alike, with aerial stunts for the older children and a smaller gym version for the toddlers of the group together with juggling activities, this is a great way to spend a rainy day in Adelaide. Various workshops and sessions are available at varying prices.
Website: Circus Adelaide
Address: 27 Fifth Street, Bowden
Baby Sensory and Toddler Sense
Wonderful adventures to be had for busy minds of the younger group, ideally from 1-3 – 5 years. This is, as the name suggests, fun for all the senses. Rainy day activities for babies and toddlers are well covered here with baby sensory classes on site. This is a world of discovery for toddlers learning and having fun at the same time.
Website: Toddler Sense Multi-sensory adventures
Address: Various locations throughout Adelaide/South Australia, check website for locations.
Toddler World at Funtopia Prospect
Rainy day activities for toddlers can be tricky but this is a playground for children of all ages with a dedicated toddler zone which includes building blocks, slides and play equipment, interactive games and obstacles. The separate Playground World will keep the older children engaged as well as climbing walls for the even older age group – everyone covered at this place and even a coffee while you watch!.
Website: Funtopia World Australia
Address: Tenancy 8, 259-269 Main North Road, Sefton Park
The Cockle Train
The stunning location of Victor Harbor is a great place to visit but also the backdrop to the Cockle Train. This railway is said to date back as far as 1887 so a great piece of history and a fabulous way to spend the day together travelling the train!.
Website: The Cockle Train
Address: Available from stations at Goolwa, Port Elliot and Victor Harbor.
Croc's Playcentre, Kilburn
To avoid Adelaide Wet season why not try another great indoor playground with lots to keep your toddler happy on a rainy day!. With slides, climbing activities, bricks, toys to name but a few, this is a great place to check out when you are looking for rainy day activities indoors.
Website: Croc's Playcentre
Address: Shop 4, 4/252 Churchill Road, Kilburn
Adelaide Aquatic Centre
With a Leisure Pool that has shallow waters to frolic in, waterslides and fountains, if you have a water baby, this is the place to visit. Bigger kids can enjoy the 50 metre main pool and there is also a dive pool. The centre has a café onsite. It is situated in the Adelaide Park Lands, so even a great option when the weather is also fine and sunny.
Website: Adelaide Aquatic Centre
Address: Jeffcott Road, North Adelaide
Copper Coast Indoor Play Centre
Situated at the Copper Coast Tourism Centre this huge indoor play area with café has everything to keep them entertained while you rest up in the café area. From ride on toys to slides they will have great fun here! A great location when trying out rainy day activity for toddlers.
Website: Copper Coast Indoor Play Centre
Address: 50 Mines Road, Kadina
Impact Kids World
This is another play café which is great for kids up to 12. This is also in a great location for adults as it is situated in amongst vineyards. When needing rainy day activity indoor-style when visiting this region, this is a great one to have up your sleeve. There is a giant blow up slide, inflatables of all sorts of shapes and colours, and other toys to keep them entertained. There is also an outdoor play area so this is great to visit when the weather is sunny. A sensory room tops off the area. The menu is also inviting with lots of items to choose from.
Website: Barossa Playcentre
Address: Cnr Barossa Valley Way & Siegersdorf Road, Tarunda
Address: 653 Port Rd, Woodville Park – 08 8345 2455
Rainy day activities in Adelaide for kids aged 5 – 12
Rain has set in for the day and no hope of getting to that park for a catch up. Here is my go to list of indoor activities/places for you to visit where you can relax knowing that everyone will be entertained (and satisfyingly tired out!), with some ideas on what to do when its raining.
Bounce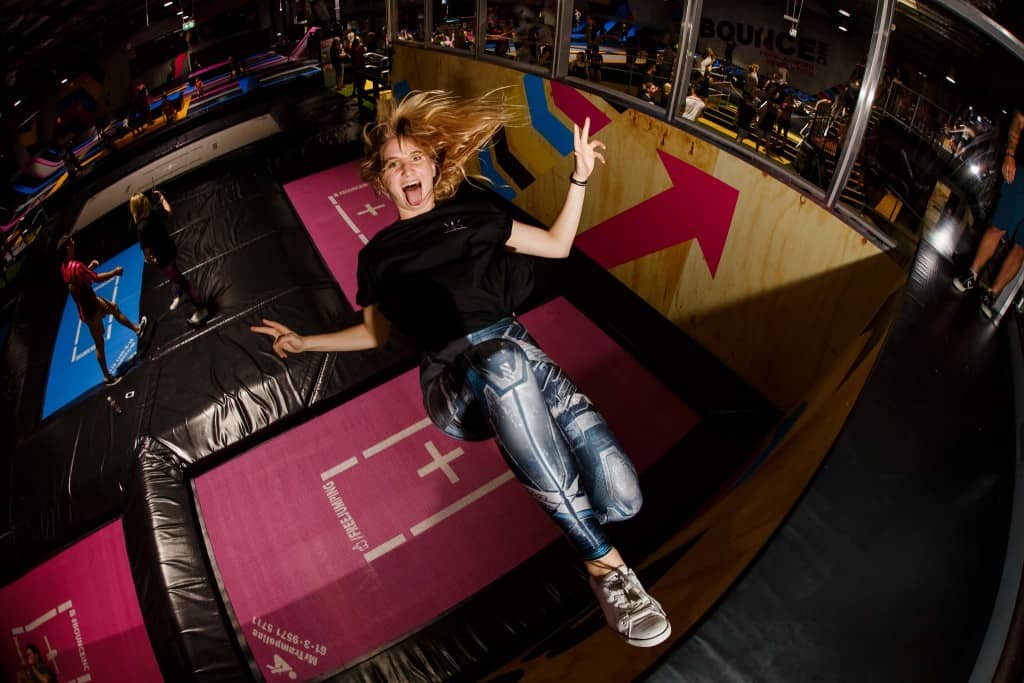 When in Adelaide on a rainy day why not try bouncing!! A great big warehouse style venue set up with trampolines, and obstacle Ninja-style courses. The gymnasts of the family will certainly enjoy this rainy day activity indoors and there is a café onsite serving hot and cold food!
Website: BOUNCE Inc Australia
Address: 164-168 Richmond Road, Marleston
Latitude Air Indoor Trampoline Park
Mentioned above, a great place for kids rainy day activities. Even though mentioned earlier with the focus on toddlers, this is a wonderful location for kids of all ages and size – great when kids are trying age-appropriate activities with other like-minded children, the ninja-warrior course is particularly popular as is the rock climbing!
Website: Indoor Trampoline Park & Rock Climbing Adventures
Address: Greenacres Shopping Strip
Cinema – various
Adelaide wet season can be difficult to navigate through however there are any number of cinemas in and around the Adelaide and these are great, particularly in school holidays when there is always a number of film options for children. Grab the popcorn and get the group together a movie extravaganza!
Website: Event Cinemas
Address: Please check website for locations and events
Mega Fast Karts
A rainy day in Adelaide? No problem – Located at Richmond, this place has a number of areas to choose to tackle! The main race kart, dodgem car race track, laser skirmish and arcade centre. Various packages are available for purchase and can get the whole family involved.!
Website: Mega Fast Karts Australia
Address: 6 Deacon Avenue, Richmond
Art Gallery of South Australia
The Art Gallery of South Australia has so many areas and always lots going on. Various programs and events can be accessed so its worth doing your research before going. However, there is currently an inflatable wonderland to enjoy together with plenty of arts and crafts and even dancing to join in with together with storytelling performances.
Website: Art Gallery of South Australia
Zone Bowling Cross Road
Who doesn't love a good bowling session and a fab rainy day activity with friends! With laser tag as an additional activity along with food and drinks – this is a great activity for the whole family to enjoy (with a little gentle competition!).
Website: Zone Bowling Cross Road
Address: Various locations throughout Adelaide – please check website for further details.
Lollipops Croydon
Lollipops is an indoor playground activity for children of various ages to enjoy. With an onsite café and lots of play areas to enjoy, this is sure to keep your kids happy for a long while. Plenty of favourites here such as soft toys and slides, etc!.
Website: Lollipops Croydon
Address: 449 Port Road, Croydon
Little Rockets Play Café
There are three located around Adelaide, Munno Para, Murray Lands and Westfield West Lakes. These playgrounds are HUGE! Onsite café for when you are peckish! If your kids enjoy letting off steam with plenty of playground equipment to try in a great space, this is definitely one to try!
Website: Little Rockets Play Cafe
Address: Three locations to try:
Munno Park, Murray Lands and Westfield West Lakes. Please refer to website for further details.
National Railway Museum
Situated in Port Adelaide is this beautiful interactive location all about TRAINS!. A rainy day activity with tweens who are sure to enjoy the mini railway and train rides, this is a wonderful alternative activity when its raining outside. The older members of the family will also enjoy the information and array of exhibits on view.
Website: National Railway Museum
Address: Central Port Adelaide
Henley Square Water Play
Located at Henley Beach, this recently refurbished development is great for all members of the family, but particularly toddlers and younger children. This inground water feature provides great fun for children to chase. Whilst its not a 'traditional' indoor activity for rainy days, it is a great place to come if you are in the area and the weather is that on and off style rainy day – they will probably be wet, so why not enjoy it a little!!.
Address: Henley Square, Henley Beach, Adelaide
Things to do in Adelaide when it rains with teens
Rainy day activities for teens anyone?! I struggle to sometimes interact with my teenager who would much prefer to spend time on devices, or catching up with friends online. However, I do try connecting outside of this world and I enjoy seeing the look of enjoyment on my kids faces when they try something or visit somewhere a little different – even though it may well have been met with a little resistance to start with. Some of the places that may help when in Adelaide include ….
Here are the best kids party venues in Adelaide!
Adelaide Gaol Ghost Tour
If your teenager has a fascination of the ghostly kind, why not take them on a two hour guided tour of the supernatural. Here you will uncover Adelaide's darkest moments with stories of ghosts and visits to burial sites. Not for the faint-hearted!! Tours run on some Fridays and Saturdays so please check beforehand. Prices start from $39.
Website: Adelaide Gaol Ghost Tour
Address: 18 Gaol Rd, Thebarton
Adelaide Oval
Rainy day activities for teenagers don't come much better if you have a sporting enthusiast in your midst. This is a great opportunity to experience some of the areas normally off-limits. With a guided tour listening to some of the history of the venue this is a unique experience to be had. Prices from $25
Get your discounted tickets here: Adelaide Oval Stadium Tour
Address: Adelaide Oval, Adelaide
South Australia Museum
Visiting Adelaide during the rainy season means changing plans at the last minute. However museums are fascinating places and engage interest, with any number of unique exhibits of days gone by. This here is no exception. Examining Australia's history and cultural heritage is a great way to spend the day – makes history come to life!.
Website: SA Museum
Address: North Terrace, Adelaide South
Maniax
Yep ….. axe-throwing – a great rainy day activity in Adelaide! But before you disregard this as dangerous for your teenager, please be assured that there are rigorous safety checks in place prior to being allowed to partake in this!. You can even engage in a coaching and target practice session with a designated member of staff. Great for small groups to indulge in and have some fun!. Various packages are available for purchase.
Website: MANIAX
Address: 1 Light Terrace, Thebarton
X-Golf, Marion
This state of the art indoor golf experience is good fun – housed in kiosks with the opportunity to buy food and drink or even golf lessons!! It is a relaxing atmosphere here, with the opportunity to try something new or hone those golfing skills with the simulators available to use.
Website: X-Golf Australia's Leading Indoor Golf Simulators
Address: X-Golf Marion, 838-842 Marion Road, Marion
The Cirkidz Circus School
This has been mentioned earlier and I make no apology. Reason being there are very different activities for younger children as opposed to the teenagers of the family. Acrobatic challenges for teenagers include aerial hoops and ropes and can be challenging but definitely worth giving a go. Other circus tricks can be learned and various workshops are available.
Website: Circus Adelaide
Address: 27 Fifth Street, Bowden
Neo, Art Gallery of South Australia
This is only held at certain times of the year but if you are in the area, this is definitely worth a go if it is on for your teenager. This is ONLY for teenagers 13-17 years – no adults/parents are allowed. It is a safe place within the Art Gallery where kids use the creative labs available or listen to live music and discover some of the exhibitions.
Website: Neo
Address: North Terrace, Adelaide
Escape Hunt Adelaide
Escape rooms are very popular at the moment and this one is no different. With three different escape rooms to try you can decode puzzles or hunt for various clues in a timeframe before you are 'locked in'.
Website: Escape Hunt Adelaide
Address: 133 Rundle Mall, Adelaide
Mega Courts, Adelaide Indoor Sports Centre
Laser tag and gel ball facilities are located at this indoor sports centre. This is a new facility and includes the newest of sports – gel-ball. With gel blasters and safety equipment available to use, this is a safe but fun battle arena!!
Website: Adelaide Indoor Sports Centre
Address: 10-18 Albert Street, Windsor Gardens
Rainy day activities for adults in Adelaide
Whilst my kids are important to keep entertained (and for my ultimate sanity in getting through these unusual rainy days out), my world would definitely be missing something if I didn't get to enjoy something that was solely for my adult world with friends or partner. There are plenty of things to do in Adelaide when its raining. Here are some activities that can be enjoyed while in Adelaide on those less than perfect sunny days or clear nights!
Adelaide Central Market
Who doesn't love a good market – thrilling for all the senses, vibrant, lively chatter and banter, delicious food and great colours and aromas to enjoy. The markets are a wonderful place to come visit and this particular tour will take you on a three hour visit – perfect way to try the best of the best!. From $160 per person.
Website: Adelaide Central Market Tour with Lunch
Address: Adelaide Central Markets 44-60 Gouger Street, Adelaide
The Lane Winemakers Experience
Well while you are close to the vineyards why not try an interactive winemaking experience in the Adelaide Hills. This gives you the opportunity to experience all things wine in a very different way and gives you a good indication of what a working vineyard involves with this hands on experience – bottling your own blend of wine! Afterwards you will delight in a degustation with 5 wines and accompanying food dishes to enhance the flavours and complement each other!.
Website: The Lane Winemakers Experience
Address: 5 Ravenswood Lane, 5245, Hahndorf SA
Adelaide Hills & Hanhdorf Hideaway Tour
This tour within the Adelaide Hills will take you to two cellar doors for wine tastings and to Melba's Chocolate Factory together with a two course lunch including wine or beer – a wonderful way to explore the area. Prices from $200 – a great rainy Sunday activity.
Website: Adelaide Hills & Hanhdorf Hideaway Tour
Address: Adelaide Hills
Barossa Valley Hop on Hop Off Tour
This famous region can be explored in a number of ways but why not try the hop on/hop off variety and taste some wines without the worry of driving. This particular experience gives you four stops and also the opportunity to try tapas on your travels.
Website: Barossa Valley Hop On Hop Off Tour from Adelaide
Address: Barossa Valley
Tiny House Staycation at the Pink Lake
A little different, why not cosy up at this beautiful 'tiny house' experience at The Pink Lake which is only 90 minutes from Adelaide city. Within the region of the Clare Valley, this beautiful tiny house affords fantastic views and has everything you need but in tiny proportions. Rekindle that romance with a wonderful rainy day activity for adults!
Website: Tiny House Staycation at the Pink Lake
Address: Pink Lake, Bumbunga
National Wine Centre
Situated within the Botanic Gardens in the city, this is a great place for you to learn and try ….. wine!! If you are a wine lover, this centre is a great place to take in on your visit to Adelaide.
Website: National Wine Centre of Australia
Address: Corner of Botanic & Hackney Roads, Adelaide
Motor Museum
If you are interested in all things motor, then this is the place for you to visit. With all sorts of cars exhibited from the very old vintage style cars of days gone by to more classic style vehicles to the most speedy and expensive!! Prices start from $17.50 for adults and $7.50 for children but packages are also available to purchase.
Website: Motor Museum
Address: Shannon Street, Birdwood
Endota Spa
Well, when the weather is not great, what better way to spend the day than relaxing at a day spa. With various treatments from massages, to facials to many other pampering goods to try or purchase, this is a great way to while away a few rainy hours!
Website: Day Spa
Address: 100 Rundle Mall, SA
Shopping
There are a few shopping precincts in and around South Australia. This is just one, which incorporates boutiques, classic shops, cafes and restaurants – watch the budget though!!
Website: Rundle Mall
Address: Rundle Mall, Adelaide
French bar and restaurant – La Buvette Drinkery
As with most cities, the night life is usually in abundance and with multiple choices. This is a chic place to trial – offering French cuisine and various beverages including French wine and many cocktails – a lovely way to finish off your rainy day in Adelaide.
Website: LA BUVETTE DRINKERY
Address: 27 Gresham Street, Adelaide
Rainy day activities for home
OK, so you have read through all my rainy day ideas in Canberra and you still don't want to venture out. Fret none, I have also got a great list of things to grab now for any future rainy days in Canberra. Just like the Scouts, you will always be prepared!
10 Fun things to do at home when it is raining
When you can't get out and about, finding activities at home can be tricky on short notice. Because we know everyone is different, we have compiled a heap of entertaining and interesting activities, including art ideas for rainy day activities in Canberra you can do at home (or in a hotel room!).
How to draw cool things drawing guide
Have a budding artist in your midst? Then how about following a step by step instruction book – 'How to draw cool things' which will suit even those just starting out. Includes optical illusions, 3D letters, cartoons are just some of the things they can learn to draw.
Be a rubber band engineer
Maybe even a mechanic that loves fiddling and fixing things, this book will help create all sorts of gadgets. You will never believe what they can make with just a rubber band and the ideas between the pages.
Get procrastibaking
Baking is always a favourite in my house, so grab a recipe book and get them into the kitchen for a chance to be the next Masterchef!
Non boring board games
Why not invest in a different style of board game – definitely helpful in getting them away from those electronic devices! It even includes some team building games for teens.
Get playing with these board games.
Learn how to ride a hoverboard
Why not try a new skill – hoverboarding! Spend the time learning how to ride one and impress their friends!.
An escape room in a book
Escape rooms are definitely a favourite but if getting to one is a problem then why not try one from the comfort of your own home with this unique book. With just 60 minutes to escape from a labyrinth, you must take on the challenges and solve mysteries to finish the book.
Put your time to good use
This selection of books assist in areas that we could all improve upon such as increasing level of happiness and even confidence building books like 'What's my super power'.
Check out this selection of books on highly effective teens.
Master a remote controlled car
Building and driving remote control cars is an activity that can start indoors and be taken out when the sun makes an appearance. 4WD's, mini coopers and heavy machinery vehicles are just some of the vehicles you can control or why not try with Lego!
Fun things to do when stuck at home
Still can't think of anything, then this book is jam-packed with alternative ideas – you are bound to find something here.
Read up on things for kids to do here.
Fly a drone
Kids will love learning how to fly a drone – varying models are available from the basic to something more sophisticated so why not give this activity a go.
Things to do in Adelaide on a rainy day
Adelaide rainy day activities are plentiful – but its easy when there is a place to start your research. Hopefully this has helped you identify something that you can all enjoy from rainy day activities kids-style to rainy day activities indoors or even rainy day activities couples-style (even outdoors activities if the weather doesn't bother you!).
It doesn't have to be expensive either, there are plenty of things to do when its raining to keep those kids from getting bored (and lets face it the kids rainy day activities really helps us to reconnect as a family). ENJOY!!