Discover the Best Water Parks in Adelaide – Whether you're a resident or just visiting, our comprehensive guide features both free and paid options for all your aquatic adventure needs!
For a thrilling and exciting day out, one of Adelaide's water parks making a great option for teenagers seeking adventure.
From water jets, to splash pads, to slides that are guaranteed to make your stomach drop, we can ensure there will be something for everyone! Check out some fantastic water parks in Adelaide for kids below!
Water parks in Adelaide are not only a fun summer destination, but also a perfect school holiday activity for families to enjoy.
Free water parks open to the public in Adelaide
If you are looking for water parks that are free to access, then look no further! We have collated a list of the best free water parks in Adelaide. All you need is sunscreen, a hat, swimmers, a towel, some snacks and water, and most of all – the willingness to have fun and get wet!
1. Festival Plaza
This brand new precinct is set to be Adelaide's newest entertainment hub. Boasting with family friendly accommodations, you can take up residence on the available seating, under a shade structure or on the lawn area. It also has a water play area, that sprays water through bubblers and misters, has pooling water, all housed on fantastic non-slip pavers.
Check it out here
2. Splash Town Moonta
With a beach backdrop, Splash Town at Moonta is a fantastic water park for the kids. Not only is it free, but it is also suitable for all ages. This water park has four large water slides, a slide for the younger ones, large mushrooms with cascading water and a large tipping bucket.
Find the details to visit here
RELATED: If you're searching for a furry-friend-friendly swimming spot, check out our list of dog-friendly swimming spots in Adelaide here.
3. Glenelg Foreshore Playground
Aside from a fantastic playground, Glenelg Foreshore also has a water play section. Amongst nature play, climbing, slides, active play, trampolines, balancing, hammocks, be sure to check out the water play section too! There is a water pump that sends water down a concrete path where kids can play or scoop water.
Check out the playspace here
4. Tusmore Park Wading Pool
This wading pool is sure to be a hit with the kids! Recently updated, it is now fully fenced, has a graduated entry and safety rail, as well as a new water fountain and another lagoon like pool. The kids can splash in the 30cm deep water, play under the fountains and laze around the rocks.
Find out how to visit Tusmore Park here
5. Playford Alive Town Park
There is so much to love at Playford Alive Town Park! The water play park is an absolute hit with the kids. It has four separate water play areas, with jets and sprays plenty! Once they've had their water play fun, the kids can then enjoy the flying fox, climbing structure, rock climbing and all the usual playground antics.
Find more information about Playford Alive Town Park here
6. Mosley Square Water Fountains
If you are looking for classic water fountain fun, Mosley Square is the place to go. It has water jets that spray up and will have the kids squealing in delight.
7. Cowell Lions Park
This outdoor play area is a fantastic free water park. It has two water slides and a water splash zone with a tipping bucket and water fountains, jets and sprays. On top of the water park, it has a playground, skate park, basketball court and lawn areas.
Check out Cowell Lions Park here
8. Renmark Water Play and Riverfront
Along the Renmark Riverfront you will find this lovely water play area, with pools of water and cascading fountains. The kids can then dry off by playing on the lawn and appreciating the gardens.
Water parks open to holiday guests in Adelaide
9. Marion Holiday Park
Marion Holiday Park aims to provide their guests with everything, and they do not disappoint! With accommodation options galore, you could choose to caravan, camp or stay in a standard or premium room or unit. This place truly has it all, a camp kitchen, guest laundry, indoor tennis courts, a games room, an adventure playground, a beer garden, an outdoor cinema and a new bar and café! It just gets better with their water-based facilities!
Starting with the indoor heated pool, it is completely enclosed and warmed to a wonderful 29 degrees all year round, it also has a shallow area for the little ones. They also have 45m lagoon pool for the kids and adults to swim in! And don't worry, there is even a water park! With water slides, a splash bucket and water guns, the kids will be entertained for sure. They even have wetsuits for hire for the colder months! This truly is a one stop holiday destination.
See all the fun on offer and book your holday here
Water parks open to the public in Adelaide
10. Waterworld Aquatic Centre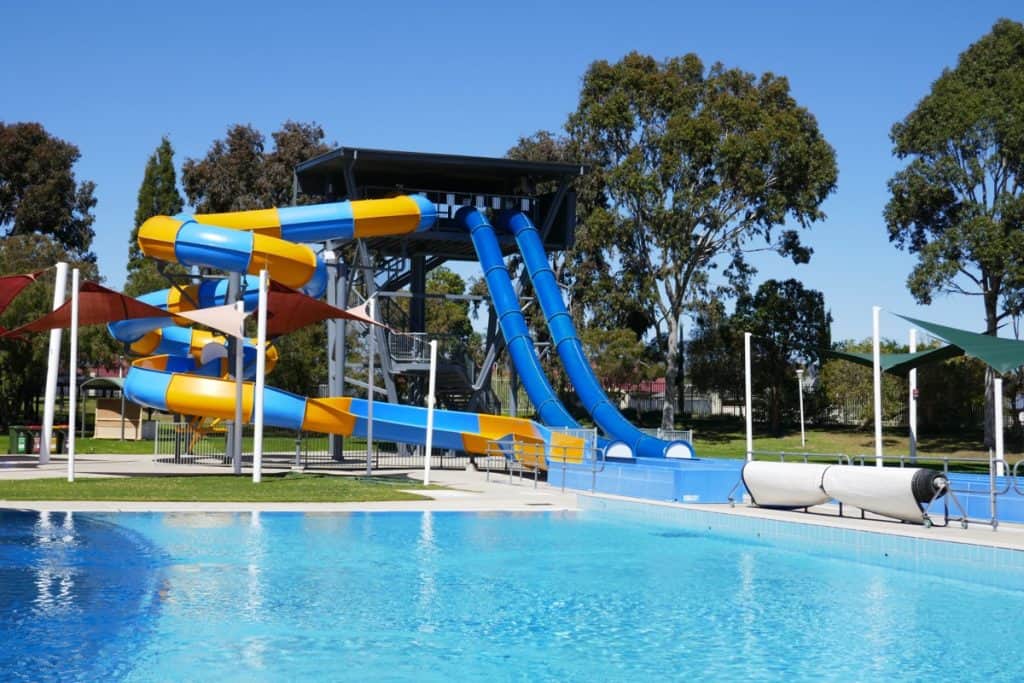 Waterworld Aquatic Centre has an amazing range of water play! It has a main pool and a learners pool, as well as a toddler pool, interactive splash pad, water slides and aquarun – where we think the true water fun would happen! The toddler pool is heated, and has a small water slide, and all sorts of fountains, this also leads into the interactive splash pad where the little ones can safely run over the non slip surface and be sprayed under the water rings.
For those attendees over five years of age, be sure to have your turn of going down one of the many water slides. If you are lucky enough with timing, you can also play on the aquarun – a 15m inflatable water obstacle course and slide!
Check out all of the fun at Waterworld here
11. The Big Wedgie
The Big Wedgie is sure to live up to its name – with four inflatable water slides guaranteed to give you a thrill (and a wedgie or two)! Amazingly, The Big Wedgie is the world's tallest inflatable water slide, at 18m tall and 82m long, it gives you a 55 degree slope that is sure to give you butterflies.
The Big Chucka is for those who dare, with an 80 degree plunge that throws you into the air and has you land on a Hollywood stuntman landing pad. For the kids age five plus, they have The Just Right Wedgie, which they think gives the perfect amount of wedgie for the little ones. The Little Wedgie is the smallest of them all, but perfect for ages three to five.
Be sure to book your Wedgie experience here
12. Marion Outdoor Pool
Aside from the standard 50m swimming pool and a children's swimming pool suitable for little learners, at Marion Outdoor Pool you will also find a splash park and water slides! The splash park features four water slides, a tipping bucket pouring 600 litres of water, water cannons, a splash pad with a non slip surface that also has water jets and interactive water play – this all provides 59 square metres of pure fun!
The two water slides are also guaranteed to put smiles on faces, with the Twist Slide being a 15m enclosed slide that has corners and an anti-clockwise spiral that has you finish in open air. Or, the Speed Slide is for those who want a single straight adrenaline pumping 10m drop, where you finish with a big splash!
Book your day at Marion Outdoor Pool here
13. SA Aquatic and Leisure Centre
The SA Aquatic and Leisure Centre is a one stop shop for all the swimming fun, with lap, leisure and fun options available. The leisure pool is a classic option if you are just wanting to splash around with the kids, or for the little ones, there is a shallow toddler pool. The splash park is ideal for kids 10 and younger, and has two water slides and a big bucket. There are also dive boards and pool toys on offer!
Currently closed, but set to reopen soon, the Witbit is a giant floating inflatable obstacle course, perfect to practice balancing, jumping and sliding. The Witbit is housed in 3 metre deep water so they recommend that children are strong swimmers and ages six plus.
Check out all the water fun options here
14. The Beachouse
Fun, fun and more FUN! The opportunities for fun are endless at The Beachouse. There are attractions of all kinds, both wet and dry, for all ages. The dry attractions include dodgem cars, mini golf, arcade games, play castle, carousel and a train. For the water park fun, there are three different waterslides; the raft waterslide, the chilla waterslide and the speed waterslide. We must not forget to mention the bumper boats with water cannons!
Check out The Beachouse here
15. George Bolton Swimming Centre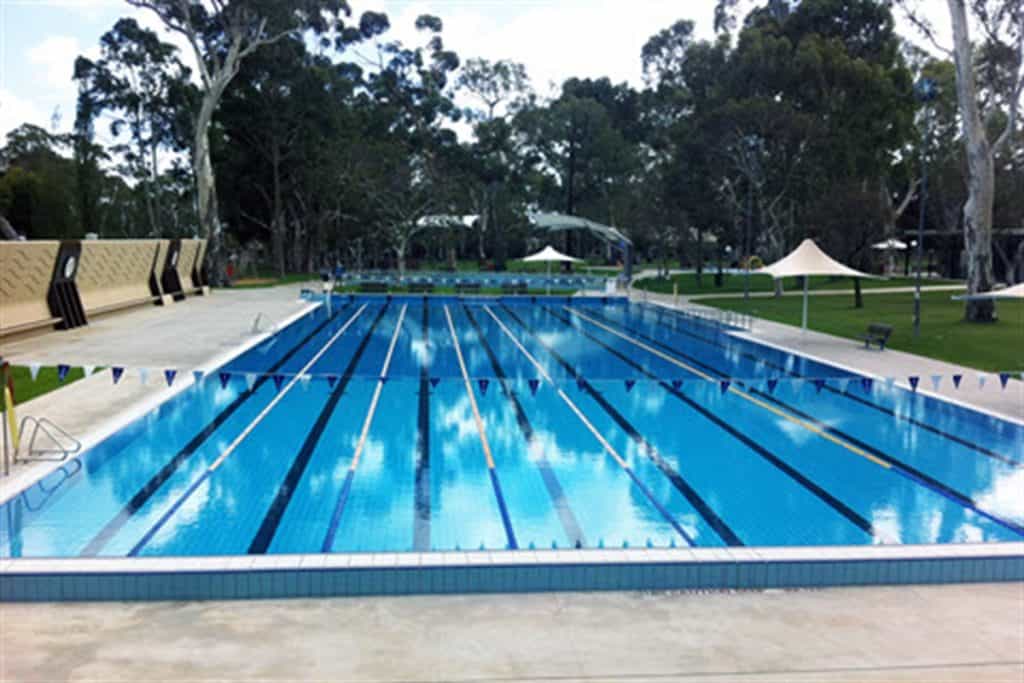 There are pools galore at the George Bolton Swimming Centre, with all outdoor pools heated to 27 degrees, bliss! The main pool is an 8 lane, 50 metre pool, for those wanting to do laps. The learners pool is perfect for little ones, with a sloped depth from 0.7 to 0.9 metres and shade over part of the pool. The toddlers pool has interactive play equipment, such as their water tunnel, that goes into a beach entry style shaded pool that slopes to 0.4 metres. This swimming centre also has a café/kiosk, playgrounds and barbeque areas.
Find all the fun at George Bolton Swimming Centre here
The Best Water Parks in Adelaide for Kids
You certainly aren't short on water park options in Adelaide! There truly is something for all budgets, ages, swimming skill levels and desire for adrenaline. As always, be sure to wear sun protection in all forms! And have FUN!
Best camping options in Adelaide with kids
Day trips from Adelaide with kids
Kid friendly pubs in Adelaide
Celebrating with kids in Adelaide?
ANZAC Day commemorations in Adelaide
The best Christmas lights in Adelaide
Christmas markets in Adelaide
More great articles in South Australia
If you are looking for more things to do with kids in South Australia, click here.