If you are looking for all the best things to do on Magnetic Island with kids, you have found the right article! We just got back from our trip to this beautiful island and we cant wait to tell you about it!
We went to Magnetic Island in December, and it was hot… really hot. So be prepared for the heat and the sun if you go to Magnetic Island in the Queensland summer! December is also during stinger season (October – May), so you will need to buy or hire stinger suits or only swim in the stinger enclosures set up during school holidays.
We also took our own car over on the ferry from Townsville (more about that below) so we could access all the family activities on Magnetic Island.
Magnetic Island things to do for families
If you are looking for what to do on Magnetic Island for kids, keep reading, we have done our best to cover all the activities for kids that we found while we were there.
There are a huge range of Magnetic Island tourist attractions for families and the good news is that a lot of them are free. We just love a good list of free things to do in any area, so we have detailed our favourite family friendly free things to do in Magnetic Island too!
This guide will outline the very best and fun things to do in Magnetic Island with kids. In our opinion, Magnetic Island is suitable for toddlers, kids and teenagers alike. From building sand castles on the beach, to swimming in local bays and beaches and gorgeous walks, we have outlined in detail our experience at these Magnetic Island attractions.
Magnetic Island is a great family friendly destination!
Where is Magnetic Island?
Located just 8km off the coast of Townsville, Magnetic Island Australia is very easy to find. In fact, we recommend driving up to the top of Castle Hill in Townsville before you go across to the island. You will get a great view of the island and Cleveland Bay in all its beauty from *upon high*.
RELATED: We show you the best things to do in Townsville with kids.
Maggie, as it is affectionately known, is right in the Great Barrier Reef and over 75% of the island is National Park.
How to get from Townsville to Magnetic Island
The easiest way to get from Townsville to Magnetic Island is by ferry. You will catch a ferry from Townsville Breakwater to Nelly Bay Harbour on Magnetic Island.
There are two ferry options to choose from:
SeaLink
SeaLink is a passenger service that operates 18 services per day to Magnetic Island. It takes only 20 minutes on a high-speed catamaran. There is no need to prebook your ferry ticket, tickets are available at the terminal or onboard the boats if the terminal is closed. You can find more information for SeaLink Ferries here.
You can buy discounted ferry tickets for Magnetic Island here.
Magnetic Island Ferries
We took our car across to Magnetic Island so we could get around more easily on the island. It was obviously more expensive than just booking passenger tickets, but we weighed up the cost against either hiring a vehicle on the island or taking public transport and we decided it was worth the investment.
We used Magentic Island Ferries.
RELATED: Heading north? We have the best things to do in Cairns with kids here.
How to get around Magnetic Island
Once you arrive on the island, you will definitely want to find the best things to do in Magnetic Island and get amongst it. If you do decided to leave your car behind, there's no shortage of transport options on Magnetic Island, from walking to public transport to bicycles, you will find how incredibly easy it is to explore from the moment you step onto the Island.
On arrival to the island you'll find many options at the Nelly Bay terminal including:
Public bus
The most economic way of travelling between the Island's main hubs is by public bus. The bus runs daily, operating between 6:00am – 10:00pm. For Sunbus Magnetic Island timetable information click here.
Hire car
If you want to explore the Island at your own pace, hiring a car is the way to go. Whether you want to feel the wind in your hair, or explore the secluded bays only accessible by 4WD, there are options to meet every style!
Walking and hiking Magnetic Island
One of the best ways to discover Magnetic Island is on foot, with over 26km of walking trails linking bays and secluded beaches, you will be sure to encounter some of the best hidden gems Magnetic Island has to offer. Just be sure to sun cream up, take water and wear a hat!
Bicycle
Bring your own or hire one on the Island. Magnetic Island is well serviced with a road network, as well as unsealed roads, making it easy to discover the many bays on offer by bike.
Taxi or Uber
Taxi services on Magnetic Island are available, with taxi ranks in most of the main bays. You can also book an Uber in the usual way.
Beaches & bays of Magnetic Island
OK, the first thing you need to know about Magnetic Island is that it is FULL of beaches and bays. It is THE thing to do at Magnetic Island with kids!
There are 23 bays on Maggie. I am not going to tell you about them all, but I have done my best to detail what you need to know about the beaches and bays that are the most accessible on Magnetic Island.
You can see ALL the beaches and bays on this map:
Map courtesy of SeaLink
Below are the best beaches and bays for families on Magnetic Island:
Picnic Bay
Picnic Bay is the southernmost corner of Magnetic Island. As the name suggests, it is a lovely place to have a picnic and a splash in the water.
There is a specially designed swimming enclosure installed for the summer months to assist in protecting swimmers from stingers, and the beachfront is patrolled by lifesavers during the summer school holidays.
Magnetic Island's only fully fenced playground is located across the road from the beachfront / Picnic Bay Hotel.
The town of Picnic Bay also features an open-air shopping complex, The Picnic Bay Mall. The town also has the Magnetic Island Golf Course and the Magnetic Island Police Station. Off the coast the wreck of the George Rennie is visible at low tide.
There is a jetty that offers a nice stroll as this area is where the ferries used to arrive until Nelly Bay became the hub.
Nelly Bay
Nelly Bay is where the ferries dock and because of that it is the accommodation hub of the island. We stayed in Nelly Bay (in an AirBnB – more about accommodation later).
Most of the Magnetic Island's shopping and amenities are located in Nelly Bay. It is a lovely spot to go swimming or snorkelling on the fringing coral reef. But there are definitely better spots around the island.
Towards the northern end of the beach, you will find a children's playground and a coin-operated barbecue area and, further along, sheltered picnic tables and toilets.
Geoffrey Bay
Located in the area of *Acardia* on Magnetic Island, in Geoffrey Bay you will find Magnetic Islands famous rock wallabies. We went back to visit with them three times. There are signs up telling you what you should and shouldn't feed them. Fear none, they do NOT go hungry despite living in rocks!
Geoffrey Bay is also where you can swim out to the snorkel trail to see the reef. (More about that later too!)
Alma Bay
A firm favourite with our family, Alma Bay (as you can see from the photo above) is a calm bay perfect for all ages. Also located in Acardia, it is home to the Arcadian Life Saving Club who patrol the beach on weekends and public holidays.
There are boulders for the kids to climb on and rock-pools for them to explore. You can easily spend a full day at Alma Beach.
Public amenities include a gas barbecue, picnic tables, shaded children's playground, changing areas and toilets. This beach is popular with locals and tourists alike!
Get Out with Kids Tip: Alma Bay can get crowded, so if you are looking for more privacy (and don't mind a bit of a walk to get to it) check out Arthur Bay, just around the road.
Arthur Bay
With fewer visitors than the main beaches, Arthur Bay is perfect for families that want to relax under the cover of the granite boulders and native hoops pines that surround the bay.
Within a short walk (more honestly a little bit of a *hike*), you can find one of the most iconic photo locations of Magnetic Island. Arthur Bay lookout is a 200 metre walk from the bay and showcases the island's natural untouched landscape.
Koala's, rock wallabies, possums and more visit this bay and you can quite often see whales visiting these waters in the right season.
The beach house at Arthur Bay is the only property in the whole of Arthur Bay and is located 20 metres from the home. The house is available to book as a holiday home.
Florence Bay
The picturesque location is a popular snorkeling area with a large coral population along the rocks on the left side of the bay, and coral bomeys in the middle.
Florence Bay is popular with the locals too as it is one of the only beaches where you can lay on the sand in the shade or the trees. This makes is a great choice for families with kids too!
Radical Bay
Radical Bay is a north facing bay that is popular with the backpacker crowd as it is known for some of the best snorkeling on the island. Sadly, we didn't make it out to Radical Bay on this trip as the road down to the bay is only accessible by 4WD or walking and we didn't fancy the hike in the heat!
Balding Bay
Balding Bay is a hidden gem that can be reached if you are at Radical Bay.
The bay is a very peaceful and secluded area that sun lovers of the Island enjoy year round. Whilst this is a beautiful beach, we must let you know that is is a nudist beach, so expect to see naked people here!
The sandy bottom and gentle swell makes Balding Bay a good spot for a relaxing swim after your walk in.
Horseshoe Bay
Horseshoe Bay is where you head if you are after watersports!
Along the shores of Horseshoe Bay is an array of equipment hire options including jet skis, kayaks, stand up paddle boards and more! The Bay also provides a great swimming enclosure as well as fantastic fishing and sailing opportunities, along with a shady foreshore with magnificent views across the rocky outcrops and blue ocean waters.
You used to be able to hire horses here too but, at least for now, this is closed. We did however, go horse riding in Cape Tribulation in far North Queensland!
There are a bunch of restaurants, cafes and shops here too, so you wont be bored in Horseshoe Bay.
Get Out with Kids Tip: There is a market here from 9am – 2pm on Sundays, right on the beach!
Kid friendly activities and tours
If you want to easily get amongst it as soon as you arrive on Magnetic Island, then check out this range of family friendly activities – some of which are free!
Feed the rock wallabies
As we mentioned above, Geoffrey Bay is home to the rock wallabies. You can take carrots and fresh grass out to them to eat. They are wild but some are more tame than others and will eat out of your hand. Please don't take them bread!
Feed the rainbow lorikeets at 4.15pm
Bungalow Bay YHA (technically no longer part of the YHA network) has free rainbow lorikeet feeding every day during the summer and on other days out of season. When we were there, the feeding time for 4.15pm, but it varies so do check their website.
You can eat here too or stay for a drink. It is a lovely location, right near Horseshoe Bay, and has a gorgeous swimming pool too!
Cane toad races at Arcadia
For a bit of true Aussie fun, why not check our the cane toad races that are on every Wednesday night at the Arcadia Pub at around 8pm. They're free to watch, although you may like to buy a toad or grab a beer and some fab pub grub. There's lots of parking, or catch the bus. The stop is Alma Bay and is right outside the pub.
Explore one of the snorkel trails
Magnetic Island has fringing coral reef and many shipwrecks that are abundant in sea life.
Some of the best places to explore while snorkeling and diving on Magnetic Island are found at Nelly, Geoffrey, Alma, Arthur and Florence Bays.
The island has two marked snorkel trails, one in Nelly Bay and another in Geoffrey Bay. Snorkel Trail maps can be purchased at various locations around Magnetic Island for a $5 donation to the upkeep and maintenance of the trails and other reef areas on Magnetic Island. These handy Swim Cards mark the species of fish and coral that you are likely to see at each location, including 100kg aqua-cultured giant clams.
Nelly Bay's Snorkel Trail
Nelly Bay's Snorkel Trail starts approximately 100 metres off the beach near Base Backpackers. The yellow surface floats mark healthy coral reefs and large coral fish populations and correspond to notes on the snorkel trail maps. The trail has lots of large coral bomeys and sea grass fields.
Geoffrey Bay's Snorkel Trail
Geoffrey Bay's Snorkel Trail is close to the wreck of the Moltke as well as a WW2 propeller and engine block, with the notes on the snorkel trail maps directing you to the right areas. Leading out to the trail you will find a large amount of reef and fish living around the rocky areas.
We did the Geoffrey Bay Snorkel Trail, but we underestimated the *swim out* distance and overestimated our physical fitness. It was challenging, but I suspect stronger swimmers with fins would have a better time. Next time we will know better!
We hired snorkeling gear and stinger suits (and the reef board, see below) from the petrol station (on Mandalay Avenue) that also hires fishing and leisure gear.
Hire a reef board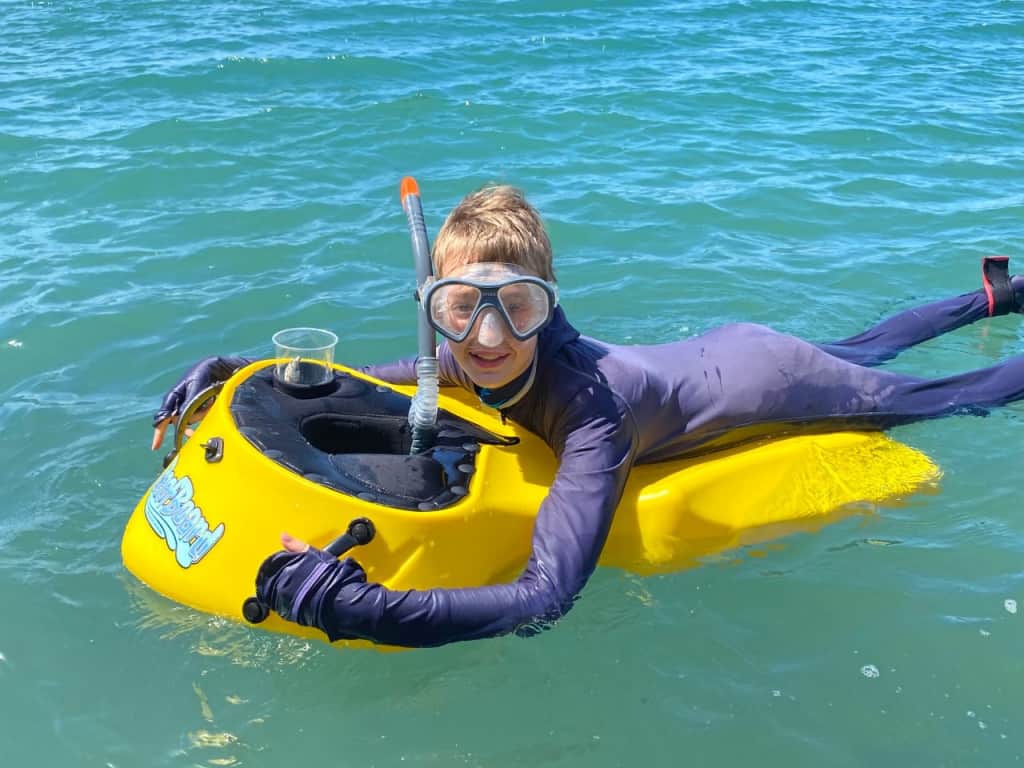 We also hired a reef board. The idea is you lie on the board and swim out to the reef to see the fish. Because we didn't also hire fins, we couldn't kick to propel ourselves, so these were not as awesome as we hoped they would be. They were mostly used to carry some fish we bought to take out to the reef to feed to the larger reef fish and to rest when we were tired.
Get Out with Kids Tip: If you hire these reef boards, hire fins too!
Take a tour with Aquascene
This small family business has been in Magnetic Island for 35 years! They offer a range of smaller tours that cater well for families. You can spend the day (or just a half day) with them experiencing Magnetic Island from the water and dropping into beaches and bays around the island. Their local knowledge and friendly nature makes this a perfect way to see above and below the waterline with ease!
Find out more about Aquascene here.
Yongala Wreck Dive Trip
If you are a family that loves diving and snorkelling, then check out this tour!
You can visit one of the world's 10 best wreck dives and see the famed wreck of the SS Yongala up close! Situated in the heart of the Great Barrier Reef Marine Park, the SS Yongala sank back in 1911 and has been used as a dive site since 1958, with its untouched nature providing a great haven for a number of spectacular kinds of marine life and coral that make for some wonderful exploration and visual opportunities.
On this full day diving tour you'll join your friendly, experienced diving guides and head out from your choice of either Townsville or Magnetic Island aboard their comfortable vessel headed for the SS Yongala.
Once there, you'll have full use of diving equipment and get to conduct two separate dives on the SS Yongala where you'll encounter turtles, gropers, eagle and manta rays and much, much more.
Find out more about this experience here.
Hire a private yacht!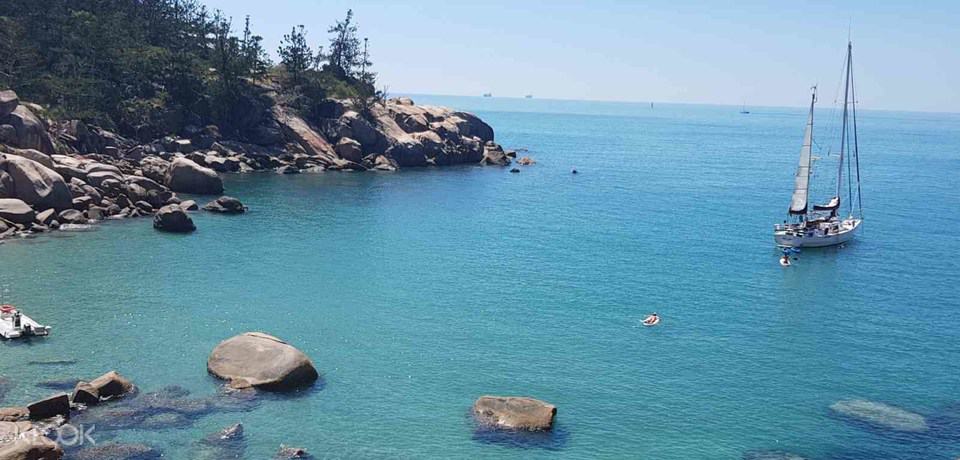 Feeling fancy? (And rich?) You can hire a private yacht and enjoy island time your way! Let me be clear, we did NOT do this tour, but I have included it because… we can all dream a little! 😉
You and your family will get to sail on a 60ft sailing yacht and discover Magnetic Island from a new perspective. You can explore any number of beautiful bays with (supplied) paddle boards, kayaks and you can also enjoy boom netting off the back of the yacht!
This tour is offered as full day, half day or 2-hour sunset sail….. I continue to dream…
You can find out more about this private yacht experience here.
Walking tracks on Magnetic Island
Back to reality… (and more within my budget) there are 11 walking tracks around Magnetic island and over 800 koalas. You can hike around the island to enjoy the views. Our favourites:
Forts walk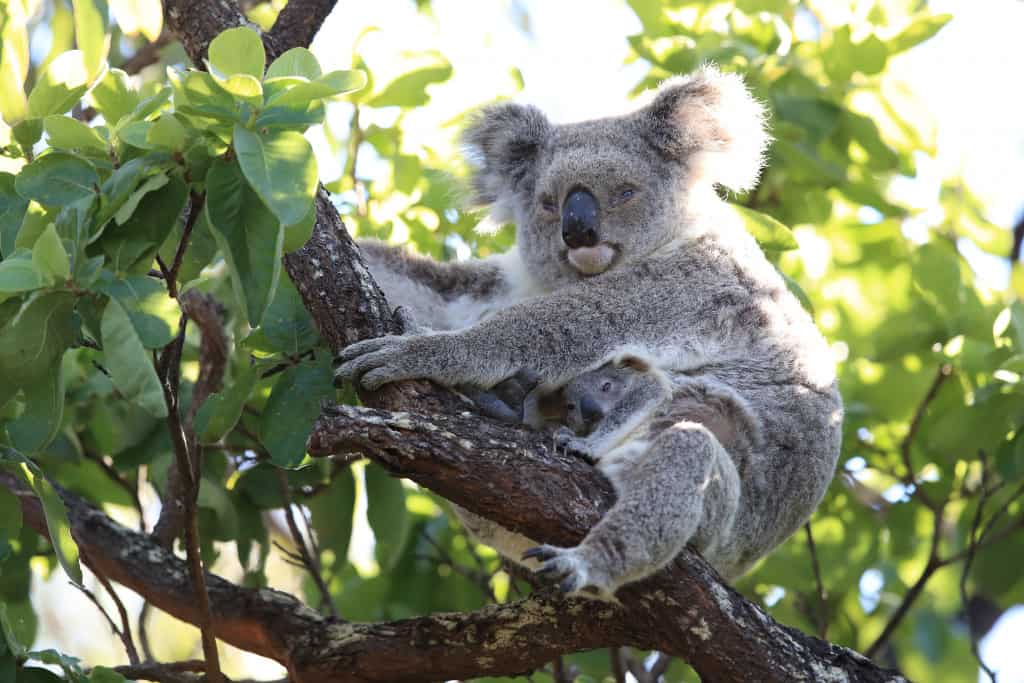 If it is cool enough and you are after a bit of history along with some wild koala spotting then head out on the Forts Walk.
The Fort was built during World War II and is no longer in use. It is, however, a beautiful scenic 2.8 km return walk with lovely views of Arthur and Florence Bay. It is a smooth path and will take roughly 45 minutes to walk. Again, in hotter months remember to take sun cream, hats and water.
Hawkings Point walk
Photo courtesy of SeaLink
Hawkings Point Lookout is a short 600 metre or 30 minute walk and is one of the island's shortest walks with an exceptional view.
From Picnic Bay, a track winds to the top of a large boulder, affording a spectacular panorama over the island past Rocky Bay to Nelly Bay and Geoffrey Bay and back towards Townsville.
This is an amazing walk to enjoy sunrise or sunset views from the top.
Get Out with Kids Tip: Although a short walk, this is a steep climb in parts. Be prepared to scramble over rocks.
Other than the Forts Walks and Hawkings Point Walk, you will get more detail about walking tracks that suits your family on this website.
Playgrounds for kids on Magnetic Island
Horseshoe Bay Playground
Address: Pacific Drive, Horseshoe Bay
This playground is located on the shore of Horseshoe Bay. There are amenities within walking distance, as well as picnic tables. Across the road from the playground is shops and places to eat and enjoy the amazing view.
As we said above, this is a great areas for water sports and jet ski hire. And the Surf Lifesaving Club operates here.
Magnetic Island Skate Park
Address: 64-68 Horseshoe Bay Rd, Horseshoe Bay
Magnetic Island Skate Park is a great place to take the kids for some fun. Suitable for beginners, intermediate and advanced skaters. The area is covered by a great shade shelter, and there is also a water fountain and benches.
Nelly Bay Playground
Address: The Esplanade, Nelly Bay
This newish playground is located on the foreshore of Nelly Bay, and is a short walk to check out all the beautiful boats in the Marina. It is close to amenities, has a BBQ and picnic tables.
Alma Bay Playground
Address: ​Alma Bay, Arcadia
Set on the shore of Alma Bay, this playground is in an amazing location. There is a BBQ, picnic tables (some in shade) and amenities, as well as plenty of space to have a picnic or kick a ball.
Picnic Bay Playground
Address: Yule St, Picnic Bay
Located at the end of the Picnic Bay mall, the playground at Picnic Bay is fenced, close to amenities and offers shaded picnic tables.
And the last *playground* which is not for kids is…
Arcadia Zone 1, 2 and 3 seniors fitness park
Address: 31-43 Marine Parade, Arcadia
This brand new facility for seniors has three workout zones with beautiful ocean views.
Places to eat with kids
I'm not going to lie… part of the reason we travel is to eat! Here are our favourite places to eat with kids on Magnetic Island.
Scallywags Cafe
Scallywags Cafe is a fresh pop up cafe in the heart of Nelly Bay, just minutes walk from the ferry. Serving up delicious healthy meals and remarkable fair trade coffees in a fun filled, family friendly atmosphere with a theatrical pirate crew!! We thought the prices were very reasonable here!

Address: 104 Sooning St, Nelly Bay
Website: Scallywags Facebook page
Marlin Bar Tavern
The Marlin Bar Tavern is a great family friendly restaurant near Horseshoe Bay. There is defiantly something for every budget on the menu, including a wonderful kids menu.
Address: 3 Pacific Dr, Magnetic Island
Website: Marlin Bar Tavern
Fruits and Scoops
Fruits and scoops is a great snack stop if you are driving past (which you will as it is right in Nelly Bay), and they have great meals as well, including an acai bowl, and some great fruit smoothies. I enjoyed my coffee here on our last morning!
Address: 2/4 Arcadia Rd, Nelly Bay
Website: Fruits N Scoops
Arcadia Village Hotel/Magnetic Island Pub
This is restaurant is great for families, there's even a pool for the kids to swim in while they wait for their meals. They have a Sunday roast meal, which is HUGE, (we had lamb!) and great for everyone!
Address: 1-4 Marine Parade, Arcadia
Website: Arcadia Village Hotel | Magnetic Island Pub
Get some food from the Sunday markets
There was only 1 food stand at the Sunday markets at Horseshoe Bay the day we went, but it was a well priced Thai stall, with delicious meals and snacks that we enjoyed.
Address: Horseshoe Bay
Website: Horseshoe Bay Markets
Magnetic Island Accommodations
We've got 3 ranges of accommodation on Magnetic Island: Budget, Medium and Luxury.
Budget Accommodation
Sails On Horseshoe
Located directly opposite the beach at Horseshoe Bay, Sails Hotel offers self-catering accommodation with kitchen facilities and gorgeous ocean views. The property features a swimming pool, hot tub and barbecue area.
Website: Sails On Horseshoe
Dandaloo Gardens
The air-conditioned units are furnished with parquet floors and feature a private bathroom, a flat-screen TV, free WiFi, wardrobe, a living room, an equipped kitchen, patio and views over the pool. There is a seating and a dining area in all units.
Website: Dandaloo Gardens, Arcadia
Medium Accommodation
Peppers Blue on Blue
Blue on Blue has a variety of rooms, including resort-style suites and 1, 2 and 3-bedroom apartments. Each room is equipped with an en suite bathroom, private balcony and flat-screen TV.
Website: Peppers Blue on Blue
Luxury Accommodation
Pure Magnetic Villa 1
Full kitchen, laundry, widescreen television with satellite channels, private balcony, private courtyard, a resort style lagoon swimming pool and outstanding tropical garden landscaping. Sleep soundly in a Balinese queen size bed, with the smell of salt in the air and gentle waves lapping the beach.
Website: Pure Magnetic Villa 1
Pure Magnetic Villa 5
Sleep soundly in a Balinese queen size bed, with the smell of salt in the air and gentle waves lapping the beach. Airconditioned throughout, these two bedroom, two bathroom (one with spa bath) villas provide ample space and privacy.
The living area has bifold panoramic doors opening on to your private covered verandah. Take the weight of the world off as you relax on cushioned lounges complete with foot stools, so you can really put your feet up. The 2nd bedroom can feature a king bed or 2 king singles and your preference can be requested at the time of booking.
Website: Pure Magnetic Villa 5
There are also plenty of AirBnB options.
The best things to do on Magnetic Island with kids
There you have it, that's our list of the BEST things to do on Magnetic Island with kids! If you think we missed anything, let us know and we will be sure to add it to our article.