Are you looking for the BEST Christmas lights in Sydney? Did you just google 'Best Christmas lights Sydney, NSW? This is the BEST list of all the most eye-catching, the most jaw droping and the most stellar Christmas lights for you and your family to enjoy.
Best Christmas Lights in Sydney
As Christmas in Australia starts to be creeping up on you, and the only song you can hear is 'All I Want For Christmas Is You' by Mariah Carey, you start to think about where to start the Christmas spirit. One of the ways to do this, is to grab a hot chocolate and hop in the car with the family, and begin to gaze and gasp at all the stunning Christmas decorations that churches, libraries, and homes have put up for you to enjoy.
Where to see Christmas Lights Sydney
Here at Get Out With Kids, we've compiled a list of all the best places to see Christmas lights in Sydney! Are you ready? Let's dive right in.
Christmas Lights in the Sydney CBD
Darling Harbour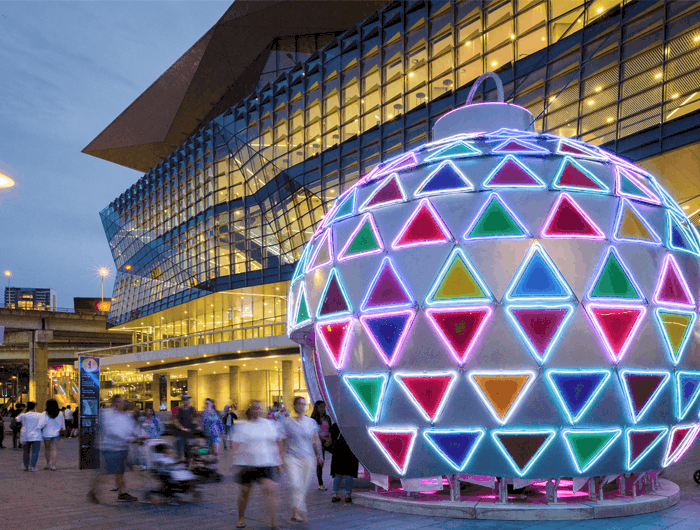 Be shocked by giant decorations and huge light displays this Christmas at Darling Harbour, including the gigantic bauble in the ICC Forecourt. The bauble isn't your usual Christmas decoration, standing at 6 meters high, the ornament lights up at night and shines around the the grounds.
When: 1 December – 9 January
Where: Darling Harbor
Christmas Tree
The tallest Christmas Tree in New South Wales will light up the street with a huge variety of colours, and hundreds of specially created baubles, along with 15,000 flowers representing 9 different Australian floras will cover the branches of the tree.
When: 27 November – 1 January
Where: Martin Place
The Lights of Christmas
At St Mary's Cathedral, adults and children alike can have their imagination run wild as they watch the spectacular light and sound show.
Where: St Mary's Cathedral
Christmas Lights Spectacular
Every year, hundreds of families go to visit the outstanding lights and decorations at the Hunter Valley Gardens. The display features millions of lights, Santa's Workshop, and all new rides for the entire family to enjoy.
When: Every day until 26th Jan, 2023 (excludes 25th December) 6:00pm – 10:00pm
Where: Hunter Valley Gardens
Canopy of Light
Take a walk underneath the canopy of suspended Christmas trees, that makes up the canopy over the Pitt St Mall. Housing over 80,000 LEDs, this exhibition is sure to make your late night Christmas shopping sparkle.
When: Every day until 1 January
Where: Pitt St
Christmas Lights Sydney Suburbs
Please note that these are weird times, and we are trying our hardest to confirm Christmas lights, but we may not be correct every time.
If you don't feel like heading out into the CBD, the suburbs of Sydney have some pretty spectacular lights too. Here is our list of the most jaw dropping homes around Sydney:
Climus Street
With snow machines, Santa visits, fire trucks and dance shows, there are at least 10 houses on this street in the festive spirit.
45 Grassmere Ave
This display of lights, reindeer, festive decorations, snow and much more is not one to miss!
5 Waratah Street
The lights usually start at 7:30 and are accompanied by music, if you're in the area this is a a house not to miss.
Avoca Street – TBC
Lights typically begin at dark, with the whole street lit up in Christmas cheer.
11 Dangar Street
This is a house not to miss, and is also located opposite a playground, making the perfect destination.
Frederick Street
A narrow and quiet street, but definitely not one to miss this holiday season!
696 Malabar Road
With decorated windows, a decorated roof and much more, kids (and adults too) will love this display!
Benaud Street
These Christmas lights are certainly something special, not only bringing festive cheer but also honouring a special person close to their hearts.
64 Chatsworth Road
This is a beautiful display everyone should be glancing up at this Christmas season.
Caledonian Avenue
Decked like no other, this house is one to see.
Vulcan Street
Including a nativity scene, inflatables and much more, this is the place to be this December.
3 and 4 Troon Court
With music, inflatables, laser projections and a decorated roof, this is one house duo everyone should have a look at.
60 Kiber Drive
This house has everything you can think of and more! Certainly not one to miss this holiday season.
Errol Place
This Christmas lights display is unlike any other, bound to have you spellbound.
7 Mallee Street
I don't think there's anything this house doesn't have, with snow machines, lasers, a walk through display and much much more, this is the place to be.
2 Keon Place
Filled with moving characters, music and projections, this is not a house to miss!
15 Pegasus Street
With lasers and a decorated roof, this is certainly a Christmas lights house to see.
12 Carpenter Street
Claiming to have over half a million lights, this is not a house to miss.
75 and 77 Clarence Street
Another duo house, and another one to make sure not to miss!
41 Armstein Crescent
Dubbed a 'Massive Display' this is bound to draw your attention from ages away.
17 Stephenson Street
With music, Christmas statues and heaps of lights, this is a house to be at this Christmas season.
91 Hennessy Avenue
With a walk in display, lasers, projections and much more, this house is the place to be.
76-78 Nuwarra Road
With inflatables, music, a nativity scene and heaps more, this is a Christmas lights adventure not to miss.
4 Irelands Road
Yet another house to make sure you see this festive season, filled with music, window displays amd much more.
Christmas Lights Sydney
Think we missed some? Send us an email and we will be sure to add it to our list!
Looking for more things to do in Sydney with kids?
Celebrating with kids in Sydney?
More great articles in New South Wales
If you are looking for more things to do with kids in New South Wales click here.