Are you looking for the BEST Christmas lights in Sydney? Did you just google 'Best Christmas lights Sydney, NSW? This is the BEST list of all the most eye-catching, the most jaw droping and the most stellar Christmas lights for you and your family to enjoy.
Best Christmas Lights in Sydney
As Christmas in Australia starts to be creeping up on you, and the only song you can hear is 'All I Want For Christmas Is You' by Mariah Carey, you start to think about where to start the Christmas spirit. One of the ways to do this, is to grab a hot chocolate and hop in the car with the family, and begin to gaze and gasp at all the stunning Christmas decorations that churches, libraries, and homes have put up for you to enjoy.
Where to see Christmas Lights Sydney 2022
Here at Get Out With Kids, we've compiled a list of all the best places to see Christmas lights in Sydney! Are you ready? Let's dive right in.
Christmas Lights in the Sydney CBD
Darling Harbour – TBC for 2022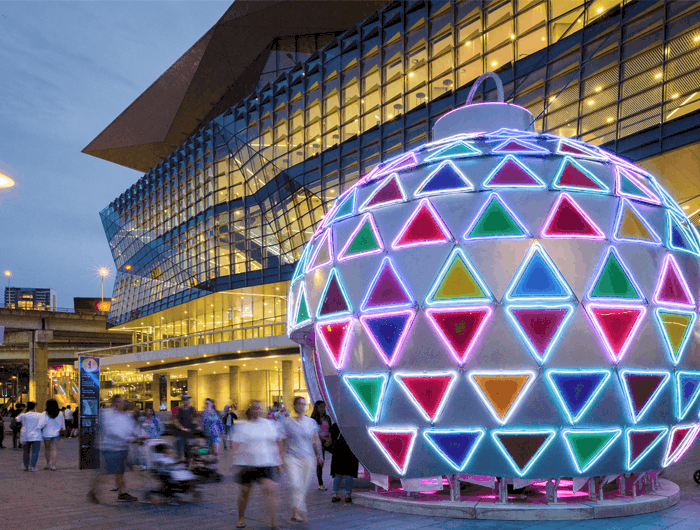 Be shocked by giant decorations and huge light displays this Christmas at Darling Harbour, including the gigantic bauble in the ICC Forecourt. The bauble isn't your usual Christmas decoration, standing at 6 meters high, the ornament lights up at night and shines around the the grounds.
When: 12 November to 28 December
Where: Darling Harbor
Christmas Tree – TBC for 2022
The tallest Christmas Tree in New South Wales will light up the street with a huge variety of colours, and hundreds of specially created baubles, along with 15,000 flowers representing 9 different Australian floras will cover the branches of the tree.
When: 27 November – 1 January
Where: Martin Place
The Lights of Christmas – TBC for 2022
At St Mary's Cathedral, adults and children alike can have their imagination run wild as they watch the spectacular light and sound show.
When: 9th December – 25 December
Where: St Mary's Cathedral
Christmas Lights Spectacular – TBC for 2022
Every year, hundreds of families go to visit the outstanding lights and decorations at the Hunter Valley Gardens. The display features millions of lights, Santa's Workshop, and all new rides for the entire family to enjoy.
When: Every day until 26th Jan, 2023 (excludes 25th December) 5:30pm – 10:00pm
Where: Hunter Valley Gardens
Canopy of Light – TBC for 2022
Take a walk underneath the canopy of suspended Christmas trees, that makes up the canopy over the Pitt St Mall. Housing over 80,000 LEDs, this exhibition is sure to make your late night Christmas shopping sparkle.
When: Every day until 31 December
Where: Pitt St
Christmas Lights Sydney Suburbs – TBC for 2022
Please note that these are weird times, and we are trying our hardest to confirm Christmas lights, but we may not be correct every time.
If you don't feel like heading out into the CBD, the suburbs of Sydney have some pretty spectacular lights too. Here is our list of the most jaw dropping streets around Sydney
248 South Circuit, Oran Park
Families can be amazed with this house fully decorated with hundreds of beautiful Christmas lights.
17 Stephenson Street, Birrong
17 Stephenson Street goes all out for Christmas when it comes to beautiful lights, ornaments, and all things Christmas.
14 Murrumba Place, Castle Hill
Here, adults and children alike can be wowed with the beautiful lights, decorations and giant Christmas inflatables.
7 South Street, Tempe
7 South Street is a great place to visit on your Sydney Christmas light looking adventure. The street goes all out, when it comes to Christmas.
8 Kentmere Street, Stanhope Gardens
8 Kentmere Street Christmas lights never disappoint, with thousands of lights, and loads of decorations, whats not to love?
52 Tanbark Circuit, Werrington Downs
52 Tanbark Circuit is by far one of the streets to visit this Christmas. Lights go on every night at around 7:30pm, and stay on for hours.
4 Irelands Road, Blacktown
4 Irelands Road Christmas lights are certainly high up on the list of streets to visit when your family is Christmas light looking.
Farmhouse Avenue, Pitt Town
Farmhouse Avenue boasts a large number of houses, all of which, are completely outstanding. What's to not love?
136 Excelsior Avenue, Castle Hill
136 Excelsior Avenue is another beautiful house to visit on your Christmas light adventure, with hundreds of lights and decorations, this set-up is designed to make anyone gasp.
Looking for more things to do in Sydney with kids?
Celebrating with kids in Sydney?