SEA LIFE Sydney Aquarium is a great place to visit the next time you're in Darling Harbour. We recently visited the Aquarium and we're so glad we did. Keep reading to find out SEA LIFE Sydney opening hours, tickets and so much more.
We have partnered with Klook to give you access to this fantastic deal, just in time for the school holidays!
===> Grab 5 of Sydney's attractions for just $67 right here.
What we LOVE about these tickets is that they are valid until December 31, 2020 with no date restrictions – so you can use them in the school holidays and on public holidays too!
Sea Life Sydney Aquarium | What's there for kids?
There is so much to see and do at the SEA LIFE Sydney Aquarium! What we love about it is that there is something for all ages. Whilst it is GREAT for toddlers and primary school aged kids, we were also pleased that our tweens loved the opportunity to be budding photographers there too!
Here is what you will enjoy at SEAL LIFE:
South Coast Shipwreck
This is the first exhibition you'll see after you walk into SEA LIFE Sydney. This is home to the aquariums little penguins. They are SO cute and fast! Kids will love watching the baby penguins swim around, and play fun games with each other!
Sydney Harbour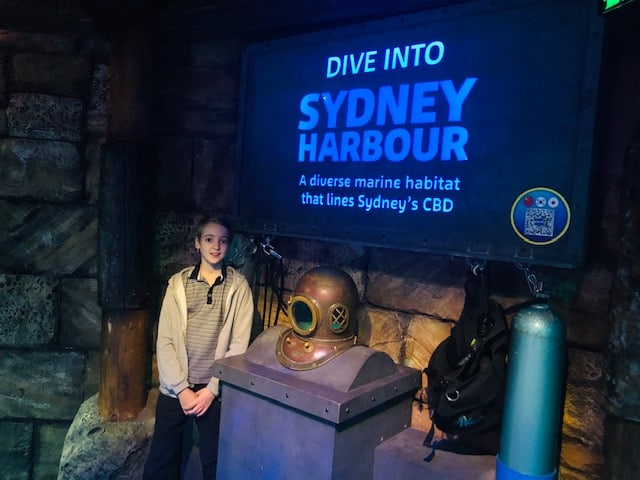 This is a great part of the aquarium for kids to walk through and learn about different species of fish and other sea life. Make sure you keep your eyes open for the Silver Sweep, Maudo and so many other amazing sea creatures.
Dugong Island
Dugong Island is one of the best places in SEA LIFE Sydney! Here you will meet the aquariums happy resident Dugong 'Pig,' and you can watch him play with all his toys! Pig was rescued when he was 1 week old and became a happy resident of SEA LIFE Gold Coast. They kept him until he weighed 400kg and then released him back into the wild. 8 months later, he is found again with wounds from other male dugongs. He had lost 25% of his weight and then he can to SEA LIFE Sydney to stay permanently.
Shark Walk and Shark Valley
Shark Walk and Shark Valley is one of the most famous exhibitions at SEA LIFE Sydney! Walk through 2 underwater tunnels with so much marine life swimming around you! Keep your eyes open for the tiny orange fish! We saw them swimming around and the are so cute! They're very fast though, so keep your eyes open.
Penguin Expedition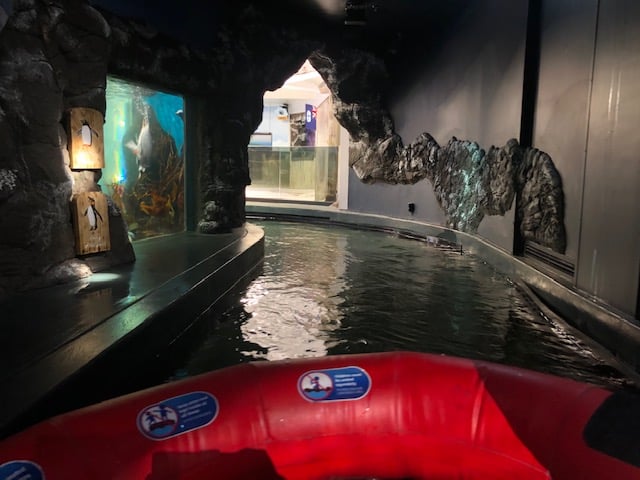 The Penguin Expedition is a great way to get up close and personal with SEA LIFE Sydney's resident penguins. Climb aboard the boat and embark on a journey around the magical Gentoo and Emperor penguins. If you're a fan of Netflix's series 'Atypical', or just penguins in general, ask the friendly aquarium staff which penguins are 'Sven & Magic' who got a name-check on the show last year.
Day and Night on the Reef
The Day and Night on the Reef is the NEWEST exhibition at SEA LIFE Sydney. Explore the Great Barrier Reef throughout the whole day. Walk through a number of displays, showcasing the reef at different times at the day. Explore the jellyfish at 21:00 or the turtles at 00:00 along with so many other .
Jurassic Seas
Jurassic Seas is another great exhibition at SEA LIFE Sydney! Kids can get up close with the mysterious hagfish, lungfish, octopus, mudskipper and so much more.
Sea Life Sydney address
SEA LIFE Sydney is located at 1-5 Wheat Rd, Sydney NSW 2000. You can get there easily from public transport, walking and rideshares.
By Foot: The aquarium is a short walk from Town Hall down Market Street
By Train: SEA LIFE Sydney Aquarium is closest to Town Hall Station
By Ferry: Disembark at Aquarium Pier
Sea Life Sydney opening hours
SEA LIFE Sydney is open from 10am-6pm everyday. We recommend you get there at least 10 mins before opening to get into the queue before all the crowds show up.
Sydney Sea Life aquarium
SEA LIFE Sydney is an ABSOLUTELY STELLAR day out with kids! The next time you're in Darling Harbour, we highly recommend visiting this wonderful aquarium! Kids will love seeing all the different kinds of sea creatures and penguins. Keep reading our article to find discounted tickets to SEA LIFE Sydney.
Sea Life Sydney tickets
Klook has a great deal on at the moment. You can pay for 3 but get 5 of the best Sydney attractions for only $67. You can get that here.
SEA LIFE Sydney Aquarium
The SEA LIFE Sydney Aquarium is one of the best places to visit in Darling Harbour! No matter the weather, this is a great attraction. The whole family is guaranteed to enjoy their trip to SEA LIFE Sydney! See at least 12 different species of marine life, including penguins, seahorses, dugongs, rays and so many other creatures.